England stuttered to a 0-0 draw with Ukraine in Kiev on Tuesday night, giving the Three Lions a good chance of qualifying for next summer's World Cup.
Roy Hodgson's men face two tough home fixtures against Montenegro and Poland in October, and both of those games must end with positive results for the side to guarantee their place on the plane to Brazil. Despite a lifeless performance at the Olympic Stadium, England will be pleased to have control of their own destiny as they head into the final two matches.
As reported by The FA, Hodgson declared himself happy with a point, an assessment that was not matched by Gary Lineker. The former England striker hastily deleted a critical tweet, as reported by Jeremy Wilson of the Telegraph: "Awful. What happens to some of these players when they pull on an England shirt?"
Should Hodgson be pleased with his team? Let's assess which players performed and who might be in trouble.
England Player Ratings vs. Ukraine

| | | | |
| --- | --- | --- | --- |
| Player Name: | Minutes Played: | Rating: | Comment: |
| Joe Hart | 90 | 4/10 | Shaky start saw him lucky to not concede a penalty. Looked nervous, even though he had little to do. |
| Kyle Walker | 90 | 4/10 | A liability at the back who was easily overcome by Ukraine's attack. One tackle away from red card, needs to work on positioning and discipline. |
| Gary Cahill | 90 | 8/10 | Another towering performance from the Chelsea centre-back. A brick wall at the back, England's Man of the Match. |
| Phil Jagielka | 90 | 6/10 | Should have scored early on, looked solid in defence, but his lack of pace is beginning to get exploited. |
| Ashley Cole | 90 | 7/10 | Performed his duties well and nullified Ukraine's right wing for the most part. Ineffective as an attacking force, but Hodgson won't mind. |
| Steven Gerrard | 90 | 6/10 | A thoughtful performance that followed the captain's ever-increasing defensive role. One vital interception stopped a certain goal in the second half. |
| Frank Lampard | 90 | 5/10 | Quiet throughout the night, failed to assert himself as an attacking or defensive force. Could have won the game with a late header. |
| Jack Wilshere | 68 | 5/10 | Immediately targeted by the opposition and swamped out of the game. Great touch and agility, but the Arsenal man was outnumbered and lacked ideas in an unfamiliar role. |
| Theo Walcott | 88 | 4/10 | Completed just 73 percent of his passes, failed to burst beyond a stern Ukrainian defence and should have been substituted earlier. |
| Rickie Lambert | 90 | 6/10 | An excellent first half saw the Southampton hero working hard to win the ball. Frustrated in the second, but never stopped hustling for possession. |
| James Milner | 90 | 5/10 | Reliable, dependent, but uninspiring. Summed up the entire team's performance by doing just enough to see the game through. |
| Ashley Young | 22 | 4/10 | Poor in possession when he came on, played like a man who is still on the beaches before preseason. |
| Tom Cleverley | 2 | 5/10 | No real time to make an impression. Brought on to see out the result. |
Statistics provided by WhoScored
Players in Danger of Receiving the Axe
Joe Hart
Despite earning another clean sheet, the Manchester City stopper largely has the people in front of him to thank for not conceding a goal. He was untested for much of the game, but in the opening minutes, he underlined himself as a player who is struggling to develop.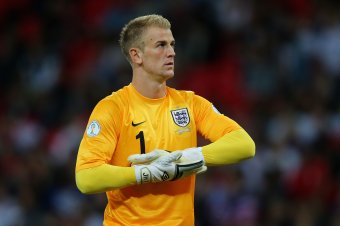 Clive Rose/Getty Images
Hart continues to look shaky from crosses, especially when put under physical pressure. He was also fortunate not to concede a penalty in the early exchanges after coming off his line too slowly. The 26-year-old proceeded to let a high ball float into his hands, nearly allowing the home side to snatch possession from his grasp.
A couple of calm saves in the second half cannot hide the fact that Hart is walking a tightrope. According to The Sun's Charlie Wyett (subscription required), Hodgson is absolutely calling out for the stopper to become a squad leader, but right now, the current No. 1 is lacking the confidence and character that thrust him into the national lineup. Fraser Forster, John Ruddy and Ben Foster, are all waiting in the wings.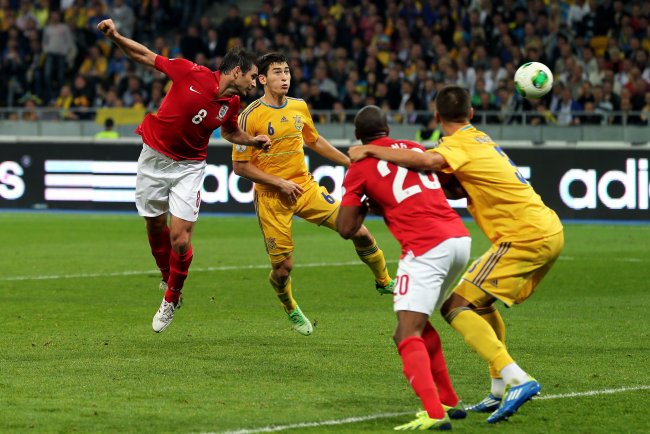 Clive Rose/Getty Images
A milestone 100th cap for the Chelsea man wasn't met with a particularly memorable performance. Despite showing critics that Lampard and Steven Gerrard can play together effectively against the minnows of World Cup qualification, Hodgson's insistence on using the duo against Ukraine underlined England's lack of ideas.
Lampard flitted between the centre spot and forward positions without ever imposing himself on the game. He lacked the turn of foot to escape opponents, was quickly shut down and easily suffocated away from the ball like Jack Wilshere ahead of him. Gerrard was left to do the defensive work on a night that forced the captain into forgetting about bombing forward.
Although Lampard is a world-class player, Hodgson needs to stop forcing him into the team. The controlled assurance of Michael Carrick is what England need in matches like this, as the Manchester United man can take control of the centre, dictate the pace of play and allow Gerrard the chance to attack. With 100 caps completed for Lampard, Hodgson may feel now is the time to utilise Carrick more regularly.
Theo Walcott
While it is difficult to separate the poor performances of both Walcott and James Milner, you have to consider how effectively both players carried out the duties they were used for.
Which player most deserves the chop for England?
Milner was deployed to provide England with reliable cover against an energetic Ukrainian attack. He is unlikely to start many games in the future when Wayne Rooney, Danny Welbeck and Daniel Sturridge are fit, but he is helpful when tightening the ranks. Granted, Milner was largely brought in to make up the numbers, but he did so inconspicuously.
Walcott's main function was to offer a counter-attacking threat, but as was the case with the rest of the team, he failed to play with consistency. The Arsenal winger struggled to deliver crosses, looked sloppy in possession and lacked any real tempo throughout yet another fruitless performance. Despite his incredible speed, Walcott has quickly sunk back toward the player who offers no end product for his national team.