College Football Week 3 Predictions: Picking All Top 25 Games Against the Spread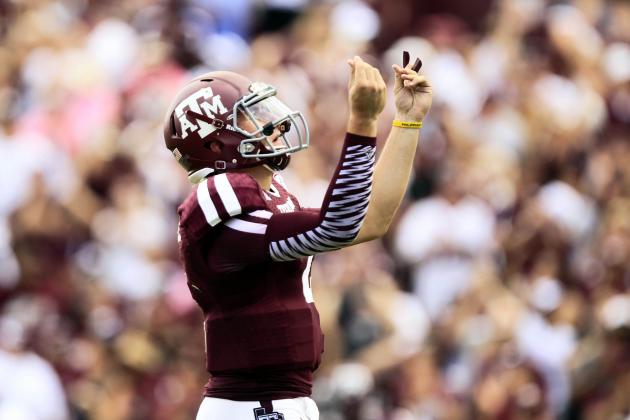 Thomas Campbell-USA TODAY Sports
Nothing Says Point Spreads Like the Perfect Money Sign
The biggest game of the college football season has arrived. Well, until it is dethroned by some other game, which is usually how this cycle works. For now, however, this is it.
Nick Saban vs. Johnny Manziel vs. The World has a lovely ring to it, doesn't it? College Station will play host to this marquee event, which will provide a shakeup in the Top 10 of the AP Top 25 one way or another.
Elsewhere, UCLA will make the voyage to Memorial Stadium to take on Nebraska, the only other Week 3 matchup that features ranked teams going toe to toe. I'd say it'll be much better next weekend, but I'd be lying. Don't look at the Week 4 schedule just yet—it will only make you cry.
Although quality matchups featuring Top 25 teams might be lacking once again—all teams are equal once the fine folks in Las Vegas get involved. The power of the point spread is real.
This pace of picking winners against the spread cannot possibly hold up, but we're going to ride the hot streak as long as we possibly can. Hop aboard.
Overall Record Against the Spread Entering Week 3: 26-12
Begin Slideshow

»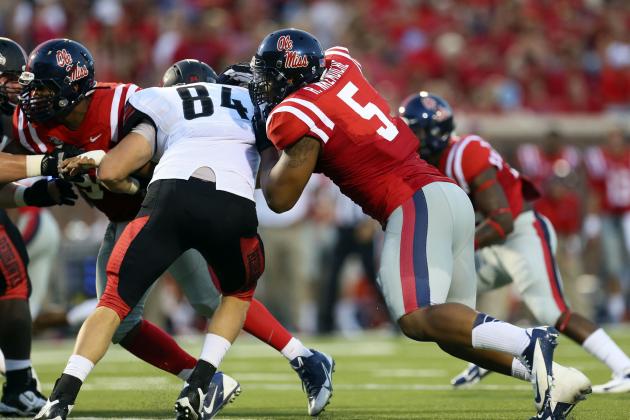 Spruce Derden-USA TODAY Sports

Let's kick things off with a game that has yet to acquire a spread in most locations, thanks to the uncertainty surrounding Texas quarterback David Ash.
No, Ash was not caught in the avalanche of BYU rushing yards—which might still be escalating somehow—but he is questionable while dealing with head and shoulder issues. (Not dandruff, actual issues). Because of this, the spread could drastically shift depending on whether Ash plays or not. If he can't go, Case McCoy—yes, he's still there—or freshman sensation Tyrone Swoopes will get the start.
Ole Miss, meanwhile, has an offense that will look to expose new defensive coordinator Greg Robinson, who replaces Manny Diaz. It's a potent offense, certainly, although don't immediately jump to the visiting team yet.
Yes, the Texas defense is bad, but Ole Miss is still a young team traveling to a hostile environment. Also, did you watch last year?
Even with the uncertainty at quarterback—and I have to pick otherwise I would wait—I will take the home team. Be careful here.
The Reluctant, Premature, Contrarian Pick: Texas (-3.5)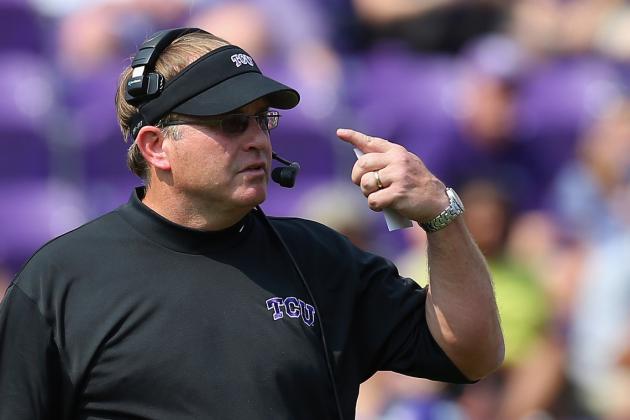 Ronald Martinez/Getty Images

A fascinating Thursday night game kicks off Week 3, and all eyes will be on Baker Mayfield, Texas Tech's true freshman quarterback who has been fabulous thus far.
Mayfield, a walk-on, has thrown for 780 yards and accounted for seven touchdowns in his first two games, but he will get a dramatic step up in class against this TCU defense.
TCU, meanwhile, will be without its starting quarterback—although the term "starter" is a bit hazy. Casey Pachall is out with a broken forearm, which means it's Trevone Boykin's offense. The Horned Frogs looked sluggish against SE Louisiana as a 43-point favorite, but Boykin provides a unique spark with his athleticism.
Do I dare pick a true freshman to conquer a defense loaded with stars? I do indeed, and I'll take back the coach who looks like a GQ model instead.
No, not you, Gary Patterson. Sorry for the confusion.
The Pick: Texas Tech (+3)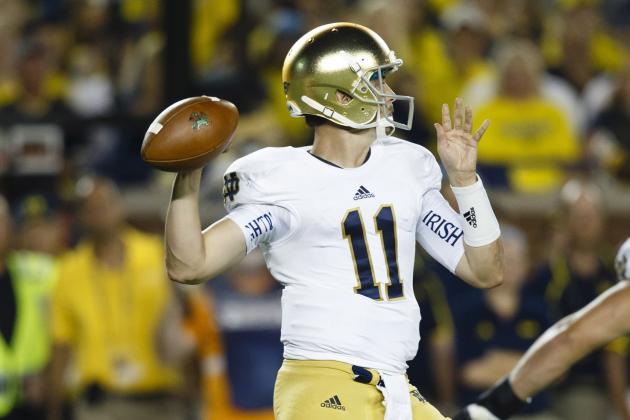 Rick Osentoski-USA TODAY Sports

Oh, the Notre Dame backdoor cover looked so good last week, and then a Tommy Rees pass deflected off a few body parts—including a rapidly moving shoe—and a Michigan interception sealed a Wolverines cover. Ah, gambling can be cruel (or not so cruel, depending on which side you had).
The Irish will stay on the road for the second consecutive week, taking on a Purdue team that has struggled. And I mean struggled.
After getting waxed by Cincinnati—the same Cincinnati that was waxed by Illinois—the Boilermakers barely edged out Indiana State.
It looks far too easy to simply lay the points in this one, right? Yes, it does. But putting faith in Purdue doesn't sound like much fun, either.
The Pick: Notre Dame (-20.5)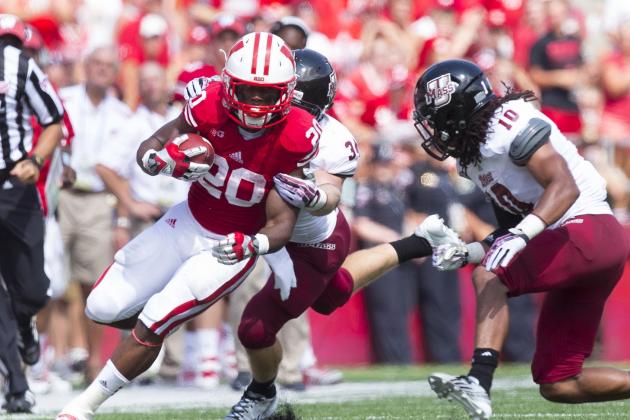 Jeff Hanisch-USA TODAY Sports

Fun fact: These two teams have combined to outscore their opponents 148-0 thus far this season. Yes, those opponents included Sacramento State, Massachusetts and Tennessee Tech, and that's why I've prefaced it with "fun" (except if you happen to be one of those three teams).
It's rare to see a team ranked in the Top 20 that will be getting more than a field goal, even on the road, against an unranked opponent. But Arizona State should be ranked—that's pretty obvious by now.
Taylor Kelly and Marion Grice are a dynamic QB-running back combo on offense, and the defense is very underrated, especially up front. Look for ASU to stack the box against running backs James White and Melvin Gordon and for home field to factor in large here.
Many will sprint to back Wisconsin after its hot start. I'm sprinting the other way.
The Pick: Arizona State (-5.5)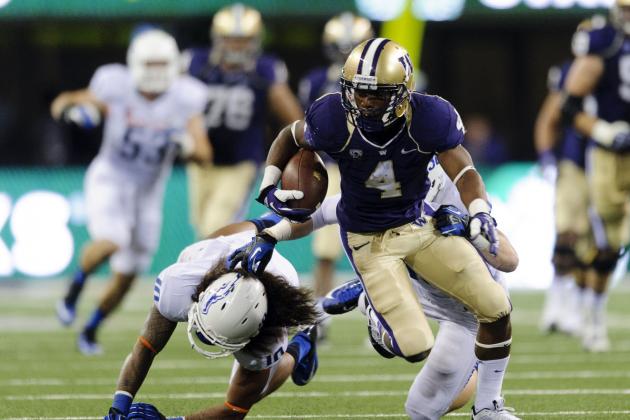 Steven Bisig-USA TODAY Sports

If you played Illinois on the money line last week against Cincinnati, you deserve some sort of gambling award and a handshake. Maybe even a coupon for half off at a local buffet. Nice work, buddy.
It was a strange single-digit point spread that required cause for pause, and the Illinois offense showed us exactly why. Under new OC Bill Cubit, a healthy Nathan Scheelhaase has looked more than serviceable at quarterback.
Washington comes to town after a bye week and an opening weekend dismantling of a once-ranked Boise State team that never gets blown out. Note: This game will actually be played in Soldier Field, so "town" is relative.
I loved the Illini last week catching a similar number, and I'm backing them once again. Washington is a more complete team, certainly, but a trip across the country is never easy, and Illinois has the hot hand.
Yes, I just wrote, "Illinois (football) has the hot hand." This game is weird.
The Pick: Illinois (+9.5)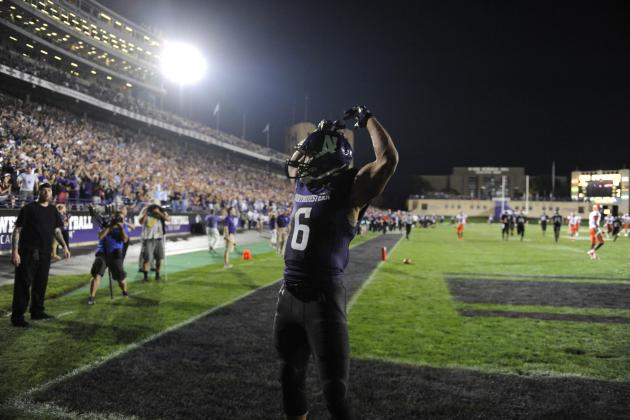 David Banks-USA TODAY Sports

As a 17-point favorite last week, a banged-up Northwestern team facing a steep point spread dismantled Syracuse, scoring 48 points without running back Venric Mark and covering in the process. Quarterback Kain Colter—battling injuries himself—played, and he was fabulous through the air and on the ground.
Western Michigan, however, was not as impressive as a big chalk, losing to Nicholls State outright—as almost a 30-point favorite. Yes, that's the same Nicholls State that warmed up with Oregon in Week 1 (with slightly different results).
You don't see 30-point favorites lose outright often, that's for certain.
Northwestern has too much offense—even with injuries still looming—for me to consider taking these points.
Also…Nicholls State. Oh, and Nicholls State.
The Pick: Northwestern (-31)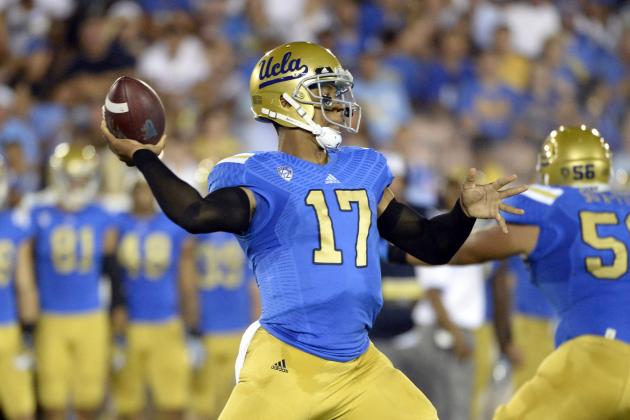 Richard Mackson-USA TODAY Sports

With the over/under hovering right around 70, expect plenty of scoreboard demolition in this one. These two teams certainly provided that a year ago at UCLA, and it was Jim Mora's group getting the best of the Cornhuskers 36-30.
UCLA will head to Lincoln off the bye, fresh off its 41-point second half against Nevada in the opening weekend. Quarterback Brett Hundley was sensational in Week 1, scoring four touchdowns.
Nebraska, however, might have the more dynamic offense, assuming Taylor Martinez is completely covered from his injury-packed Week 1. Look for a healthy dosage of running back Ameer Abdullah and perhaps the occasional deep attempt to the underrated Kenny Bell.
Home field is crucial here, and T-Magic is going to put on a show. Those feel like famous last words, but it won't change my pick.
The Pick: Nebraska (-4.5)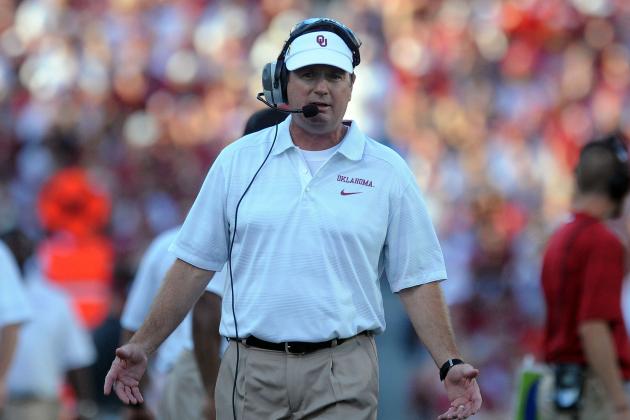 Mark D. Smith-USA TODAY Sports

Welcome back, Belldozer.
Oklahoma quarterback Blake Bell will get the start for the injured Trevor Knight, and the Sooners are at least a 20-point favorite for the third time in three games.
It worked wonders in Week 1 against tricky Louisiana-Monroe, although that was not the case last weekend against West Virginia. The Sooners won, although they didn't cover. And the football was—let's just say we've seen better games played.
Tulsa, meanwhile, has not been good to gamblers, getting crushed by Bowling Green in the opener as only a 2.5-point dog and then struggling (but beating) Colorado State as a two-touchdown favorite.
The line may feel a little large given Oklahoma's offensive struggles, but look for them to get on track here. Blake Bell is motivated, and he outweighs all but two players in the starting Tulsa front seven, which is hilarious.
Unless, of course, you're Tulsa. Let's try it again.
The Pick: Oklahoma (-24.5)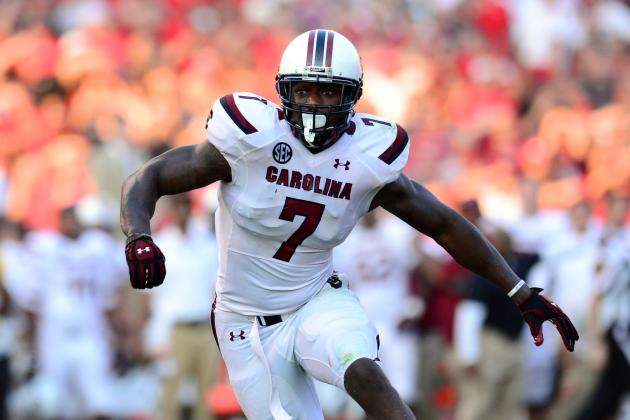 Dale Zanine-USA TODAY Sports

After an eventful weekend in Athens that included a near coach brawl on the sidelines (always exciting) and far too much Aaron Murray and Todd Gurley, South Carolina comes home as a near two-touchdown favorite against Vanderbilt.
Vandy was unable to cover the robust 47.5-point spread in Week 2 against Austin Peay—although a 38-3 win will work just fine. South Carolina held tough with Georgia throughout much of the game, but it came up short of both the win and the cover.
Can the Gamecocks—or anyone for that matter—cover Vandy wideout Jordan Matthews? How does Vanderbilt plan to deal with running back Mike Davis, the human bowling ball who is averaging nearly 10 yards per carry?
An angry ol' ball coach is a dangerous ol' ball coach, and this aggressive line speaks volumes about the difference in overall talent.
The Pick: South Carolina (-13)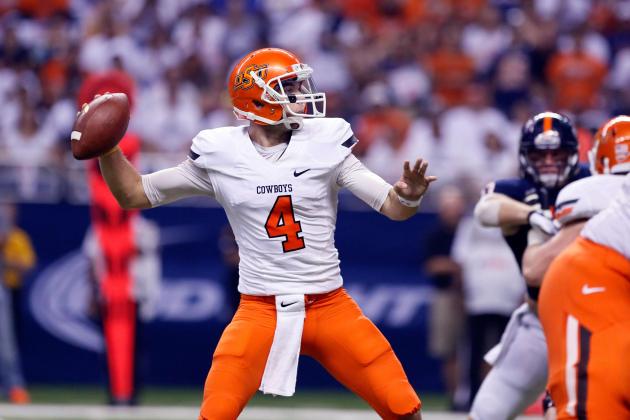 Soobum Im-USA TODAY Sports

How do you handicap chaos? Can you?
College football has been rocked by scandal after scandal over the past few seasons, and the Pokes are up next. Of course, much of this depends on your definition of "scandal."
Sports Illustrated's elaborate investigation into the program may not involve any current players, although that doesn't mean it won't prove to be a distraction for this team.
Well, it's a good week to have Lamar on the schedule.
The Cardinals (yes, that is their mascot) actually hung tough with Louisiana Tech in Week 2, losing by only 14 points as a 28.5-point dog. Week 3 will be a dramatic upgrade in talent, however, although Oklahoma State will likely go to the reserves early with Big 12 play picking up next week.
Play the distraction angle? Nah. Play the "I'm getting almost seven touchdowns" angle.
The Pick: Lamar (+46.5)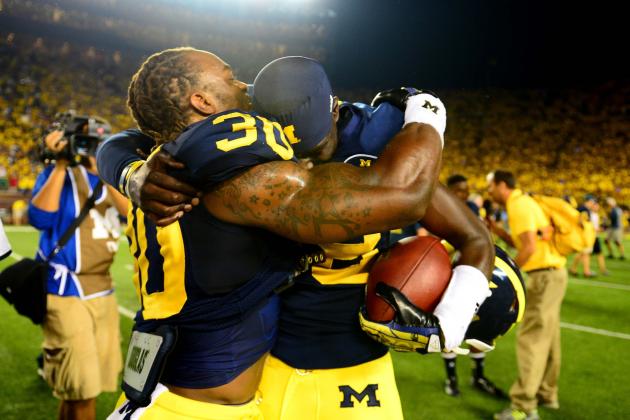 Andrew Weber-USA TODAY Sports

Don't look now, but the Michigan schedule gets rather manageable (we're being nice—it's really, really easy) over the next few weeks. After beating Notre Dame at home, Akron comes to town with a hearty 37 points courtesy of Las Vegas.
The Zips don't actually get those points put on the scoreboard. That would be unfair.
Look for Michigan to put this one in cruise control early. The running game—outside of Devin Gardner creating things on his own—needs to get going, and what better week to work on things that need fine-tuning.
Akron is 0-2 against the spread thus far, although a nail-bitter win against James Madison in Week 2 will carry them to a (covering) victory in this one. I'm kidding, sort of, but the Zips will cover and take advantage of this potential letdown scenario.
The Pick: Akron (+37)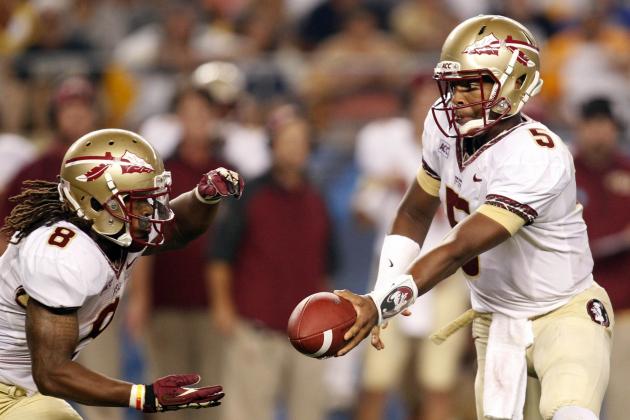 Charles LeClaire-USA TODAY Sport

After a brief timeout (aka, a bye week), the Jameis Winston Experience is back for a second serving. With it returns a rather large point spread that seems higher than one might expect against an offense capable of putting up points.
The days of value with Florida State are long gone. You had one chance against Pitt—and any preseason action that might have presented itself—but not anymore. Once Winston completed 25 of 27 passes in the opener, things changed.
And here we are, with a spread that feels slightly inflated because of the young quarterback prodigy. With all that said, take the inflated line and don't look back.
Jameis Winston might eventually be stopped (maybe?), but this won't be the team to do it.
The Pick: Florida State -32.5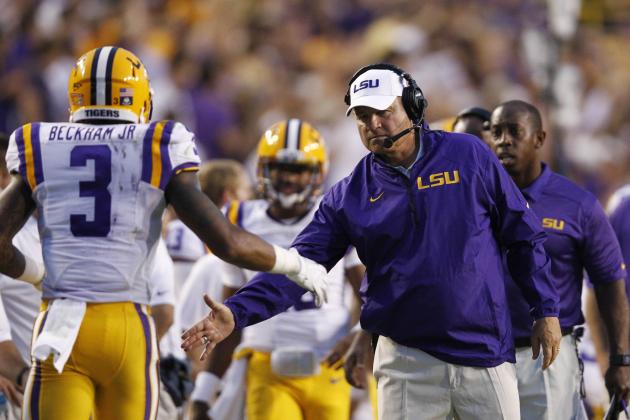 Crystal LoGiudice-USA TODAY Sports

I've picked against LSU two consecutive weeks, and the Tigers have beaten me both times. Clearly it's time to flip the script.
This LSU offense is scary. I know, it reads weird, doesn't it? It's not easy to type, either, but it's true. Under new offensive coordinator Cam Cameron, however, the Tigers look dangerous. Quarterback Zach Mettenberger is off to a blistering start, and wideout Odell Beckham is everywhere.
Kent State comes to town before heading to Penn State the following weekend, and thus far it hasn't been pretty. The Golden Flashes struggled with Liberty and then got clobbered by Bowling Green, coming up well short of a cover in both games.
You win, LSU. (And I apologize in advance for nixing this cover by finally giving in. Clearly we're just not on the same page).
The Pick: LSU (-37)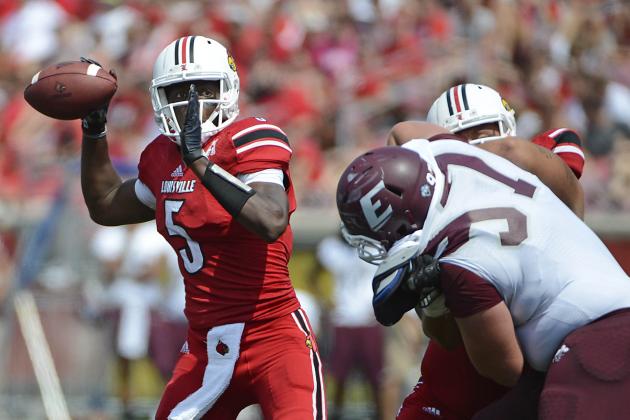 Jamie Rhodes-USA TODAY Sports

OK, Vegas. What do you know that we don't? Spill it. Not going to talk, eh?
Louisville has looked magnificent in its first two games, albeit against Ohio and Eastern Kentucky. So why is it that this 13-point spread at Kentucky seems almost too easy? Where's the rest of it?
Kentucky recovered nicely after a Week 1 loss to Bobby Petrino, beating Miami (OH) as a 17-point favorite with ease. It should be pointed out—for those who haven't been paying attention—that Ohio's Miami school does not have a Teddy Bridgewater. This part's important.
Louisville will win this game, but the oddsmakers seem to believe it will be closer than many expect. Well, oddsmakers, while I love taking a contrarian stance with your mysterious lines when possible, this is where we go our separate ways.
The public will side with Teddy Bridgewater, and so will I.
The Pick: Louisville (-13)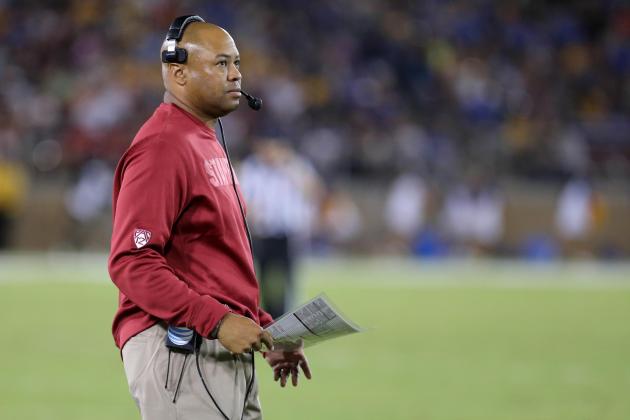 Kelley L Cox-USA TODAY Sports

Stanford offered up a workman-like non-cover against San Jose State in Week 1, although the defense made David Fales—a quarterback receiving ample pro buzz—look utterly average. After all, that's what this Stanford defense does to pretty much everyone.
Army will attempt to confuse the Stanford front seven with its unique rushing attack, but that's easier said than done. The Black Knights have thrown only 27 passes in two games—including only eight last time out—and this trend will change. It will have to this week. The Stanford defense is simply too good.
The Cardinals may not light up the scoreboard, although they may not have to for a cover. Interesting road spot, but the road chalk is where I'm leaning.
The Pick: Stanford (-29)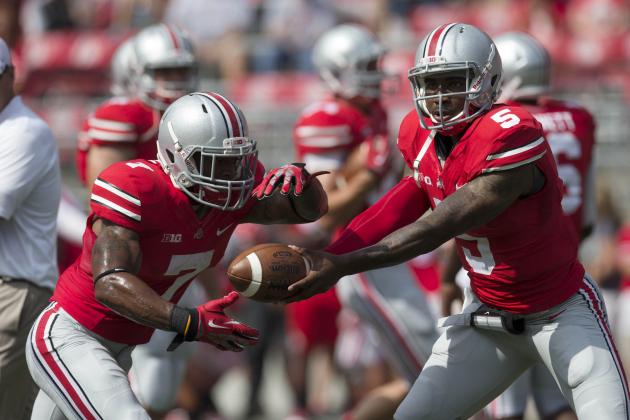 Greg Bartram-USA TODAY Sports

With Braxton Miller's status up in the air, the Ohio State-Cal game is without a point spread in most sportsbooks. Urban Meyer is "fairly optimistic" about the prospects of Miller playing, but this isn't final yet.
Still, Cal has been labeled around a two-touchdown underdog in limited spots, which seems a little less than expected. Is Vegas assuming Miller is out, or is there something more with this line?
The Golden Bears hung tough with Northwestern until late in Week 1, although Portland State gave Sonny Dykes' team a scare last week as a 30-point favorite. True freshman quarterback Jared Goff has been superb thus far, passing for more than 900 yards in his first two games. Cal running back Brendan Bigelow—someone Ohio State fans should remember well from his ridiculous The Matrix-like run a season ago—is also a factor.
A trip out west, a unique offense capable of putting up yards in bunches and uncertainty surrounding the best player on the field?
You have my attention, Cal.
The Pick: Cal (+14)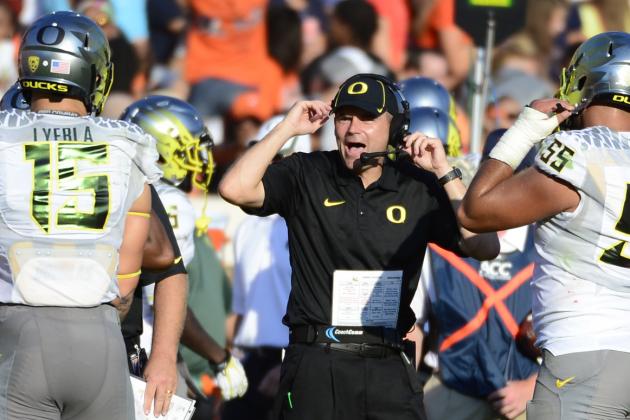 Bob Donnan-USA TODAY Sports

Creating point spreads for Oregon football games is a lot like the Oregon uniforms. Just when you think things have reached their max, the next week comes along and the process restarts. In the case of a fascinating out-of-conference game against Tennessee, the 27.5-point spread isn't necessarily shocking. But that doesn't make it any easier to comprehend.
After forcing five turnovers in Western Kentucky's first six plays, the Vols head to Eugene 2-0, sporting one of the nation's best offensive lines. This could prove to be vital as Tennessee attempts to control the tempo, which is easier said than done against Oregon.
What's most terrifying about the Ducks, however, is that the offense hasn't even sniffed its max potential yet. Quarterback Marcus Mariota is only completing 53 percent of his passes, which will change in coming weeks.
The 27.5 points sounds like a lot, and it is, but not for this team playing at this pace, playing at home.
The Pick: Oregon (-27.5)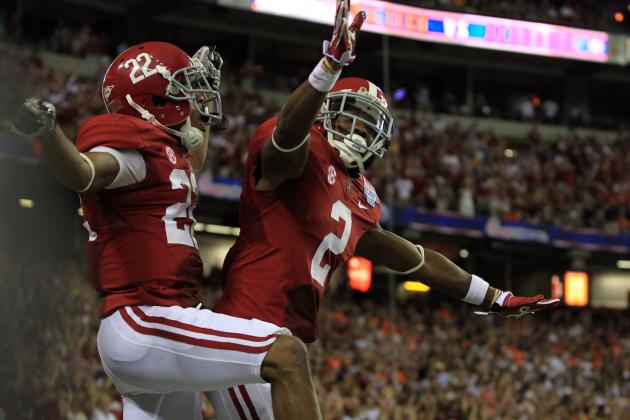 Daniel Shirey-USA TODAY Sports

Alabama has now been favored in 43 consecutive games, a noteworthy streak still well short of USC's record of 58 straight games favored under Pete Carroll.
Johnny Manziel vs. Nick Saban will be the most popular storyline, but the matchup between the Texas A&M defense and the Alabama offense—specifically, the offensive line—will prove to be the deciding factor. Especially when it comes to the point spread and the prospects of laying more than a touchdown.
Backing Johnny Manziel at home feels like a safe bet, especially after Alabama showed some offensive rust in the opener. But while backing Manziel might feel right, siding against Nick Saban—someone who has fared extremely well against the point spread in his tenure at Tuscaloosa—feels wrong.
I don't love laying eight in a game of this magnitude on the road, but Alabama is better in so many places. Like last year, it may not matter, but I'm willing to put it on Manziel to recreate a perfect game.
Oh, and he can certainly do this. And it'll be glorious watching him try.
The Pick (somewhat reluctantly): Alabama (-8)