Von Miller Reportedly Cited for Speeding, Driving with Suspended License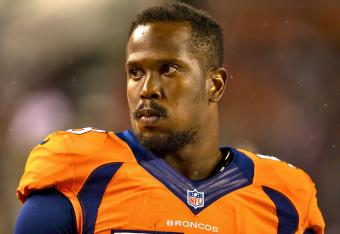 Denver Broncos linebacker Von Miller was reportedly cited for driving with a suspended license after he was pulled over for speeding in Arapahoe County in early September, according to CBS 4 Denver.
Tim Wieland of CBS 4 Denver confirmed on Sept. 11:
Von Miller stopped for speeding near his home. Computer check turned up the suspended license. Miller cited, not jailed.

— Tim

Wieland

(@CBS4Tim) September 11, 2013
From Mike Klis of The Denver Post:
Von Miller is Not a no show in court. Told his lawyer handling traffic matter for now. Goodness.

— Mike Klis (@MikeKlis) October 28, 2013
Von Miller got call from his attorney - he's headed to court. Luckily Von brought his court clothes to Dove Valley today

— Mike Klis (@MikeKlis) October 28, 2013
Riveting. Vons court is traffic deal.

— Mike Klis (@MikeKlis) October 28, 2013
Von Miller's attorney told Von not to bother with court. Von brought his suit to Dove Valley just in case. Attorney then called him over.

— Mike Klis (@MikeKlis) October 28, 2013
Josh Katzowitz of CBS Sports later confirmed that Miller did show up for the appearance:
Miller was scheduled to appear at 10:30 a.m. Monday to face two cases involving traffic violations, but only Abraham Hutt, Miller's attorney, arrived at court.

Hutt already had asked Apostoli on Friday to waive Miller's appearance, but she declined to do so. Hutt later told the court it was his fault Miller wasn't there, and the linebacker arrived about 12:15 p.m.

After pleading guilty, Apostoli ordered him to complete 24 hours of community service. Miller also must complete a level-one driving class within 30 days.

A final hearing has been scheduled for Jan. 23. But have no fear. Miller is not required to be there.
Lindsay Jones of USA Today followed:
John Fox on Von Miller court snafu. "He did everything right. He was acting on advice of his attorney."

— Lindsay Jones (@bylindsayhjones) October 28, 2013
Jordan Steffen of The Denver Post previously reported Von Miller missed his scheduled court appearance:
Denver Bronco Von Miller missed a hearing in Arapahoe County Court on Monday morning, and the presiding magistrate was not amused.

Miller, a third-year linebacker, was scheduled to appear at 10:30 a.m. for two ongoing cases connected to traffic violations, according to court records. Miller's attorney, Abraham Hutt, appeared without his client.

"The court finds it rather ridiculous he doesn't appear this morning and he's mere blocks away. That's what's made a spectacle of these issues," said Magistrate Christina Apostoli.

Hutt promised Apostoli that Miller would arrive in court within minutes. Apostoli had rejected a request by Hutt on Friday to waive Miller's appearance.
UPDATE: Wednesday, Sept. 11
Jeff Legwold of ESPN.com provides a statement from head coach John Fox on Miller:
"Obviously we're not happy about it. Everybody here has an individual responsibility, not only to themselves, but to this organization, to this football team, so it's something we're not pleased about. We'll leave it at that."
Original Text
According to the CBS 4 Denver report, Miller was released to his father after the incident. His father was with him in the vehicle.
Wieland added:
Arapahoe

County Sheriff says Von Miller was with his father when he was pulled over. His father was allowed to drive the car back home.
— Tim

Wieland

(@CBS4Tim) September 11, 2013
It's been a nightmare for Miller over the past month after a phenomenal first two years with the Broncos.
On Aug. 11, he was arrested for failing to appear in court, stemming from charges of careless driving, driving without a license and having no proof of insurance.
He was suspended six games for violating the NFL's substance abuse policy on Aug. 20.
And now this.
On Monday, the Associated Press reported that Miller could lose more than $2 million because of his six-game suspension, per CBS 4 Denver:
"There's a confidential settlement agreement that Von intends to abide by and I'm sure the league intends to abide by," [Miller's agent Joby] Branion told the Associated Press. "We can't discuss any terms of that agreement other than the obvious, which is the six-game suspension."
At 24 years of age, Miller still has plenty of outstanding football left in him...that is, if he stays on the field. He made the Pro Bowl in each of his first two seasons in the NFL, posting a combined 132 tackles, 30 sacks, 22 tackles for loss, eight forced fumbles and one interception returned for a touchdown.
He added nine tackles and a half-sack in Denver's loss to the Baltimore Ravens in the playoffs last season.
Plenty of players have squandered their NFL careers because of off-the-field issues in the past. Let's hope that Miller doesn't become one of them. He is a fantastic talent and a joy to watch.
This article is
What is the duplicate article?
Why is this article offensive?
Where is this article plagiarized from?
Why is this article poorly edited?