Pre-Training Camp Player Power Rankings for San Antonio Spurs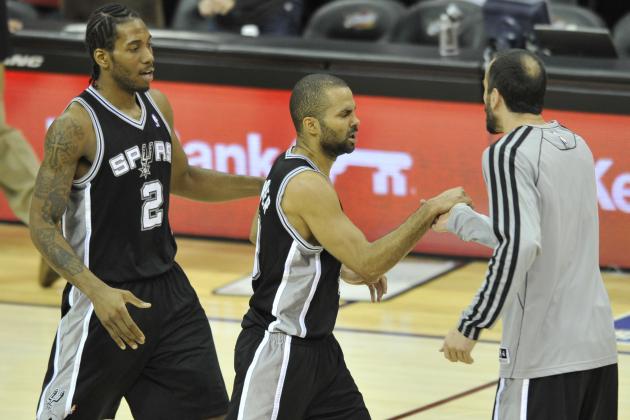 USA TODAY Sports
Kawhi Leonard, Tony Parker and Manu Ginobili are three of the Spurs' best players, but how high?
The San Antonio Spurs roster didn't undergo any major changes, but there is still a whole lot of talent on Gregg Popovich's squad.
But how does all that talent individually compare?
Tim Duncan, Manu Ginobili and Tony Parker are San Antonio's veteran leaders, but young players like Kawhi Leonard and Danny Green are becoming more pivotal players.
Depth has always been a staple for the Spurs, and the 2013-14 season should be no different with players like Marco Belinelli, Cory Joseph and Boris Diaw readily available off the bench.
These rankings are based on overall value to the team, taking into account each player's past performance and expected role for the upcoming season.
Note: Roster courtesy of Rotoworld.com.

Begin Slideshow

»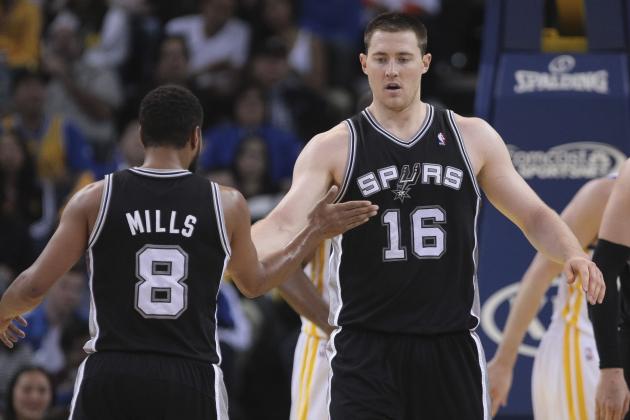 Kelley L Cox-USA TODAY Sports
Patty Mills and Aron Baynes don't play much, but both players are useful end-of-the-bench guys.
15. Livio Jean-Charles, Small Forward
The 28th pick of the 2013 draft was not expected to play for the Spurs this season anyway, so consider this an update on the 6'9" combo-forward.
Livio Jean-Charles hurt his right knee during the FIBA U-20 games, and the injury required surgery (h/t Project Spurs).
Despite this minor setback, Jean-Charles is still an exciting prospect, especially since he will not turn 20 until November.
14. Aron Baynes, Center
Aron Baynes had a fantastic summer league session, averaging 12.0 points, 10.5 rebounds and 1.3 blocks while playing 26.3 minutes per game.
The 6'10" Australian is still the third option off the bench, but Baynes has shown he is a capable rebounder when he is on the court .
Hopefully Baynes gets a few more minutes this season as Matt Bonner nears the end of his career with San Antonio.
13. Patty Mills, Point Guard
This offseason, Patty Mills picked up his $1.1 million option to remain a member of the Spurs. Mills did this despite the fact he likely could have signed with a team where he would receive more playing time.
Mills has played 16.3 and 11.3 minutes per game over the last two seasons, respectively, with his light workload all but disappearing during the playoffs.
With that being said, Mills is still a valuable insurance policy should Tony Parker suffer an injury.
12. Jeff Pendergraph, Power Forward
Jeff Pendergraph signed a cheap two-year, $3.6 million deal (h/t Hoopsworld) with the Spurs, and he provides extra depth at power forward.
Spurs.com's Ken Rodriguez says Pendergraph brings a "sweet package of energy and IQ." Rodriguez sure makes it sound like Pendergraph and Patty Mills will combine to form one awesome cheerleading squad on San Antonio's bench.
Pendergraph will essentially take over the role of now-departed DeJuan Blair, playing some garbage-time minutes in place of Tim Duncan and Boris Diaw.
11. Matt Bonner, Center
Matt Bonner is entering the 10th season of his NBA career, but the 6'10" veteran can still stroke it.
Bonner shot 44.2 percent from behind the arc last year, and that is what keeps him on the Spurs roster.
He's not necessarily a defensive liability, but Bonner isn't exactly a great defender, either. With that being said, his outside shooting will certainly be a weapon once again during the 2013-14 campaign.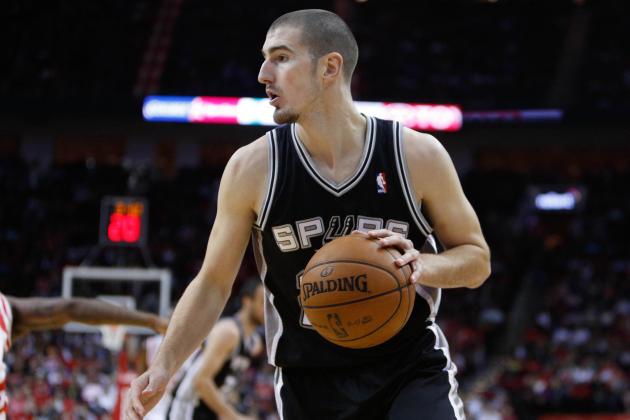 Thomas Campbell-USA TODAY Sports
Nando De Colo should have an opportunity to show his improvement this season.
Nando De Colo isn't exactly a household name, but the 6'5" point guard could become a serviceable backup.
De Colo played in 72 games as a rookie last season, managing 12.8 minutes, 3.8 points, 1.9 rebounds and 1.9 assists per appearance.
As a member of the Spurs 2013 summer league team, De Colo tallied 11.3 points, 4.0 assists and 1.8 steals while getting 31.8 minutes per game. But he also shot just 34 percent from the field, including a dismal 22.2 percent from the three-point mark while committing 3.3 turnovers and 4.3 fouls per game.
Ultimately, De Colo still has quite a bit of improving to do.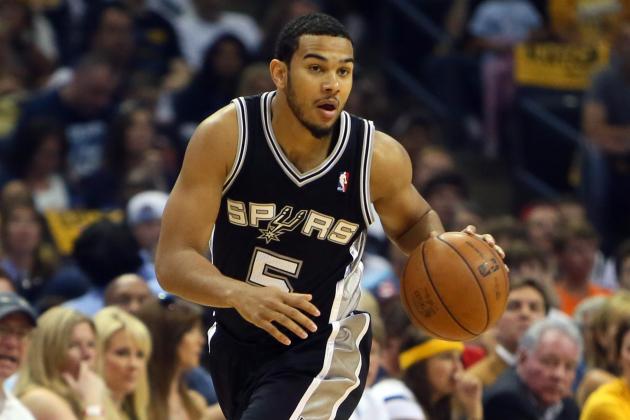 Spruce Derden-USA TODAY Sports
Cory Joseph is emerging as Parker's clear backup.
Last season, Cory Joseph split time between San Antonio and the NBA Development League's Austin Toros, but he was repeatedly called upon during the playoffs for a few scattered minutes.
Bleacher Report's Garrett Jochnau highlights everything you need to know about the young point guard.
As Jochnau stated, "Joseph isn't destined to take the NBA by storm. But what he will do is make an impact."
Joseph may not be a flashy guy, but he is a better defender than his fellow backup point guards and is evolving both as a ball-handler and shooter.
And with a full season in the league under the leadership of Parker, Joseph will again be a solid second-stringer for the Spurs come playoff time.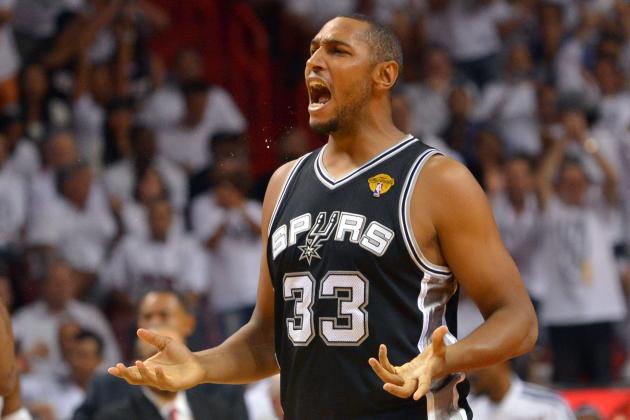 Steve Mitchell-USA TODAY Sports
Boris Diaw was a huge part of San Antonio almost winning the NBA title.
Boris Diaw was not a huge offensive contributor, but he would knock down a triple or manage an offensive rebound and putback on occasion.
From the physical battles with the Memphis Grizzlies' Zach Randolph and Marc Gasol to a fantastic matchup with the Miami Heat's LeBron James, Diaw's biggest contribution was his defense on the bigger-bodied opponents San Antonio faced during the playoffs.
Diaw averaged 5.8 points, 3.4 rebounds, 2.4 assists and 0.7 steals per game last season, so his versatility at the power forward position is quite useful, too.
Plus, he is the first option off the bench to replace Tim Duncan, so Diaw is rather important.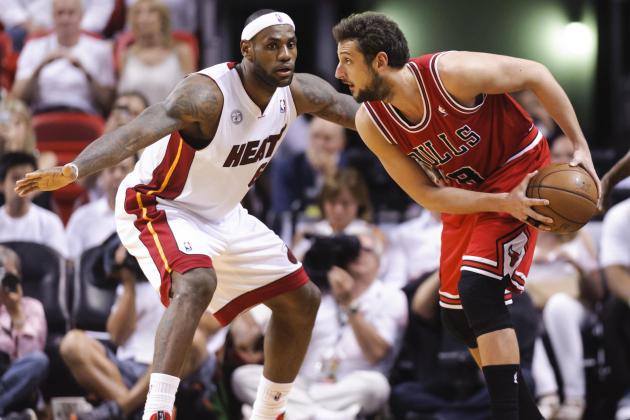 Steve Mitchell-USA TODAY Sports
Belinelli is no stranger to being guarded by the league's best.
Marco Belinelli was the "huge signing" for the Spurs during the 2013 offseason.
Belinelli brings the skill set of a great outside shooter, decent ball-handler and an improving defender, so San Antonio can definitely maximize his talents.
He is stuck behind Danny Green and Manu Ginobili on the depth chart, but Belinelli will still get plenty of minutes when Ginobili is tasked with being the point guard and also in small-ball lineups.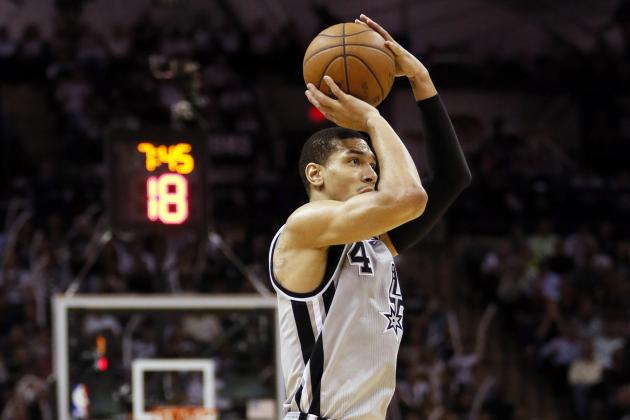 Soobum Im-USA TODAY Sports
Green's form may be unorthodox, but it sure is effective.
After a fantastic shooting performance throughout the finals, it's far too easy to get carried away setting expectations for Danny Green.
Overall, Green is a top-notch shooter, and his career 42.4 three-point percentage confirms it.
What the shooting guard is less known for, however, is his defensive ability. Green showed outstanding on-ball and transition defense skills throughout the playoffs, so his already important role will continue to expand for the Spurs.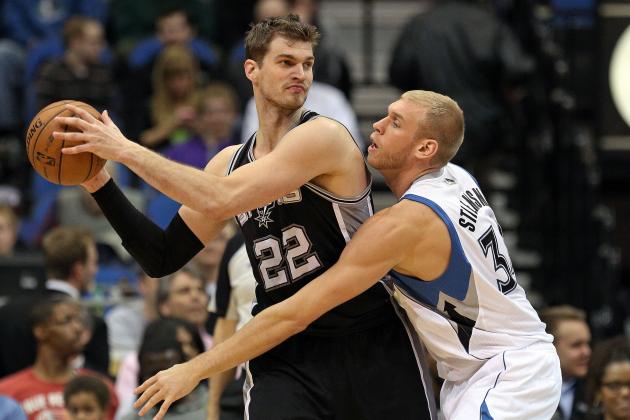 USA TODAY Sports
Splitter needs to improve his ball skills.
The Spurs front office rewarded Tiago Splitter with a massive new contract after the 7-footer contributed very solid numbers over the last two seasons. Splitter averaged 9.9 points, 5.9 rebounds and 0.8 blocks, playing 22.3 minutes per game.
If nothing else, the pay raise shows San Antonio has loads of confidence in the center, especially since he will turn 29 in January.
Splitter had his fair share of issues throughout the finals, but he will be an important piece to the Spurs puzzle throughout 2013-14.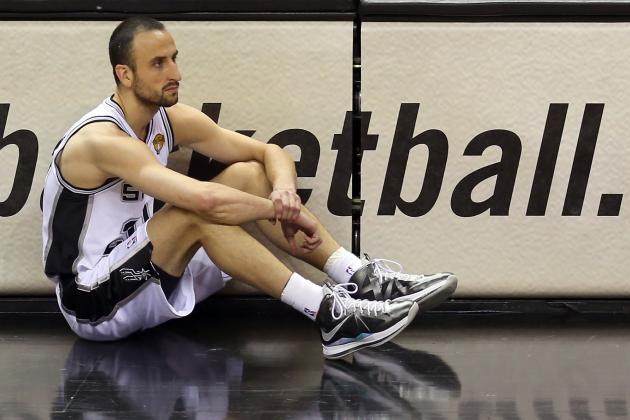 Mike Ehrmann/Getty Images
Ginobili has made a living as the first man off the bench.
Manu Ginobili re-signed with San Antonio, and he will most definitely retire as a Spur.
Sentiments aside, Ginobili still has some good ball left in the tank as shown in his Game 5 performance during the finals.
The biggest change this season concerning Ginobili, though, is that Belinelli will likely also be on the court at the same time. Ginobili's desire to do too much haunted (or still haunts) San Antonio, but Belinelli can handle the ball much, much better than Gary Neal could.
Ginobili will feel less pressure offensively, the 6'6" lefty still poses a tough challenge when driving the lane, and he certainly improved his defense last season. Ultimately, Ginobili is still one of the team's best weapons.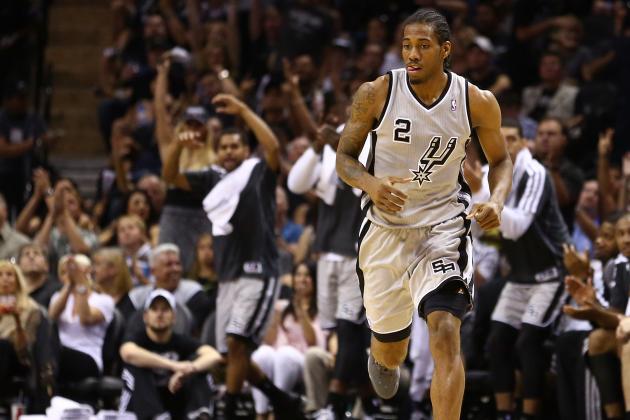 Ronald Martinez/Getty Images
Leonard is becoming the next best Spurs player.
Kawhi Leonard is the most complete Spurs' player.
He has the tools to post up, make mid-range shots, drain threes, protect the ball, crash the offensive glass, box out bigger opponents and be a lockdown defender.
Leonard has all the potential to be one of San Antonio's best, and he—other than Parker—is the most indispensable player on the roster.
For a third-year player, that sure is saying a lot, but it's not wrong.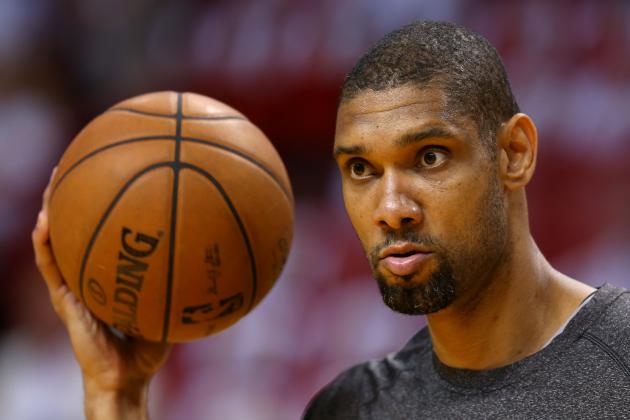 Mike Ehrmann/Getty Images
There aren't many post players more intelligent than Tim Duncan.
Tim Duncan is bizarre. He may be 37 years old, but Duncan has shown very few signs of regression.
Ultimately, how the heck is Duncan still this productive?
It simply doesn't make a whole ton of sense. He averaged 17.8 points, 9.9 rebounds, 2.7 assists and 2.7 blocks per game in 2012-13. More importantly, though, Duncan took over a couple playoff games and led the Spurs to victory.
He is the undisputed leader of San Antonio, and Duncan's post presence is essential to the Spurs' postseason success.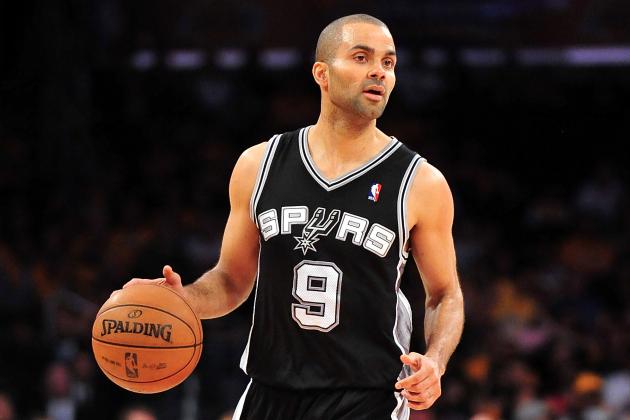 Gary A. Vasquez-USA TODAY Sports
Parker is the driving force of the Spurs.
The Spurs will live and die by the hands of its veteran point guard, Tony Parker.
Parker had the most efficient year of his career last season, so expectations remain high for the 12-year pro. Parker averaged 20.3 points and 7.6 assists per game and shot 52.2 percent from the floor.
He is San Antonio's catalyst, and the Spurs definitely miss Parker's presence when he is on the bench.
If Parker can avoid the injury bug for the first time in three seasons—especially during the playoffs—San Antonio has a great chance at bringing home the franchise's fifth title.