Updated Outlook for Entire Miami Dolphins Schedule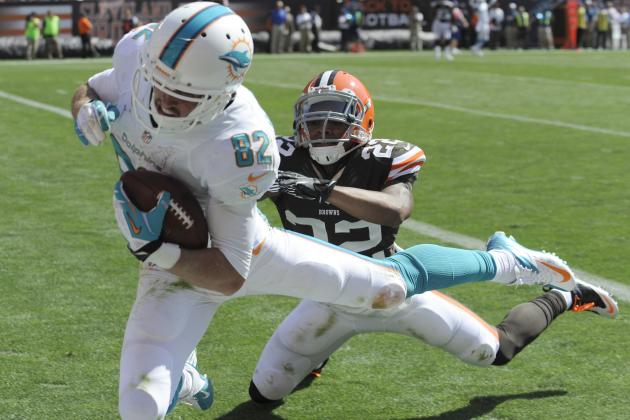 Ken Blaze-USA TODAY Sports

Logic dictated a victory for the Miami Dolphins this past Sunday against the Cleveland Browns.
I'm sorry but offseason roster changes impact a team. Too many pundits take the easy way out and are using 2012 results to predict how NFL teams will fare in 2013.
The Miami Dolphins were 7-9 last year with a rookie coach and a rookie quarterback. Since then, Miami has added a slew of potential impact players such as Mike Wallace, Brandon Gibson, Tyson Clabo, Dannell Ellerbe, Philip Wheeler, Brent Grimes, Dion Jordan, Jamar Taylor, Will Davis, Dion Sims and Caleb Sturgis.
The Dolphins' list of outgoing players includes Jake Long, Reggie Bush, Sean Smith and Anthony Fasano. While this is a group of productive players, the sum of the talent added far outweighs the talent lost.
With this is mind, how are the Dolphins not playoff contenders?
Cleveland was 5-11 last season and only added linebacker Barkevious Mingo and cornerback Leon McFadden in the first five rounds of the 2013 NFL draft. In free agency, the Browns were only able to add linebacker Paul Kruger, defensive tackle Desmond Bryant and cornerback Chris Owens. Cleveland also acquired Davone Bess from Miami through a trade.
Miami had a stronger foundation than Cleveland based on last year's performance and added much more talent in the offseason. Las Vegas dropped the ball on an easy call.
Miami Dolphins 23, Cleveland Browns 10.
I will now use what Week 1 showed us to forecast the entire season for the Miami Dolphins.
Begin Slideshow

»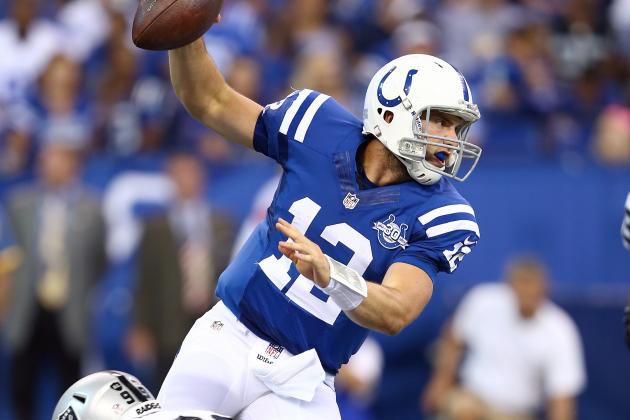 Andy Lyons/Getty Images

The Indianapolis Colts are a subpar team with a very good quarterback.
Last year, the Colts ranked 29th in the league in stopping the run, allowing 137.5 yards per game and an average of 5.1 yards per carry. In its opening game of 2013, Indianapolis continued to be among the league's worst run defenses, allowing the Oakland Raiders to rush for 171 yards on 33 carries, an average of 5.2 yards per rush.
The Colts pass defense played poorly as well, allowing Terrelle Pryor to complete 19 of 29 passes for 217 yards and a touchdown.
In the end, Andrew Luck led Indianapolis to a 21-17 victory over an Oakland team that will struggle the entire season.
The Dolphins' strength is their defensive line as was made evident by its six sacks of Brandon Weeden last week. The Cleveland Browns, anchored by left tackle Joe Thomas, ranked 15th in the league last year in sacks allowed (36). Cleveland's middle-of-the-road offensive line remained intact this season and was demoralized by the Dolphins.
Luck was sacked four times last week, so expect Cameron Wake and company to have a field day.
Miami's anemic running game will receive a shot in the arm, and Ryan Tannehill will have his way with a secondary featuring ex-Dolphin Vontae Davis as its primary playmaker.
Prediction: Miami Dolphins 31, Indianapolis Colts 21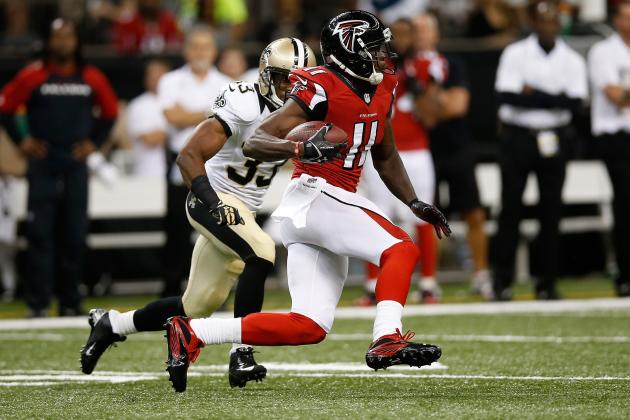 Chris Graythen/Getty Images

The Atlanta Falcons had a difficult opener against the New Orleans Saints.
Roddy White was solely a decoy after sustaining a high ankle sprain in the preseason, and the soft Saints defense sacked Matt Ryan three times.
Drew Brees and company will have their way with most NFL defenses, so it is difficult to assess the Falcons defense after Week 1. Osi Umenyiora will attempt to fill John Abraham's shoes while cornerbacks Brent Grimes and Dunta Robinson will be sorely missed in the Atlanta secondary.
The Falcons will lean on Ryan, Julio Jones and Tony Gonzalez.
Prediction: Atlanta Falcons 30, Miami Dolphins 28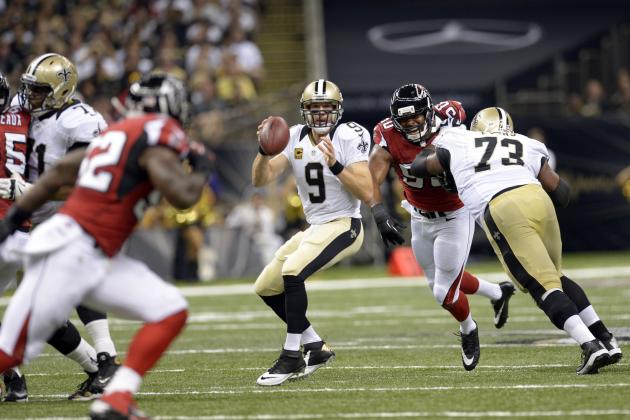 John David Mercer-USA TODAY Spor

This is easily the most difficult game on Miami's schedule.
The New Orleans Saints will have one of the top offenses in the league in 2013, and their defense will be near the bottom, again.
In Week 1, Drew Brees passed for 357 yards and two touchdowns against the Atlanta Falcons. The Saints defense allowed 367 net offensive yards. Last year, New Orleans ranked dead last in yards allowed per game (440.1).
The Saints have too much firepower for the Miami Dolphins, but expect Ryan Tannehill to have a big game.
Prediction: New Orleans Saints 35, Miami Dolphins 31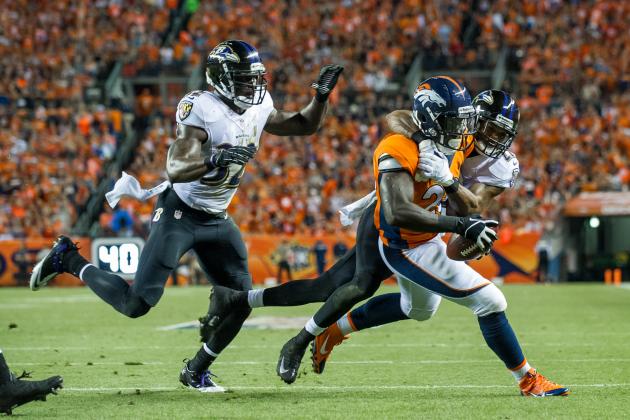 Dustin Bradford/Getty Images

While Peyton Manning and the Denver Broncos will light up most defenses, the Baltimore Ravens allowed more than 500 yards of offense in Week 1.
Baltimore lost Ray Lewis, Ed Reed, Dannell Ellerbe, Paul Kruger and Bernard Pollard, among others, this offseason. The Ravens defense will take a step back in 2013.
Baltimore's offense lost center Matt Birk and two of Joe Flacco's top weapons, Anquan Boldin and Dennis Pitta.
The fact that they are the defending Super Bowl champions will not help the Ravens, and they will struggle to match the 10-6 record of a year ago.
Ryan Tannehill will have a good game, and Flacco will be pressured all day.
Prediction: Miami Dolphins 31, Baltimore Ravens 21
Tom Szczerbowski/Getty Images

The Buffalo Bills are not very good.
While they kept their game against the New England Patriots close, the statistics paint a different picture. The Bills were only able to muster 286 net offensive yards against the Patriots' suspect defense.
C. J. Spiller will find little room to run unless rookie quarterback E. J. Manuel can earn respect with consistent play.
After struggling in the preseason, New England's offensive line shined against Buffalo, allowing only two sacks of Tom Brady and helping the Patriots rush for 158 yards, averaging 4.5 yards a carry.
Miami will find plenty of success on both sides of the ball against the Bills.
Prediction: Miami Dolphins 24, Buffalo Bills 6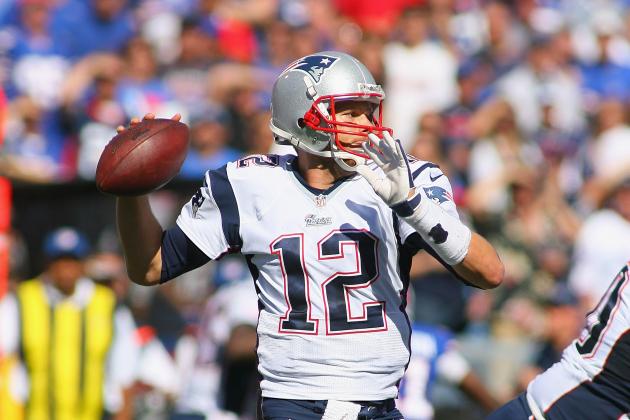 Rick Stewart/Getty Images

The 2013 version of the New England Patriots is weaker than the 2012 model, but Tom Brady is still among the best quarterbacks in the league.
Brady passed for 288 yards and two touchdowns against the Buffalo Bills in Week 1.
The Patriots will miss the production of Wes Welker and Aaron Hernandez but will likely have Rob Gronkowski in Week 8.
Tom Terrific is difficult to beat in Foxboro.
Prediction: New England Patriots 28, Miami Dolphins 21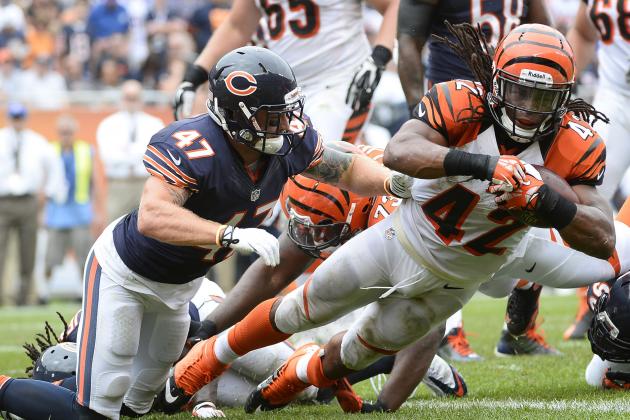 Mike DiNovo-USA TODAY Sports

The Cincinnati Bengals have received plenty of media praise this offseason. They are a competitive team that will contend for an AFC North title against the weakened Pittsburgh Steelers and Baltimore Ravens.
The truth is they are not Super Bowl contenders yet.
Andy Dalton is serviceable but nothing more, launching two interceptions against the Chicago Bears. Dalton did pass for 282 yards but the dynamic A. J. Green was responsible for 162 of those yards.
Cincinnati's pass rush may also be a problem in 2013. The Chicago Bears had one of the league's worst offensive lines last year, and while they have improved with players like Kyle Long, it speaks volumes that the Bengals failed to make a single sack.
We cannot forget that the Miami Dolphins defeated the Bengals in Cincinnati last year.
Prediction: Miami Dolphins 27, Cincinnati 17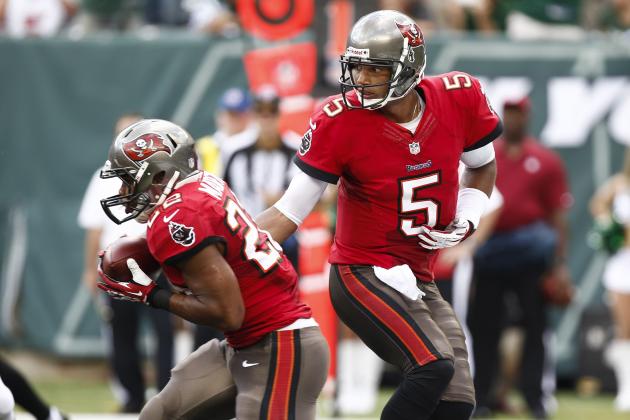 Jeff Zelevansky/Getty Images

If you can't beat the New York Jets, you're in a world of trouble.
Entering his fifth season, Josh Freeman provided a dud in Week 1, completing less than half his passes for 210 yards, one touchdown and one interception.
The lowly Jets, led by rookie Geno Smith, outgained the Tampa Bay Buccaneers, 304 total net yards to 250.
The highly touted Tampa Bay secondary allowed Smith to pass for 256 yards, while only making one interception.
The pressure created by the Miami Dolphins will force a slew of errors from Freeman.
Prediction: Miami Dolphins 24, Tampa Bay Buccaneers 10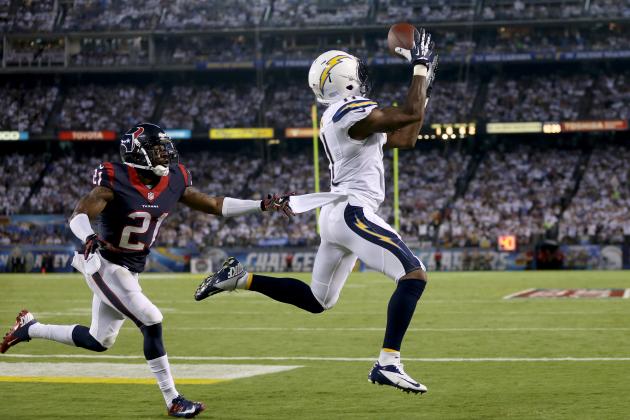 Jeff Gross/Getty Images

After leading 28-7 deep into the third quarter, the San Diego Chargers found a way to lose to the Houston Texans in Week 1.
Philip Rivers is an average quarterback due to his penchant for turning the ball over. In the last two years, Rivers has thrown 35 interceptions and lost 12 fumbles.
The San Diego offense lacks playmakers as Ryan Matthews, Malcolm Floyd, Vincent Brown and an old Antonio Gates do anything but strike fear in the hearts of their opponents.
The Chargers will also provide little in the pass-rush department after Melvin Ingram's season-ending injury, unless Dwight Freeney has a career revival.
While San Diego will be picked apart by Ryan Tannehill, Rivers will be intercepted multiple times.
Prediction: Miami Dolphins 35, San Diego Chargers 17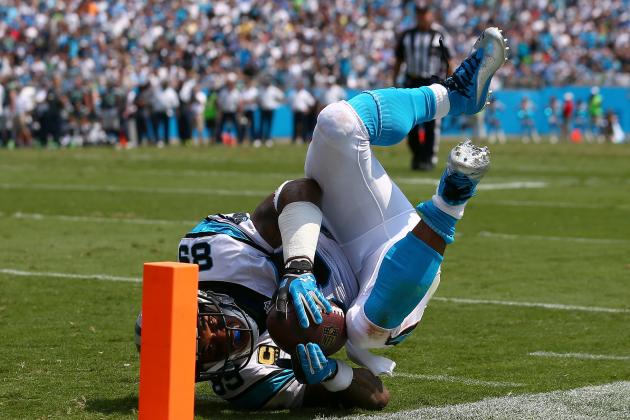 Streeter Lecka/Getty Images

Will Cam Newton take a step forward in 2013?
Newton's career 85.6 quarterback rating does not match the hype he receives. Against a very good Seattle Seahawks defense in Week 1, Newton passed for only 125 yards and rushed for just 38 yards.
The Panthers have provided Newton with little support as they have not improved on the inconsistent D'Angelo Williams and the injury-prone Jonathan Stewart in their backfield. An aging Steve Smith and Greg Olsen remain as Newton's top receivers.
While middle linebacker Luke Kuechly is a stud in the making, the Carolina secondary of Josh Thomas, Captain Munnerlyn, Mike Mitchell and Charles Godfrey is among the league's worst.
Russell Wilson passed for 320 yards against Carolina in Week 1.
Expect a big day for Mike Wallace and Brian Hartline.
Prediction: Miami Dolphins 34, Carolina Panthers 24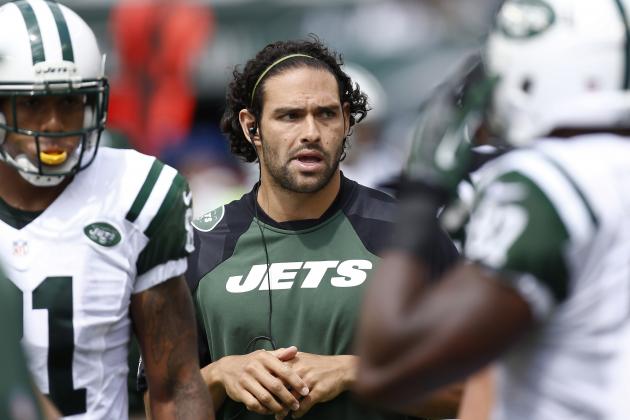 Jeff Zelevansky/Getty Images

Former general manager Mike Tannenbaum ran the New York Jets into the ground with horrible drafting and cap maintenance. Rex Ryan did his part by falling in love with Mark Sanchez.
The Jets have no playmakers on either side of the ball although Geno Smith showed us potential in Week 1 by passing for 256 yards against a stout Tampa Bay secondary.
It is a certainty that the Jets will be among the worst teams in the NFL in 2013, and Rex Ryan will pay the price.
Prediction: Miami Dolphins 28, New York Jets 3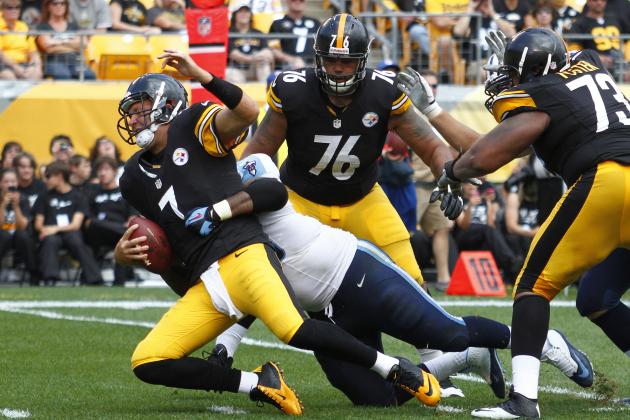 Justin K. Aller/Getty Images

The Pittsburgh Steelers were 8-8 last year and lost Mike Wallace, Casey Hampton and James Harrison in free agency while bringing back very little.
In Week 1, the Steelers potentially lost All-Pro center Maurkice Pouncey and linebacker Larry Foote for the remainder of the season.
Pittsburgh also appears to have a huge hole at the running back position after netting only 32 rushing yards against the Tennessee Titans. Le'Veon Bell may be the answer, and he may be running strong in Week 14.
It's difficult to beat the Steelers on a winter day in Pittsburgh.
Prediction: Pittsburgh Steelers 17, Miami Dolphins 14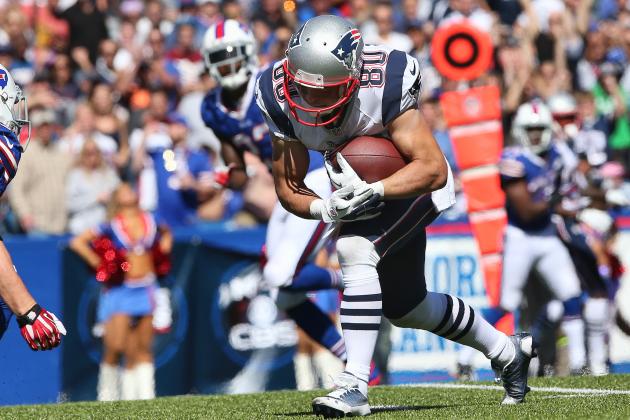 Tom Szczerbowski/Getty Images

Coming into Week 15, the Miami Dolphins will still be in the AFC East picture.
New England led the league in scoring last year and will be the near the top again in 2013.
Tom Brady will bring his A game and will his team to victory.
Prediction: New England Patriots 35, Miami Dolphins 31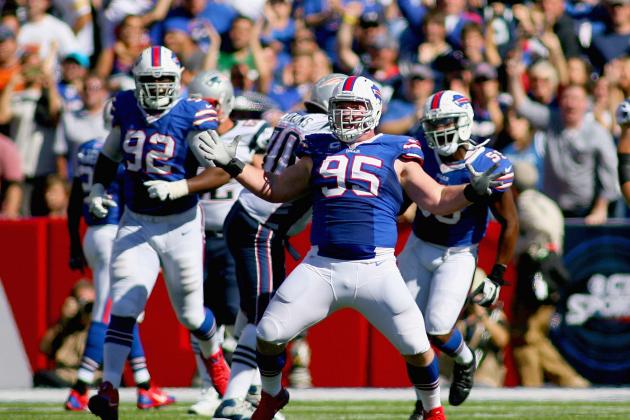 Rick Stewart/Getty Images

In Week 16, the Miami Dolphins will be hoping to avoid a three-game losing streak.
The Buffalo Bills will be positioning themselves for a high draft pick.
Last year, the Bills ranked 10th in the league in sacks allowed with 30. The loss of Andy Levitre makes Buffalo's offensive line shift toward average.
We all know what the Miami Dolphins do to average offensive lines. It will be a long day for E. J. Manuel.
Prediction: Miami Dolphins 20, Buffalo Bills 7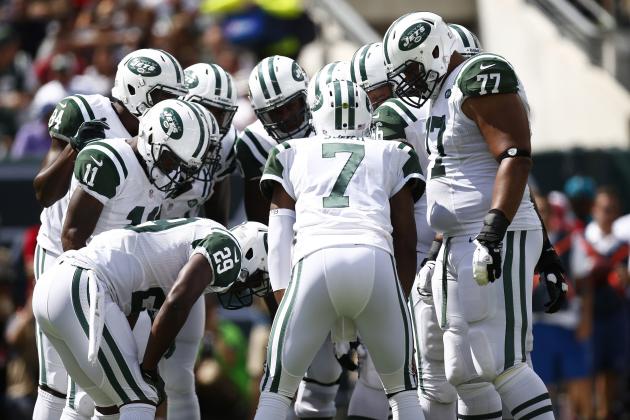 Jeff Zelevansky/Getty Images

The New York Jets will be playing for nothing on Week 17.
We will likely have a better feel for Geno Smith.
We will likely have seen the last of Mark Sanchez in the NFL.
Prediction: Miami Dolphins 24, New York Jets 0