Clay Buchholz's Impact on the Boston Red Sox Rotation, World Series Odds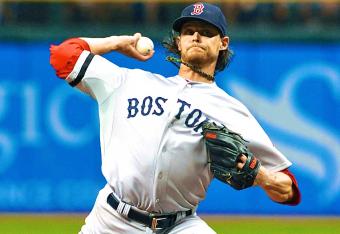 After three full months on the DL with a shoulder injury, Clay Buchholz returned to the Boston Red Sox rotation Tuesday night. He had a pretty good performance too, pitching five scoreless innings with three hits and six strikeouts against the Tampa Bay Rays.
His performance should help put fans at ease. But how does Buchholz's return impact the team and improve its World Series odds?
In case you were wondering, Clay Buchholz still doesn't give up runs. He deals 5 scoreless, lowers ERA to 1.61 in return. BOS 2, TB 0 (6th).

— MLB (@MLB) September 11, 2013
Impact on the rotation
Clay Buchholz's return is nothing but a net positive for the Red Sox, as he will give them a few additional options down the stretch. With Felix Doubront now moved to the bullpen, manager John Farrell can use Doubront to help set his rotation for the playoffs.
The rotation is currently set up as follows: Buchholz, Ryan Dempster, Jake Peavy, John Lackey and Jon Lester. This order does not necessarily reflect who the best pitcher on the team is; only the order they are now throwing in.
As it currently stands, Lester, Buchholz and Dempster would start the final three games, with the first game of the playoffs being the following Friday. Sure, Dempster would still get full rest if he were tabbed as the Game 1 starter (which is unlikely), but you also have to deal with other factors.
Does Farrell want his Game 1 starter to have pitched on the final Saturday or Sunday of the regular season? What about his Game 2 starter? Those factors have to be taken into consideration, and that's why having Doubront in the bullpen is such a luxury. Farrell can now set his team up for success in the best way possible by giving Doubront a start if needed.
Will Buchholz start Game 1?
That's a question that can't be answered until the final week of the regular season.
Remember, Buchholz has only had one start since returning from injury. He's still got at least two more to make before a real decision can be made. In fact, when it comes to the ALDS, he should be held for Game 2 or 3. That way, you're assured he gets in one more start before the end of the regular season.
While managers are starting to be careful this late in the year with their playoff starters, not wanting to tire them out, Buchholz needs all the work he can get. He needs to see a lot more hitters before you can confidently throw him out there in the playoffs.
Of course, I could be wrong and he may be ready to pitch Game 1. But it's best to err on the side of caution when it comes to Buchholz. You don't need his confidence shaken at this critical point in the season.
Where should Clay Buchholz start in the ALDS?
World Series odds
When it comes to the American League, I don't improve any team's chances at the World Series based on the return of one pitcher. Sure, he can be lights-out, but there's also a DH used, which complicates things a little more.
Pitching can be the key to winning a series, but runs still have to be put on the board, which was rare in last year's AL playoffs. Teams scored three runs or less a total of 15 times in the ALDS out of 20 opportunities.
In the ALCS, five out of the eight opportunities saw the Yankees and Tigers score three runs or less. What that shows is all teams are getting good pitching, but their offense isn't scoring the runs needed. That's the real key to winning in the AL in the playoffs.
So, the odds are the Red Sox making the World Series don't improve. They're still my favorite considering they lead all of baseball in runs scored (759), RBI (730) and extra-base hits (512). The Red Sox also have converted 85 percent of their stolen-base attempts, only getting caught 19 of 130 times. That's a recipe for success in the postseason.
While having Buchholz back is nice for the rotation, pitching alone won't determine the AL's winner. The winner is going to be the team that can hit the good pitching and score when given the opportunities.
This article is
What is the duplicate article?
Why is this article offensive?
Where is this article plagiarized from?
Why is this article poorly edited?

Boston Red Sox: Like this team?