Brazil vs. Portugal: 6 Things We Learned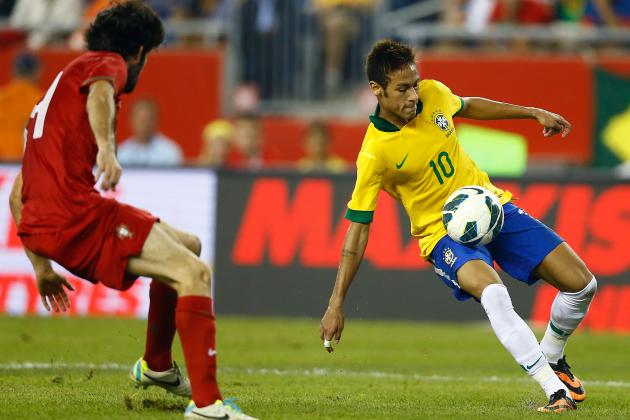 Jared Wickerham/Getty Images

Brazil accounted for Portugal, 3-1, in an international friendly match on Tuesday at Gillette Stadium in Foxborough, Mass.
Portugal opened the scoring through Raul Meireles before Thiago Silva, Neymar and Jo sealed the result for the Brazilians.
Luiz Felipe Scolari's side were given a much sterner test than in their last match, a 6-0 win against Australia in Brasilia, but handled the challenge with style.
Portugal, who were missing Cristiano Ronaldo through tendinitis, can take quite a few positives from the game.
Here are six things we learned from the glamour friendly.
Begin Slideshow

»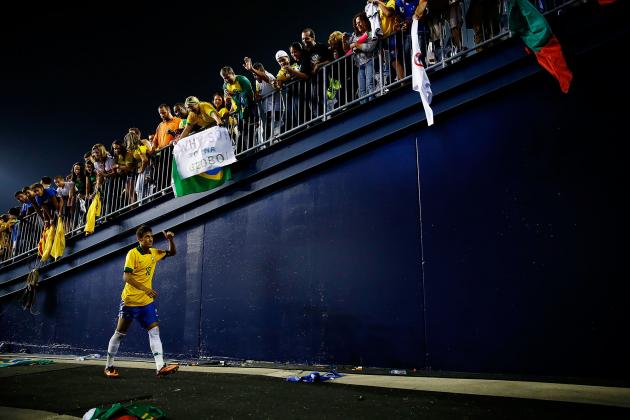 Jared Wickerham/Getty Images

Forget about potential, Neymar is already one of the premier forwards in the international game.
Despite his tender years, the Barcelona striker has already established himself as Brazil's go-to man, and his brilliantly taken strike against Portugal improved his record to 26 goals from 42 games.
There are few front men in the world who can command such fear and respect at the present time as Neymar does, and he must be one of the early favorites to win the Golden Boot at next year's World Cup.
The surge of pace to zoom past Portuguese defenders, the balance he displayed to avoid their lunging tackles and the composure he showed to guide the ball home for Brazil's second goal are all examples of why Neymar is a very special talent.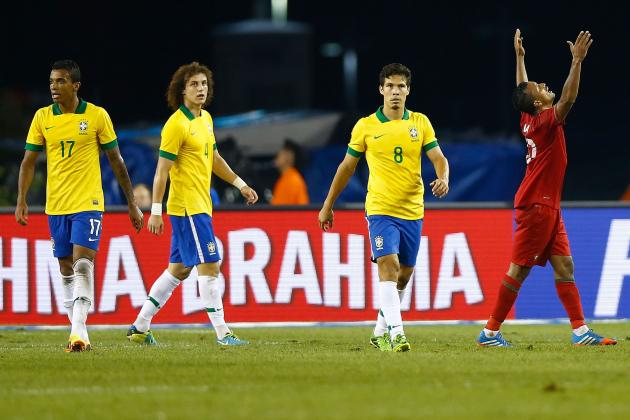 Jared Wickerham/Getty Images

There is no doubting that when Portugal are missing their main man, Cristiano Ronaldo, they look like a vastly inferior side.
Though Nani would not claim to be on the same level as the Real Madrid star, he should be a viable option to replace him in Portugal's starting lineup should the need arise, in theory at least.
Like Ronaldo, Nani is an exceptional dribbler who likes cutting in from wide positions at great pace to trouble defenders.
As he showed against Brazil, however, he lacks the multifaceted game of Ronaldo, the cutting edge and probably the self-belief to adequately fill in for him in the national team.
A couple of free kicks from well within Ronaldo's strike zone were sent into Row G by Nani, while a header from close range was blasted wide.
No wonder he hasn't scored for Portugal since November 2011.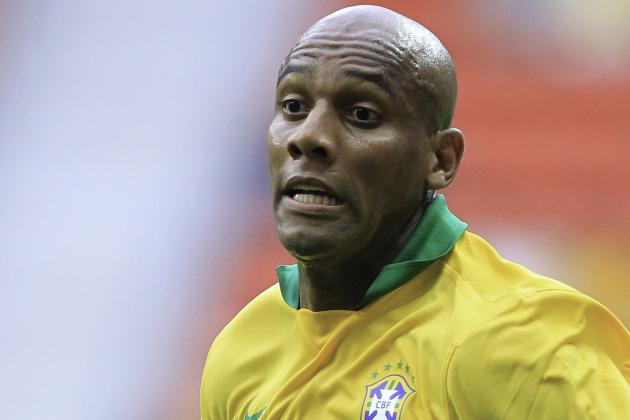 Getty Images/Getty Images

Dani Alves, if he's fit, is, no doubt, the hot favorite to occupy the right-back role for Brazil at the World Cup next year.
But the man who used to be first choice, Maicon, has demonstrated in the Selecao's last two friendlies that he is still a viable option for the position.
Sure, he made a horrendous mistake to gift Portugal the opening goal on this occasion, but Dani Alves is not immune from defensive blunders either.
Maicon offers a commanding physical presence at the back, tactical discipline and an offensive threat.
Against Australia, he was particularly good at initiating attacking moves down the right, and after his ill-fated back pass early on against Portugal, he recovered well to put in a solid display.
In the 2011 Copa America, Dani Alves lost his starting spot to Maicon after some poor performances.
The Roma player will be waiting in the wings should he slip up again.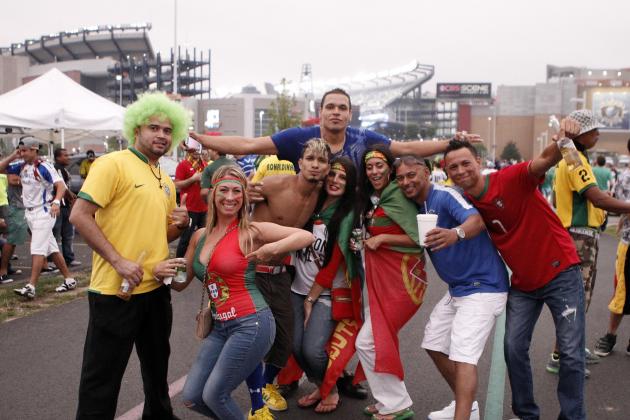 Winslow Townson-USA TODAY Sports

A bumper crowd of 62,380 fans showed up at Gillette Stadium to watch this friendly, justifying the decision to play the match in the United States.
By comparison, 40,966 attended Brazil's previous game against Australia in Brasilia. Even taking into consideration the relative strengths of the opposition and the fact that the game against the Socceroos took place on Brazil's Independence Day, it was an impressive turnout from the American public.
Interestingly, the crowd figure at the USA-Mexico match in Columbus, at a smaller venue, was just over 24,000.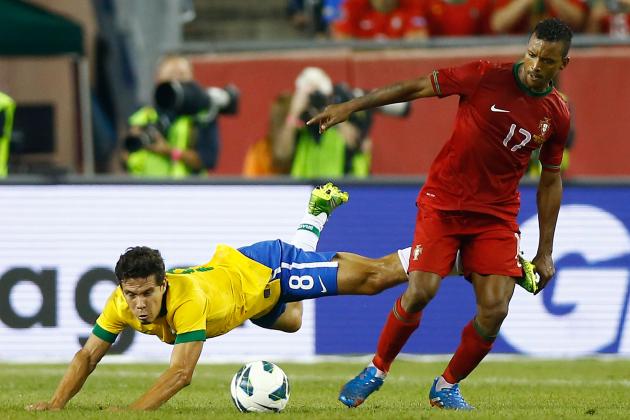 Jared Wickerham/Getty Images

Between now and the World Cup next year, the Selecao must ensure they play as many high-quality opponents as possible.
The match they played against Australia on September 8, for example, will have taught Scolari very little compared to the test against Portugal three days later.
Brazil will most likely trample any lightweight teams they come up against in the World Cup tournament proper. Killing off weaker opponents has never been a problem for them.
What Scolari really needs to learn, though, is how his players perform against the kinds of teams they would face in the later stages of the competition.
Even though they have had problems getting results in their qualifying campaign, Portugal are certainly a challenging side to play against, and they did test out Brazil.
South Korea and Zambia are the teams Brazil are scheduled to face next, but they will, no doubt, want to lock in more clashes with more of world football's heavy hitters as the World Cup approaches.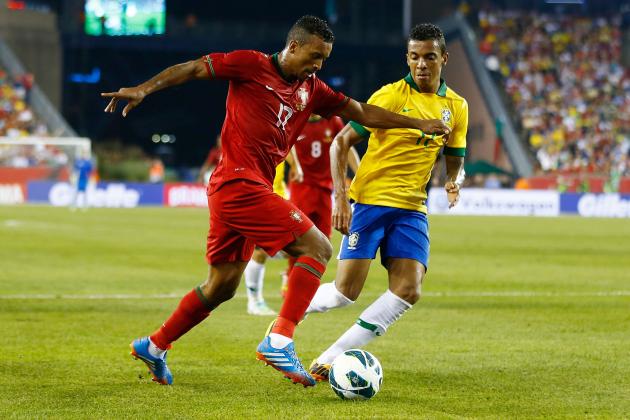 Jared Wickerham/Getty Images

Though the result was not a positive one, Portugal coach Paulo Bento can be encouraged by his team's showing against Brazil.
Aside from a period leading up to and following Neymar's goal, Portugal remained relatively competitive throughout the 90 minutes against a powerful opponent.
They may have lacked a little sparkle in attack, but they displayed enough slick passing and notable individual skills to remind everybody that they are indeed a team to be taken seriously.
Qualifying for the World Cup won't be simple for Portugal, but they are good enough to do it if they get their tactics right.