UNC Basketball: How James Michael McAdoo Can Dominate Down Low in 2013-14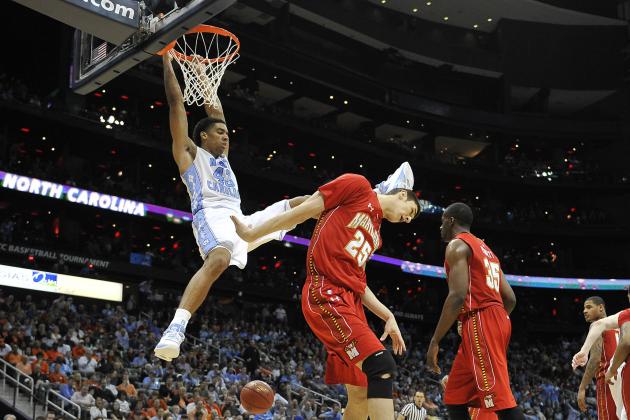 Paul Abell-USA TODAY Sports

When it comes to North Carolina's James Michael McAdoo, there is no questioning his God-given talent. He's an ultra-athletic scorer with great size at 6'9", 230 pounds, and a penchant for taking steals to the house.
But pure talent only gets a player so far when facing elite competition, as he found out during his sophomore campaign at UNC.
Following an offseason of hype, McAdoo's skill set didn't translate to easy scoring in 2012-13. Using his first season as a starter as a learning experience, the junior power forward should be able to work out the kinks and become much more efficient.
These are the areas where McAdoo must improve his game to become the dominant post player he was destined to be for the Tar Heels.
Begin Slideshow

»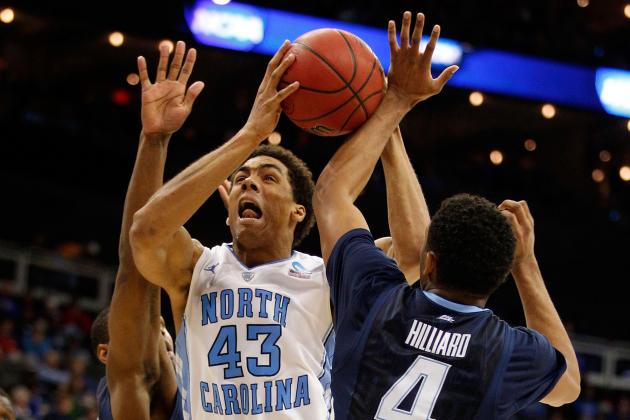 Ed Zurga/Getty Images

What James Michael McAdoo needs to improve the most in his game is his pace. As soon as the ball is in his hands, he seemed determined to score no matter what.
I believe a big reason for that mentality was his lack of a post game. When playing strictly a face-up game, as McAdoo did last season, speed is paramount. He had to get to the bucket as quickly as possible to shake off the defenders.
Unfortunately, McAdoo was facing double-teams on the regular, and by the time he got to the basket, there was usually a third defender rolling off the seldom-used Tar Heel centers.
This led to some wild, unbalanced shots in heavy traffic that, at times, looked awful.
That was the main reason for his poor shooting last season. He only shot 44.5 percent from the floor, which is well below par for a post player. He also led the team with 2.7 turnovers per game.
If he managed to bury 50 percent of his shots, McAdoo would have averaged 17.9 points per game instead of 14.4. That's a pretty big jump.
McAdoo will have to develop a back-to-the-basket game to prevent his out-of-control pace. Backing down defenders gives the post time to assess the situation and capitalize on defensive miscues. Not only would he become a more efficient scorer, but he would also be more aware of his open teammates on the perimeter.
When a player is double- and triple-teamed as he was last season, it's pretty safe to say there were some open teammates he could have dished the rock to. Kick-outs are what makes Roy Williams' dual-post system thrive.
McAdoo only averaged 1.1 assists per game last season.
If he develops a strong post game this offseason, you can expect his field-goal percentage and assists to rise while his turnovers should be reduced.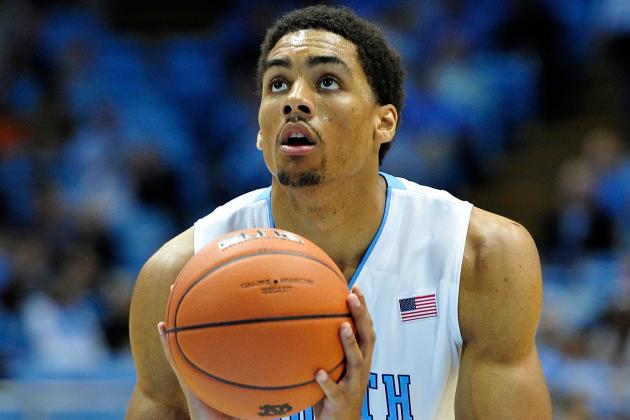 Grant Halverson/Getty Images

Last season, McAdoo had 173 free-throw attempts. That's 60 more than the closest Tar Heel. The problem was that he only buried 100 of them.
That translates to a shooting percentage of 57.8, which is unacceptable for a player of his caliber. He'll probably never be the 80-percent shooter Tyler Zeller was, but he should easily be able to sink 70 percent of his free throws.
If McAdoo shot 70 percent from the charity stripe last season, that would have increased his scoring average by 0.5 points. That may not sound like much, but it would have been enough to take the scoring title from P.J. Hairston.
And a couple free throws can be the the difference between a win and a loss.
McAdoo has to get better at shooting free throws.
Jamie Squire/Getty Images

One thing about McAdoo that goes beyond mere skills is his lack of intensity. As a junior, he will be looked at as a leader, and leaders need to be able to recharge their teammates through emotion.
We saw small spurts of intensity with McAdoo last season, as you can see in the photo above. There was also the fist pump he had while hanging on the rim against East Carolina.
Those moments are so rare, they're pretty easy to recall.
That's the attitude we need to see more of this coming season. Not only will the intensity spark his teammates, but it may also lead to a more aggressive, physical version of the Mac Attack on both ends of the floor.
Avoiding contact at the rim on offense and flopping in the defensive post rarely worked in his favor.
Fortunately, McAdoo is well aware of his flaws this offseason and is working on erasing the deficiencies in his game. If he manages to do that, James Michael McAdoo will be one of the most feared players in the ACC.
If he doesn't, he may be as great a liability as he is an asset to North Carolina.