Scouting Report, Video Highlights and Predictions for USC 4-Star Derik Calhoun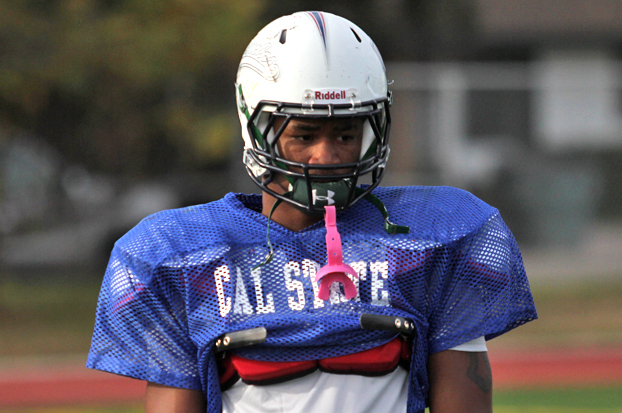 247Sports
USC has a commitment from talented 4-star outside linebacker Derik Calhoun, who should be excited by the strong early showing of the Trojans' new 5-2/3-4 defense.
An impressive tradition of linebackers exists in Troy, and Calhoun surely would love to join the ranks of many past greats. He has the skills to be a good fit in USC's defense, not only as a linebacker.
Calhoun's combination of athleticism, potential and production warrant a closer look at his skill set and future. USC has to be excited about his pending arrival.
Player evaluations are based on review of tape at Scout.com, Rivals, 247Sports and ESPNU.
Begin Slideshow

»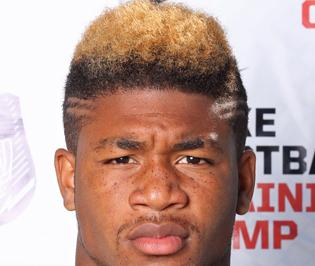 247Sports
From the San Francisco area in California, Derik Calhoun is a defensive prospect who committed to USC on July 3. His sister, Deanna, signed with the Trojans as a women's basketball recruit in 2011.
Calhoun, known as "D.J." to some, has been on the radar since being named an all-league defender after his sophomore season. He is No. 139 in the Scout 300, No. 147 in the Rivals 250, No. 162 in the 247Sports composite rankings and No. 226 in the ESPNU 300.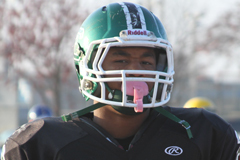 247Sports
Calhoun is a 6'0", 215-pound defender who currently plays linebacker. He may appear to be undersized, but this is a thickly built athlete on the hoof.
A tough player, Calhoun is a good athlete who has excellent speed and quickness. He quickly finds the football after the snap, charges to fill alleys and has the short-area quickness to beat bigger offensive linemen to spots laterally to make plays.
When Calhoun does encounter blockers, he plays bigger than his listed size at the point of attack. He does not shy away from lead-blockers, resists being dug out of lanes and is stout upon contact.
The California native is at his best when he can attack the line of scrimmage, as he displays explosive movements in the box and when challenging offensive players. Calhoun's speed, athleticism and ability to buzz into coverage allow him to be a threat against passing plays.
He flashes the skills to latch on to running backs and tight ends as a man-to-man defender, can flip his hips to re-attach himself to his man at junction points and could play safety at USC.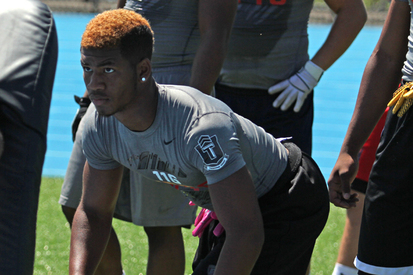 247Sports
Calhoun has good toughness, but that may not be enough to get away from big and strong college offensive linemen. He may have problems consistently shedding if he gets caught in traffic when pursuing running backs.
Calhoun's lack of size leads one to believe he is a 'tweener defender, which could lead to a move to safety in college.
If so, he will need to learn how to see the field from the third level, improve his ball skills and become more prepared to cover quicker receivers, rather than being matched with running backs and tight ends as an outside linebacker.
Here is a highlight reel from Calhoun's junior season. At 0:35, his ability to quickly react at the snap, attack the line of scrimmage and play big at the point of attack is on full display.
The highlight at 4:24 is interesting to note, as Calhoun flashes the skills to be used as a spy on passing downs. With so many teams having mobile quarterbacks, having a defensive player who is athletic enough to be responsible for the passer is crucial.
Calhoun looks like he has what it takes to fill that role for a defense.
Calhoun participated in the Oakland NIKE Football Training Camp earlier this year. This is an excellent clip to watch to get a feel for his athleticism, ability to play in space, pass drops and man coverage ability.
One can also visibly see Calhoun's unique hairstyle.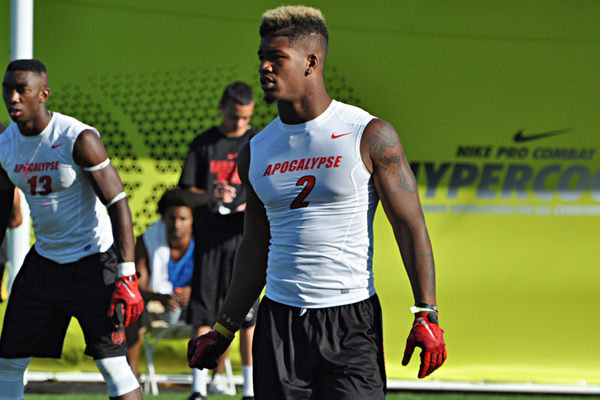 247Sports
Calhoun could be a cross between current USC defensive players Michael Hutchings and Dion Bailey. He doesn't have the pass-rushing skills of an outside linebacker in USC's current scheme, but his toughness and ability to quickly fill gaps could make him a solid fit inside.
With that being said, Calhoun's limited size, but good speed and athleticism could warrant defensive coordinator Clancy Pendergast to play him in the same hybrid-safety role that Bailey currently plays.
A worst-case scenario for Calhoun is that he becomes a solid backup and special teams standout.
Calhoun can be found on the 2014 Bleacher Report College Football Recruiting Heat Map. This mobile-ready tool can be used to locate the best players in the 2014 class from all over the country!
Edwin Weathersby is the College Football Recruiting Analyst for Bleacher Report. He has worked in scouting/player personnel departments for three professional football teams, including the New York Giants and Cleveland Browns.