Paraguay vs. Argentina: Live Score, Highlights and Recap for World Cup Qualifier
Paraguay v. Argentina, World Cup Qualifier - Asuncion, Paraguay.
Paraguay 2-5 Argentina (FT)
Goals: Messi 11' (pen) & 52' (pen), Nunez 16', Aguero 31', Di Maria 49', Santa Cruz 85', Rodriguez 89'.
Lineups
Paraguay - Fernández; M. Cáceres, Da Silva, Candia; Ayala, Riveros, Ortiz (Aquino (Romero)), Samudio; Fabbro (Rojas); Núñez, Roque Santa Cruz.
Argentina - Romero; Zabaleta, Coloccini, Campagnaro, Basanta; Gago (Rodriguez), Biglia, Di María; Agüero (Banega), Messi, Palacio (Lavezzi).
Well that's your lot from me this evening. It's been a pleasure to cover a thrilling game of football, take care!
On the way to Brazil!!!!! And in spectacular fashion. Full time is called on an exhibition of attacking football, Argentina take it 5-2 and are guaranteed a place in the World Cup. Fantastic effort to qualify with two games still to play.
GOOOOOOOOOOOL We're not quite done yet!!! Maxi Rodriguez comes off the bench to hit home in the final minute, 5-2 Argentina and the perfect way to end an enthralling game of football.
Oh dear dear dear Ezequiel!!! Lavezzi has the goal at his mercy after another clinical Argentina counter, but the PSG man blasts criminally over the bar. Luckily for Pocho it won't make too much difference here!
GOOOOOOOOL PARAGUAY!!! A final flourish from the Guarani, Samudio breaks free on the left and squares perfectly for Roque Santa Cruz, 4-2 but too late for a comeback. Or is it????!!!!!
Barring some sort of unprecedented disaster, in less than 10 minutes Argentina will be joining Brazil, Italy, Netherlands, Australia, Japan, South Korea, Iran, USA and Costa Rica in the World Cup finals.
Two goals for Lionel Messi tonight, but for my money it's been far from his most impressive Argentina appearance. For man of the match, my vote would go to either Gago or Di Maria.
Lavezzi opens up the throttle and then shoots from wide, deflected rather unconvincingly by Fernandez but it did the trick.
Sergio Aguero, who has been excellent tonight, comes off early. El Kun is replaced by Ever Banega.
The lively performance of Nunez, 24 and a member of Osasuna, is one of the few positives Paraguay can take away from this game. A striker with real presence and zip in the box.
Great save Romero!!! Nunez slipped free of his marker and was clean through, but El Chiquito got down well to stop the shot.
Paraguay make a rare foray forward. Nunez battles for space in the box but he is well covered by Zabaleta, who wins the foul in his own area.
Di Maria's goal for you lucky readers.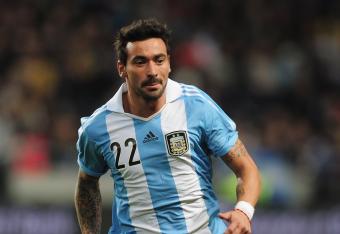 First change for Argentina, Palacio comes out and Lavezzi is into the action.
Jose Basanta does well to get down the left flank and into the box, then suddenly remembers he is a centre-back and ties himself in knots. Paraguay clear.
Di Maria off the line!!! More champagne football from Argentina, Angel chips and it takes a heroic effort to hack wide from the Paraguay defender Candia.
You have to go back to a friendly in 1963 for the last time Argentina scored 4 in Asunción against Paraguay

— Ralph Hannah (@paraguayralph) September 11, 2013
A little bit historic this evening...
Hard to believe this game was wide open before the start of the second half, two fatal blows for Paraguay leave the Guarani reeling. Should be a stroll from hereon for the visitors.
Guess who is going to take this one... Messi steps up and GOOOOOOOOOOOOOOOOOOOOOOOOOOOOOOOOOOOOOOOOL!!!!!!!!!!!!!!! Smashed into the corner, his second of the night and 10th in the qualifiers.
And it could get even better for the Albiceleste, Messi is manhandled in the box and it's a second penalty.
Surely, surely Argentina are on the way to the World Cup now. In the absence of Masche Gago has stepped up, the Boca man played a big part in both Aguero and Di Maria's goals with his exocet passing.
GOOOOOOOOOOOOOOOOOOOL ARGENTINA!!!!! A magical pass from Gago, Di Maria controls with class and rolls past Fernandez for 3-1.
Just to confirm that Venezuela kept their World Cup hopes alive, just, with a 3-2 nailbiting victory over Peru. They will need a miracle to get in the play-offs though.
Paraguay get us started again, buckle up for the second half!!
An odd move by Paraguay, they have substituted the substitute!! Aquino is out and Oscar Romero enters.
This article is
What is the duplicate article?
Why is this article offensive?
Where is this article plagiarized from?
Why is this article poorly edited?