Just one week into the NFL season, teams are still enough of a blank slate that they can change expectations in a flash. This is the nature of the NFL anyway. Playing just one game a week, this is very a much a "what have you done for me lately" league.
So, I'm looking ahead to Week 2 and pinpointing the teams that will offer up performances that get fans around the league buzzing.
St. Louis Rams
Week 2 Opponent: at Atlanta Falcons
The St. Louis Rams certainly haven't been flying completely under the radar. This is a young team that is strong in the trenches, and there are plenty of people who have labeled them as a team to watch.
They will be catapulted to legitimate contender after this game.
Last week, the Rams scored 14 unanswered points in the fourth quarter to pull out a 27-24 victory over the Arizona Cardinals. Quarterback Sam Bradford had a nice day going 27-of-38 for 299 yards, two touchdowns and an interception.
He definitely enjoyed throwing to new target tight end Jared Cook.
TE Jared Cook had a monster game in his #Rams debut and then caught up with the guys of the Sunday Drive http://t.co/YUXJ8E3krp

— SiriusXM NFL Radio (@SiriusXMNFL) September 9, 2013
Bradford had great blocking in that game and was not sacked a single time. However, the Rams did struggle to run the ball and gained just 67 yards at 2.7 yards per carry. Now that rushing attack will take on a Falcons team that only surrendered 78 rushing yards at 2.8 per carry in a loss to the New Orleans Saints.
That could be problematic for the Rams. However, Bradford will be able to find open targets.
Atlanta has a suspect secondary and it will not be able to get to Bradford. Drew Brees carved them up for 357 yards and two touchdowns last week. I'm not trying to say Bradford is ready to play at Brees' level, but he won't have to. The Rams will be able to slow down Atlanta's offense.
The key here is that the Rams have the defensive line to put pressure on Matt Ryan without sending extra defenders. This will help the Rams leave the defenders needed to stay with the plethora of options Ryan has at his disposal.
The Rams picked up four sacks last week, and I expect another similar performance this week. That will be enough to get them the key stops needed to win what will be an excellent game.
Rams 24, Falcons 20
Denver Broncos
Week 2 Opponent: at Giants
After the shellacking the Broncos laid on the Baltimore Ravens in the second half, they've left themselves with a tough act to follow.
However, follow it up they will. Peyton Manning will get the best of this Manning Bowl. The Giants defense doesn't have the talent to slow up the Broncos' high-powered attack.
New York must generate pressure from its front four if its defense is going to be stout in the passing game. However, this is not the same Giants defensive line of a couple of years ago.
In their loss to the Cowboys in the opener, the Giants mustered just two sacks and did not get nearly enough pressure on quarterback Tony Romo.
Now that group must go against Peyton Manning, who does an amazing job of limiting the adverse effects of defensive pressure. He also has more than enough weapons to get the ball too.
In the opener against the Ravens, Manning threw for 462 yards and tied an NFL record with seven touchdowns. Seven different receivers finished that game with at least 27 receiving yards.
The Giants defense is far too thin to keep up with those kinds of options.
Meanwhile, the Giants can still do damage in the passing game. However, that applies for both teams. With a struggling run game and a suspect defense, Eli Manning is being asked to put the ball airborne often, and he had three interceptions to four touchdowns last week.
Meanwhile, the Broncos also have this going for them:
A day off allowed the Broncos to watch their Week 2 opponent live, providing a jump on Giants prep: http://t.co/6h2GUmCrlg

— Denver Broncos (@DenverBroncos) September 9, 2013
I expect the Giants to put up some points, but it won't be nearly at the rate of the Broncos.
Broncos 42, Giants 24
Cincinnati Bengals
Week 2 Opponent: Pittsburgh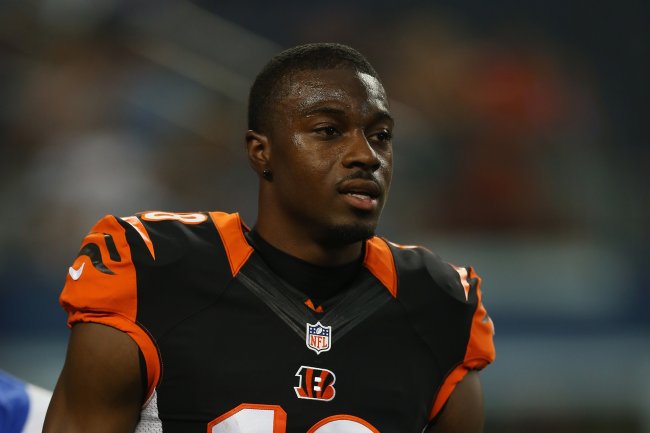 Ronald Martinez/Getty Images
This is going to be an intense game. We have two hard-hitting division rivals looking to bounce back from a poor Week 1.
It's not that the Bengals were awful in their 24-21 loss to the Chicago Bears, but the Bengals defense, which is supposed to be among the best in the league, looked surprisingly tame.
Meanwhile, the Steelers did look awful in their opener.
Pittsburgh mustered just 195 yards of total offense while losing 16-9 to the Tennessee Titans. In that loss, the Steelers' offensive line was abysmal, and now it has to take on the fearsome front of the Bengals.
The Steelers will not be able to find success running the ball against Cincinnati, and Ben Roethlisberger will not be able to overcome this while running for his life in the pocket.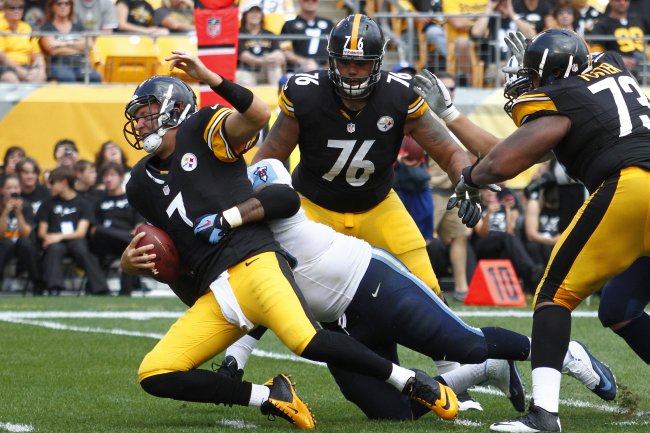 Justin K. Aller/Getty Images
Meanwhile, the Bengals will also struggle to move the ball, but Cincinnati has enough weapons in the passing game to keep the Steelers at bay.
Bengals 20, Steelers 10