There will be plenty of intriguing college football matchups to take in this weekend but none more promising than No. 1 Alabama vs. No. 6 Texas A&M in an SEC showdown that will feature the defending national champions taking on the reigning Heisman Trophy winner.
It's a matchup that has been talked about ever since the Aggies stunned the No. 1-ranked Crimson Tide in Tuscaloosa last November and rightfully so. But Alabama-Texas A&M isn't the only marquee game on the schedule this weekend.
Below I'll pick each of Week 3's Top 25 clashes, highlighting Saturday's marquee matchups.
*Spread information according to Covers.com.
College Football Week 3 Picks

| | | | |
| --- | --- | --- | --- |
| Winner | | Loser | Over/Under |
| No. 25 Ole Miss | Over | Texas | N/A |
| No. 24 TCU | Over | Texas Tech (+3) | 62 |
| No. 21 Notre Dame | Over | Purdue (+20.5) | 50 |
| Arizona State (-5.5) | Over | No. 20 Wisconsin | 52.5 |
| Illinois (+10) | Over | No. 19 Washington | 62.5 |
| No. 17 Northwestern (-31) | Over | Western Michigan | 59.5 |
| No. 16 UCLA | Over | No. 23 Nebraska (-4.5) | 70 |
| No. 14 Oklahoma (-24.5) | Over | Tulsa | 49 |
| No. 13 South Carolina (-13.5) | Over | Vanderbilt | 51.5 |
| No. 12 Oklahoma State | Over | Lamar | N/A |
| No. 11 Michigan (-37) | Over | Akron | 56.5 |
| No. 10 Florida State (-32) | Over | Nevada | 65.5 |
| No. 8 LSU (-37) | Over | Kent State | 55 |
| No. 7 Louisville | Over | Kentucky (+13) | 59.5 |
| No. 5 Stanford | Over | Army (+28.5) | 52 |
| No. 4 Ohio State | Over | California | N/A |
| No. 2 Oregon (-27.5) | Over | Tennessee | 70 |
| No. 1 Alabama | Over | No. 6 Texas A&M (+7.5) | 62 |
Spread info according to Covers.com
No. 1 Alabama Over No. 6 Texas A&M
Although Johnny Manziel and the Texas A&M offense has looked every bit as explosive as it did a year ago through the first two weeks in 2013, Alabama and Kirby Smart's vicious defensive unit in particular will be well-rested and ready to go coming off of a bye in Week 2.
Who will win Saturday's epic rematch?
Not to mention the defending national champions will want to avenge last year's upset loss in Tuscaloosa.
While the Aggies have been beating up on overmatched teams like Rice and Sam Houston State, Alabama is coming off a 25-point drubbing of Virginia Tech in Atlanta. The Crimson Tide got 21 points from their defense and special teams in that game and won easily despite only racking up 206 yards of total offense.
Nick Saban will have to get more from his offensive line in College Station on Saturday afternoon. But considering the fact that the Aggies rank 94th in the nation in total defense after two weeks, there's a strong chance that Alabama's offense will bounce back in a big way on Saturday afternoon.
No. 16 UCLA Over No. 23 Nebraska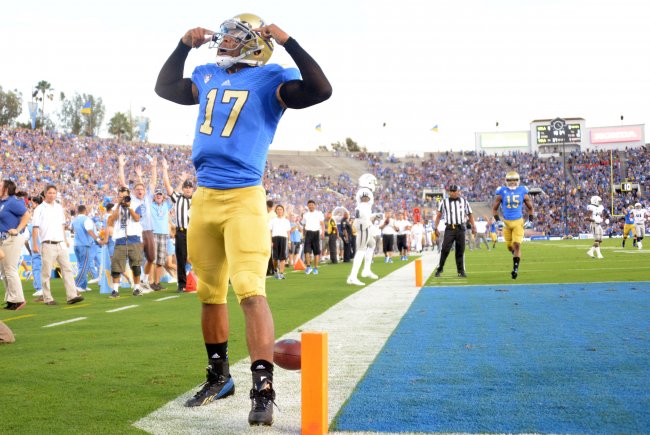 Kirby Lee-USA TODAY Sports
Nebraska will look to avenge last season's six-point loss at UCLA this weekend when it plays host to the Bruins in Lincoln.
Who wins Week 3's other rematch?
But while both programs boast dangerous offensive units, UCLA possesses the more balanced attack of the two. With sophomore quarterback Brett Hundley leading the way, the Bruins should be able to pick apart the Cornhuskers through the air and on the ground, where Hundley and leading rusher Jordon James are each averaging more than seven yards per carry in 2013.
On the other side, expect Nebraska and Taylor Martinez to struggle through the air. The Huskers have only managed to average 174 passing yards per game through two matchups with Wyoming and Southern Miss, ranking 94th in the country in that category and 71st in yards per attempt.
If Jim Mora's Bruins can crowd the box and win more often than not at the point of attack, UCLA should be able to escape Lincoln with a résumé-boosting win.
Arizona State Over No. 20 Wisconsin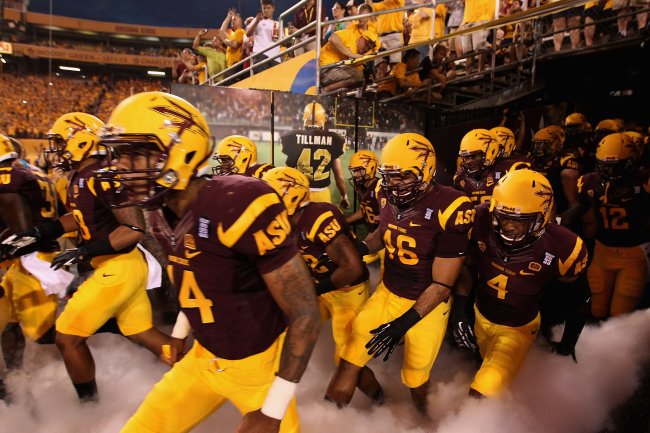 Christian Petersen/Getty Images
In an underrated matchup of two teams that both have yet to allow a single point this season, unranked Arizona State will host Wisconsin in a late-night showdown on Saturday.
Who will win Saturday's late-night matchup?
The Badgers steamrolled UMass and Tennessee Tech to open the season 2-0 while the Sun Devils crushed Sacramento State last Thursday to start the year on a high note.
But unlike those games, this matchup promises to be tight and will come down to Arizona State's dynamic aerial attack and Wisconsin's bruising ground game. I give the edge to the Sun Devils and junior quarterback Taylor Kelly, who threw for 300 yards and five touchdowns last week. Keep in mind that he's also coming off a sophomore year in which he threw for more than 3,000 yards and 29 touchdowns.
Although Wisconsin's rushing attack is no joke either—averaging 390 yards per game—expect it to come back down to earth against an Arizona State defensive front that held Sacramento State to just 51 yards rushing on 31 total attempts.
Plus, the biggest advantage by far goes to the Sun Devils, who will be playing at home in front of a raucous crowd.
Follow Bleacher Report Featured Columnist Patrick Clarke on Twitter.