Ukraine vs. England: 6 Things We Learned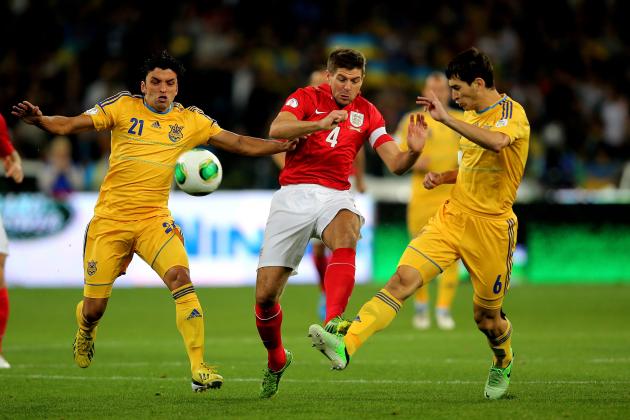 Clive Rose/Getty Images

England needed to head to Ukraine and do a job in Kyiv, and in garnering a point against a disappointingly toothless home side, they did just that.
A 0-0 draw sees Roy Hodgson's side remain in pole position for a place in Brazil next summer's World Cup, at the expense of their hosts who simply didn't have enough to get the result they needed in the Olympic Stadium.
Here are six things to ponder from the encounter between the two sides:
Begin Slideshow

»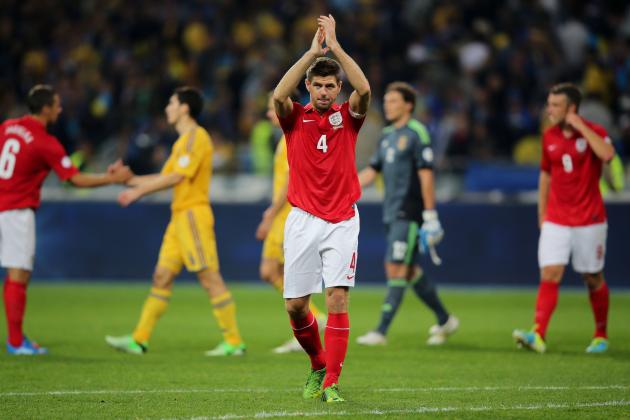 Clive Rose/Getty Images

On the whole, neither side shone brightly or showed their best. Perspiration rather than inspiration was the order of the evening. But Roy Hodgson's side now hold the advantage in their race for qualification, standing one point in advance of both Ukraine and Montenegro with two home matches to come.
By no means was this a performance to write home about, gritty and regimented as it was.
Ukraine may well be in excellent form, but for all intents and purposes they were there for the taking. Despite their two star men, Yevhen Konoplyanka and Andriy Yarmolenko, both being in attendance—Konoplyanka arguably the star of the show—they offered little in an attacking sense or in terms of tests for Joe Hart.
Better nations—Spain, Germany, Holland—may well have arrived at the Olympic Stadium, seen what they were up against and taken the victory for their own.
Nevertheless, given that a number of forward options were missing—Wayne Rooney, Danny Welbeck and Daniel Sturridge to name but three—England were solid enough defensively and resolute enough to see out 93 minutes and keep a clean sheet. No matter the style, the end result is that of a job well done, if not a job done particularly well.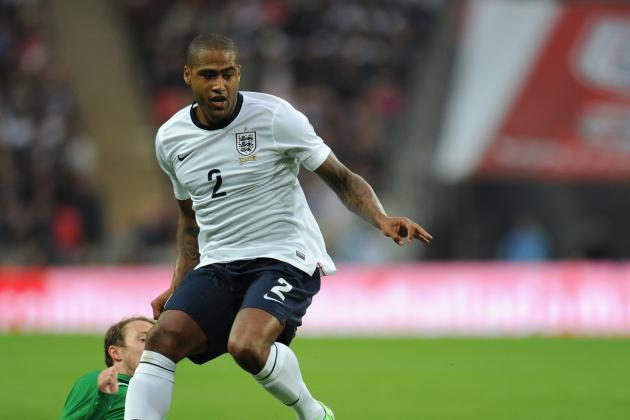 Shaun Botterill/Getty Images

Kyle Walker's somewhat rocky evening against tricky winger Yevhen Konoplyanka served to further cement the place of the injured Glen Johnson as England's first choice right-back.
The Liverpool man, who lest we forget was by all accounts excellent at Euro 2012, has missed the last two qualifiers through injury, and while claims for Walker to usurp his more experienced colleague have been forthcoming in recent times, they may calm somewhat after tonight.
Quick, strong, powerful, Tottenham's Walker is quite the physical specimen—The same could of course be said about Johnson.
Nevertheless, positionally and tactically, Walker doesn't inspire confidence. The ease with which Konoplyanka was able to tempt, isolate and go by the Spurs man throughout the contest was worrying.
And for all the talk of Walker as an attacking beast, his passing and final delivery remain second rate.
Thus Johnson, a player who has many times in the past proven his worth whenever England have gone toe-to-toe with some of international football's most mighty, will be expected to return to Roy Hodgson's XI for the October qualifiers.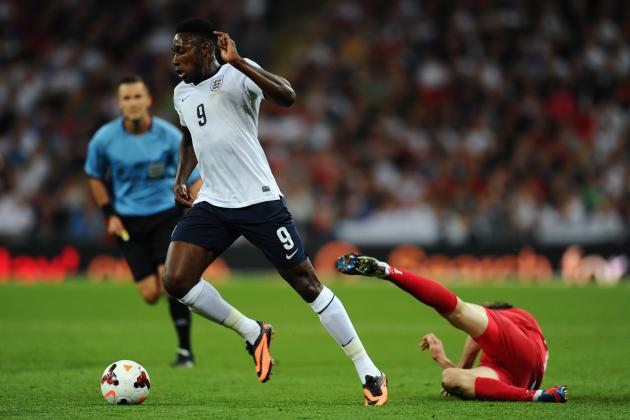 Mike Hewitt/Getty Images

The 22-year-old Manchester United forward, much-maligned for his poor scoring record at club level but who has eight goals in 18 internationals, was missed tonight.
Booked against San Marino and therefore suspended for tonight's encounter, England missed Welbeck, who aside from his ability to score goals at international level brings pace, intelligent movement and the quality to dribble at and commit defenders.
Questions are often asked as to why he appears so important to Roy Hodgson's plans, but it's those skills, allied to his versatility to perform in a number of different forward roles which makes him a vital part of this England team moving forward.
In his absence, England lacked the same kind of threat from Welbeck's nominal starting place on the left-wing—though James Milner did a responsible job supporting Ashley Cole—and he'll have an important say in the matches against Montenegro and Poland, when Hodgson's men will need to be far more proactive.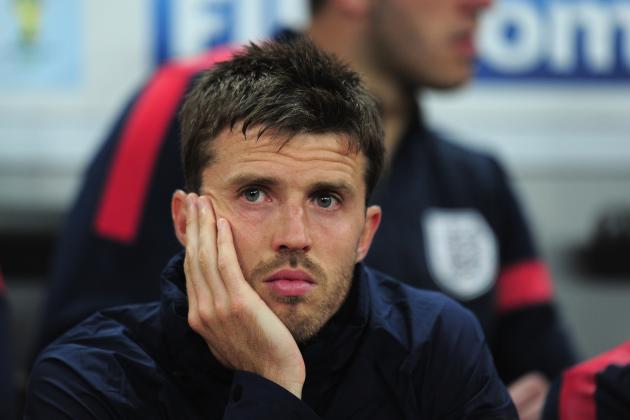 Shaun Botterill/Getty Images

At the highest level of the game, we are often reminded that keeping possession is vital, both in terms scoring yourselves and also stopping your opponent.
However, all too often during tonight's match, Three Lions gifted possession back to their opponents, either looking for the difficult pass when a simple one would do, or tossing a hopeful ball forward under pressure. No one player was guilty. All were accountable.
77.7% - England completed 77.7% of their passes in the first half; their lowest accuracy of the qualifying campaign. Wayward. @iainmacintosh
Which begs the question once more: Why no Michael Carrick?
Carrick has made a career of keeping play ticking over while recycling the ball for his side, a skill which remains more revered on the continent than among the home nations. He has matured into an excellent deep-lying playmaker, and bar a couple of nightmare evenings at the hands of Andres Iniesta, Xavi Hernandez and Lionel Messi in Rome (2009) and London (2011), his consistency has been startling in the last three/four years.
Nonetheless, with captain Steven Gerrard now playing in a deep-lying midfield role—that preferred by Carrick—his chances of a starting role in the upcoming season look somewhat moot at international level.
England's midfield trio—Gerrard, Frank Lampard and Jack Wilshere—still have a propensity for giving possession away too easily, shown once again tonight and it is something which will only get worse against better nations.
It remains something Carrick could help with.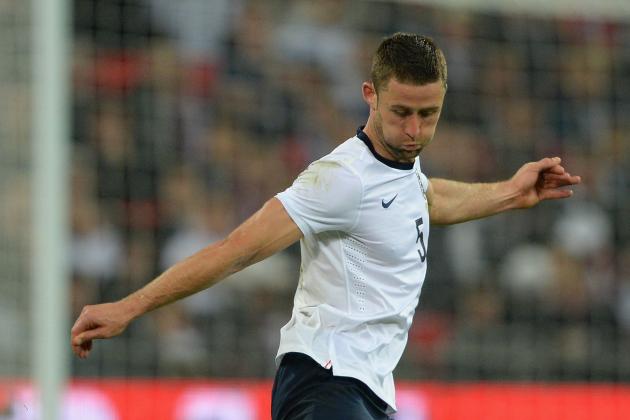 Mike Hewitt/Getty Images

Much has changed about England's defence since Roy Hodgson's ascension to the top job. John Terry has been and gone, Rio Ferdinand likewise and Messrs. Lescott, Smalling, Jones and Shawcross have all been used in the centre of defence since.
Tonight Gary Cahill and Phil Jagielka received the nod, and while Jagielka was solid, Cahill stood up and was truly counted. This was the Chelsea defender's 18th international cap since his debut in 2010, and never before has he appeared so composed, nor at home at the heart of the back line.
Aerially dominant, solid in the tackle, positionally sound and vocal in his organisation of others, the Derbyshire-born defender, now 27, appears to be every inch the leader that the England defence has seemed to need, post-Terry.
After tonight's showing, a starting spot at the heart of Hodgson's defence would appear to be Cahill's to lose.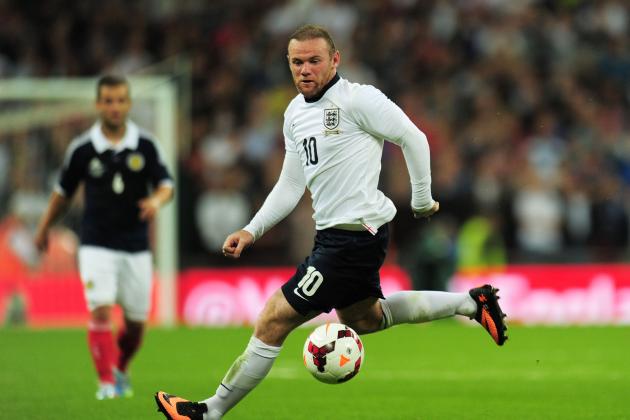 Shaun Botterill/Getty Images

Wayne Rooney is no doubt, when fully fit and firing, England's main man.
With Hodgson's England appearing increasingly wedded to a 4-1-4-1/4-3-3 formation with a single striker and no apparent role for a No.10, it would appear that his future with the Three Lions will be as a No.9.
Rickie Lambert is the working-class hero come good, and his three caps and two goals present him as an option, a target-man with physical presence capable of bringing others into play. He's no doubt an interesting squad option, particularly with Andy Carroll's injury problems, and he didn't look out of place tonight.
However, the Manchester United man is, when it's his want, a cut above, with the kind of vision and technique that is unrivalled amongst England's current crop.
England haven't beaten Poland, Montenegro or Ukraine in their four matches during this qualification group. With wins against the former pair needed to secure a place at the World Cup, a firing Rooney can make all the difference come October.