Mayweather and Canelo Make Weight Ahead of Their Historic Contest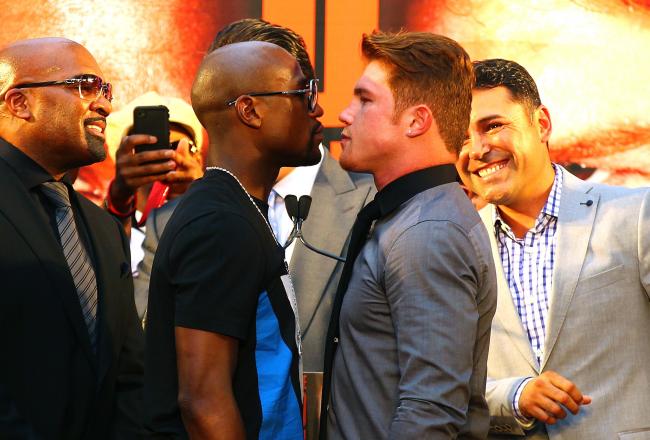 One of the bigger storylines heading into this Saturday's big night of boxing in Las Vegas, was whether Saul "Canelo" Alvarez would struggle to make the catch-weight limit of 152-pounds for his bout with Floyd Mayweather.
On that at least, mission accomplished.
A noticeably slimmer, but not dehydrated, Canelo tipped the scales at exactly 152-pounds on his first try. That's two pounds below his normal fighting weight, and he is expected to rehydrate over night and come into the ring closer to light heavyweight than junior middleweight.
For his part, Floyd Mayweather came in below the contracted weight limit at 150.5 pounds. He isn't expected to put on much weight overnight. That's mainly because Mayweather, unlike Canelo, is a natural welterweight and needs to add, not drop, weight to compete at 154-pounds.
The only drama, at least in terms of weights, came from Danny Garcia who will defend his WBC, WBA and The Ring Magazine junior welterweight titles against Lucas Matthysse in the co-main event.
Garcia initially weighed-in at 140.5 pounds, which would've put him over the limit and forced him to make a second attempt after losing the weight. But after stepping off the scales, and making an immediate second attempt, the champion came-in at 140 pounds.
Matthysse, with less a flair for the dramatic than his opponent, nailed weight on the first try, and came in at the junior welterweight limit of 140-pounds.
A quick recap of today's weigh-in:
Garcia 140 vs. Matthysse 140 for Garcia's WBC/WBA and The Ring Magazine junior welterweight championhips.
And then in our MAIN EVENT:
Floyd Mayweather 150.5 vs. Saul "Canelo" Alvarez 152 for the WBC/WBA and The Ring Magazine junior middleweight championships.
Canelo says he reached weight yesterday and was totally calm and not worried about making weight.
And then in perfect English, tells Jim Gray that he was "born ready" for this moment.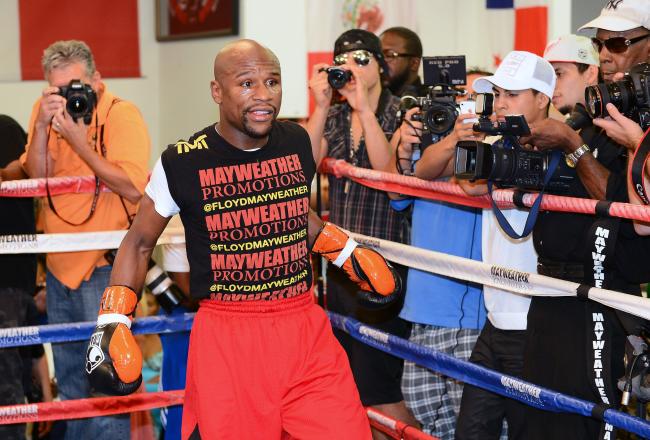 "You know how these young kids are. I got out there I gotta tame the kid," Mayweather says in response to a question about Canelo ignoring the photo-op.
The crowd heavily booing Mayweather as he's interviewed by Showtime...
Floyd just tried to hand Canelo the gold WBC belt for a photo op...and Canelo ignored him...
Interesting gamesmanship...
The crowd is HOT for this stare-down.
Both guys smiling at each other!
Mayweather is doing his thing, but Canelo ain't backing down an inch.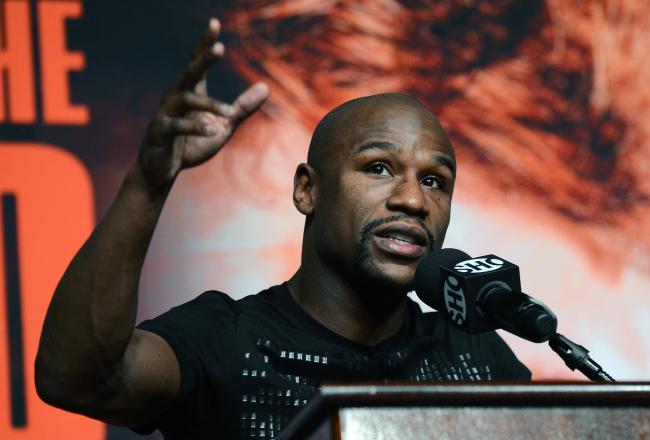 And now Floyd...
150.5 pounds.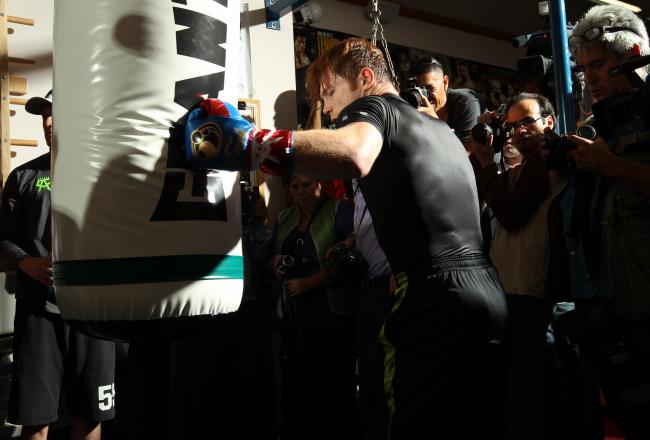 Canelo on the dot at 152-pounds...thank goodness for no drama there...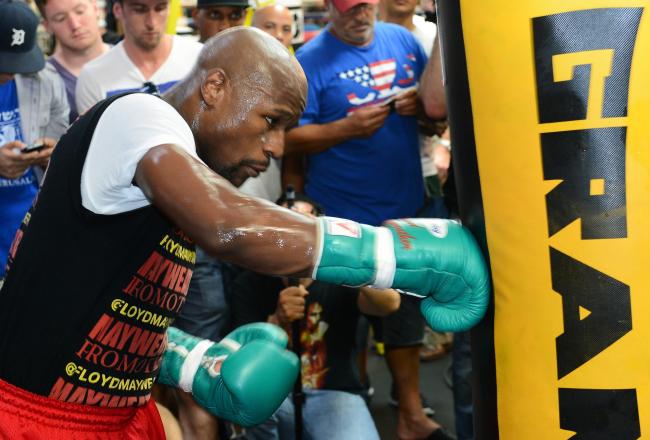 And here comes the pound-for-pound king....and the crowd...doesn't seem to like him very much.
Canelo is smiling and relaxed as he gets on stage, like a guy who will make weight #boxing #THEOne 

— Steve Kim (@stevemaxboxing) September 13, 2013
If Canelo doesn't make 152-pounds he has one hour to get down.
Let's hope it doesn't get there.
Canelo smiling, face doesn't say he's over.

— Michael Woods (@Woodsy1069) September 13, 2013
He's definitely not over...
And the roof, almost literally, just blew off the Garden Arena, as Canelo makes his way to the stage.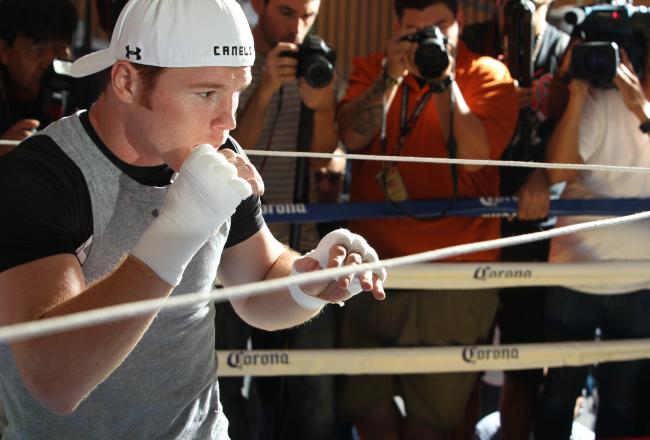 Canelo Alvarez is up next to weigh-in....should be VERY interesting.
Rosenthal: OK, we're getting serious. They turned the lights off. Just loud music and the videos. #MayweatherCanelo

— Michael, Doug or Lem (@ringmagazine) September 13, 2013
Garcia vs. Matthysse stare-down.
Matthysse doesn't seem concerned by Angel Garcia's antics, which have included frequent insults and disrespect towards his home nation of Argentina.
Garcia says he's "comfortable" with being the underdog against Matthysse despite being the champion.
So after a second weigh-in, both Garcia and Matthysse are on par at 140-pounds.
Well that was interesting...Garcia initially was announced at 140.5 pounds, which would've been a miss, and then he somehow seemed to miss a half-pound in the seconds before a second weigh-in.
Interesting turn of events there, and more than a few people holding their breaths.
And Danny Garcia MISSES weight. He's at 140.5!!
SHOCKING!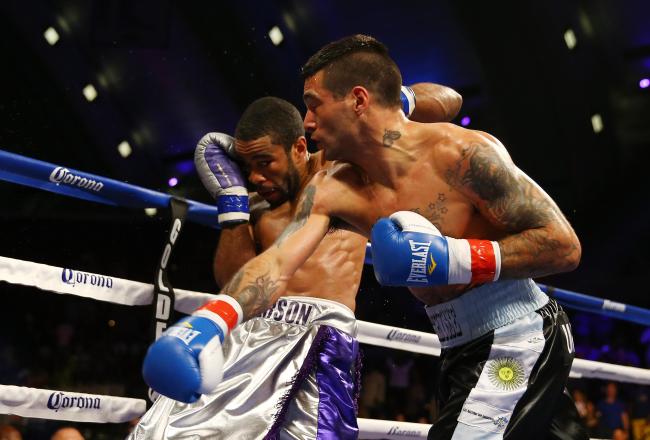 Lucas Matthysse on the scale, and he weighs-in at 140-pounds on the dot.
Danny Garcia's father/trainer Angel dances his way to the stage...What a character. Love him or hate him.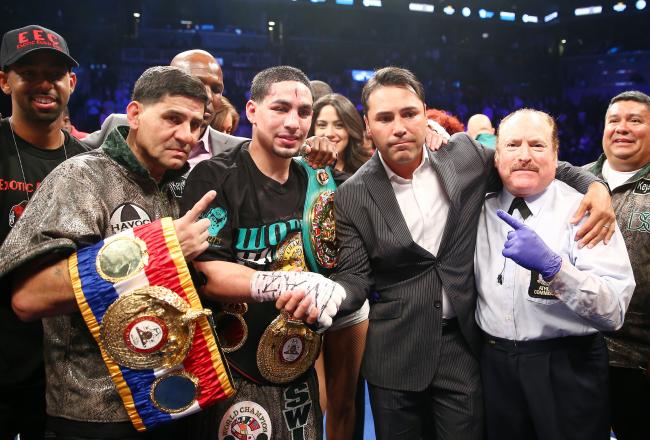 And here comes Danny "Swift" Garcia...
A smattering of boos for the champion.
On a side-note...these guys are making a ring-walk to a weigh-in...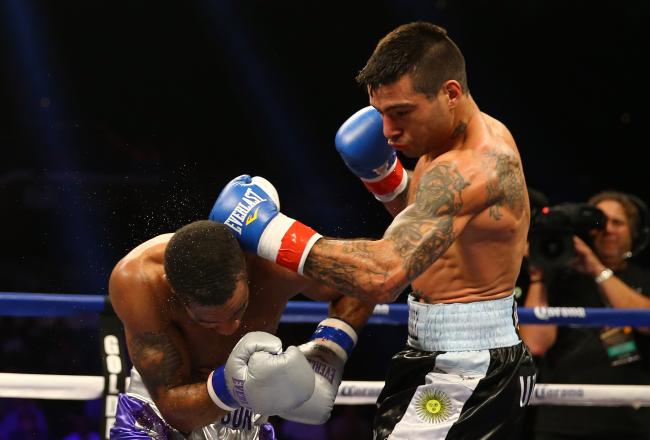 And here comes Lucas Matthysse to weigh-in...
This article is
What is the duplicate article?
Why is this article offensive?
Where is this article plagiarized from?
Why is this article poorly edited?