NHL Stars Most Likely to Win Their First Stanley Cup in the Next 3 Seasons
How soon will Henrik Lundqvist or Zach Parise be on the right side of a handshake after the fourth round of the Stanley Cup playoffs?
Bruce Bennett/Getty Images
It is always compelling for hockey fans to get behind a single long-suffering NHL star as he seeks a Stanley Cup title. However, it is more compatible with the nature of the sport when a team harbors more than one high-profile veteran with the same 35-pound gap in his trophy case.
That was true of the 2001 Colorado Avalanche, whom Ray Bourque joined in ending a career-long, 22-year drought but also had decade-plus veteran Rob Blake quenching his own thirst.
Two years prior, it was true of a host of Dallas Stars, including then-decade-long veteran Mike Modano and 12-year league member Brett Hull.
More recently, satisfaction came better late than never for Teemu Selanne and Rob Niedermayer, just to name two of the 2007 Anaheim Ducks.
Today, one-time superstars and now aging veterans Daniel Alfredsson and Jarome Iginla are each functioning as magnets for headlines with their respective quests after consistently coming up short since entering the league in the mid-1990s. If they find fulfillment in their new garb, there will be at least a handful of teammates likewise taking their first celebratory close-up with Lord Stanley.
But fittingly enough, there are some slightly less seasoned but still celestial and starved players with comparable company in their own dressing room. Their common top-shelf talent and keen craving for victory should be a foundation for their team to make a deep run in the near future.
Here are three pairs of currently Cup-less NHL teammates who enter 2013-14 with the best odds of claiming their first ring between now and the spring of 2016.
Henrik Lundqvist and Rick Nash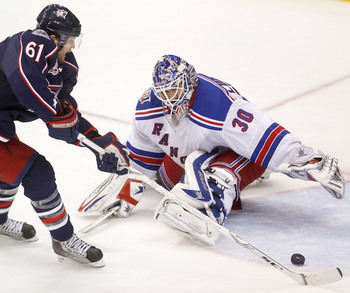 John Grieshop/Getty Images
Just because he struggled to find his form in the first multiround playoff run of his career does not mean Rick Nash cannot have better postseasons going forward. If and when he turns in a tournament that matches his typical regular season, the New York Rangers will be a critical step closer to rounding out their contender's puzzle.
Few will be entitled to more gratitude over that development than veteran goaltender Henrik Lundqvist. He has done enough of his job to win in recent springs but simply lacked sufficient support from his skating mates to translate that to a Prince of Wales Trophy, let alone a Cup.
That ought to change with a more learned Nash in the equation up front and a new system under head coach Alain Vigneault that does not take too much away from the Blueshirts' defensive prowess whilst injecting more offense.
The Nash factor and the tutelage of Vigneault, who has had the experience of coming up one win shy of a title with Vancouver, ought to be the foundation of a snowball with other capable strikers.
For instance, assuming he re-signs, the Rangers have a sound two-way center in Derek Stepan working with other established pros such as Nash and Ryan Callahan. They also have yet to cultivate the best of younger strikers Carl Hagelin, Chris Kreider and J.T. Miller.
Nothing is likely to change for the backbone Lundqvist anytime soon, except for better cushions and quicker series victories that will allow him to finish what was left undone in 2012.
Zach Parise and Ryan Suter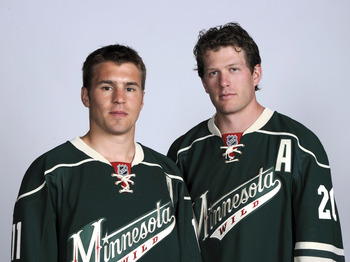 Hannah Foslien/Getty Images
Probably not in 2014 and maybe not in 2015, but it would hardly be a stretch to envision Lord Stanley in St. Paul by 2016, a mere four years into the protracted contracts of Zach Parise and Ryan Suter.
The Minnesota Wild's new budding core group went through its first round of growing pains to cap off the dynamic duo's first campaign. A five-game letdown at the hands of the top-dog Chicago Blackhawks was hardly unexpected, but it leaves more of a foundation than what any stat sheets say.
With Parise, incumbent captain Mikko Koivu and late-season import Jason Pominville, the Wild have no shortage of seasoned leadership up front. With offseason free agent Matt Cooke, despite all of his ugly extracurricular history, they have added a seasoned, ring-bearing specimen of depth.
All of that should help to solidify and gradually foster the more youthful side of the strike force, featuring any combination of Charlie Coyle, Mikael Granlund, Erik Haula, Nino Niederreiter and Jason Zucker.
Behind them, the tandem of Ryan Suter and Jonas Brodin should only get better on defense as they garner more experience together. If need be, it might even reach a point where they split up and Brodin is imparting help to a new associate the same way Suter did in 2013.
At the moment, especially with last spring's injuries, there may be questions regarding the quality of goaltending, which is one reason not to raise hope for right now. But with all of these other promising pieces in place, a reliable acquisition can be courted by the summer of 2015, if need be.
Pekka Rinne and Shea Weber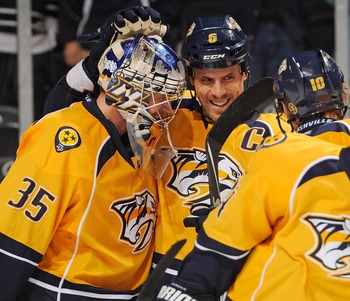 Frederick Breedon/Getty Images
Much like Lundqvist with the Rangers, Pekka Rinne has yet to end any of his best years on a satisfying note chiefly due to a modicum of support in the other zone. The Predators mustered a mere 11 goals in six games en route to a second-round snuff-out in 2011 and then lost in five games at the same stage the next year with only nine tallies.
It is difficult to blame much of that on captain Shea Weber, who strayed from his day job on defense enough to finish fourth on the team in points in both of those years. He led Nashville this past season with 19 helpers and 28 points.
While there is no inherent harm in leaning on an ensemble offensive cast, which the Preds have almost always done, Weber needs a little more relief in that department. He should start getting it, and Rinne more support, as a host of July 5, 2013 acquisitions assimilate.
Those acquisitions include veteran center Matt Cullen and rapid right wing Viktor Stalberg, each of whom own a Cup ring. The other two are capable depth wings in Matt Hendricks and Eric Nystrom.
Then there is the holdover core featuring two 24-year-old forwards in Colin Wilson and Craig Smith, who with better health and commitment can hit their respective strides at any time. Behind that, there are at least two Weber understudies in Roman Josi and Seth Jones.
A quick return to the playoffs in 2014 and a Cup by 2015 is perfectly feasible.
Keep Reading