Why Voluntary Drug Testing Will Never Work in MMA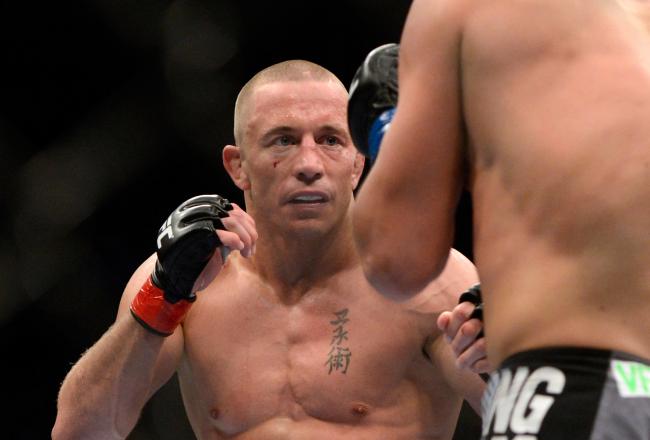 Eric Bolte-USA TODAY Sports
So much for Georges St. Pierre's attempts to clear his name against as-yet-unfounded accusations of being a drugs cheat. His proposal to instigate out-of-competition testing in his forthcoming UFC welterweight title fight against Johny Hendricks has ended, like so many similar schemes, in complete debacle.
Both sides have accused the other of not being completely transparent, and in the end, neither fighter has come out blameless.
What seems obvious now is that voluntary drug testing, such as those conducted by the Voluntary Anti-Doping Association (VADA), will never work in MMA.
The sport suffers from the same problem that has beset many similar sports in that it ultimately lacks an overarching governing body. What we're left with is individual fighters routinely playing the drug-testing card, like in boxing, as elaborate gamesmanship.
Comments made by Hendricks to Ariel Helwani on The MMA Hour Monday are telling:
If GSP's clean, I've got nothing to worry about, but what if he's not? All of a sudden he starts pushing these drug tests, and here he is blowing up big and he starts taking VADA and fails, then I don't get my title shot. That's why I'm sitting here saying I don't want a drug test.
Hendricks went on to say:
Clean or not, I don't care… If they come out and say we have documents that GSP's doing this, this and this. I'm just going to toss them to the side because I want that belt and he's the one that has it. So if I say something about it and yeah you bust him, or whatever, then I lose my title shot.
The situation is similar to what B.J. Penn and Rory MacDonald went through in the run up to their fight last year. Penn, who had accused MacDonald (like GSP before him) of using steroids, had asked both of them to submit to VADA testing. After agreement from his opponent, he then introduced many caveats, including having them agree to keep the results of any tests secret until after their fight.
That position is understandable. Fighters typically spend a huge amount of their purse on training and preparing themselves for fights. To risk all that in case their opponent, who they've already insinuated uses PEDs, fails a test, is an untenable position.
For Hendricks, that clearly means risking a title shot for which he's worked so hard to get. In the end, we're left with the status-quo. A drug testing system instigated by local state athletics commissions with enough loopholes to drive a Boeing 747 through.
Athletics commissions that only test in the small window between when a fighter applies for a licence and immediately after, leaving them to abuse any PED they want for the months in training before. Commissions which don't have the money to test all fighters or test for all drugs.
Meanwhile, the UFC sits silently, with as much at risk from failed tests as the fighters themselves.
This article is
What is the duplicate article?
Why is this article offensive?
Where is this article plagiarized from?
Why is this article poorly edited?