Prospects with the Best Chance to Shine at 2013-14 Training Camps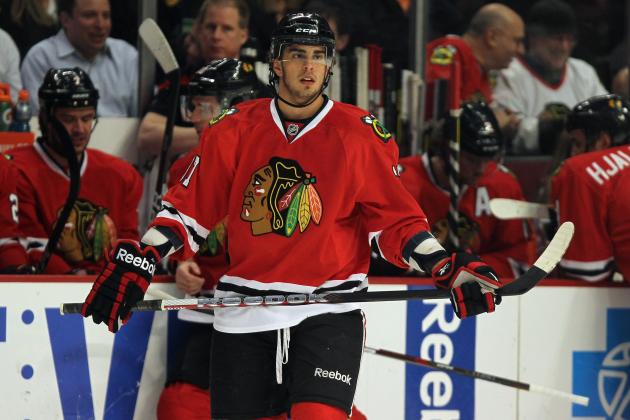 Jonathan Daniel/Getty Images

An often overlooked facet of NHL prospect development occurs before the regular season even begins. Talk to any youngster before playing their first game in the best pro hockey league in the world and you'll hear them say the same type of thing.
That hitting that clean sheet of ice with an NHL logo in the center circle with thousands of people going bananas is a dream come true.
Before these prospects can shine during a six-game road trip or give his new roommate a hard time about his pre-game rituals, they need to have a successful training camp. Moreover, there must be room on the roster for the prospect.
In today's NHL the opportunity to succeed is almost more important than the ability to do so.
All stats appear courtesy of Hockeydb.com unless otherwise noted.
Begin Slideshow

»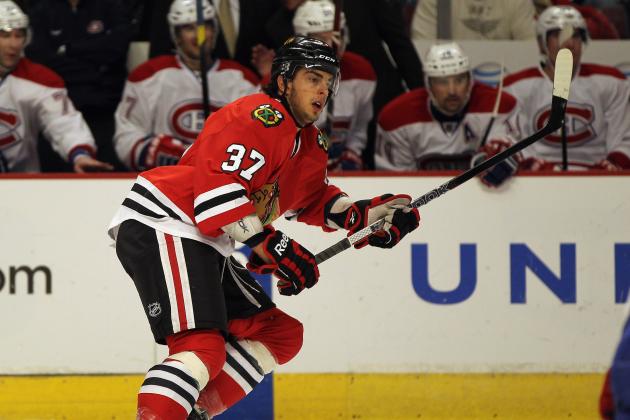 Jonathan Daniel/Getty Images

Chicago Blackhawk fans haven't been this excited about a young player since Patrick Kane or Jonathan Toews. That's elite company to be in, and Brandon Pirri could be playing with one of those two stars come October.
The defending Stanley Cup champions need a No. 2 center, and Pirri dominated at the AHL level last season from the middle of the ice. He scored 75 points in his third year with the Rockford IceHogs while impressing Chicago's brass with his improved two-way play.
In training camp Pirri will have every chance to lock down a top-six role on a 'Hawks team that will be eager and fired up to defend their title in 2013-14. Not a bad position for a 22-year-old to be in.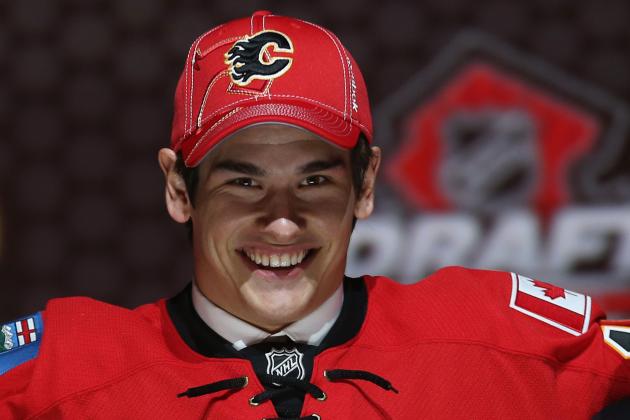 Bruce Bennett/Getty Images

Brandon Pirri has a chance to secure a top-six role for the Chicago Blackhawks, but in reality, he'll be playing second fiddle to the likes of Marian Hossa and Patrick Sharp for at least another season.
That isn't the case for Sean Monahan. The Calgary Flames are just as devoid at center as ever, and the sixth-overall pick from 2013 might have a shot at becoming the team's No. 1 pivot.
Whether such an assignment would bode well for his development is unknown at this point, but Calgary will have a better idea of what Monahan can do after training camp. If he impresses with his simple north-south game, he could have a chance to be the top center for the team to start the season.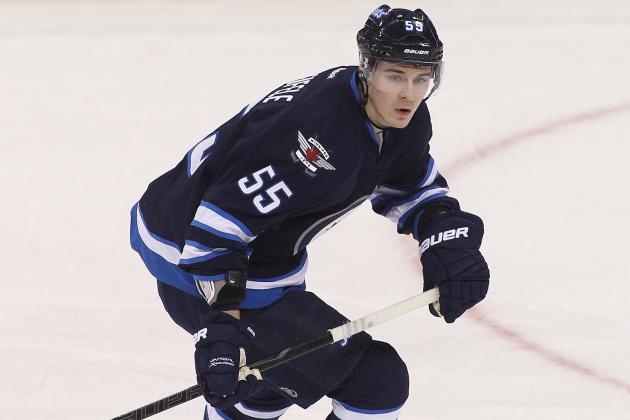 Marianne Helm/Getty Images

Mark Scheifele made the Winnipeg Jets out of camp as a recently drafted 18-year-old hotshot in 2011. He did so on the back of a scorching training camp and preseason, forcing Winnipeg to keep him on board to see what he could do.
He would eventually be sent back to the OHL after reaching the seven-game limit. Instead of burning a year off of his entry-level deal, the Jets gave Scheifele a very simple mission before heading back to juniors. They wanted to see the talented center dominate.
And dominate he did. He scored 63 points in 47 games upon returning to the Barrie Colts and didn't let up one bit last year. His 79 points in 45 games was impressive, but what Scheifele did during the playoffs was astronomical.
15 goals and 26 assists—a total of 41 points—in 21 postseason games. That's the kind of production the Jets were looking for out of Scheifele, and they'll have a hard time keeping him off the roster if he has a strong camp.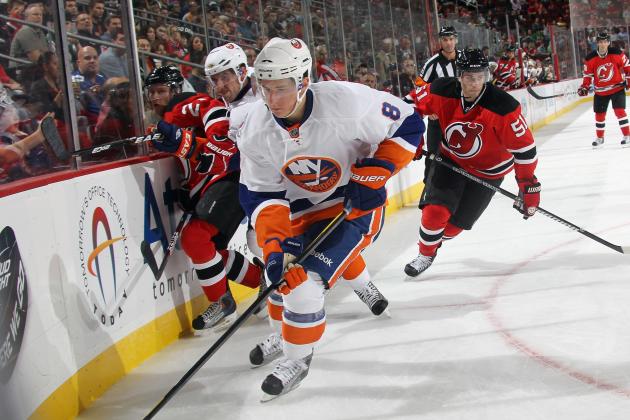 Bruce Bennett/Getty Images

Like Mark Scheifele's situation with the Winnipeg Jets, the New York Islanders have given Ryan Strome plenty of time to mature and grow his game in the OHL. Since drafting him fifth overall in 2011, New York has resisted the temptation to promote Strome despite his domination at the junior level.
In 2010-11, Strome tore off a piece of the OHL, scoring 106 points in 65 games. The Islanders didn't budge.
He followed that performance up with 68 points in 46 games in 2011-12. Still, New York allowed him more time with the Niagara IceDogs. In 2013 he erupted for another 94 points in 53 games, proving during his last year of junior eligibility that he was ready for the big time.
Strome squeezed 10 games in at the AHL level after his OHL season concluded, and he picked up right where he left off. He posted seven points in those 10 contests. If he plays like that at camp, the Islanders will have no choice but to finally award the kid for his outstanding work with a top-six role.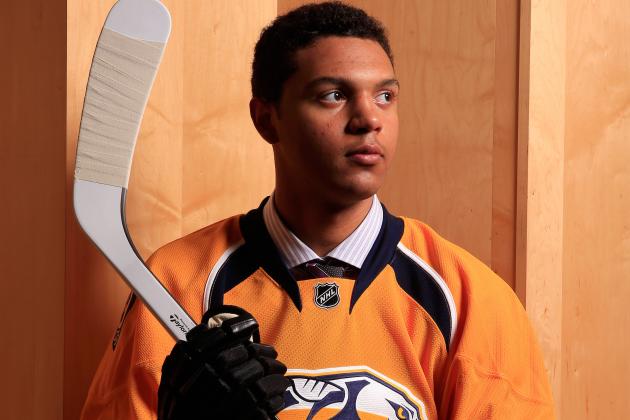 Jamie Squire/Getty Images

Seth Jones was widely regarded as the best player available in the 2013 draft until his Portland Winterhawks were scorched by Nathan MacKinnon for three goals in the Memorial Cup game. After that, suddenly there were questions about his mental toughness and whispers about him not being able to hack it in big games.
To the wolves with that.
Jones has all the tools needed to be an outstanding defenseman in the NHL for a long, long time. He skates incredibly well for such a large player (6'4", 205 pounds) and can make an impact in all three zones.
Coach Barry Trotz has already divulged his plan to USA Today to use Jones alongside Shea Weber at times during training camp and scrimmages. If that isn't an opportunity to shine, we don't know what is.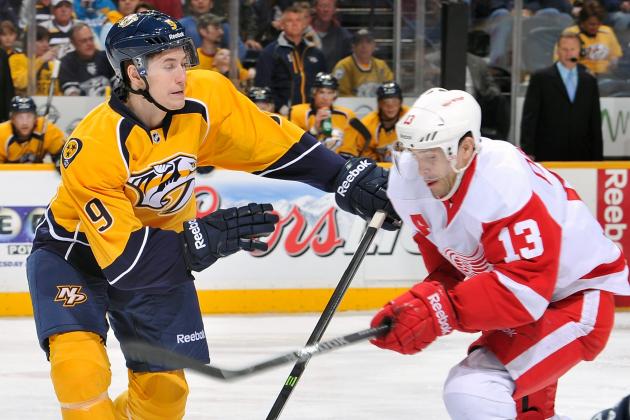 Frederick Breedon/Getty Images

Someone has to score goals for the Nashville Predators. While the team did a good job of bringing in some depth players during the offseason, the likes of Matt Cullen and Viktor Stalberg aren't going to suddenly catapult Nashville to the top of the scoring ranks.
Or even to the middle of the pack.
Any big moves that the Predators make on offense will be because of the continued development of the team's youth. Leading the charge in training camp will be Filip Forsberg. If the young Swede comes in and lights it up during camp, Nashville will have a hard time not including him on the opening-night roster.
He's a lanky center that is capable of making the players around him look and play better. Forsberg doesn't give up the puck until there's an opening somewhere, and his smart plays typically result in goals. Something that Nashville needs more of badly.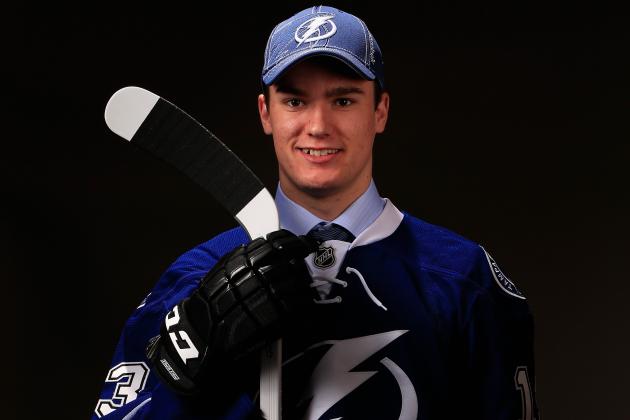 Jamie Squire/Getty Images

The Tampa Bay Lightning are one of the most offensively capable teams in the NHL. They were third in the league last season in goals scored and haven't lost any key pieces in the offensive zone. Instead, they added one in Jonathan Drouin.
Nathan MacKinnon is one of the most talented prospects that we have seen over the last decade, yet people hesitate to put him too far ahead of Drouin when it comes to his level of dynamic offensive talent.
On any given night, both players are capable of putting on firework shows with their skills in the offensive zone, and that bodes well for Tampa. If Drouin shows even a shred of his capabilities at camp, he could weasel his way onto the top line with Steven Stamkos and Martin St. Louis.
If those two can turn Steve Downie into a 40-point player, just imagine what they could do with Drouin.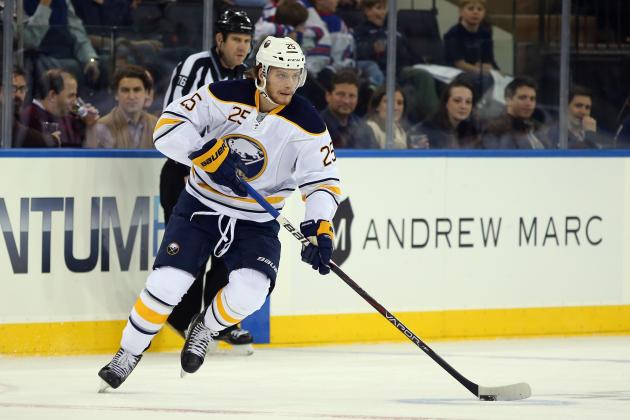 Bruce Bennett/Getty Images

Say what you will about Mikhail Grigorenko, but you can't knock him for not being able to handle adversity. He had his plate full of it in 2013 when the Buffalo Sabres surprised a lot of people by keeping him around for the lockout-shortened season.
While the young Russian was probably thrilled to become a full-time NHL player so soon, things quickly went south for Grigorenko. He scored only five points in 25 games and struggled mightily against the heightened skill level he was facing.
He was finally starting to come around in February when another blow was dealt to his season. Coach Lindy Ruff was fired, and he was forced to earn his ice time and prove his worth for the second time in just a few months.
He recently spoke to NHL.com about those struggles:
The coach changing was kind of hard for me. With Lindy Ruff, I was doing better and better. Once Ron Rolston came into the team, I needed to do it all over again. I needed to earn my ice time again because it was a new coaching staff. I was doing better and better but finally they decided it's better for me to play in the playoffs in junior.
A strong camp could go a long way toward bolstering Grigorenko's confidence heading into 2013-14. The more confident he is in his own ability, the more likely the Sabres are to give him another crack at a top-six role this season.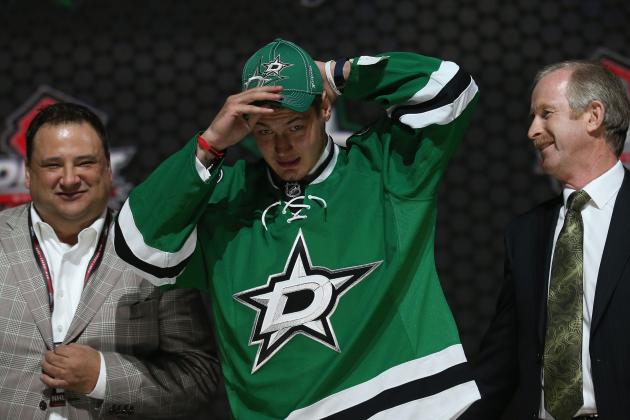 Bruce Bennett/Getty Images

See how thrilled the brass of the Dallas Stars looks in this photo? There's a good reason for that. They managed to secure a top-three talent with the No. 10 pick at the draft.
If you asked the managers of the nine teams ahead of the Stars why they passed on Nichushkin, the answer would be a simple and silly one: "He's Russian" is really all it boiled down to. Squads were afraid that the youngster would prefer to stay at home and develop in the KHL.
He's all but squashed those fears this summer and has been impressive for Dallas during early walkthroughs. Doug Lidster, an assistant coach for the AHL's Texas Stars, recently spoke to NHL.com to that effect:
I think his skill level is obvious, but there have been other things that maybe the casual observer doesn't see. In our power play walkthrough on the first day, a defenseman lost the puck on a drill. Right away he grabbed another one, threw it back to the guy that fumbled the puck and said in broken English, 'Hey, let's do it again.' He took charge right away.

Later on in practice, a defenseman missed a shift and didn't jump out there so Valeri jumped out and took charge. I like that. I like the fact he's not sitting back despite being in a foreign country, working on a second language and being with a new team. He's jumping out there trying to become a better player, trying to help his teammates be better. That's what has impressed me.
If Nichushkin can continue to make an impact like that in training camp, there's little chance that Dallas lets him head back to the KHL for another season. This is a situation that Defending Big D summed up nicely here.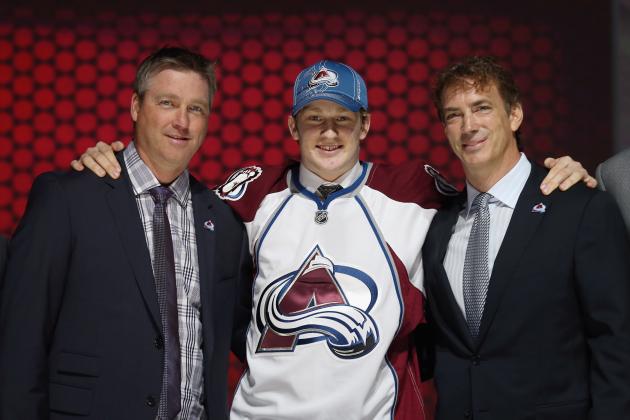 Bruce Bennett/Getty Images

Training camp for the Colorado Avalanche will have a bit of a different feel to it this year. It's likely to be a bit of a media circus at first as folks clamor for a look at Nathan MacKinnon. He'll be facing an enormous amount of pressure right out of the gate—the Avalanche didn't pass on other NHL-ready players like Seth Jones to allow MacKinnon time to season.
Colorado is expecting him to be able to make an impact this year, and he can give himself a good head start with a strong camp.
More so than any prospect in recent memory, MacKinnon has created a considerable amount of buzz. Not to take anything away from recent top picks like Nail Yakupov and Taylor Hall, but MacKinnon just has an intangible element that excites people.
A few good preseason games and an impressive camp could ease some of the pressure on MacKinnon, giving him a chance to get used to life as a professional hockey player.