If you're a fan of one of the 16 teams who started the year 1-0 in Week 1, enjoy the celebration while you can.
Which team will stay undefeated the longest?
Week 2 is coming like a freight train, and all 32 teams are in danger of coming up short in pursuit of a victory. This is the NFL we're talking about—one win is great, but anything can happen on any given Sunday.
The Denver Broncos, San Francisco 49ers and Dallas Cowboys were among the teams who picked up said victory in Week 1, but will their luck run out in Week 2? How will teams who rebounded from tough 2012 seasons (Miami Dolphins, Detroit Lions, Philadelphia Eagles) respond after starting the new year in a profitable manner?
Those questions and more will be answered before we know it. While we wait, here's a quick set of predictions for the second week of the 2013 season and a closer look at three teams who are earmarked for a loss.
*For a complete look at the Week 2 schedule and the scores from Week 1, visit NFL.com.
Full Week 2 NFL Picks
Game-by-Game Predictions for NFL Week 2

| | |
| --- | --- |
| Date | Matchup/Prediction |
| Thursday, Sept. 12 | New England Patriots 27, New York Jets 17 |
| Sunday, Sept. 15 | Atlanta Falcons 21, St. Louis Rams 13 |
| Sunday, Sept. 15 | Philadelphia Eagles 35, San Diego Chargers 25 |
| Sunday, Sept. 15 | Dallas Cowboys 28, Kansas City Chiefs 17 |
| Sunday, Sept. 15 | Indianapolis Colts 16, Miami Dolphins 14 |
| Sunday, Sept. 15 | Houston Texans 20, Tennessee Titans 6 |
| Sunday, Sept. 15 | Green Bay Packers 35, Washington Redskins 28 |
| Sunday, Sept. 15 | Baltimore Ravens 31, Cleveland Browns 21 |
| Sunday, Sept. 15 | Buffalo Bills 17, Carolina Panthers 16 |
| Sunday, Sept. 15 | Chicago Bears 22, Minnesota Vikings 19 |
| Sunday, Sept. 15 | New Orleans Saints 30, Tampa Bay Buccaneers 10 |
| Sunday, Sept. 15 | Arizona Cardinals 28, Detroit Lions 24 |
| Sunday, Sept. 15 | Oakland Raiders 27, Jacksonville Jaguars 13 |
| Sunday, Sept. 15 | Denver Broncos 30, New York Giants 20 |
| Sunday, Sept. 15 | San Francisco 49ers 24, Seattle Seahawks 16 |
| Monday, Sept. 16 | Cincinnati Bengals 21, Pittsburgh Steelers 13 |
Winners Destined to Stumble in Week 2
St. Louis Rams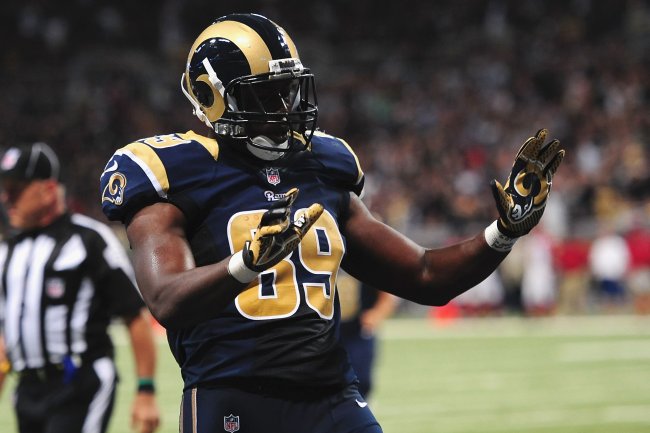 Michael Thomas/Getty Images
Jeff Fisher's team put on a gutty performance against the Arizona Cardinals on Sunday.
Down by 11 points when the fourth quarter began, Sam Bradford and the offense ripped off 14 straight points over the final frame as the defense kept Carson Palmer and the Arizona attack at bay. The result was a 27-24 Rams win.
There was a lot to like about St. Louis' Week 1 win. The defense made plays, tight end Jared Cook put on a clinic and the comeback was a great way to start the year. Unfortunately, a much tougher opponent awaits in Week 2.
Atlanta might have an 0-1 record after losing to the New Orleans Saints on Sunday, but they return to the friendly confines of the Georgia Dome to take on the Rams. In the last two seasons, the Falcons are 13-3 in their home stadium.
While Fisher has done a number on the outlook of the franchise, he's also struggled against non-divisional opponents. Check out this tweet from NFL journalist Russell S. Baxter to see for yourself:
#Rams head coach Jeff Fisher: 8-8-1 with team dating back to 2012, 5-1-1 vs. NFC West rivals, 3-7 vs. rest of #NFL

— Russell S. Baxter (@BaxFootballGuru) September 8, 2013
St. Louis will not go quietly against one-half of last year's NFC Championship Game. That said, the Falcons had chances to win against the New Orleans Saints, and they will come out hungry in their first home game of the season.
I like the Rams to nab a Wild Card spot in the NFC, but they'll have to overcome a 1-1 start to get there.
Detroit Lions
Public opinion on Detroit is high right now, and for good reason—the Lions put up 34 points against division rival Minnesota on Sunday, recording 469 yards of total offense in the process.
After Adrian Peterson rushed for a 78-yard touchdown on the first Vikings offensive play of the game, the Detroit defense limited him to 15 yards on 17 carries the rest of the game. A statement game if there ever was one, Detroit sent a message to the rest of the NFC North.
Reggie Bush was outstanding, Joique Bell had two touchdowns and the Detroit offense didn't even need Calvin Johnson to pick up the victory.
They'll face a different test against the Arizona Cardinals.
As mentioned above, Arizona faltered late against St. Louis. With a week to get motivated for their first home game of the 2013 season, Bruce Arians' team will be a tough out for the Lions. Factor in their shortcomings against St. Louis, and the added motivation is there.
Which Detroit Lions skill player will have the best fantasy football season?
Oh, and the Cardinals have a QB (Palmer) and wide receiver (Larry Fitzgerald) who are going to test the Detroit defense more than Christian Ponder did on Sunday.
To make matters worse, the discipline problems we've seen in Detroit over the past few years are creeping up again. The Lions committed 11 penalties on Sunday, a number only usurped by Tampa Bay's 13. On the road—or anywhere, for that matter—penalties are absolute killers.
Spirits are high in Motown, but the NFL is a weekly jungle. Arizona and Detroit match up well on both sides of the ball, but I give the edge to the home team as Detroit underestimates a solid Cardinals attack.
Miami Dolphins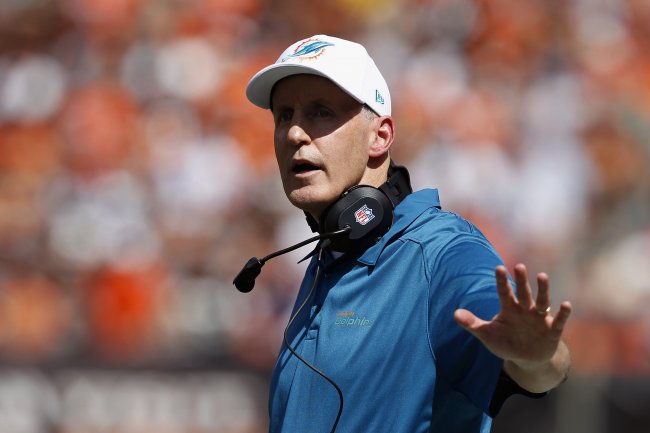 Matt Sullivan/Getty Images
Miami had a comfortable 23-10 win over the Cleveland Browns in Week 1, leaning on Ryan Tannehill's arm and three Brandon Weeden interceptions to start the season 1-0.
The rushing game was suspect though, and the Dolphins have to feel like the Indianapolis Colts pose a much bigger threat than the Browns did on Sunday.
Granted, Indianapolis' defense looked rusty against the Oakland Raiders. Terrelle Pryor rushed for over 100 yards on just 13 carries and helped the Raiders post a fourth-quarter lead before Andrew Luck closed the door.
Miami doesn't have a QB who can run, but they do have problems at tailback. On 23 carries against the Browns, the Dolphins managed just 20 yards. Daniel Thomas had a touchdown, but he and Lamar Miller underperformed greatly.
As South Florida Sun-Sentinel reporter Omar Kelly pontificated before the season began, Miami's woes at running back might have to be solved with an outside body:
Honestly speaking, I'd feel A LOT more comfortable about the Dolphins offense if Miami picked up Willis McGahee or Kevin Smith in week 2.

— Omar Kelly (@OmarKelly) September 3, 2013
Indy limited Darren McFadden to just 2.8 yards per carry, lending to the idea that Miami will once again have a hard time establishing the run. The Colts have a home game for the second straight week, and since Luck took over at starting QB, the team is 8-1 at Lucas Oil Stadium.
Make it 9-1. The Dolphins are still a sleeper pick to make noise in the AFC East, but a strong dose of Luck's accuracy and an inability to move the ball on the ground doom Miami in this one.
Follow B/R's Ethan Grant on Twitter.