The Miami Dolphins are expecting big things out of Mike Wallace in 2013 after signing him to a five-year, $60 million contract this offseason.
A lot of fantasy football owners are hoping Wallace will thrive in taking his talents to South Beach, but none of the parties involved got an immediate return on their investment.
The speedy receiver had just one catch for 15 yards in the Dolphins' 23-10 win over the Cleveland Browns on Sunday. However, considering his upside, previous touchdown production and role in Miami's offense, it's not worth giving up on him just yet.
Wallace's disappointing debut is partly attributable to the tight coverage Browns cornerback Joe Haden consistently played on him.
Another extremely important note: The Dolphins' ability to draw the Cleveland secondary in with play-action was limited, because neither Lamar Miller nor Daniel Thomas could establish the run.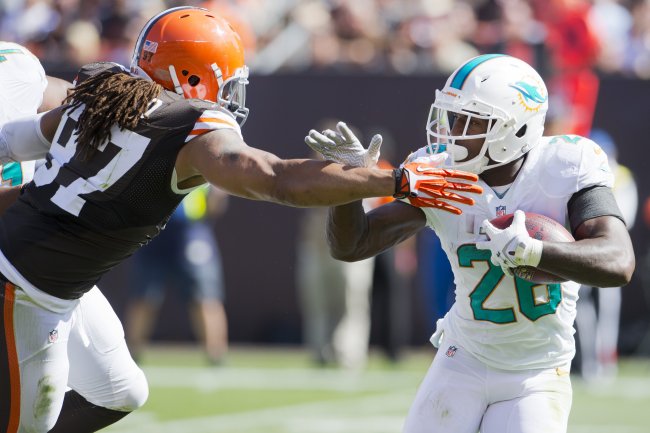 Jason Miller/Getty Images
Miami ran for a horrendous 20 yards as a team, making play fakes and deep shots to Wallace almost impossible to even attempt.
In fact, his trade value is likely considered low at the moment in most leagues, considering that Wallace expressed his displeasure over his performance despite the team getting the victory. Andrew Abramson of the Palm Beach Post documented what Wallace said afterward.
"I don't want to talk. I don't feel like talking about it...Ask Coach. It's not my game plan," said Wallace.
That quote could be taken out of context and be used to stigmatize Wallace for placing his individual outing over the team's positive result, and it has been so far:
Why is Mike Wallace pouting after a win? Bad look. Miami isn't just paying him to catch passes -- they're paying him to open up the offense.

— Jeff Darlington (@JeffDarlington) September 8, 2013
Dolphins must nip this Mike Wallace thing in the bud. Next thing you know, Morley Safer is going to demand the rock more.

— Rich Eisen (@richeisen) September 9, 2013
Mike Wallace. "More 'me' than 'we.' Bad signing. -- http://t.co/zi7dMBz8Gc

— PatMcManamon (@PatMcManamon) September 9, 2013
Interesting post-game comments from Mike Wallace. Didn't seem to be all enraptured in his first win as a Fin. Hmm

— Jason La Canfora (@JasonLaCanfora) September 8, 2013
While the court of public opinion may already be siding against Wallace, the 27-year-old clarified that he was upset with himself, and offensive coordinator Mike Sherman had no problem with it, saying that Wallace is "a competitor," according to NFL.com's Dan Hanzus.
So if Wallace is on the block in your league, you should probably make a bargain play to acquire him. At least give Wallace the benefit of the doubt that he wanted to make a strong impression in the opener and failed to deliver, thus causing his frustration.
Armando Salguero of the Miami Herald reported on Sunday that head coach Joe Philbin and Wallace talked after the game to resolve any issues:
Joe Philbin and Mike Wallace talked today about Wallace gripes following victory over Cleveland.

— Armando Salguero (@ArmandoSalguero) September 9, 2013
The attention Wallace attracted as a deep threat actually helped his fellow starter Brian Hartline, who caught nine passes for 114 yards and a backbreaking touchdown in the third quarter to put the Dolphins up for good.
Quarterback Ryan Tannehill has a cannon for a right arm, and although he didn't show it much in Week 1, possesses the athleticism to extend plays with his feet.
It was those scenarios in which Wallace thrived with the Pittsburgh Steelers. His former QB, Ben Roethlisberger, is known for improvisational skills, which is partially what allowed Wallace to accumulate yards in big chunks.
What will be Mike Wallace's fantasy fate in 2013?
Wallace averaged a career-high 21 yards per catch in the 2010 season, had 10 touchdown grabs and had eight touchdown receptions in each of his final two seasons in Pittsburgh.
That type of consistency in finding the end zone still gives Wallace plenty of fantasy credibility. This is his first year on a new team, adjusting to a new starting quarterback for the first time in his career.
Over time, Hartline and Wallace should complement each other well, with Wallace perhaps finishing with slightly fewer receptions but far more explosive plays and trips to pay dirt.
If anyone is eager to dump Wallace in your fantasy league for a reasonable bargain, do whatever it takes to acquire him.
Wallace will eventually start living up to the handsome fee the Dolphins are paying him and blossom into a lethal weapon for Tannehill to utilize down the field.