Jesus Navas scored at the death to salvage a 2-2 draw for Spain in a friendly against Chile Tuesday night in Geneva, Switzerland.
It was a bit of an odd friendly as both countries are right in the heart of their qualification campaigns. Friendlies like this are nothing unique for Spain, though, as their federation has routinely scheduled lucrative fixtures whenever there's free time in the club calendar.
Vicente del Bosque made a lot of lineup changes to the squad that beat Finland 2-0 last Friday. It seemed to negatively affect Spain, especially in the first half.
Chile opened the scoring with an early goal courtesy of Eduardo Vargas. In the fifth minute, the Gremio forward found himself alone in the 18-yard box after a pass from Mauricio Isla and was able to easily slot it past Victor Valdes.
Spanish paper AS put a lot of the blame on Sergio Ramos.
Ramos fell asleep at the back post and played Vargas on-side (even he appeared to expect to be off).

— AS English (@English_AS) September 10, 2013
Ramos did make a bad mistake by playing Vargas on. The rest of the Spain defense was about two yards further up the pitch, leaving Ramos to simply raise his arm almost as an apology rather than imploring Vargas was onside.
Roberto Soldado leveled the scoring in the 38th minute with what was a more direct goal than you're used to seeing from Spain. Pedro found near the top right corner of the 18-yard box and fired in a good cross for Soldado, who headed the ball right at Claudio Bravo, only to have the Chilean keeper knock it into the right side of goal.
Spanish football expert Dermot Corrigan was very pleased with the goal.
1-1 Brilliant goal by Spain. Super move thru midfield, Pedro with curled cross taking out defence & Soldado with thumping back post header.

— Dermot Corrigan (@dermotmcorrigan) September 10, 2013
Perhaps Bravo could have done better, but it was a good, powerful header, and the goalkeeper could only hope to try and get a hand on it.
According to OptaJose, it's the first headed goal the forward has scored for the national team.
1 - Roberto Soldado has scored against Chile his first headed goal for Spain national team (seven goals total). Hunter

— OptaJose (@OptaJose) September 10, 2013
It was the kind of goal that could make Spain very dangerous going forward. They've struggled to find that more direct route to goal. Perhaps Soldado can offer that different option, as he did on his goal.
Just six minutes later, Vargas got his second. It was terrible defending again as Vargas got in behind the defense and was able to fight off Raul Albiol before poking the ball home. Javi Garcia was really having a hard time keeping track of his opposite number and leaving a lot of space at the back.
The match was 2-1 going into halftime. Spanish football expert David Cartlidge thought it was a well-earned lead for Chile.
Chile deservedly ahead, pressing and movement elsewhere without ball impressive. Great desire from them. Spain attitude pathetic as per.

— David (@davidjaca) September 10, 2013
The second half saw both teams sit back a lot more. Since it's a friendly, neither cared too much to take a lot of risks. Chile were content to protect their lead, while del Bosque was too apathetic to throw more men forward and try to steal a win.
Alexis Sanchez had a good chance to put Chile 3-1 up, but his open header went to the left of goal.
It was a bit surprising just how ineffective Spain were. They created very little in the attack, and it cannot be explained away by just having a different squad. Maybe the players just didn't care to give much of an effort in a meaningless friendly. Chile were the better side, but they weren't so good that Spain couldn't have mounted a tougher challenge.
Corrigan really put the performance in perspective.
Beausejour on for Chile, who are beating World Champions Spain with players from Wigan, Notts Forest [Jara] & Cardiff [Medel] on the pitch.

— Dermot Corrigan (@dermotmcorrigan) September 10, 2013
Alvaro Negredo had a chance in the 86th minute, but that was about it from Spain. And just when it looked like Spain were headed for defeat, Jesus Navas found the equalizer in the 92nd minute. It was a nice piece of play from Pedro, who's run in from the left flank and pass into the box found an on-rushing Navas.
For Chile, it's still an encouraging result as they had more positives than negatives to take away from this match. They're in the hyper-competitive CONMEBOL region, so there's going to be no margin for error in the rest of qualification. The way they lost the lead may steel the players on to never stop defending until the final whistle blows.
Key Player Grades
Eduardo Vargas, Chile: A-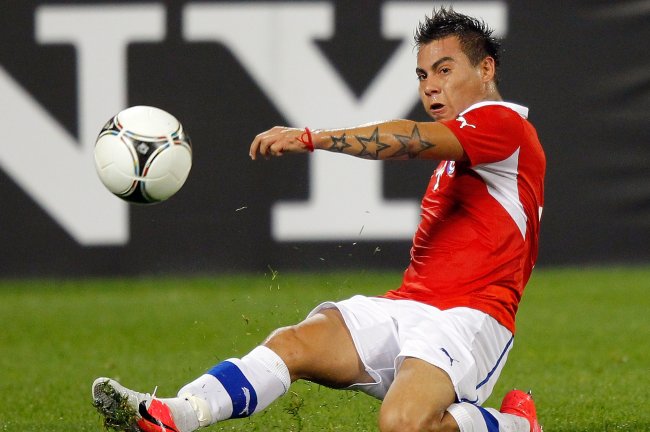 Paul Bereswill/Getty Images
Aside from the two goals, Eduardo Vargas was pretty quiet. Of course, if you scored two goals, you'd think that's a job well done, too. The most effective forwards make sure to capitalize on their chances, and that's exactly what Vargas was able to do.
He had two great opportunities to score, and he converted both of them. Vargas was also a solid centre-forward holding up the ball when necessary.
Pedro, Spain: B+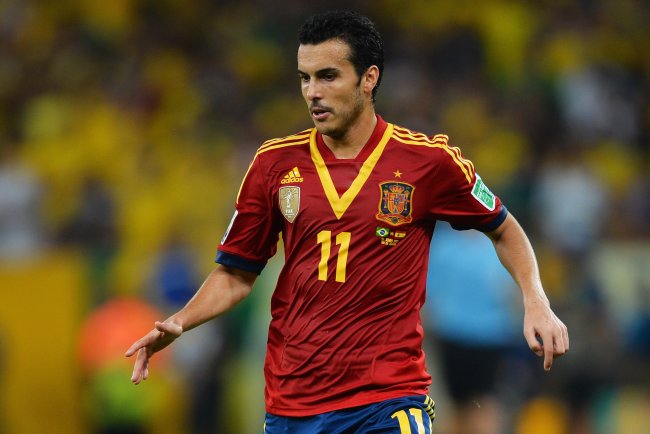 Laurence Griffiths/Getty Images
Pedro was superb in this match. His play down the flank was the inspiration that a lackluster Spain needed to draw this match.
The winger put in an inch-perfect header and did most of the work for Spain's first goal. It was the same for the second equalizer, as Pedro's pass just needed a Jesus Navas toe-poke to find the back of the net. It's a shame Pedro doesn't get to play a more direct game for Barcelona.
Roberto Soldado, Spain: B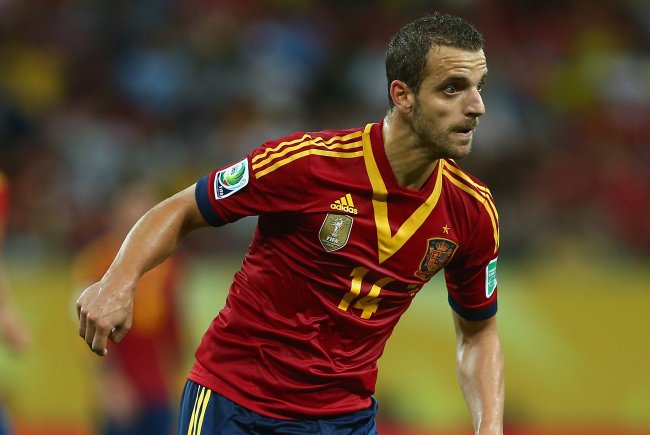 Clive Mason/Getty Images
Roberto Soldado didn't have a whole lot to do on Tuesday night, but when he got his chance, he made the most of it. Although his header was directed right at the keeper, it was powerful enough to get in the back of the net anyway.
Soldado has been very good anytime Vicente del Bosque has selected him, so it's hard to see what else the Tottenham forward has to do to be a regular player in the squad.
Spain Grades

| | |
| --- | --- |
| Player | Grade |
| Victor Valdes (off '59) | C+ |
| Alvaro Arbeloa | C+ |
| Raul Albiol | C+ |
| Sergio Ramos (off '58) | C |
| Nacho Monreal | C |
| Javi Garcia (off '79) | C- |
| Xavi (off '46) | C+ |
| Santi Cazorla | C+ |
| Pedro | B+ |
| Roberto Soldado ('65) | B |
| Cesc Fabregas (off '46) | C |
| Substitutes | |
| Andres Iniesta | C+ |
| Jesus Navas | B- |
| Pepe Reina | C+ |
| Nacho | C+ |
| Alvaro Negredo | C |
| Koke | INC |
Lineups via FOX Soccer
Chile Grades

| | |
| --- | --- |
| Player | Grade |
| Claudio Bravo | C+ |
| Gary Medel | B- |
| Marcos Gonazlez | C |
| Gonzalo Jara | C+ |
| Mauricio Isla | B+ |
| Arturo Vidal | B |
| Marcelo Diaz | C+ |
| David Piazarro (off '46) | C+ |
| Eugenio Mena | B- |
| Alexis Sanchez (off '90) | B |
| Eduardo Vargas (off '86) | A- |
| Substitutes | |
| Gato Silva | C+ |
| Jean Beausejour | INC |
| Junior Fernandes | INC |
Lineup via FOX Soccer
What's Next
Spain will tie up World Cup qualifying with away matches at Belarus and Georgia in October. La Roja is guaranteed to finish at least second in Group I and should be able to finish top of the group.
Chile have two critical qualifiers, away to Colombia and at Ecuador. They're third in the round-robin and have a place in the play-off round assured.