Tim Tebow Turning Down LA KISS' Contract Offer Would Be Major Mistake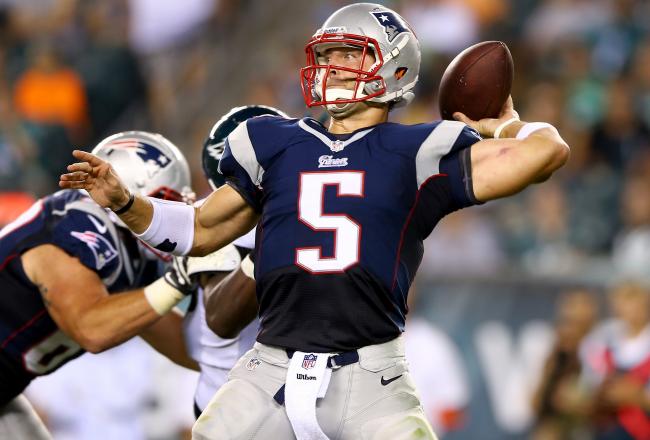 Elsa/Getty Images
It is entirely possible that Tim Tebow's NFL career has come to an end. That doesn't mean that his football career has to be cut short entirely, though. If Tebow ever hopes to play in the NFL again, accepting an offer to play in the Arena Football League is his best bet.
According to Sam Farmer of the Los Angeles Times, the AFL's expansion L.A. KISS have offered Tebow a three-year contract to play indoors.
The L.A. KISS -- yes, KISS bought an AFL team -- has offered Tim Tebow a three-year deal. KISS wouldn't pull a publicity stunt, would they?

— Sam Farmer (@LATimesfarmer) September 9, 2013
There is a certain stigma attached to the AFL since the style of play and level of competition are a far cry from the NFL. With that said, there have been plenty of players to make the jump from the AFL to the NFL, and there's no reason why Tebow can't use the league as a stage to showcase himself on.
If anything, the Arena League would be great for Tebow's development. The New England Patriots released Tebow during the preseason because he isn't a proficient passer. That's obviously a huge problem when it comes to being an NFL quarterback, but the AFL is a passing league even more so than the NFL.
There are obvious differences, as the field is half the size and defenses aren't as good, but in order to thrive in the AFL, Tebow will have to learn how to become an efficient passer. He can also potentially add another dimension to the league by utilizing the read-option, which is one thing that he did excel at while in the NFL.
The KISS are operated by an ownership group that includes Gene Simmons and Paul Stanley of the legendary band that shares a name with their new football team. According to John Breech of CBSSports.com, Simmons believes that Tebow and the KISS would be a perfect partnership.
"Acquiring Tebow would not only be a great investment for the team, but his exciting style of play would definitely send shockwaves through the league," Simmons said in a statement. "We're excited for the opportunity to see him with an LA KISS uniform on, and for the LA KISS fans to be rockin' their Tebow shirts and jerseys."
Few people on this Earth know more about generating publicity than Simmons, so Tebow would be wise to listen to his pitch at the very least. While the AFL is obviously a fringe league, the KISS are going to make some headlines during the upcoming season simply because Simmons is involved.
If Tebow joins the fray, then it could very well knock more popular sports leagues off the front page. Despite his struggles at the NFL level and the fact that he is a free agent, Tebow is still one of the most-talked-about figures in sports. Love him or hate him, people would be compelled to watch his AFL games, which would be great for himself, the KISS and the AFL as a whole.
Would signing with the L.A. KISS be a wise move on Tebow's part?
Tebow isn't going to convince an NFL team to sign him by doing charity events. He needs to play, and he needs to show teams that he is capable of being an asset. The KISS will get plenty of media coverage if Tebow plays for them, and there will undoubtedly be NFL scouts in attendance to see if he has been able to develop as a quarterback.
Add in the fact that all of this would be happening in the Los Angeles market, and it's a recipe for success. Even if NFL teams don't come calling, there will be plenty of endorsement opportunities for Tebow in Hollywood. It's understandable that he has a great deal of pride, but he'll have to swallow some of it in order to keep his NFL dream alive.
While Simmons has the publicity side of the coin covered, KISS co-owner Brett Bouchy made a great point from a football perspective as well.
"Similar to how Kurt Warner blossomed in the NFL after becoming one of the greatest quarterbacks in AFL history, we feel our league is the best place for Tim to refine his skills and gain valuable repetitions. We have tremendous faith in Tim's ability to succeed in the AFL," KISS co-owner Brett Bouchy said.
If may seem ridiculous to think that Tebow could take the same path as Warner, but nobody knew Warner would be a Super Bowl-winning quarterback, NFL MVP and future Hall of Famer when he made the jump from the AFL to the NFL either.
Following his release from the Pats, Tebow made it known on Twitter that everything he does moving forward will be done with an eye toward being an NFL quarterback once again.
...to be a part of such a classy organization. I pray for nothing but the best for you all. I will remain in relentless pursuit...

— Tim Tebow (@TimTebow) August 31, 2013
...of continuing my lifelong dream of being an NFL quarterback. 2 Corinthians 12:9: And He has said to me, "My grace is sufficient...

— Tim Tebow (@TimTebow) August 31, 2013
Many have interpreted that to mean that he'll refuse to play in another league, but playing in the AFL could be part of his "relentless pursuit." If the KISS sign him, it won't be to sit on the bench. Tebow would be the face of the franchise, and he would be given every opportunity possible to prove himself.
Aside from an NFL team offering to sign him strictly as a quarterback today, which doesn't seem like a feasible option at this point, the AFL's L.A. KISS have the most to offer Tebow. If Tebow doesn't at least consider making the move to Los Angeles, he'll be doing himself and his football career a huge disservice.
Follow @MikeChiari on Twitter
This article is
What is the duplicate article?
Why is this article offensive?
Where is this article plagiarized from?
Why is this article poorly edited?