The United States men's national team is in a precarious position on Tuesday night.
Still reeling from a 3-1 loss to Costa Rica, missing midfielder Michael Bradley via injury and needing three points to keep pace at the top of their CONCACAF hexagonal, the Americans will have no time to feel sorry for themselves as Mexico arrives at the Columbus Crew Stadium on Tuesday night.
A spot in the 2014 World Cup could be on the line.
Bradley, who injured his foot just minutes prior to kickoff in Costa Rica, is remaining with the team in lieu of traveling back to Italy and AS Roma. Per Goal.com's Seth Vertelney, Bradley opted to stay with the club through the Mexico match after consulting with team officials.
Per U.S. Soccer's official Twitter account, his injury diagnosis was better than expected:
Michael Bradley diagnosed with grade 2 sprain. Much better than expected!

— U.S. Soccer (@ussoccer) September 8, 2013
That said, Bradley still won't see the field against El Tri. Someone is going to have to step up in his absence if the United States wants to avoid losing their second straight match.
Kyle Beckerman
Geoff Cameron was Bradley's replacement on Thursday night, but a late yellow card has him suspended for the tilt with Mexico.
The candidate seemingly next in line for playing time at the position appears to be Beckerman, who has 23 caps for his country since 2007.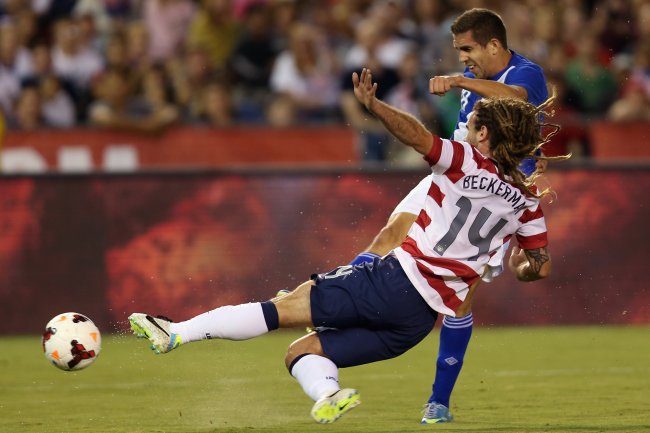 Jeff Gross/Getty Images
RealSaltLake.com's Sam Stejskal pointed out on Twitter that Beckerman played a key role in a big win over El Tri last year:
#USMNT Rewind: Beckerman shines in US's 2012 win at Mexico http://t.co/jw2omMyTRg

— Sam Stejskal (@samstejskal) September 10, 2013
Can he do it again?
Beckerman played well for the U.S. during their Gold Cup championship run this summer but stayed on the bench against Costa Rica. Circumstance has thrust Beckerman back into Klinsmann's good graces, and he must provide a spark in the middle of the field.
Jermaine Jones
Simply put, Jones was awful against Costa Rica.
For those who saw the match, no further words need be said. For those who didn't, maybe these tweets from Sports Illustrated's Andy Glockner and MLSSoccer.com's Ben Jata will help fill you in:
If it weren't for all the awfulness I just mentioned, I'd say that Jermaine Jones has been horrible so far.

— Andy Glockner (@AndyGlockner) September 7, 2013
Jermaine Jones lost possession 22 times vs Costa Rica (Most by #USMNT). 17 (77%) of them came before the 36th minute. http://t.co/VkFXpCwmbe

— Ben Jata (@Ben_Jata) September 7, 2013
Bradley is a two-way player for the Americans, and no one player will be able to fill his shoes against Mexico. But Jones, who has 35 caps for the United States, is expected to provide more efficiency than he did in the loss that ended Team USA's 12-match win streak.
As this Goal.com USA tweet suggests, the pressure is on Jones tonight:
The spotlight is on Jermaine Jones. How will he handle it? @SoccerByIves takes a look in his debut column - http://t.co/CRDBoXR0pO

— Goal USA (@GoalUSA) September 9, 2013
The Schalke man might not want to take on the leadership and stability roles that Bradley brings to the table, but at the end of the day, the U.S. needs someone to step up. Jones has the talent. He can't have a repeat performance of his Costa Rica woes against Mexico.
Landon Donovan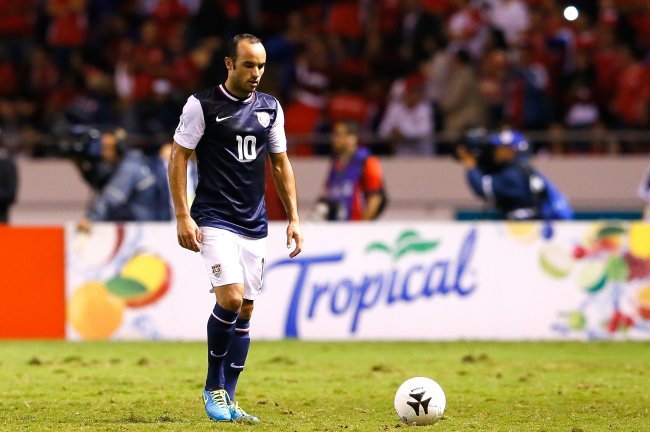 Kevin C. Cox/Getty Images
It's well documented that Bradley is a creative midfielder. He makes plays on both ends of the pitch and sets his teammates up for goal-scoring chances each time he puts on the uniform.
Gold Cup MVP Landon Donovan might not provide the same characteristics that his injured teammate does, but he's more than capable of picking up the slack in the assist department.
Just check this Cal South tweet for confirmation.
Cal South alumni Landon Donovan's 5 goals and 7 assists in the Gold Cup earned him the Golden Ball as MVP #USA pic.twitter.com/2rjxGIVOA0

— Cal South (@CalSouthSoccer) July 31, 2013
Donovan was a wizard at the Gold Cup, earning a spot on the roster for these two qualifying matches in the process. He was quiet against Costa Rica, committing a team-high three fouls and failing to record a shot.
Which player needs to step up the most?
With Clint Dempsey, Eddie Johnson and Graham Zusi likely getting the call from Klinsmann in the starting lineup, Donovan must find ways to put himself and his teammates in positions to score.
Mexico is vulnerable after losing to Honduras and firing head coach Jose Manuel de la Torre last week. The United States is vulnerable too; Bradley's injury cannot be overstated.
Whether an unsung hero (Beckerman) or a familiar face (Donovan and Jones) steps up is unimportant. The Americans need a win, and they need a player to make Bradley's absence a distant memory by the end of the match.
Follow B/R's Ethan Grant on Twitter.