WWE Night of Champions 2013: Power Ranking the Top 10 PPV Performers of All Time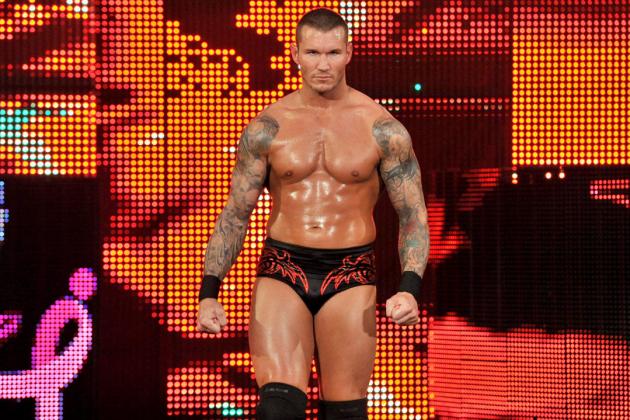 Photo Credit: WWE.com
This Sunday, WWE presents its Night of Champions pay-per-view, and several Superstars are poised to have big performances.
Daniel Bryan and Randy Orton will compete for Orton's WWE title in a match that has the opportunity to be one of the best of the year.
Alberto Del Rio will defend the World Heavyweight title against Rob Van Dam in what has the opportunity to steal the show, especially if both men are at their best.
CM Punk looks to continue his pay-per-view hot streak as he meets Curtis Axel and Paul Heyman in a handicap elimination match that will likely be heavier on storytelling than in-ring action.
Whatever happens in those three matches, and whatever other bouts are announced for the card, it is likely several Superstars will look to add to or begin writing their Night of Champions legacies.
Which men and women have already established themselves as the greatest performers in Night of Champion history (at least for now)?
Find out after the jump.
Begin Slideshow

»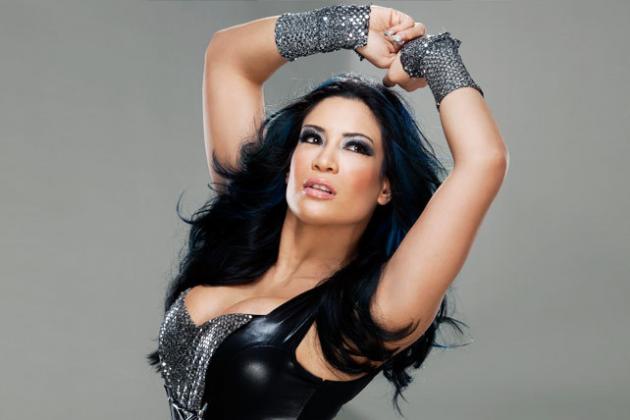 Photo Credit: WWE.com
Record: 0-3
Best Match: vs. Michelle McCool (2009)
The lone Diva to appear on this list, Melina has become one of the more unheralded female performers of the last six years. She has a reputation for being a bit of a "diva," but her in-ring work was always solid and her matches with Michelle McCool at consecutive Night of Champions events remain some of the division's most underrated matches.
Two years before the first match with McCool, however, Melina defended the Women's Championship against rising star Candice Michelle. The former Go Daddy girl had developed into a fine wrestler and was receiving a solid push when the event rolled around.
It became clear she would be the company's latest attempt to repeat the success of Trish Stratus, a former model herself who went on to become the greatest Diva ever.
Melina did an admirable job helping to carry the still-inexperienced Candice to a solid, if unspectacular match and put her over for the title.
A terrible knee injury would cause her to miss the following year's show, but she would come back better than ever, excelling as a babyface worker.
Her match with McCool at Night of Champions in 2009 was so stiff and so convincing that, according to an interview McCool conducted with her official website MichelleMcCool.net, the ladies were asked to tone it down a bit as to not overshadow the male talent on the show.
McCool would win the match, as well as the rematch a year later, but Melina managed to shine as an in-ring talent.
Years after her greatest success in the ring, Melina has gone somewhat forgotten when fans talk about the talented ladies of the post-Trish Stratus and Lita era. Her attitude often times had her at the center of controversy and may very well have been a cause for the company deeming her expendable. But when Melina went to the ring for a match, particularly at Night of Champions and definitely when she squared off against Michelle McCool, she was as good as any other woman on the roster.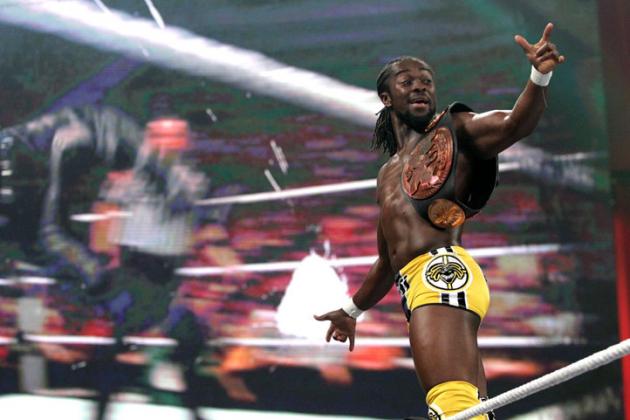 Photo Credit: WWE.com
Record: 3-2
Best Match: vs. Dolph Ziggler (2010)
World Wrestling Entertainment's perennial midcard MVP, Kingston has compiled an impressive resume at Night of Champions, which includes his very first title win in the company.
At 2008's event, Kingston made a major impact by defeating Chris Jericho to win the Intercontinental Championship. A breakout star for the company following a short stint on ECW and a change of brands that saw him end up on Raw, Kingston's win over someone with the stature and credibility of Jericho helped to put him over as one of the top young stars on the roster.
In 2009, he was the United States champion and was scheduled to defend his title in a Six-Pack Challenge match against Jack Swagger, Primo, Carlito, MVP and The Miz. The match was as action-packed, exciting and chaotic as any match involving six Superstars would be. The finish would see Kingston deliver Trouble in Paradise to Carlito for the pinfall victory.
Kingston's best Night of Champions match came in 2010 when he lost an Intercontinental Championship match to longtime rival Dolph Ziggler.
Kingston and Ziggler have a chemistry with one another that cannot be written into any storylines and cannot be manufactured. For years, they have delivered outstanding, fast-paced matches with one another that are, at the very least, perfect choices for commencing the show.
In 2011, Kingston teamed with Evan Bourne to successfully defend the WWE Tag Team Championship against The Miz and R-Truth, albeit by disqualification. A year later, he and Truth fell in defeat at the the hands of Tag champions Daniel Bryan and Kane, known collectively as Team Hell No.
It is unknown if Kingston will ever be able to break the glass ceiling and move past the midcard in WWE. And if he does not, that is OK. The high-flying star amps up any crowd he performs in front of and serves as the perfect exciting, smiling babyface for the entertainment empire.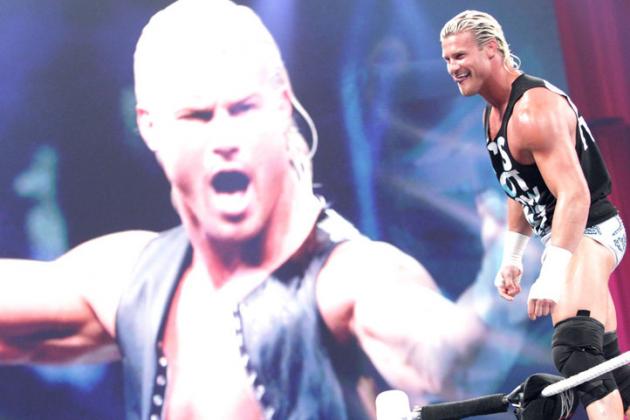 Photo Credit: WWE.com
Record: 2-2
Best Match: vs. Randy Orton (2012)
In 2009, Ziggler was trying to gain traction and make a name for himself. He would have the opportunity to grab the spotlight in a match with one of the business' most giving, unselfish performers, then-Intercontinental champion Rey Mysterio.
The two had a solid match that saw a few late-match near-falls create drama. Ultimately, Mysterio would leave Philadelphia with his title intact, but Ziggler would leave the City of Brotherly Love much better off than when he had entered it.
A year later, Ziggler would capture the Intercontinental title and would defend against Kofi Kingston in the night's opening contest. The two Superstars demonstrated their outstanding chemistry and added another solid match to their anthology.
By the time 2011 rolled around, Ziggler found himself firmly entrenched in the midcard scene, even as fans questioned whether or not he would be better served breaking through into the main event picture. He was the United States champion and seemed to be moving in place as he defended against John Morrison, Jack Swagger and Alex Riley.
Morrison and Ziggler had a past with one another, often times fighting over secondary titles most agreed were beneath them. Swagger was recovering from a failed run as World Heavyweight champion, while Riley was a very over babyface who had broken up his friendship with The Miz and was finding success on his own.
Ziggler retained his title over the hungry competition but really saw no advancement up or down the card.
2012 brought with it Ziggler's first opportunity to mix it up with elite talents on the grand stage that pay-per-view presents. His match with Randy Orton was a really good non-title match that stemmed from a competitive rivalry that had begun on Friday Night SmackDown. Ziggler put up a tremendous fight, as he normally does, but fell just short in his quest to defeat the third-generation star.
Dolph Ziggler is, unfortunately, in the middle of a major losing streak heading into Sunday night's Night of Champions pay-per-view and is in danger of being left off of the card completely. Whether or not he appears does not change the fact that WWE's resident Show Off has compiled a string of impressive performances at the event.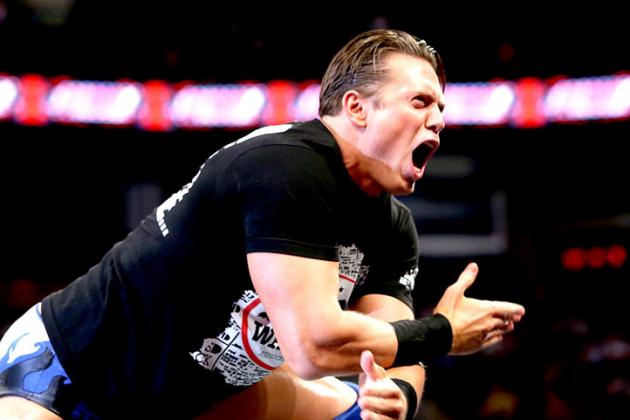 Photo Credit: WWE.com
Record: 2-3
Best Match: vs. Daniel Bryan (2010)
One of the most despised Superstars in the business today, Miz is also one of Night of Champions' unsung performers.
His debut at the event in 2008 was as one-half of the WWE Tag Team champions with John Morrison. One of the most entertaining acts on the ECW brand at the time, the duo found great success with the gold and were booked in a title bout against doubly tough Irishman Finlay and Hornswoggle.
Working with someone like Hornswoggle presents a challenge, but Miz, along with Morrison, worked hard and had an entertaining and enjoyable match.
By the time the following year's show rolled around, the team had split up and Miz was garnering attention as a singles competitor. In 2009, he would challenge United States champion Kofi Kingston as a part of a Six-Pack Challenge match that also included Jack Swagger, MVP, Carlito and Primo.
Kingston escaped the event with the title, but Miz was clearly exceeding expectations and was building momentum.
In 2010, The Miz entered Night of Champions with the Money in the Bank briefcase in his possession and the United States Championship around his waist. His opponent that night would be his NXT rookie, Daniel Bryan, who took great offense to the idea that he would be paired with a mentor who was a far lesser wrestler than he was.
What resulted from their rivalry, which was laced with bits of truth, was an outstanding wrestling match that saw Bryan capture the U.S. title and Miz come out of the bout looking far better than he did going in.
It was the finest match of Miz's singles career to that point (and maybe still is to this day), and it was a strong piece of evidence to support the company's decision to run with him as its WWE champion of the future.
Even if that experiment did fail.
2011 and 2012 saw The Miz return to the midcard. Teaming with R-Truth, he lost to Tag Team champions Kofi Kingston and Evan Bourne in the opening contest of the former show while he successfully retained the Intercontinental title against fellow former WWE champion Rey Mysterio, Sin Cara and Cody Rhodes in a Fatal 4-Way match at the latter event.
Both matches were solid opening contests that hyped the audience for the rest of the evening's events and solidified Miz as an outstanding midcard talent who was never able to hang in the main event scene, where expectations far exceeded his abilities.
Photo Credit: WWE.com
Record: 2-1
Best Match: vs. Randy Orton (2011)
The World's Strongest Man, unlike most involved in these rankings, really finds himself on this list thanks to one match in particular.
At the 2011 edition of Night of Champions, Henry challenged Randy Orton for the World Heavyweight title. The former Olympic power lifter entered the event on the biggest roll of his career, having torn through the likes of Big Show, Sheamus and Kane leading up to the match.
Orton was in the middle of the greatest in-ring run of his career, thanks to outstanding matches with Christian over the World title. If anyone would manage to pull out a classic from Henry, it would be the man affectionately known as The Viper.
The "classic" would be one of the great showcases of storytelling and star building in the past 10 years.
Henry dominated Orton and, save a few comeback attempts, had no problem dispatching the decorated champion en route to collecting his first major heavyweight championship. The images of Orton's defiance, his inability to accept that Henry was the better man just before attempting one last, desperate RKO, are magical.
To this day, the entire match is underrated for its brilliance, largely because it is not seen as a typical in-ring masterpiece.
Elsewhere on Henry's Night of Champions resume is an ECW title win over Kane and The Big Show in 2008. In what would actually be a preview of the type of booking Henry enjoyed during his World Heavyweight title reign, it was a showcase of Henry's dominance, as he dispatched his larger opposition and went on to be the standout star of the ECW brand.
He would eventually be dethroned by Matt Hardy.
The only other match Henry competed in at Night of Champions was a Tag Team Turmoil match in which he teamed with Evan Bourne in a losing effort against Drew McIntyre and Cody Rhodes.
An ill-timed hamstring injury has resulted in Henry's absence from this year's card.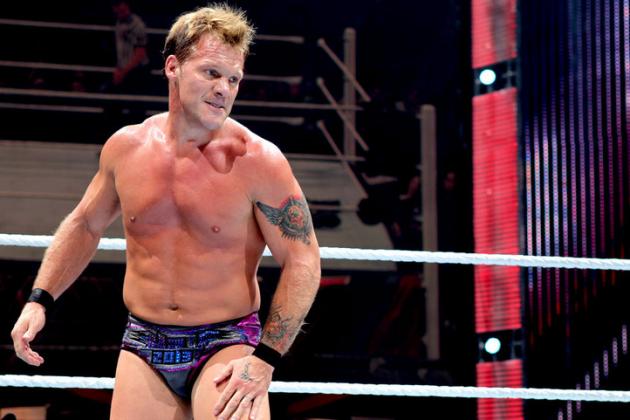 Photo Credit: WWE.com
Record: 1-2
Best Match: vs. Sheamus, Randy Orton, John Cena, Wade Barrett and Edge (2010)
Chris Jericho's Night of Champions resume reads like a career overview. Throughout the surefire Hall of Fame career of the first Undisputed champion in WWE history, Jericho has succeeded at every level of competition in the sport and has established himself as perhaps the most adaptable star in the business' long and illustrious history.
Case in point: In 2008, Jericho defended the Intercontinental title, a secondary championship, against Kofi Kingston. A performer far above that particular title, he went out of his way to put Kingston over as a hot young star and, ultimately, lost the title following interference from Shawn Michaels.
A year later, he demonstrated his ability as a tag team competitor, teaming with Big Show to defeat Cody Rhodes and Ted DiBiase to retain that division's titles. Again, Jericho worked hard to help elevate young talent.
In 2010, he made his final appearance at a Night of Champions pay-per-view, competing in a match with 2012 Hall of Fame inductee Edge, future Hall of Famers John Cena and Randy Orton and the then-inexperienced Sheamus and Barrett.
Jericho, on his way out of the company, lasted only a minute and 25 seconds before suffering an RKO at the hands of Orton, eliminating him from the contest.
Y2J's ability to perform at a high level regardless of his spot on the card is a testament to his talent and his unselfishness. Performers at the level of Jericho often times are so guarded and protective of their spots that they refuse to fall past a certain spot on the card. Jericho seemingly relishes the opportunity to work with young stars, to give back to the business that he loves and that has been so good to him, and that is evident in his various Night of Champions appearances.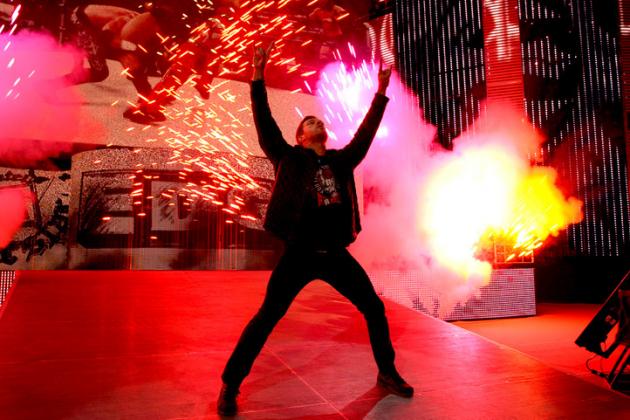 Photo Credit: WWE.com
Record: 2-1
Best Match: vs. Batista (2007)
The Rated R Superstar's career was cut short when he was forced to retire from pro wrestling in 2011 due to a severely damaged neck. He left behind a Hall of Fame career and was acknowledged for his contributions to the sport in 2012, one night before WrestleMania 28.
Like John Cena, Randy Orton and Triple H, Edge proved to be one of the company's go-to stars when it came to big-match situations on pay-per-view events. He delivered each and every time out, no matter the competition, and was one of the MVPs of the company from the moment he ascended to the main event picture in 2006 until his untimely retirement five years later.
In 2007, the Canadian-born Superstar was the top villain on the SmackDown brand and entered Vengeance: Night of Champions as the World Heavyweight champion. Standing across the ring from him was "The Animal" Batista, the Friday night program's top star.
Batista had chased after the title from the moment he lost it to The Undertaker at WrestleMania 23 and had been unsuccessful throughout the spring and early summer.
He would once again fail in his quest for title No. 3, losing by count-out in a match dubbed a "last chance" match. The stipulation assured that Batista would not receive another shot at the championship as long as Edge held it.
That would not prove to be problematic, as injury forced Edge to the sidelines and ended what had been a mostly stellar run as champion on SmackDown.
A year later, the familiar foes would once again do battle. This time, Edge had aligned himself with SmackDown general manager Vickie Guerrero, her nephew Chavo and tag team flunkies Zack Ryder and Curt Hawkins. In many ways, he had become the centerpiece of the brand, the star in which everything revolved around.
He was the Ric Flair of the show, the heavyweight champion whom every babyface was gunning for.
And, like Flair did so many times throughout the 1980s, Edge capitalized on the interference of his friends and associates to retain his title, blasting Batista over the head with the belt and securing the pinfall victory.
Injury would once again strike and Edge would miss the 2009 edition of the show.
In 2010, he would come up short in his attempt to win the WWE Championship, losing a Six-Pack Challenge match when John Cena eliminated him 15 minutes in following the Attitude Adjustment.
With today's roster of young, talented and hungry competitors, it is a shame that the Rated R Superstar is not stealing shows and collecting championships in 2013.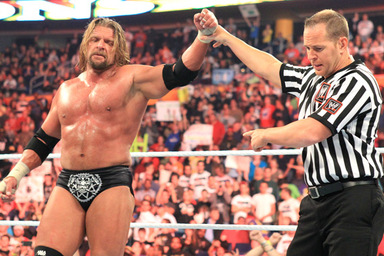 Photo Credit: WWE.com
Record: 2-1
Best Match: vs. John Cena (2008)
The latest authority-figure villain on WWE television has a very limited Night of Champions resume, but the three matches on it lead to his spot in these rankings.
A torn quadriceps kept The Game out of action at the first Night of Champions event in 2007, but he came back with a vengeance two months later at SummerSlam and parlayed tremendous momentum into a WWE Championship victory at Backlash in April of 2008.
At Night of Champions that same year, he would avenge his loss to John Cena at WrestleMania 22 in 2006 by beating the sport's most polarizing performer in a singles match to retain the title. It was one of the big-money matches the company had left to present at that time, and the build, as well as the match itself, was befitting of the hype.
A year later, Triple H would once again compete in a WWE title match, this time as a challenger. His opponents? Cena and champion Randy Orton in yet another WrestleMania rematch. Both The Game and Cena appeared poised to regain the title at different times, but last-minute interference by Cody Rhodes and Ted DiBiase cost them the match.
The King of Kings would not appear on another Night of Champions pay-per-view until 2011, when he met CM Punk in a non-title, No Disqualification match. The match was the result of Punk's anti-authority, anti-WWE angle that catapulted him to the top of the industry and made the industry hot again.
Triple H, never one to miss out on the opportunity to interject himself in that sort of an angle, did just that, and a match between the two was booked for the first post-SummerSlam pay-per-view.
As one would expect, the high-ranking official within the company also defeated Punk in that match, significantly cooling off an angle that had made the business relevant again for the first time in years.
No hard feelings, though.
Triple H places so highly in these rankings not because of the longevity of his Night of Champions resume but because of the importance, and quality, of the matches he competed in. The two title matches involving Cena were huge matches worthy of the WrestleMania main event, while the CM Punk match came at a time when Punk was the hottest star in the business.
Like him or not, The Game typically does everything in his power to deliver a quality wrestling match, and his three appearances at Night of Champions are evidence of that.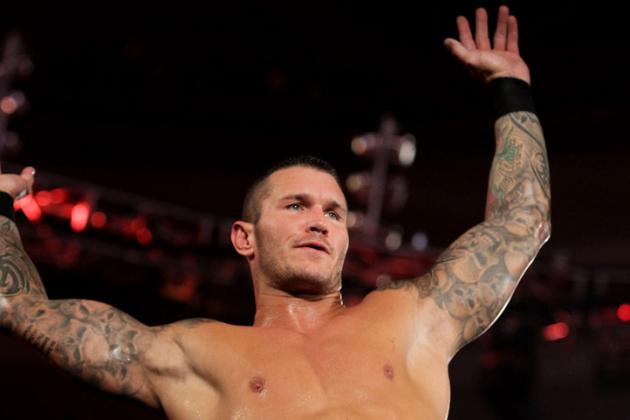 Photo Credit: WWE.com
Record: 3-2
Best Match: vs. John Cena, Edge, Chris Jericho, Wade Barrett and Sheamus (2010)
The current WWE champion will defend the title against Daniel Bryan at this year's show, but it is his resume of outstanding matches and championship victories that makes him the second-greatest star in the history of Night of Champions.
Orton made his first appearance at the annual event in 2007, when he challenged John Cena for the WWE title in what was dubbed the "Championship Challenge." Orton put in a solid performance in a losing effort, but the story of the bout was more centered on Bobby Lashley establishing himself as a top contender to Cena.
An injury kept Orton off of the show in 2008, but he bounced back in 2009 as he entered the Wachovia Center in Philadelphia as the WWE champion. His opposition? Both Cena and Triple H in a rematch of their WrestleMania 28 title bout.
Orton benefited from the interference of Legacy members Cody Rhodes and Ted DiBiase and was able to catch Cena with an RKO for the pinfall victory.
A year later, Orton would once again leave Night of Champions with gold. A competitor in a Six-Pack Challenge match for the WWE title, he fended off Edge, Chris Jericho, Wade Barrett, Sheamus and Cena to once again capture the title.
In 2011, he would not be quite as lucky. That September night, he entered Buffalo's First Niagara Center with the World Heavyweight Championship. Unfortunately, he ran into a dominant monster in the form of Mark Henry, who demolished The Viper and won his first major heavyweight title.
A non-title singles victory over Dolph Ziggler on the undercard of the 2012 continued what was a very disappointing year for one of WWE's most talented top stars.
Now, with a major title defense looming on September 15, Orton has the opportunity to add to his Night of Champions legacy and, perhaps, overtake the No. 1 ranking.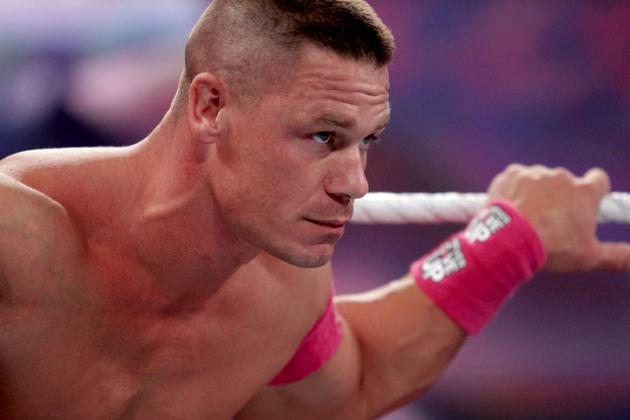 Photo Credit: WWE.com
Record: 2-3-1
Best Match: vs. CM Punk (2012)
The top star in the industry takes WWE's Night of Champions more seriously than most, delivering outstanding performances year in and year out.
Debuting at the very first event, then titled Vengeance: Night of Champions, Cena was the WWE champion and the workhorse of a company in transition. Triple H was sidelined due to injury, Shawn Michaels was taking time off and for the first time in his career, Cena was expected to carry the weight of the company.
He did just that on June 24, 2007, when he entered Houston's Toyota Center as a champion on the wrong end of a numbers game. For the first time ever, the company promoted a "Championship Challenge" that saw Cena defend his title against 2013 Hall of Famers Mick Foley and King Booker, Randy Orton and Bobby Lashley.
Despite the onslaught from four hungry challengers, and one of the best performances of Bobby Lashley's career, Cena was able to catch Foley with the Attitude Adjustment for the pinfall win.
In the six years that followed, Cena would have matches with the who's who of professional wrestling. His match with Triple H in 2008 was a rematch of the WrestleMania 22 main event. A year later, he and Triple H once again did battle in a WWE title bout, this time in a triple threat match also involving Randy Orton. That match, too, was a rematch from a WrestleMania main event.
2010 saw Cena compete in a Six-Pack Challenge match for the WWE title. The match involved the likes of Sheamus, Chris Jericho, Edge, Randy Orton an Wade Barrett. Orton would win the match and the title as Cena continued to be the centerpiece of the Nexus' invasion storyline.
In September of 2011, WWE was reeling from the revolutionary "Summer of Punk" storyline that elevated CM Punk to the top of the company. John Cena, who was an instrumental piece in the story, was still focused on the WWE Championship, which had been won by Alberto Del Rio after he successfully cashed in his Money in the Bank contract against Punk to close out August's SummerSlam.
Cena would end Del Rio's five-week reign by locking in the STF and scoring the tapout victory.
Cena's Night of Champions resume concludes, for now at least, in 2012. In another chapter in the greatest rivalry of this era, Cena challenged CM Punk in the main event. The two delivered a highly dramatic, back-and-forth bout that came to an unsatisfying conclusion when a double pin resulted in a draw.
Throughout the years, Cena has been tasked with the challenge of carrying a number of pay-per-view events on his broad shoulders. He has also delivered the best match of the night on a number of Night of Champions events, and for that, he ranks as the greatest performer in the history of the show.