1D, Miley Cyrus, Katy Perry and More: Proof Sport and Pop Music Don't Mix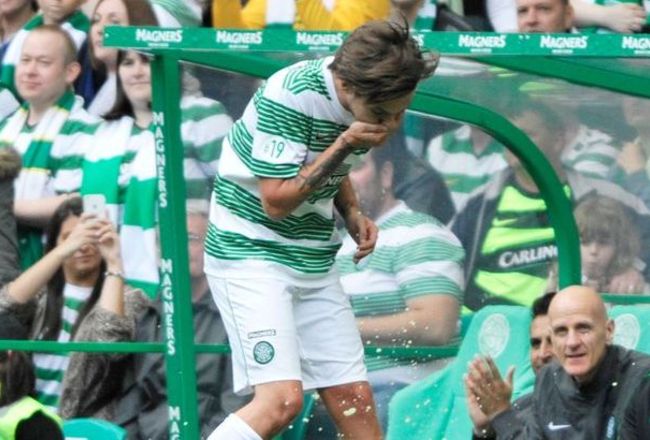 WENN.COM

Louis Tomlinson of One Direction was given a tough introduction to football, flattened by Gabriel Agbonlahor and then being sick in a charity game at the weekend.
Sport and pop music are often compared these days, especially as both fields are ways of becoming incredibly rich and famous.
But quite often, the two simply don't mix. And Louis isn't the only pop star to have discovered this.
We take a look at some memorable—and unsuccessful—efforts of pop stars in the world of sport.
12. Carly Rae Jepsen Can't Throw a Baseball
Famous people are routinely invited to throw the first ceremonial pitch in baseball matches.
Some are better than others.
Almost none (wait until later before you say for definite) will be worse at it than Carly Rae Jepsen, the singer of "Call Me Maybe" fame, who managed this effort earlier this year.
11. Lady Gaga Tries to Play Football with Brazilian Kids in Street, Wrong Attire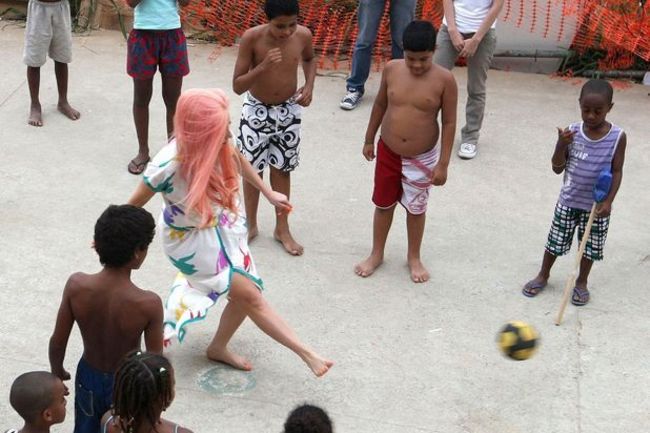 Rex

To be fair to Lady Gaga here, at least she appears to have kicked the ball correctly.
But fashion and football don't mix.
How else could you explain David Beckham only ever wearing a sarong when he's off the field?
Or Nile Ranger's career falling away around the same point that he tattooed his own name into his forehead?
10. Miley Cyrus Is Even Banned from Posters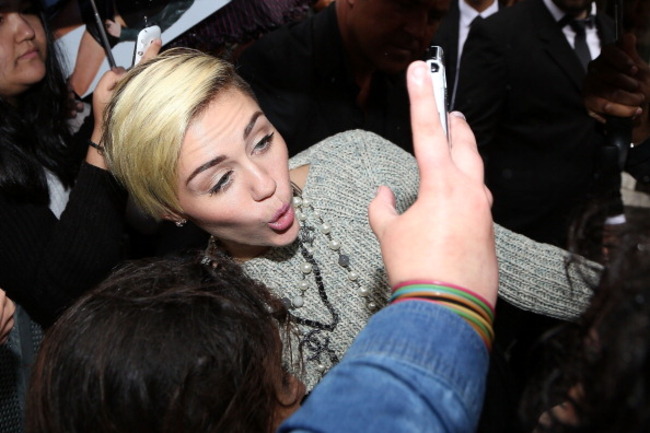 Getty

You've probably seen Miley's name in the headlines recently, for something or other to do with twerking.
Apparently you should be shocked by a 20-year-old former Disney star flaunting her sexuality.
Certainly that's the case in American Football where this fan's banner of Georgia quarterback Aaron Murray with Cyrus was never allowed to see the light of day.
Confiscated Gameday sign. pic.twitter.com/4ERJhLpY4b

— The Gurgling Cod (@TheGurglingCod) September 1, 2013
9. Will Smith and Football Just Don't Go
Musician. Film star.
The Fresh Prince of Bel Air, for crying out loud.
Will Smith has it all.
Except, it would seem, the ability to hit a football goalwards from all of about 10 yards away.
8. Christina Aguilera Butchers National Anthem
Her 2011 rendition of the national anthem at the Super Bowl was, to put it mildly, not universally well-received.
Wikipedia may not, incidentally, be the best source of lyrics.
7. Katy Perry: West Ham 'fan'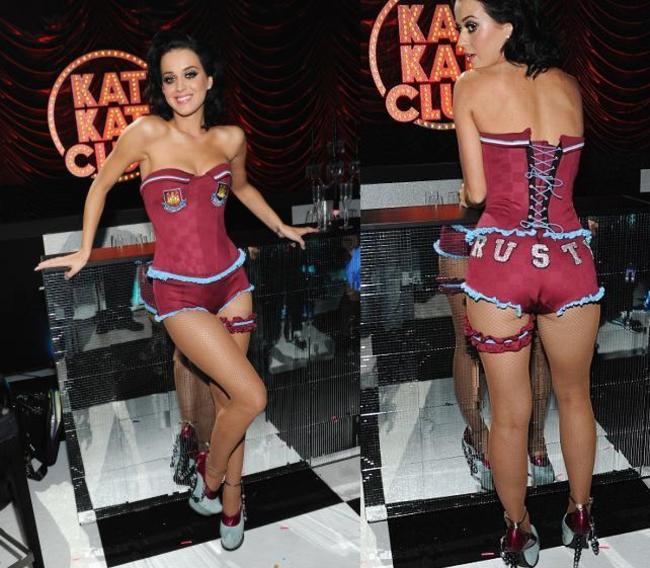 Football-Shirts.co.uk

We're pretty sure this isn't the official West Ham kit, but Katy Perry's (ex-)husband Russell Brand probably didn't mind.
But that's the trouble—now she's worn this, is Perry after Brand still a West Ham fan? Is she stuck with Sam Allardyce and Andy Carroll for life?
It's a hefty price to pay for one outfit.
6. Michael Bolton and the Echo
Ever wondered what "The Star-Spangled Banner" would sound like if it was sung inside a cave in the Alps?
Michael Bolton answered that for you in 2006 before a baseball game.
5. Diana Ross Is Not a Natural Penalty Taker
Talented member of the Supremes? Yes.
Confident singer in front of a packed stadium? Yes.
Calm penalty taker under pressure? Relive the USA 1994 World Cup opening ceremony for yourself.
4. Britney Spears Can't Watch Her Kids Play Football Without Showing Bit of Bum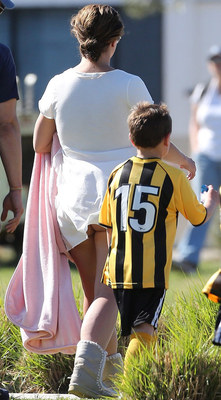 Seriously.
She can't.
There's pictorial evidence and everything.
Hat-tip to 101 Great Goals for the image.
3. Katy Perry Meets Cricket, Gets Accused of Indecency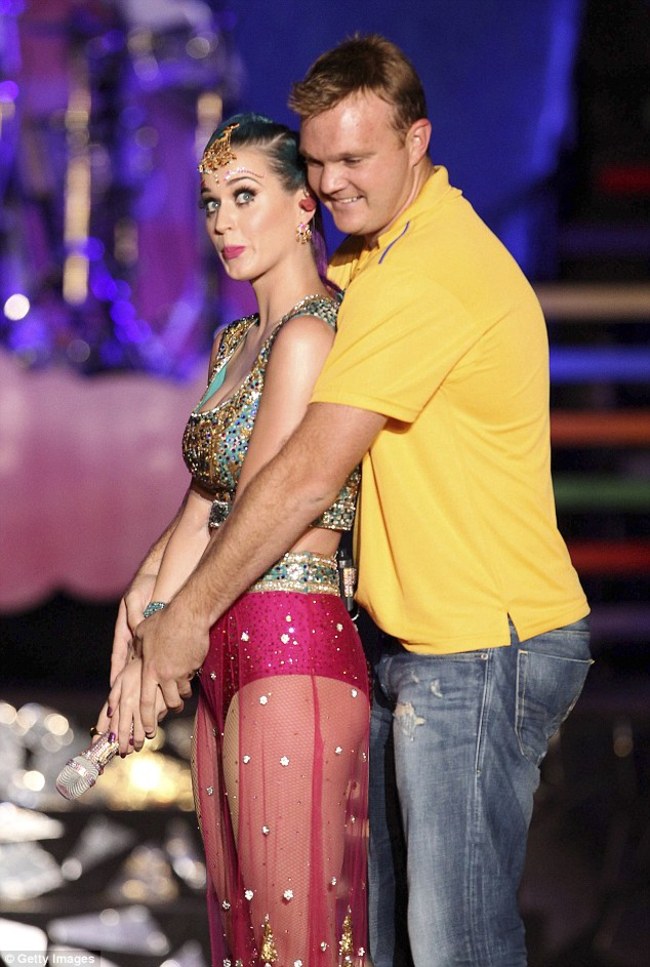 Getty

Getting Katy Perry on board for the IPL launch in 2012 must have seemed like a good idea at the time.
Dancing with not-exactly-world-renowned cricket pin-up Doug Bollinger must have seemed pretty harmless.
Yet later in the year an Indian court heard claims of indecency for her performance.
As reported by the Herald Sun in Bollinger's native Australia:
The complainant, K Jebakumar, also claimed that the show had distracted students who were writing exams at the time and pursued legal action under the Indian Penal Code.
2. Mariah Carey Not Dressed for Baseball, It Shows
And this is why pitchers don't tend to wear platformed high heels.
Welcome to Japan, Mariah.
1. Janet Jackson Has Wardrobe Malfunction When Singing at Sport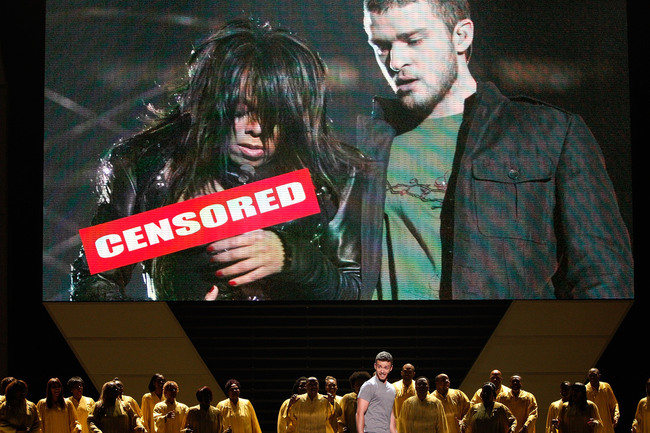 Kevin Winter/Getty Images
If we were to power rank the events of the 2004 Super Bowl, it would look something like this:
Janet Jackson suffers "wardrobe malfunction"
Other incidents on this list are arguably funnier. None come close to creating such an uproar.
Keep Reading