6 Minnesota Vikings Playmakers Who Must Shine Against the Chicago Bears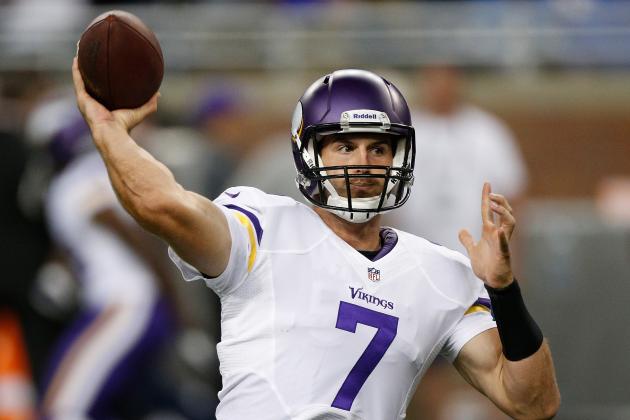 Gregory Shamus/Getty Images
More so than any other Viking, Minnesota needs Christian Ponder to step up in Week 2.
After Sunday's 34-24 loss to the Detroit Lions, Brian Robison said what many in the locker room were likely thinking but that few wanted to admit.
"It's a very important game. I know coach Frazier probably doesn't want to hear me saying it, but it's a must-win game," the defensive end told the St. Paul Pioneer Press.
With winnable games against Cleveland and Pittsburgh in Week 3 and Week 4, respectively, Week 2 isn't a must win. But it absolutely is an important game.
It's the type of game that will mold Minnesota's position within the division, with one-third of their divisional games played just two weeks into the season. Win or not, the Vikings have to make a better statement with their Week 2 performance than they did in Week 1.
And to do that, the Vikings need stronger performances from their playmakers. In this slideshow, we're calling out six playmakers who need to do more in Week 2 to secure a victory.
A playmaker is anyone who is a starter on offense, defense or uses his leg on special teams.
There is no order of importance for these players to step up. The focus here is that they must step up, or Minnesota will continue to slide down the losing path.
Step inside, if you please.
Begin Slideshow

»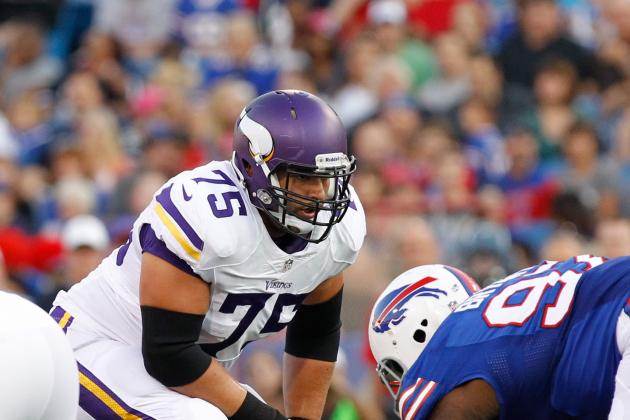 Kevin Hoffman-USA TODAY Sports
Matt Kalil hasn't looked like his Pro-Bowl self in 2013.
Next to John Sullivan, Matt Kalil is THE MAN on Minnesota's offensive line. He may have the least amount of NFL experience, but as the left tackle following up on his rookie Pro-Bowl campaign, the bar is high for him.
But in 2013, preseason included, Kalil has left his teammates and fans wanting more.
The Detroit Lions have a very talented defensive line, so it's understandable to show some struggles against that four, just not to the extent that Kalil did (1500 ESPN went so far as to call it the worst game of his career).
The Minneapolis Star Tribune reports coach Leslie Frazier said Kalil's technique is out of sync, which is impacting his abilities. The report didn't go into details about what those technical issues are, but he needs to right them. And fast.
Julius Peppers and his 10 sacks per season awaits. Peppers recorded no sacks, quarterback hits or tackles in Week 1, according to ESPNChicago.com, so he'll be salivating to get on the board at the expense of Kalil and Christian Ponder.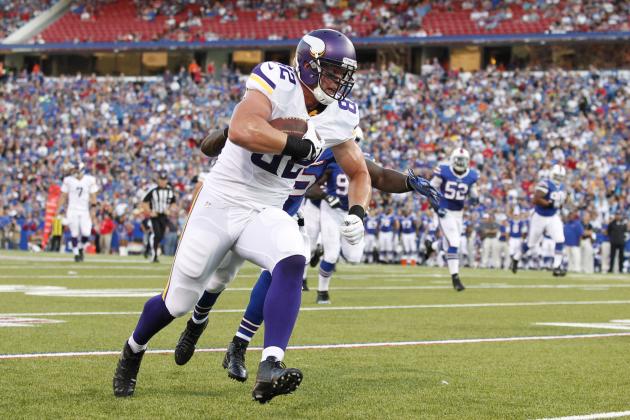 Kevin Hoffman-USA TODAY Sports
Kyle Rudolph registered two receptions for 27 yards against Detroit.
As is the case with the struggles of many receivers, the blame isn't all on the receiver himself. If the quarterback can't get him the ball, then the receiver can't do anything with it.
That's part of the reason why Kyle Rudolph is here.
Rudolph hauled in two passes for 27 yards but was targeted just four times. Earning just four targets as a Pro Bowl tight end when your quarterback is Christian Ponder is more likely due to the quarterback play than the tight end. But Rudolph doesn't get off without a slap on the wrist.
He was very streaky last season, going for two or fewer receptions in six games (three of which were of the no reception variety). In those six games, Ponder completed 81-of-145 passes (55.9 percent) for 808 yards (134.7 per game) with five touchdown passes and five interceptions.
Those statistics open up a discussion of whether the chicken or the egg came first with Ponder and Rudolph's struggles. Given that one player has a Pro Bowl appearance on his resume and the other doesn't, it's logical that Ponder deserves more blame than Rudolph. But Rudolph can do more to make Ponder's life easier.
Another thing Rudolph can do is improve his run blocking, which has always been suspect. This being his third year, it's time Rudolph put serious effort into it (especially given the run-oriented offense he plays in).
As 1500 ESPN points out, Rudolph whiffed in one attempt to pick up Detroit safety Glover Quinn, who stopped Adrian Peterson three yards behind the line of scrimmage on one rushing play. The Vikings have Rhett Ellison as a blocking fiend for run plays, but it'd be better to not tell the defense what's coming by rotating Rudolph and Ellison on and off the field for passing and running plays, respectively.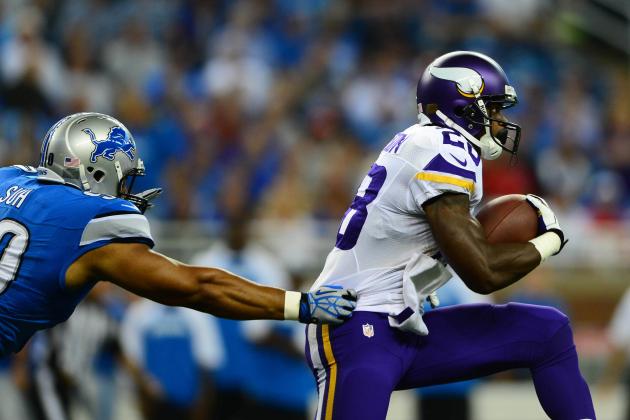 Andrew Weber-USA TODAY Sports
Adrian Peterson rushed 18 times for 93 yards and a touchdown to accompany four receptions for 18 yards and a touchdown vs. Detroit.
Adrian Peterson posted 93 yards on 18 rushes (5.2 yards per carry) and a touchdown along with 18 yards and a touchdown receiving.
What's he doing on this list?
Think about it. Peterson accumulated 78 of his 93 yards on the opening rush of the season. That means he accumulated 15 yards rushing on his final 17 rushes (0.9 yards per carry).
Does one play make the game for a player?
In many cases, yes. But Peterson is such a vital part of Minnesota's offense and its overall success that he can't have one amazing play and call it a day.
Yes, plenty of his struggles were rooted in incompetent play from his offensive line. But poor offensive line play doesn't let Adrian Peterson off the hook. The expectations are higher for him, as they should be.
It will get better for Peterson. Given his track record, we have no reason to expect otherwise.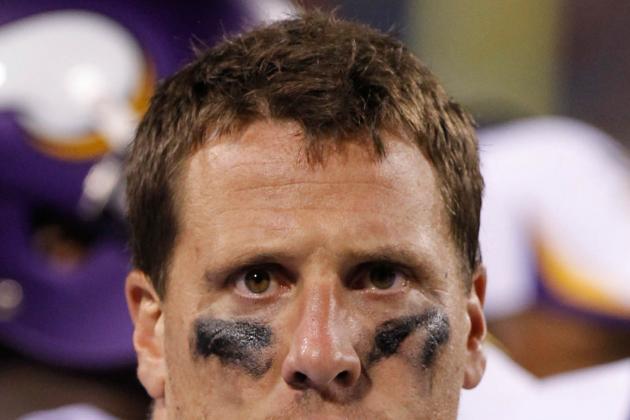 Kevin Hoffman-USA TODAY Sports
Chad Greenway recorded eight tackles vs. Detroit.
If Chad Greenway averaged eight tackles per game, he'd accumulate 128 for the season and be in line to extend his streak of consecutive seasons with 100-plus tackles to four.
Erin Henderson recorded an interception and 11 tackles, putting him on pace for 176 on the season. Looks good in the stat sheet. But look beyond and there are concerns.
The concerns with Henderson and Greenway are so similar that they will share this slide together.
The core problem for these two after one game: missed tackles.
A film review by 1500 ESPN states Minnesota was tabbed for six missed tackles, but a case for more could be made, with Henderson and Greenway as prime suspects.
Greenway is one of the most sure-handed tacklers in the league. That's what he does. He doesn't rack up the sacks. He doesn't go vertical for interceptions. He grabs ball carriers and brings them to the ground. That's how he appeared in two Pro Bowls.
Look for his tackling to improve.
The jury is out on Henderson. There isn't as thick of a history book on him, especially at middle linebacker, which is concerning.
Henderson was telling anyone who would listen that he was set to be a middle linebacker in the NFL. One game in, we can't say he's not, but he didn't confirm his statements.
He's likely to stay in the nickel package because of Marvin Mitchell's inexperience, which means the 27-yard reception he allowed to Nate Burleson can't happen in the future.
And the big concern with Henderson and Greenway, is that they allowed Reggie Bush to rush for 90 yards and go off for another 101 in the air.
We'll see if Bush continues to fly high in Detroit, but I expect regression.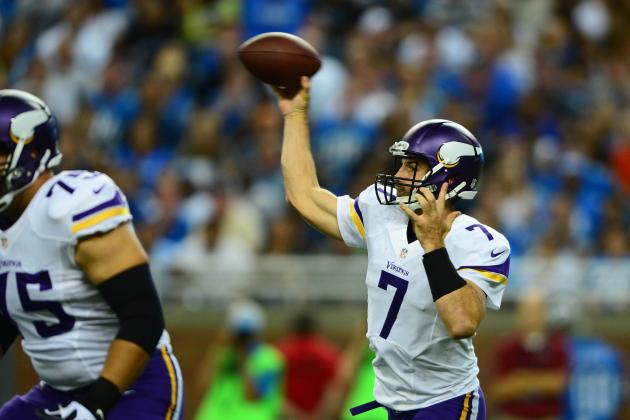 Andrew Weber-USA TODAY Sports
Christian Ponder failed to silence any critics after Week 1.
Didn't think I'd forget about ole Christian, did ya?
For the record, Christian Ponder finished Week 1 18-of-28 (64.3 percent) for 236 yards with one touchdown pass and three interceptions.
There's not much to be said about Christian Ponder that hasn't been said before. The overall theme: he's extremely inconsistent.
Turnovers continue to kill him, and he committed four on Sunday.
He still looks uncomfortable operating in the pocket and struggles to be consistently accurate with his passes, often forcing receivers to make unnecessary adjustments to the ball.
Unlike last season, his offensive line play Sunday was suspect. That needs to improve if Ponder is to do the same. Unless Aaron Rodgers is under center, an offensive line must provide adequate protection. If that continues to be an issue, it's unfair to expect Ponder to truly progress.
Those calling for Ponder's head already, take a deep breath. It's too early for that. It's tough to say when a change should be made if this poor play continues, but after Week 5 feels right (depending on Minnesota's record).