A flurry of conference realignment during recent years created a considerably different college football landscape. Some conference were dismantled (Big East, WAC), others expanded (PAC-12, Big Ten) and storied rivalries reached an end (Texas-Texas A&M, West Virginia-Pittsburgh).
Despite the slew of highly publicized and often criticized alterations, the BCS hierarchy remains unchanged at the top. The SEC still reigns supreme in the national pecking order, perennially outclassing other conferences on both the football field and recruiting trail.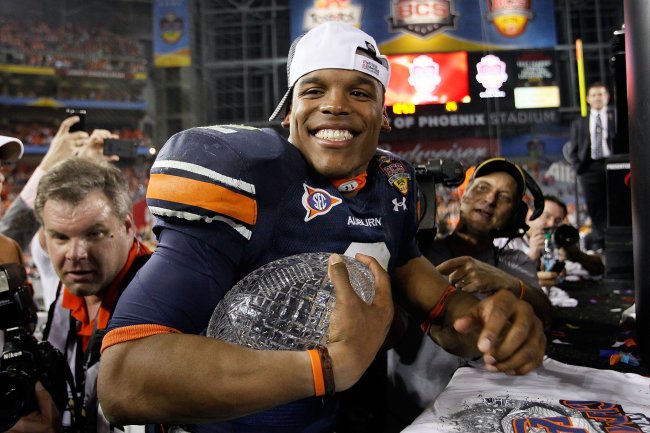 Kevin C. Cox/Getty Images
The past seven national champions (Florida, LSU, Florida, Alabama, Auburn, Alabama, Alabama) survived a rigorous SEC schedule in route to the title. The Heisman Trophy has been handed to an SEC star four times since 2007.
The on-field success is the direct result of an outstanding influx of athletes and coaches in the past decade. Keep in mind, the SEC didn't produce a national champ between 1998 (Tennessee) and 2003 (LSU).
Premier players from across the country continue to pour into the conference. 247Sports' list of the top 15 recruiting classes for 2014 features eight SEC squads, including top-ranked Alabama.
2014 SEC Recruiting

| | | | |
| --- | --- | --- | --- |
| Team | 5-Star Recruits | 4-Star Recruits | National Class Ranking |
| Alabama | 1 | 13 | 1 |
| Tennessee | 1 | 11 | 3 |
| Georgia | 1 | 10 | 4 |
| Florida | 3 | 5 | 10 |
| Texas A&M | 1 | 9 | 11 |
| Ole Miss | 0 | 6 | 12 |
| LSU | 0 | 9 | 13 |
| Auburn | 1 | 6 | 15 |
| Kentucky | 0 | 6 | 16 |
| Arkansas | 0 | 4 | 24 |
| Vanderbilt | 0 | 2 | 25 |
| South Carolina | 0 | 4 | 26 |
| Mississippi State | 0 | 2 | 32 |
| Missouri | 0 | 0 | 40 |
247Sports
This crop of recruits grew up watching SEC programs pound opponents on a national stage. They've idolized conference superstars like Cam Newton, Tim Tebow, Mark Ingram and Johnny Manziel.
Now the nation's most coveted college football prospects want to get in on the action. Consider the comments of uncommitted 2014 5-star linebacker, per 247Sports, Clifton Garrett, an Illinois standout who grew up in Big Ten country.
He described his personal thought process to Herald-News reporter Dick Goss. It's a view that seems to resonate with recruits in every corner of America.
Nothing against the Big Ten, but I've always liked the SEC. I feel it's a different brand of football they play there.
The reputation is in place. The recruits keep coming.
SEC teams are securing the services of top-ranked players at an alarming rate. The 14-team conference has an amazingly high success rate at practically every position, based on 247Sports' composite rankings.
The conference claims:
Four of the top five quarterback prospects in the 2014 class.
Six of the top 10 committed running backs.
Six of the top 12 committed wide receivers (including the top three).
Seven of the top 12 committed offensive linemen.
Four of the top eight committed defensive linemen.
Six of the top 11 committed linebackers.
Six of the top nine committed defensive backs.
Eight of the top 20 committed "athletes."
In a college football universe that features six BCS conferences, the SEC's monopoly on marquee talent is astounding. The momentum grows unwaveringly as national attention mounts.
Kentucky coach Mark Stoops told Yahoo! Sports reporter Dan Wetzel the conference's national recruiting dominance is remarkable.
I've never seen anything like it. That's a big part of why I thought it was a great opportunity at Kentucky. Almost the whole conference could be in the top 30 nationally.
What do you think about the SEC's dominance in college football?
SEC teams currently inhabit more than a quarter of the AP Top 25 national rankings, with seven squads in the mix. The conference continues to gain steam, and it seems inevitable that its regular-season winner will be represented in the BCS National Championship Game.
Beyond the field, there's no room for doubt about this dominant era's influence on high school prospects. Elite players want to compete against and beat the best of their peers.
For now, there's no place like the SEC to accomplish that task.