Pre-Training Camp Player Power Rankings for the Dallas Mavericks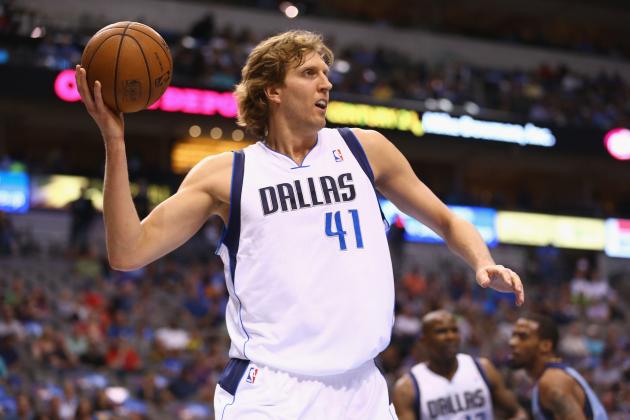 Ronald Martinez/Getty Images
Dallas's roster may look different, but Dirk Nowitzki is still the alpha dog.
Most sports fans are over the moon that the NFL season has just started, but, to NBA fans, September provides a very different reason to get excited: NBA training camps are just three short weeks away.
And in Dallas, there's a very important camp looming. Integrating all the new pieces will be a tough task, and it's a mystery as to exactly how the team will shake out around Dirk Nowitzki.
But until camp starts, we won't know. So for now, we can only take educated guesses at who Dirk's new sidekick will be. And for that matter who the starters will be. Or simply who the best players will be.
That's where some pre-training camp power rankings come in. We can look at player performance, importance to the team, their reputations and how they might fit into the current Mavericks team to try and create a 1-15 list of the best Dallas players for the 2013-14 season.
I'm just as curious as you are to see how this all turns out, so let's not waste any more time.
All statistics, unless otherwise noted, come from Basketball-Reference.com
Begin Slideshow

»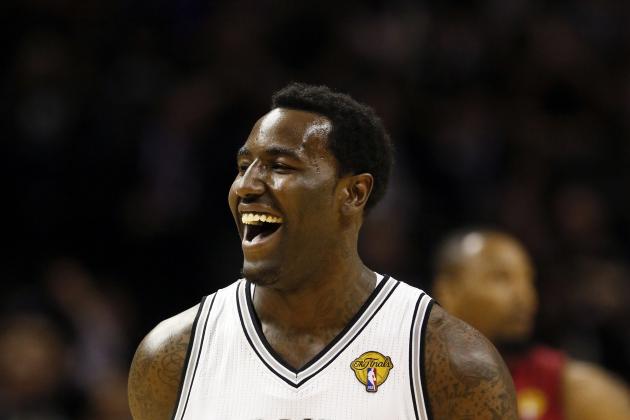 Soobum Im-USA TODAY Sports
It's hard not to love the signing of DeJuan Blair.
DeJuan Blair/Wayne Ellington
DeJuan Blair was by far the hardest person to drop out of the top 10. Though he didn't play much recently in San Antonio, Blair's per 36 minutes still look fine. He averaged nearly 14 points and 10 rebounds per 36 minutes last season.
He's a big guy who knows how to throw his 270 pounds around effectively, and can be a nice bench piece. So it was almost painful putting him all the way down here.
Wayne Ellington was the other guy who was troubling to drop so far down.
Ellington is the prototypical three-and-D wing player, which makes it conceivable that he could crack the rotation. He's a career 38.2 percent three-point shooter, and played well in Cleveland last year.
But the problem with both of these players is that they're new. Intriguing yes, but in order to climb up the ranks they would have to jump some players who have been in Dallas for a while. Which makes their road to playing time tougher.
Not saying they won't get playing time, but for now they're like lottery tickets.
Gal Mekel/Bernard James/Ricky Ledo
These are the project players that shouldn't see much playing time this year.
Gal Mekel showed promise in the summer league, coming in fourth in Las Vegas in assists per game. But he's going to have a serious learning curve coming over from Israel.
Bernard James has nice size, but, after watching his rookie campaign, the big man has a long way to go if he wants to become anything other than a rebounder/defender.
And Ledo didn't even play organized basketball last year. He was a four-star recruit coming out of high school and a talented scorer, but he's the definition of a project player.
These guys all have promise, but for the upcoming season they shouldn't see a ton of minutes.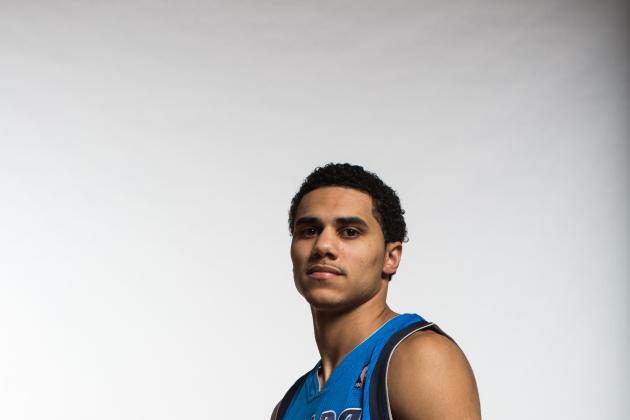 Nick Laham/Getty Images
Even with a broken ankle, Larkin will be a valuable piece to the Dallas puzzle this season.
Yes, Shane Larkin is recovering from a broken ankle he suffered this summer. But the first-round pick's potential means he's still high in these power rankings.
Larkin is an amazing athlete. Not only did his 44-inch max vertical jump rank second highest in NBA combine history, but his 3.08 sprint time was one of the fastest at the combine as well.
He was a blur in college, and led Miami to a 29-7 record. He averaged 14.5 points and 4.6 assists per game, while shooting 47.9 percent from the field and 40.6 percent from three.
He'll be an exciting change of pace guy this year, if a bit raw. And the broken ankle really hurts him.
He's a smaller point guard, and having only played a year of college ball before being thrust into the NBA means he's far from polished.
He really could have used all the time possible this offseason to get adjusted, but with his injury he'll really have to learn on the fly in order to have a role on the team coming out of camp.
Larkin showed he has the physical tools, but camp will reveal just how ready for NBA ball he is. On potential alone he's higher in these power ranks than the guys behind him, but seeing as how he might not be ready to play right away, he can't be much higher on this list.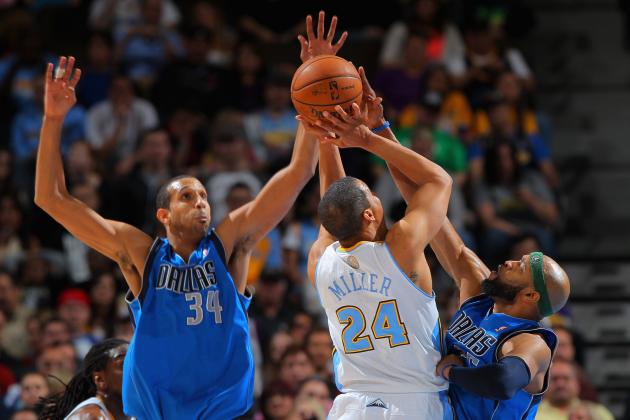 Doug Pensinger/Getty Images
Brandan Wright has been a valuable rotation player thanks to his one elite skill, shot-blocking.
At 6'10" and only 205 pounds, Brandan Wright is simply long. His slender frame makes his almost 7'4" wingspan look closer to eight feet.
And after failing to find a home for his first three years, he seems to have settled in Dallas thanks to his penchant for blocking shots. His per 36 minute block averages the past two years are 2.9 and 2.4 respectively.
His rebounding leaves a bit to be desired, and he can look lost at times on offense. But since he's been a Maverick, Wright is good for a block a game in limited minutes.
He also shoots right around 60 percent from the field to go along with barely a turnover a game. So it kind of makes sense that he would have the highest PER on the team last year.
But he's a very limited player. He seems to have found a nice niche as a good bench big who can block shots and not do anything too dumb, but that might also be the best he can play.
So he's deserving of a mention on the roster, but not a super high power rank. Essentially, he's a valuable role player. And that's what this ranking reflects.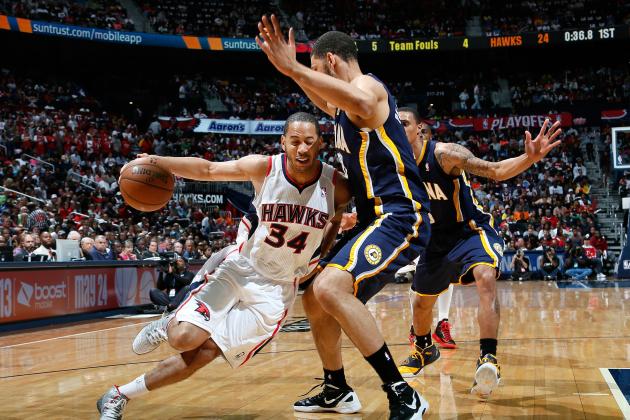 Kevin C. Cox/Getty Images
Believe it or not, Devin Harris is actually sneaky good.
Think of Devin Harris as Shane Larkin insurance.
If Larkin isn't quite NBA-ready, or that ankle prevents him from getting the reps he needs in camp, Harris can be a serviceable backup.
Harris comes back to the Mavs after a five-year absence as an entirely different player. Instead of a young player brimming with potential, he's now 30 and a savvy veteran. Instead of having to learn the NBA ropes, Harris will be the teacher.
He's also not washed up. Remember he's 30, not 40.
Harris still has plenty of gas left in the tank, and can even guard someone on the perimeter, something this Mavericks team sure could use.
Now, it's not like he will be lighting up any scoreboards. But you can believe he's an upgrade over Mike James.
And as such he's a valuable piece. Larkin needs an insurance policy, and Harris adequately fills that role. Though don't count on him to be much more than a solid backup.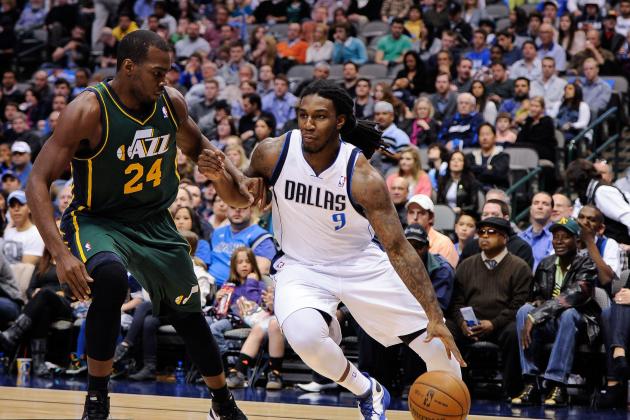 USA TODAY Sports
Jae Crowder turned in an impressive rookie season for a second round pick.
Not much was expected from Jae Crowder after the Mavericks acquired him via a draft-day trade. He was the 34th overall pick in 2012, and not exactly a heralded addition.
But the 2012 Big East Player of the Year outplayed his draft position.
He turned out to be a willing wing defender and a rotation player. Not bad for a second-round pick.
Crowder needs to improve his shooting to be anything more than simply a rotation player, but, even as is, he's a valuable piece. The Mavs are a bit thin on the wing, and Crowder actually plays defense. Can't exactly say the same about Vince Carter.
Most of all, Crowder brings energy. He doesn't mind getting a tough defensive task, and he will always hustle. Though he's still learning the game and making mistakes, it's encouraging to see the motor that he plays with.
Having been a great college player, he has the potential to improve. He shot almost 50 percent from the field in his two years at Marquette, so it stands to reason that he will improve on his 38.4 percent shooting last year.
Essentially, Crowder showed promise last season. Thus he deserves to be ranked above players like Wright or Harris who are basically all they can be.
That being said, there's a large production gap between Crowder and anyone higher on this list. So here he stays, but keep an eye on him this coming season.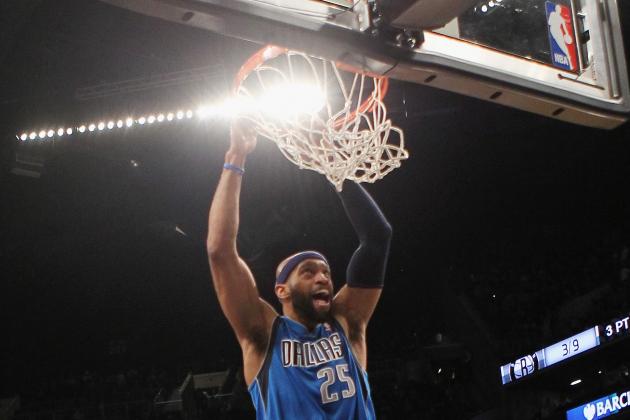 Bruce Bennett/Getty Images
Though he doesn't have ups like he used to, Carter has reinvented his game to remain valuable.
I can't be the only one who thought Vince Carter was washed up. To be kind, I was less than enthused when he was brought in. He was barely averaging double digits as an overweight jump shooter whose shooting percentage was 41.1 percent.
Blech.
But, Carter somehow managed to reinvent himself. He became a great bench scorer for the Mavs last year.
He got his shooting percentages up, especially from deep. He shot 40.6 percent from three while taking almost seven a game. And most of all he could provide an offensive burst when the bench gave the starters a blow.
His per 36 minute scoring averages were as high as they had been since he left New Jersey, and he was even a versatile scorer. He could take smaller players in the post, spot up from outside or occasionally take players off the dribble.
His hops may be gone, but Carter's game hasn't left him. Coming off the bench and playing 25 minutes of offense a game seem to suit him, so he seems to have found a niche with the Mavs.
But, yet again, we know what Carter is. There's no room for growth, but he's productive. His scoring punch is a blessing, but that's about all he brings to the table. So he stays at six.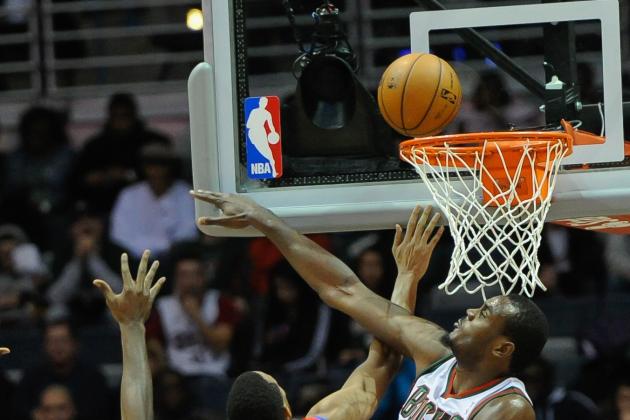 Benny Sieu-USA TODAY Sports
He may not be the sexiest acquisition, but Dalembert will be a very valuable Maverick this year.
This one may seem a bit strange. Dalembert's 2013 campaign was marred by injuries as he only played 47 games, and he's not exactly young at 32. So why is he so high on this list?
Call it a leap of faith.
Dalembert is exactly the kind of center Dallas needs to pair with Dirk Nowitzki. Dalembert is defensive-minded and can protect the rim, two things you wouldn't associate with former Mav center Chris Kaman.
And when he's healthy, Dalembert has a real impact on a game. Last year he could never get healthy, but in 2012 his Rockets were four points per 100 possessions better with him on the floor.
Dalembert isn't exactly a slouch on offense either. His per 36 minute numbers are good, as he averaged 14.7 points and 13 rebounds on 54.2 percent shooting.
The leap of faith part is believing he will be healthy.
2013 was basically a lost year for Dalembert. Injuries nagged him all year and when he played he was largely ineffective.
If he can get back to the way he was before last year, he will be a great starting center to pair with Nowitzki. And with guys like Brandan Wright, DeJuan Blair and Bernard James capable of playing minutes, Dalembert doesn't need to be out there for 30 minutes a night.
If he can do his best Tyson Chandler impersonation for this Mavs team, then he will be an extraordinarily important player. And his track record suggests he can do just that. If it wasn't for his injury history, he would have a higher ranking. But unfortunately we can't totally overlook that.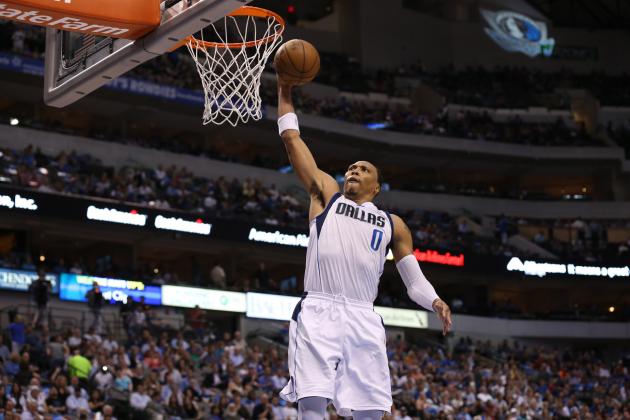 USA TODAY Sports
After a down 2012, Shawn Marion actually had a resurgent 2013 campaign.
He may not be the most exciting player, but Shawn Marion is still immensely important to this Mavericks team.
Even at age 35, he's still a savvy perimeter defender. He's the guy the Mavs can throw at Kobe and LeBron and feel alright doing so.
Despite his infamous jump shot, Marion is also a functional offensive player. In 2013 he averaged 12.1 points on 51.4 percent shooting from the field, both of which are improvements on his 2012 season.
And the underrated part of Marion's game is rebounding. He averaged 7.8 rebounds per game last season, his most since 2009.
Marion is also the longest tenured Maverick behind Dirk. Which means he and Dirk have a chemistry, and Rick Carlisle trusts Marion.
Add it all up and you don't have someone who's going to steal any highlights or be an all-star, but you have a veteran who is critical to his team's success.
And that's why he's so high. Sure Larkin might be more exciting and Carter might score more, but Marion contributes in ways people don't always notice. He's a nice glue guy, with a starter's talent.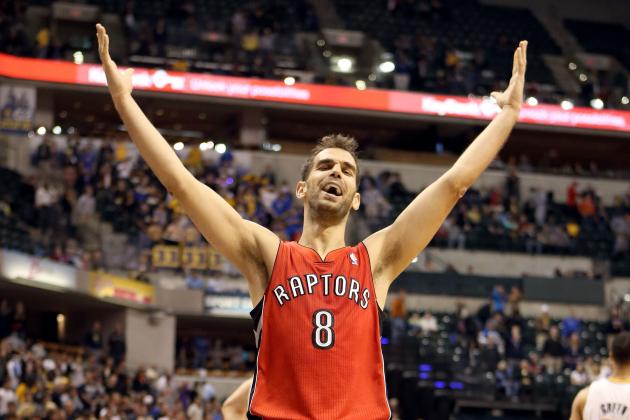 Andy Lyons/Getty Images
Can Jose Calderon be Steve Nash 2.0 for Dirk Nowitzki?
Initially, this move was a bit of a head-scratcher. Why would the Mavs sign a point guard who's almost 32 to a four-year $29 contract? It initially seemed like a waste of money.
But then it started to make sense.
Calderon is a great passer. Always has been. He's never averaged less than 7 assists per 36 minutes. He's also a great shooter, never shooting less than 44 percent from the field after his rookie season.
He's the quintessential floor general. He takes less than 10 shots a game, distributes well and knocks down open shots.
Is there a better guard to pair with Dirk Nowitzki?
Dirk needs spacing to operate. Dirk needs a guy who can feed him the ball in places he can work. And Dirk needs a veteran point guard to run the offense in the clutch.
Sounds a lot like Dirk needs Jose Calderon.
Keep in mind that Calderon has also been wasting away in putrid Toronto for almost his whole career, so moving to Dallas is a bit of a talent upgrade. Look for him to have a career year this coming season.
And as the floor general who makes the offense tick, he deserves a high power ranking.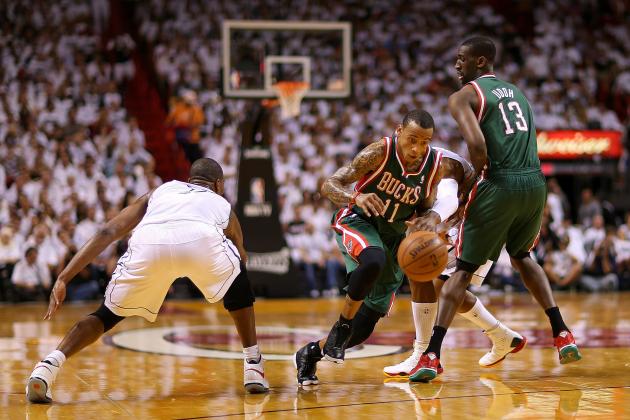 Mike Ehrmann/Getty Images
Enter Dirk Nowitzki's new sidekick, Monta Ellis.
As questionable as the Calderon signing was, the Monta Ellis pickup might have been just as initially puzzling. They signed a notorious chucker to a three-year $25 million deal, which seems a bit questionable.
Well if you think that playing alongside Brandon Jennings was one of the worst things for Ellis's career, and that his seasons in Milwaukee were basically lost, then it starts to make more sense.
Ellis's poor reputation really took off in his Milwaukee years, as he took almost as many shots per game as he had points.
So why on earth is he No. 2 in these power rankings? Well he's Dirk's new sidekick.
Oh, and he'll play better.
Ellis is 27 and still has the quickness and speed that sets him apart, so he hasn't physically eroded. And in the right role, Ellis can be a good player.
Think about him being the new Jason Terry. A scorer who can play the pick and roll game with Dirk. Except Ellis is twice the athlete Terry ever was, and a much more accomplished scorer.
Ellis has the talent to be great. If he can reel in some of the poor shot attempts, play within Carlisle's system and utilize his underrated passing ability, we could be looking at a resurgent year.
This is a lot of hopeful thinking, but a lot is riding on the Ellis signing. So his importance to the Mavs is off the charts. If he flops, the Mavericks are done. If he's a success, the Mavs are back in the playoffs.
Based on his potential and importance as Dirk's new sidekick, there's nowhere to put Ellis but at No. 2.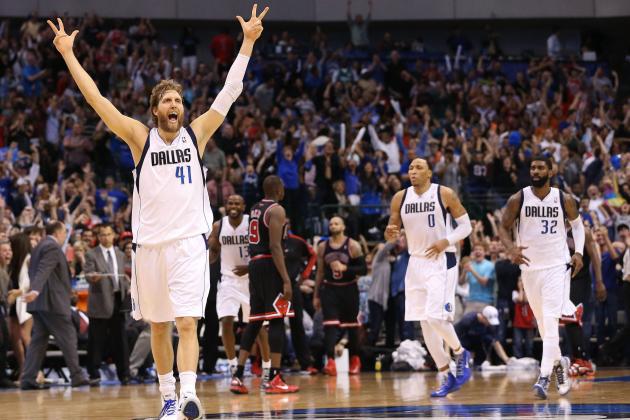 Kevin Jairaj-USA TODAY Sports
As always, Dirk is the focal point of the team.
There's not much to say about this guy. Dirk Nowitzki has been the center of the Mavericks franchise for more than 15 years now, and has solidified his place as one of the NBA's all-time greats.
The thing is, Dirk is in his twilight years and will need more help than people are used to.
He was banged up last year and only played 53 games. He still managed to average 17.3 points and be the leader of the team. But he didn't exactly put up superstar numbers.
To be clear, Dirk is not washed up. He's just not the player he once was.
Dirk proved last year that he could still be the focal point on offense. When he finally seemed to get back in his groove in March, he averaged 20 points per game for the month on 54.8 percent shooting. Not too shabby for a guy who just turned 35.
He's still got some gas left in the tank, and the Mavs gave him some new toys to play with this season in Monta Ellis and Jose Calderon. Toys suited to Dirk's style, which means he might be looking a bit more like himself again this coming season.
Despite any aging concerns, until Dirk hangs it up, he will be atop Dallas's player power rankings. He's the leader, the franchise player and offensive focal point. As good as Monta might end up being, this is Dirk's team. Plain and simple.