Zimbabwe vs. Pakistan: Scores and Session Recaps for Second Test in Harare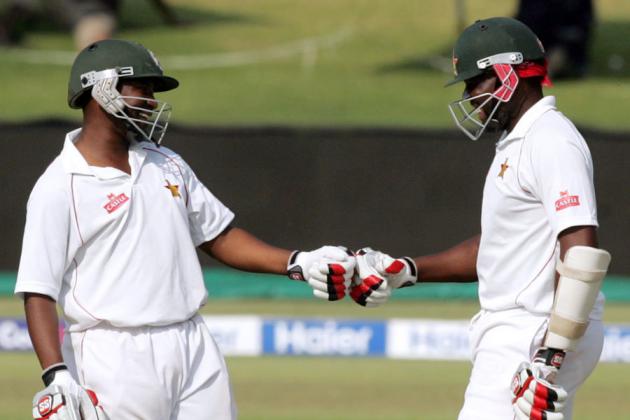 AFP
Zimbabwe take on Pakistan in the second and final Test of the series in Harare.
The tourists opened up a 1-0 lead in the series after winning the first Test by 221 runs at the same venue—but it was far from plain sailing, and for much of the Test it looked as if Zimbabwe had a chance of pulling off a huge shock.
Here are the team news, toss details and the session-by-session details from the match.
Begin Slideshow

»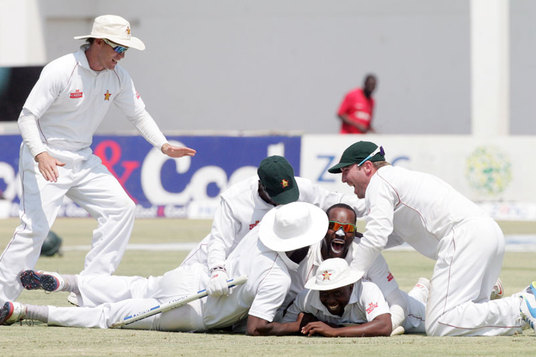 AFP
Zimbabwe 294 & 199
Pakistan 230 & 239 (81 overs)
Zimbabwe won the second Test by 24 runs, with skipper Misbah-ul-Haq finally running out of partners on 79 not out.
Had he had some help, Pakistan might well have reeled in the target and with it taken the series 2-0—but Junaid Khan could only score one run before he was dismissed, while Rahat Ali scored the same before getting caught up in a run out.
It was a historic victory for Zimbabwe—they have won just five Tests against opponents who are not Bangladesh—and their first against a team other than the Tigers since 2001.
During that time they have had to withdraw from the Test arena because of the troubles in their homeland, and have seen a promising and developing side decimated in the process.
Next up for Zimbabwe is a visit from Sri Lanka next month—assuming the series goes ahead after an apparent request to postpone it. It is a sobering reminder that despite the joy of this Test win, problems persist in the country's cricket organisation.
Statistics in this slide via Cricinfo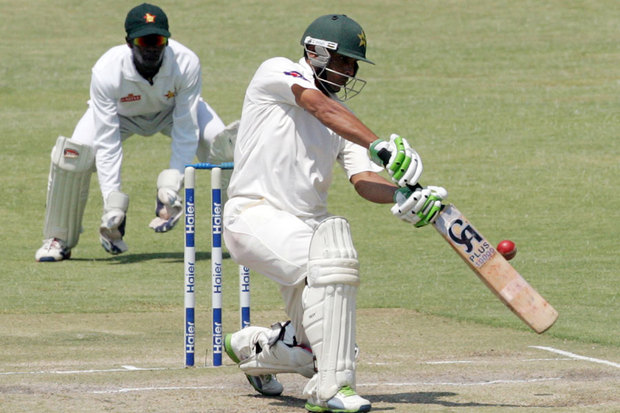 AFP
Zimbabwe 294 & 199
Pakistan 230 & 217-8 (76 overs)
Zimbabwe inched ever closer to a historic Test victory, but Misbah-ul-Haq negotiated the session to keep Pakistan's hopes alive.
The hosts prised out three wickets—Adnan Akmal, Abdur Rehman and Saeed Ajmal—but Misbah stood firm, reaching a half-century and grinding ever closer to the target on the morning of day five.
The equation at the interval was simple: Zimbabwe required two wickets, while Pakistan needed another 47 runs.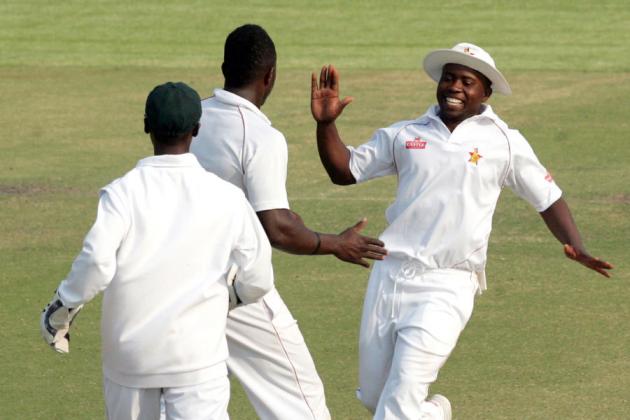 AFP
Zimbabwe 294 & 199
Pakistan 230 & 158-5 (49 overs)
The second and final Test in Harare was in the balance at stumps, with Pakistan requiring another 106 runs for a 2-0 series whitewash, but Zimbabwe only five wickets away from a resounding—and series-levelling—upset.
Zimbabwe prised out three wickets, including the crucial one of Younis Khan, missing a ball from Brian Vitori and losing his stumps.
And when Asad Shafiq fell to Prosper Utseya, it looked like the momentum had swung decisively the way of the hosts.
But a steadying partnership of 25 between Adnan Akmal and skipper Misbah-ul-Haq redressed the balance by the close of play.
Day five looks evenly poised. An early breakthrough for Zimbabwe would surely make them favourites, but while Misbah remains in the middle their nerves—and ability to finish the game off—will be tested.
Zimbabwe 294 & 199 (89.5 overs)
Pakistan 230 & 55-2 (15 overs)
Zimbabwe's innings collapsed to a meagre 199 all out, but two early wickets offset Pakistan's quick start to the fourth innings.
Rahat Ali claimed a five-wicket haul, the crucial wicket of Brendan Taylor for 27 ending all Zimbabwe's hopes of pushing on to a big score—but the victory target of 264 runs looked a tricky one on a pitch where scoring was problematic.
Zimbabwe leaked boundary balls, which Khurram Manzoor obligingly swatted away to the ropes.
But two wickets from Tendai Chatara, dismissing Mohammad Hafeez for 16 and Azhar Ali for a 10-ball duck, kept them in control of the game at the tea interval.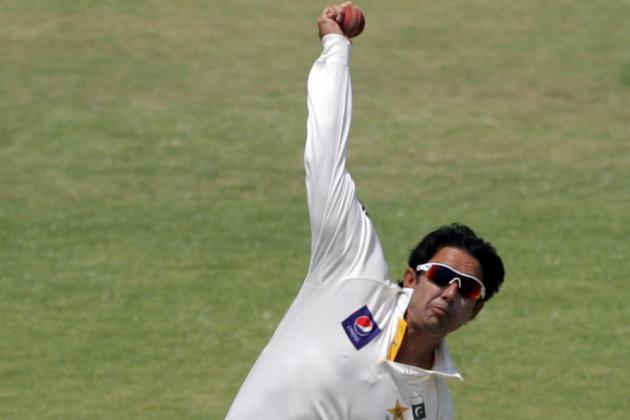 Zimbabwe 294 & 172-7 (80 overs)
Pakistan 230
The morning of the fourth day at Harare saw another go-slow session, as Zimbabwe added just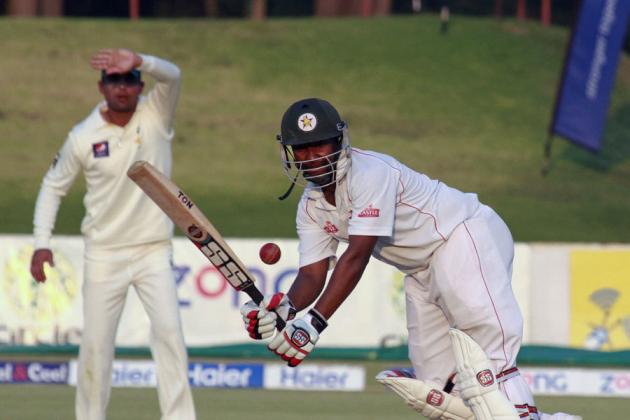 Zimbabwe 294 & 121-4 (50.2 overs)
Pakistan 230
Pakistan's late triple-strike brought them back into the Test, but until that point Hamilton Masakadza and Tino Mawoyo had been threatening to bat them out of the game.
Their partnership was worth 104 runs—invaluable in a low-scoring game—with Mawoyo (58) the first to fall in the session, leg before to Abdur Rehman. Maskadaza (44) followed swiftly by the same method, with Rahat Ali the bowler.
And nightwatchman Tanashe Panyangara also came and went without scoring, falling to the final ball of the day.
But Zimbabwe's position is still healthy—they lead by 185 runs, and have six wickets in hand. One of those is their skipper and key batsman Brendan Taylor, and if he and the rest can bat on for another session and beyond on day four, it may be too late for Pakistan to mount a recovery as they did in the first Test.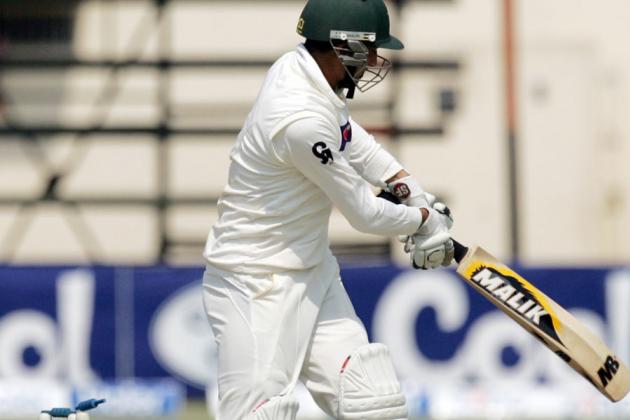 AFP
Zimbabwe 294 & 30-1 (14 overs)
Pakistan 230 (104.5 overs)
An astonishing collapse turned the Test on its head as Pakistan, at one stage 211-4, found themselves all out for 230 and conceding a first-innings deficit to their hosts.
Brian Vitori was the chief instigator of the collapse, his five-wicket haul marking his return to the Test arena for the first time in 20 months.
Once Younus Khan fell for 77 to Tanashe Panyangara for 77, the Pakistan tail meekly subsided.
It was perhaps a punishment for their slow-scoring in the first session, though the pitch, slow-paced as it was, had made finding runs difficult.
But Zimbabwe by comparison made it through to tea relatively unscathed.
Prosper Utseya was dismissed, offering a catch to short midwicket for five to give Rahat Ali a wicket, but Tino Mawoyo and Hamilton Masakadza saw them through to 30-1 by the interval.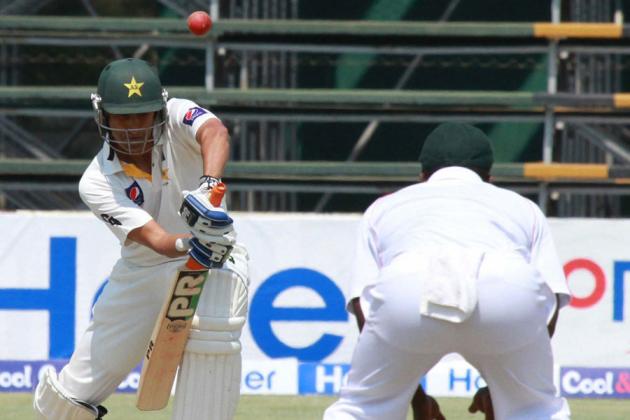 Zimbabwe 294
Pakistan 211-5 (96 overs)
The second new ball proved crucial for Zimbabwe, breathing some life back into their bowling and knocking Pakistan's slow and steady progress back.
Brian Vitori struck to dismiss Pakistan skipper Misbah-ul-Haq for 33, while Asad Shafiq came and went, adding just 10 runs before Tendai Chatara bowled him.
But despite the painful pace of the session—just 48 runs were compiled in 28 overs, the key man Younus Khan remained at the crease.
By lunch he had reached 76 not out, and was closing in on his 23rd Test century.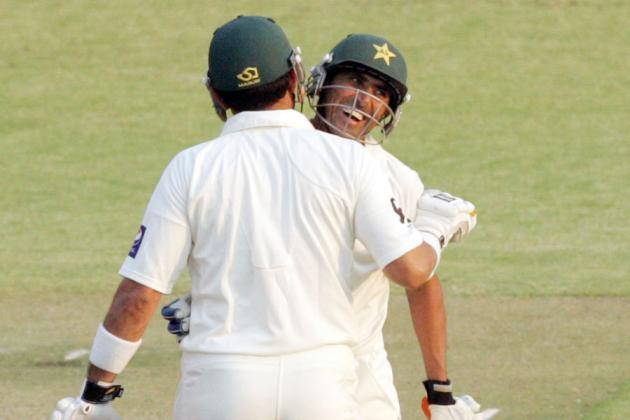 AFP
Zimbabwe 294
Pakistan 163-3 (68 overs)
Pakistan moved ever closer to Zimbabwe's score and ended day two of the second Test in a strong position.
Khurram Manzoor (51) was the only man to fall in the session, by virtue of a careless run out. But Younus Khan was unbeaten on 52 by stumps, and his captain Misbah-ul-Haq had quietly pushed on to 27. Younus also passed 7,000 career Test runs during the knock.
It was slow—Zimbabwe had enjoyed a higher run rate than Pakistan's 2.39 in the innings so far—but the retention of wickets gives the tourists every chance to push on into a lead when the match resumes.
It would be reward for the discipline and patience with which they met Zimbabwe's bowling, which was honest but lacked any great menace.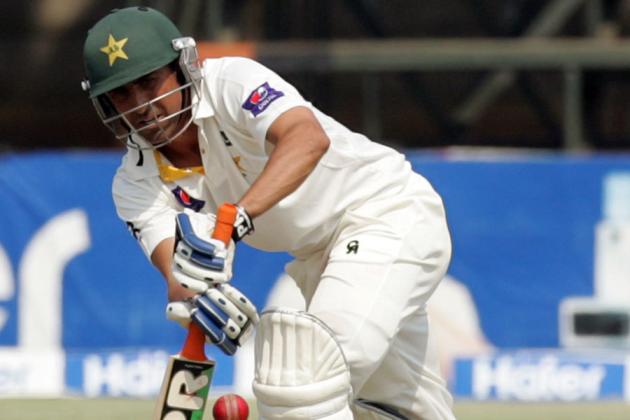 AFP
Zimbabwe 294
Pakistan 95-2 (37 overs)
Honours were about even after a session in which Zimbabwe struck twice, but Pakistan pushed on.
Mohammad Hafeez was the first to fall, his poor run of form in 2013 continuing when he edged Brian Vitori to slip for 22—his best Test innings of the year.
Azhar Ali was next to go, trapped in front by Tanashe Panyangara with seven runs to his name.
Younus Khan, fresh from a double century in the previous Test, and opener Khurram Manzoor, came together to see the tourists safely to the tea interval.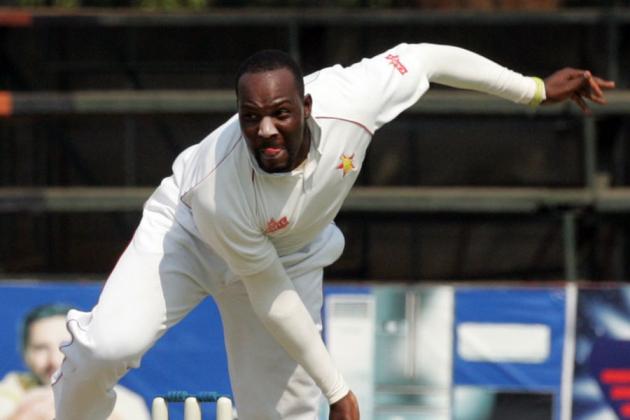 AFP
Zimbabwe 294 (109.5 overs)
Pakistan 24-0 (8 overs)
Zimbabwe coaxed out valuable runs from their final two wickets on the morning of day two to prop their first innings total up to 294.
There were contributions from the whole line-up: Prosper Utseya got to 22 before becoming Junaid Khan's fourth victim, before Tendai Chatara (24) and Brian Vitori (19*) eked out 46 runs for the final wicket.
It allowed the hosts a chance to tear in and bowl at the Pakistan batsmen for eight overs before lunch—but the pairing of Khurram Manzoor (1*) and Mohammad Hafeez (22*) saw them safely to the interval.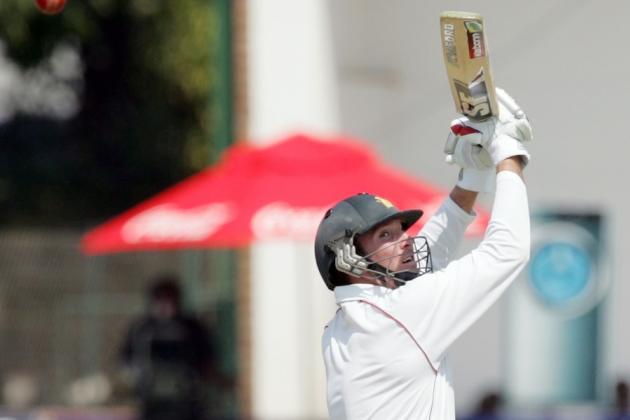 AP
Zimbabwe 237-8 (90 overs)
Zimbabwe's platform set in the first two sessions ebbed away, as five wickets disappeared in the evening.
The rot started when Junaid Khan drew an edge from Malcolm Waller on 23, and soon after Brendan Taylor followed for 51, struck in front by Abdur Rehman.
Batsmen got starts—Elton Chigumbura and Tinashe Panyangara both reached double figures—but none stayed in long enough, and the gloss slowly faded from the Zimbabwe score.
Junaid's discipline was rewarded with three wickets for 55, but the measure of the Zimbabwe innings will be how Pakistan fare in comparison on day two.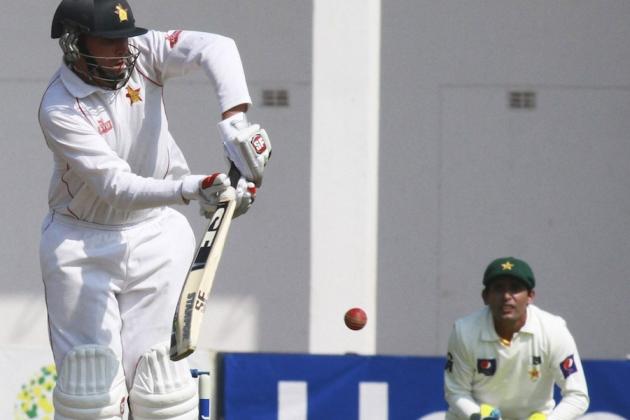 AP
Zimbabwe 165-3 (59 overs)
Brendan Taylor and Hamilton Masakadza built a strong foundation for Zimbabwe as the hosts broke free in a promising afternoon session.
Having crawled through the morning the two in-form batsmen opened up, with Masakadza (75) the only man to fall in a two-hour spell.
Taylor (48) was fast-closing on his own half-century at tea, while Malcolm Waller (18) had settled in as his partner.
Perhaps the only surprise of a session they dominated was the loss of Masakadza, who edged Saeed Ajmal to the slips.
But spin from Ajmal and Abdur Rehman proved mostly ineffective.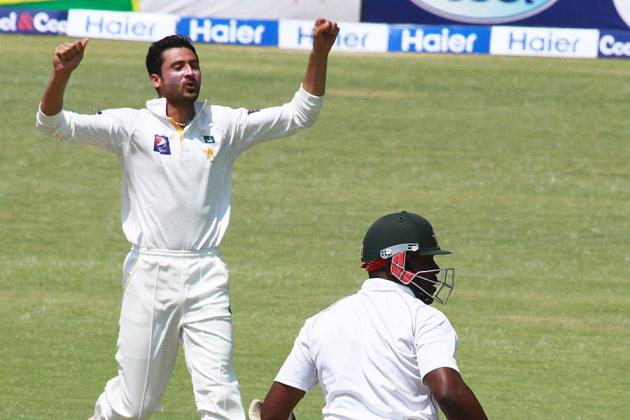 AP
Zimbabwe 65-2 (27 overs)
Zimbabwe made a painstakingly slow start to the innings, scoring at little above two an over in the first session of the Test in Harare.
The hosts did well, however, to recover from the early loss of Tino Mawoyo, who fell for a two-ball duck to opening bowler Junaid Khan.
Hamilton Masakadza (43 not out) was the key batsman for the hosts, seeing out most of the session in partnership with Vusi Sibanda, who fell for 14 to Rahat Ali shortly before lunch.
Those two seamers in particular were impressive in the early part of the day, and could easily have ended up with more than a wicket apiece when the new ball was offering assistance.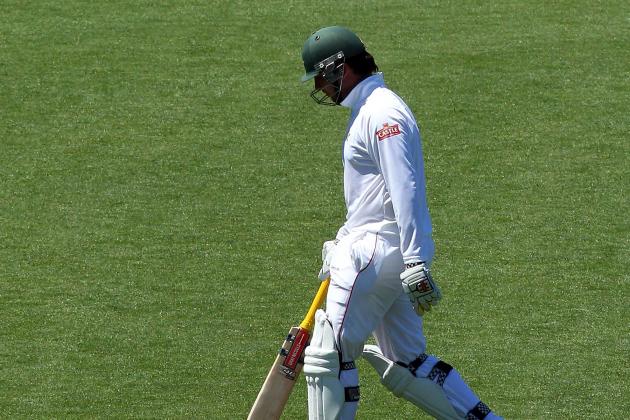 Hagen Hopkins/Getty Images

Zimbabwe won the toss and chose to bat first.
Skipper Brendan Taylor returned to the team for the hosts, having missed the first match to be with his wife for the birth of his son, meaning Sikandar Raza was dropped. Brian Vitori replaced Shingi Masakadza in the bowling ranks.
Pakistan, for their part, were unchanged. That meant that Mohammad Hafeez, who had suffered an injury problem in the previous game, had come through and was able to play.