Predicting Current NBA Stars Who Will Have Their Number Retired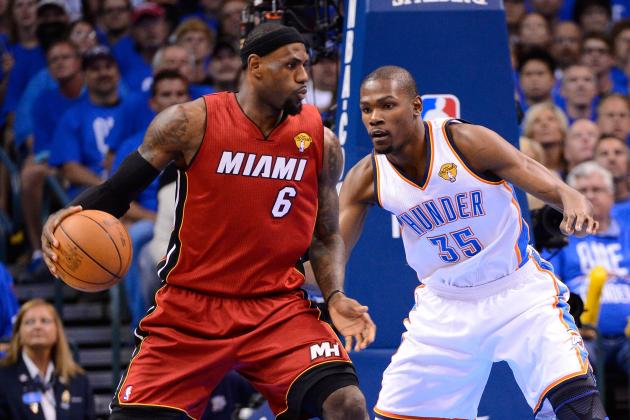 Ronald Martinez/Getty Images

The rafters inside NBA arenas are gearing up for a facelift with the league's brightest stars serving as the architects.
Retiring a jersey is a way for a franchise to permanently express its gratitude for the years of backbreaking service put in by its cornerstone players.
As these living legends progress through the various stages of their careers and enter that uncertain area that lies ahead, a jersey enshrinement ensures that their stories are never forgotten. Some are further along in their candidacy than others, but all have aligned themselves for a physical place in basketball history.
Through any combination of gaudy statistics, award-winning seasons and/or championship victories, this delectable dozen will one day watch over the courts that they currently dominate.
Begin Slideshow

»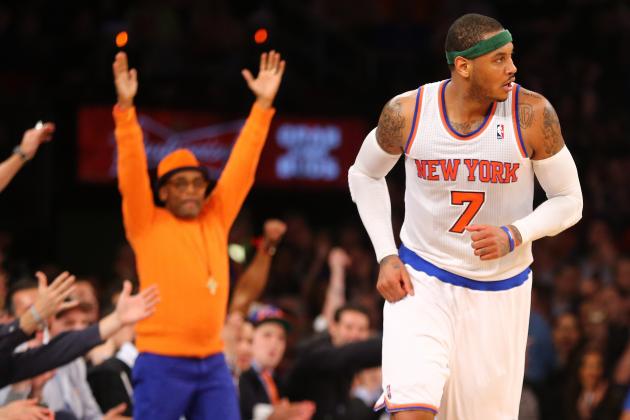 Al Bello/Getty Images

Carmelo Anthony's return to the Big Apple hasn't quite gone as planned.
While he helped bring playoff hoops back to a starving New York Knicks fanbase, he's also delivered just a single postseason series win in three years.
But it's impossible to blame the reigning scoring champ, 28.7 points per game, for the roster failures around him.
With nothing more than streaky efforts from his supposed top supporters, J.R. Smith, Amar'e Stoudemire and Raymond Felton, the former Syracuse star's journey into becoming an efficient offensive machine has been nothing short of remarkable.
He could sacrifice his spot in the Madison Square Garden rafters if he chooses to opt out of his current contract in 2014 and continue his career elsewhere. But if he stays in New York for the long haul, he'll be the last to don that orange-and-blue No. 7.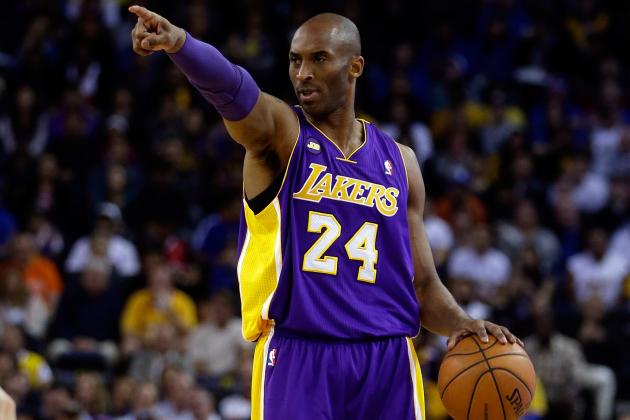 Ezra Shaw/Getty Images

There isn't a question over whether Kobe Bryant's jersey is rafter-bound at the Staples Center.
It's only a matter of deciding which number to retire.
Over the summer of 2006, Bryant traded his No. 8 Los Angeles Lakers jersey for the now-iconic No. 24 threads. Deciding between the two versions of Vino is like choosing which of your kids is your favorite.
The younger Bryant produced one scoring title, the second-highest single-game point total in NBA history (81), eight All-Star Game selections and three NBA titles. Since making the wardrobe change, he has added seven more All-Star Game selections, two NBA titles, two Finals MVP awards and a regular-season MVP (2008-09) to his already-glowing resume.
Bryant spent more seasons with No. 8 on his back than No. 24 (10 to seven as it stands), but I think his No. 24 will be the one left hanging whenever he walks away. After spending so much of his early career in the shadows of Shaquille O'Neal, Bryant has been the face of L.A. sports ever since The Diesel was sent packing in 2004.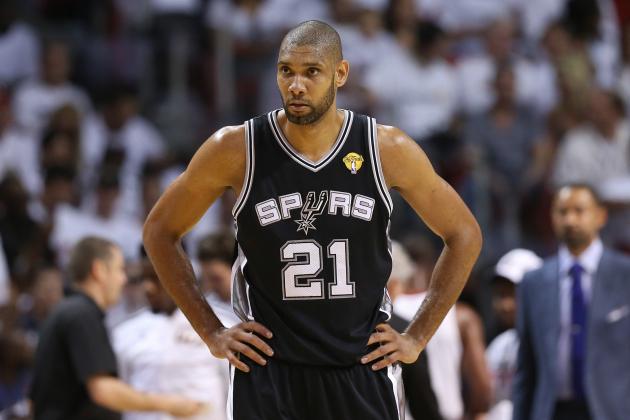 Christian Petersen/Getty Images

Players like Tim Duncan are the reasons that jersey retirements exist.
Few have ever embodied the character and class of an organization the way that The Big Fundamental has with the San Antonio Spurs.
Just as the Spurs have set a new standard of consistency for other franchises to follow, Duncan has upped the ante on the interior. He's averaged at least 19.2 points, 11.0 rebounds and 1.7 blocks per 36 minutes in 14 of his 16 seasons in the league.
He's a two-time MVP, three-time Finals MVP, four-time champion and 14-time All-Star.
A first-ballot Hall of Fame selection and a jersey retirement are simply formalities at this stage for the 37-year-old.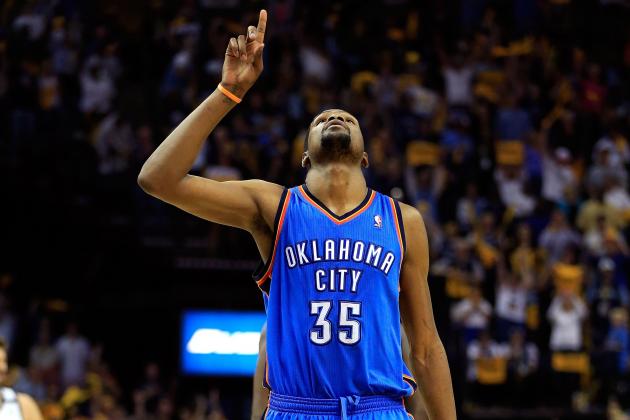 Jamie Squire/Getty Images

The second-youngest player on this list, Kevin Durant has shown poise and intelligence well beyond his years during his first six NBA seasons.
Already a three-time scoring champion, the 24-year-old is quickly closing in on a top-200 spot among the league's all-time career scoring leaders.
He's 6'10" with a nearly 7'5" wingspan, guard-like handles and a three-point specialist's shooting stroke (career 37.3 percent). His defense continues to improve, as last season's 100 defensive rating marked the second straight season that he'd set a career best.
He's headed for history in any NBA sense, but through the franchise lens he's already a living legend. He holds top-10 rankings among the organization's career leaders in points (third, 12,258), blocks (fifth, 470), rebounds (ninth, 3,153) and steals (10th, 578).
Perhaps most important for Oklahoma City Thunder fans, though, is the fact that the perennial All-Star is locked up through the 2015-16 season. And his tenure could extend well beyond that as he continues to stress that he has no "plans to move," via Royce Young of DailyThunder.com.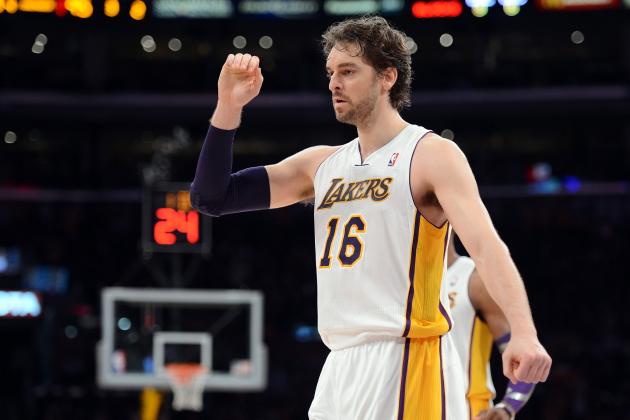 Harry How/Getty Images

From franchise scapegoat to jersey retirement?
Only in L.A. And only for the grossly underappreciated Pau Gasol.
Forget his failed run as Mike D'Antoni's floor spacer in 2012-13 (career worsts with 13.7 points and a 46.6 field-goal percentage). When utilized the right way, Gasol is as offensively talented as any true post player in the league today.
He shined in a secondary role on the last two Los Angeles Lakers championship teams (2009 and 2010). He averaged at least 18 points, 10 rebounds, two assists and two blocks during each of those postseason runs.
With Dwight Howard out of the picture, Gasol should be in line for another strong statistical season in 2013-14. Whether he'll have the chance to make more noise with the Lakers beyond that is anyone's guess as his current contract expires next summer.
Regardless of whether this is his last season in L.A., he's already done enough to guarantee his place in the crowded Staples Center rafters.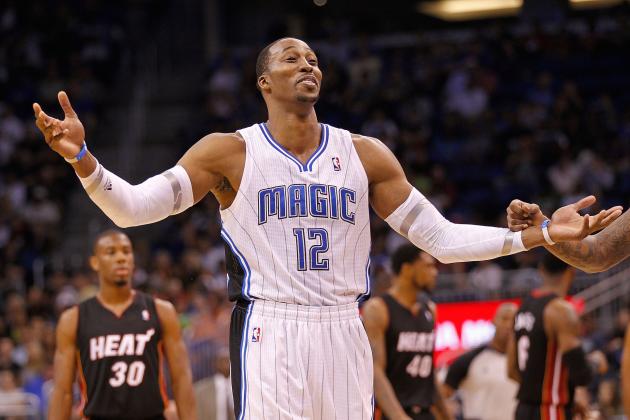 Mike Ehrmann/Getty Images

If Stan Van Gundy thinks Dwight Howard deserves to have his jersey retired by the Orlando Magic, per the Orlando Sentinel's Mike Bianchi, then who can argue with that?
Van Gundy lost his job as Orlando's coach because of Howard—he said so himself—yet he still feels Howard did enough during his eight seasons there to warrant enshrinement.
The numbers say Van Gundy certainly has a point. Howard stands as the Magic's career leader in points (11,435), rebounds (8,072) and blocks (1,344). He was a three-time Defensive Player of the Year, five-team All-NBA first team selection and six-time All-Star as a member of the Magic.
In 2009, he led the team to just its second NBA Finals appearance in franchise history and delivered just its fourth ever Eastern Conference Finals berth the following season.
Sure his prolonged divorce got messy, but that can't erase the beauty that this relationship created while it existed.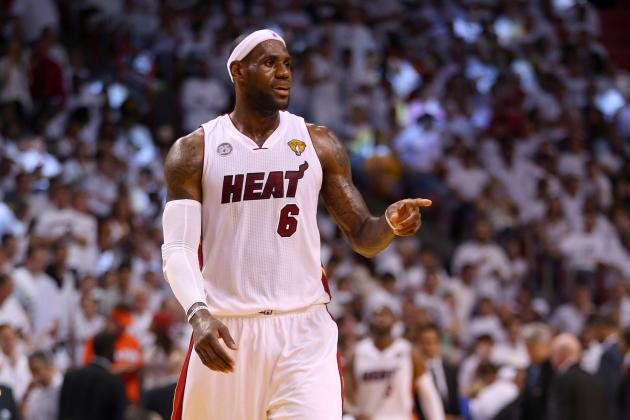 Mike Ehrmann/Getty Images

LeBron James should send two numbers into retirement before he hangs them up, three if he bolts in free agency next summer.
The greatest hooper on the planet has solidified his standing as the best player in franchise history for both the Cleveland Cavaliers and the Miami Heat.
In Cleveland he blossomed from a freakish athlete into a wildly productive two-way machine. He missed a total of 26 games in seven seasons with the Cavaliers, picking up two MVP awards, four All-NBA first-team selections and six All-Star nods in the process.
The one thing lacking on his basketball resume, an elusive championship ring, was captured just two seasons into his tenure with the Miami Heat. He's since added a second championship ring, capping a two-year run as the league's MVP in both the regular season and the NBA Finals.
Trailing only Michael Jordan (27.91) in career player efficiency rating (27.65), James' enshrinement surely won't be restricted to arena rafters. Still, a pair of jersey retirements would be appreciated and well-deserved.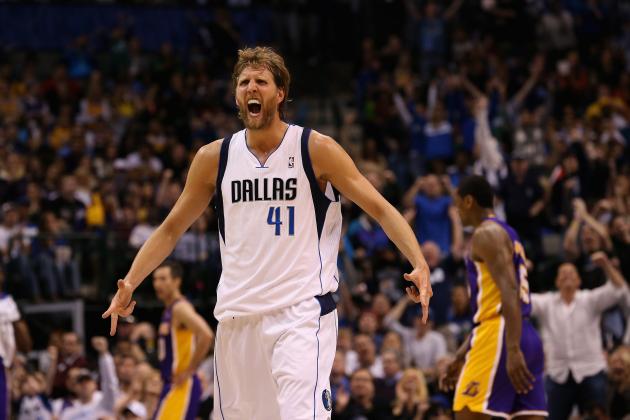 Ronald Martinez/Getty Images

After back-to-back seasons of free-agency whiffs, the Dallas Mavericks might be destined for mediocrity to close out Dirk Nowitzki's storied career.
If his twilight years are turned into a prolonged farewell tour, at least it will be a well-deserved send-off.
A 7'0" gunner with an unguardable fadeaway, his jersey's been destined for retirement for some time.
If any questions were still lingering in 2011, he answered them all with his NBA Finals MVP performance. He averaged 26.0 points and 9.7 rebounds in the series, giving Dallas its first NBA title in franchise history.
The 35-year-old is still giving defenders fits—he averaged 19.2 points on .512/.419/.899 shooting over the final 23 games of his injury-plagued 2012-13 season—so he may not be done building his case just yet. Even if the numbers say that argument's been closed for a while.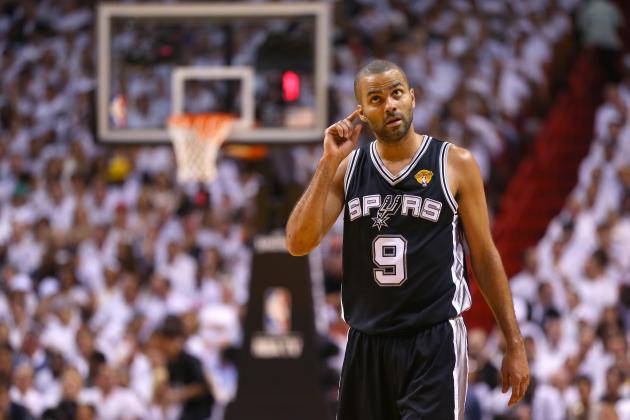 Mike Ehrmann/Getty Images

There's a reason that San Antonio Spurs fans aren't panicking over the idea of life after Tim Duncan.
He goes by the name of Tony Parker.
The 31-year-old floor general continues to get better with age. Still lightning quick, but never a jaw-dropping athlete like some of today's point guards, his mastery of the position and high basketball IQ leaves him in the elite class of superstars.
He's averaged more than 2.7 turnovers just once in his 12-year career—a number topped by 23 players last season alone—and hasn't tallied fewer than 16.0 points and 5.7 assists since the 2003-04 season.
With an NBA Finals MVP, three championships and five All-Star Game selections on his resume so far, he should have jersey retirement and Hall of Fame enshrinement in his future as he moves further out of Duncan's shadow.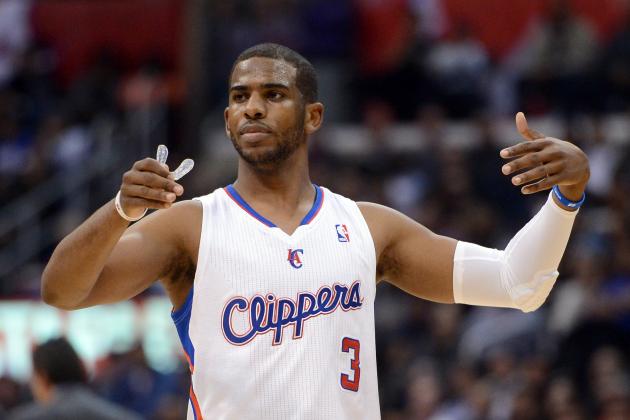 Harry How/Getty Images

Forget about everything Chris Paul has accomplished in his eight-year career for a moment.
He made the Los Angeles Clippers relevant.
He delivered back-to-back playoff berths to a franchise that had sniffed the postseason just seven times over its first 41 seasons of existence. He orchestrated the two highest winning percentages in franchise history.
And he's only getting started.
With the ink still drying on his new five-year, $107 million deal, via ESPN Los Angeles' Ramona Shelburne, he'll continue leading this organization to previously unseen heights.
An All-NBA selection in five of the last six seasons, he's a wildly efficient offensive threat at one end (his career 25.5 PER ranks second among all active players) and a perennial All-Defensive team performer at the other.
For what Paul has already given this laughing-stock-turned-championship-contender, his jersey could be retired before his playing days are finished. As tribute to the six brilliant seasons he turned in for the New Orleans Pelicans franchise, Paul's jersey could hold dual citizenship inside the Staples Center and the New Orleans Arena.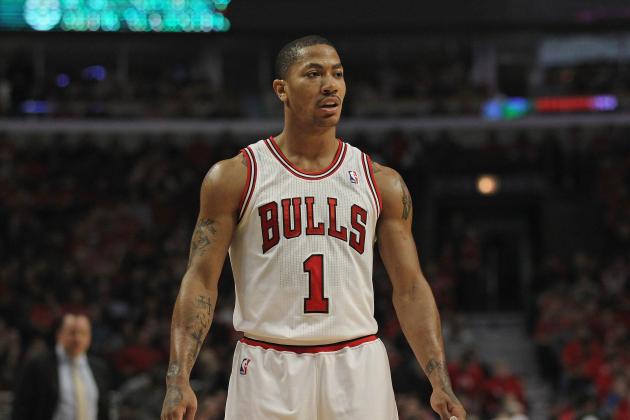 Jonathan Daniel/Getty Images

As with any Derrick Rose mention between now and his next official NBA appearance, a caveat must be added that there is no guarantee that he'll return to his pre-injury form.
That being said, he might have already accomplished enough in his four sensational seasons to give the Chicago Bulls something to think about.
The youngest MVP in NBA history, his worth to the Bulls is impossible to overstate.
With a healthy Rose, Chicago rattled off back-to-back seasons with a .750-plus winning percentage from 2010-12. When Rose was sidelined in 2012-13, the Bulls managed only a 45-37 record before bowing out in the Eastern Conference semis.
The last time the basketball world had a glimpse of Rose in action, he delivered a brilliant 23-point, nine-assist, nine-rebound performance in the opening round of the 2012 postseason. He was all of 23 years old at the time.
Another year wiser and more than 16 months removed from a torn ACL, Rose might hit the ground running when Chicago opens its 2013-14 campaign on Oct. 29. There's also the very real, very frightening possibility that he'll come back better than ever.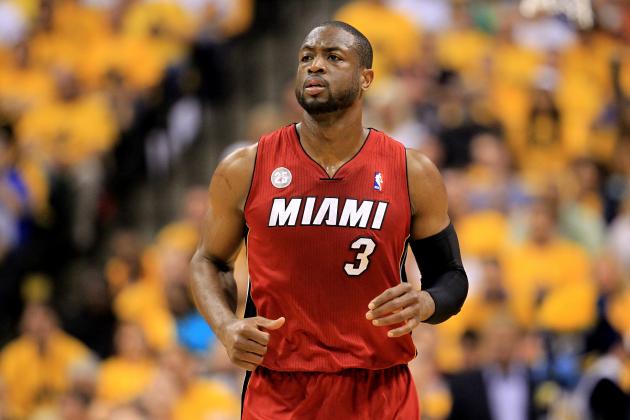 Ronald Martinez/Getty Images

Here's everything you need to know about Miami Heat superstar Dwyane Wade: He dealt with lingering questions of his decline throughout last season, despite joining LeBron James as the only players to average at least 21 points, five rebounds and five assists with a 50-plus field-goal percentage.
If that's a down season, what does an up year look like?
Well, from the 2005-06 season, his third in the league, to 2009-10, the last before James' South Beach arrival, he averaged 27.4 points, 7.0 assists, 5.0 rebounds, 2.0 steals and 1.0 blocks. Oh, and he did all that while shooting a blistering 48.5 percent from the field and compiling a 27.6 PER.
No. 7 in league history with a career 25.53 PER and Miami's all-time leader in points (16,453), assists (4,049) and steals (1,183), Wade's No. 3 jersey has a spot inside AmericanAirlines Arena whenever he's ready to hang it up.