Under the Knife: Latest MLB Injury Updates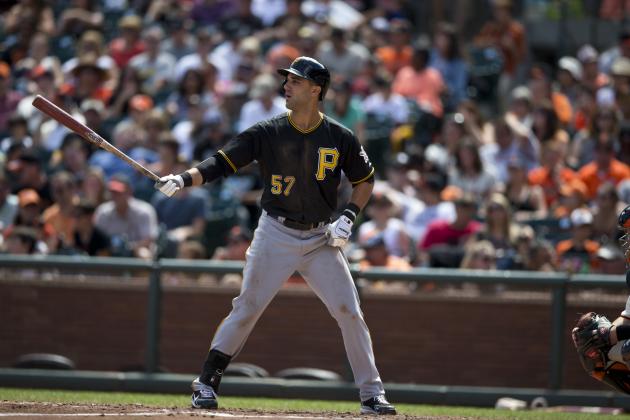 Jason O. Watson/Getty Images

How much do injuries really affect a team? Just look at the names on the next slides. Jacoby Ellsbury, Derek Jeter, Miguel Cabrera and more. All stars and the centerpieces of their teams. Tons of cash that is sitting on the DL not on the field. The teams can only hope they return, but some of them will not, and some teams are missing the playoffs because they couldn't keep them on the field.
But for the players themselves, how important is it? Andrew Lambo has long been one of the Pirates' top hitting prospects, but things never seemed to come together, largely because of injuries. Coming into the 2013 season, Lambo was at a bit of a crossroads. The team was making a push and the minor league system seemed filled with prospects, both above and below him on the charts.
"I tried to play through things in 2012," Lambo told me last week. "You can't make yourself hit homers, but I can dedicate myself to staying on the field, being prepared, and staying consistent."
The approach worked, letting Lambo stay on the field and—in spite of a spacious home park at Triple-A Indianapolis—lead the minors in home runs.
Of course, the sudden jump from five homers at lower levels to 32 is going to raise some eyebrows. Lambo is essentially the Chris Davis of the minors, and he's heard the questions. Lambo's name made the news in 2010 when he was suspended for 50 games while in the Dodgers system, though it was for testing positive for a drug of abuse rather than a performance-enhancer. Since then he has been tested, both blood and urine, throughout the season, but he knows even that won't quiet many.
"I want to play the game the right way, but there's nothing I can say or do to stop people from asking the question," he explained. "They tested me in Florida (spring training), in the minors, in the majors, but I can't focus on it. I didn't have a goal this season to hit more homers. You can't dictate those. For me, home runs don't feed on themselves. I tried to just stay on the field and do what I do."
Lambo is in Pittsburgh, a role player shifted behind new acquisitions like Marlon Byrd, a player who has himself been suspended for his PED usage.
"He's a great teammate," Lambo said. "Him, (Justin) Morneau, I'm just trying to learn how they prepare, how they handle themselves, the things they do because that's where I want to be."
Lambo wants to play deep into October, but knows he probably won't make the playoff roster.
"I'll just take my opportunities and do what I can do," he said. "There's opportunities for me along the way and I have to take advantage of them."
He'll go back to work in his Southern California base this offseason, hoping to feed off the success of this season. With a stroke tailor-made for PNC Park and a team on the rise, he has an opportunity to stand alongside Andrew McCutchen and Starling Marte for a while, but he's going to have to stay healthy, just like any player. I like his chances.
Now, let's look around the league...
Begin Slideshow

»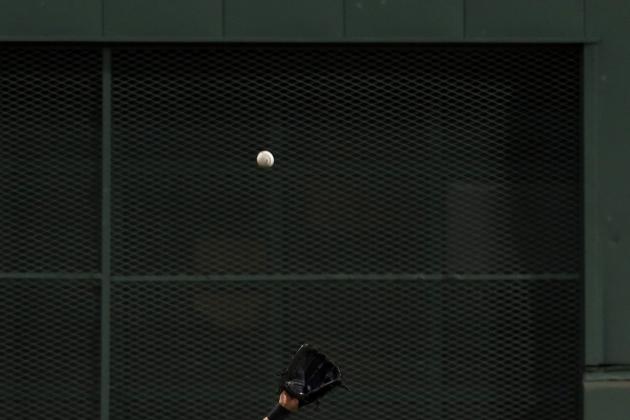 Greg M. Cooper-USA TODAY Sports

The Red Sox have weighed in on Jacoby Ellsbury. Their doctors have weighed in. Even a second opinion has been registered. So why should we listen to Scott Boras when he discusses the injury? Because no one, aside from Ellsbury, is more interested in making sure he's healthy.
Ellsbury's injury is a complex one, one that could be exacerbated by playing and for a player on the verge of a contract, there's risk to going out there and trying to play through an injury. Just look at Derek Jeter's situation (more on him later) and how it has affected him for the entire season.
Ellsbury has a small surface fracture of a bone in his midfoot. It's not complete, which would be a season ender, but it is causing some problems for a tendon in the area. That "roughness" is as much a problem as the fracture, which should heal normally.
The doctors took the weight off the bone for a few days, kept the tendon from moving and likely hit Ellsbury with anti-inflammatories at the same time. It's an intense but quick therapy that should get him functional. There's still some danger on multiple fronts, with risks of reinjury to the bone and the tendon, as well as compensatory injuries.
We'll see quickly if Boras is right and if the Red Sox medical staff can maintain Ellsbury through what they hope is another month and a half of baseball. The biggest dangers are in the few games after he returns. There's also some question about whether Ellsbury will steal as much, given additional pressure and trauma on the foot.
That may not be for another ten days, but should give John Farrell plenty of time to know if his best player will be there in October. It looks good right now, which is good for Boras and Ellsbury this offseason.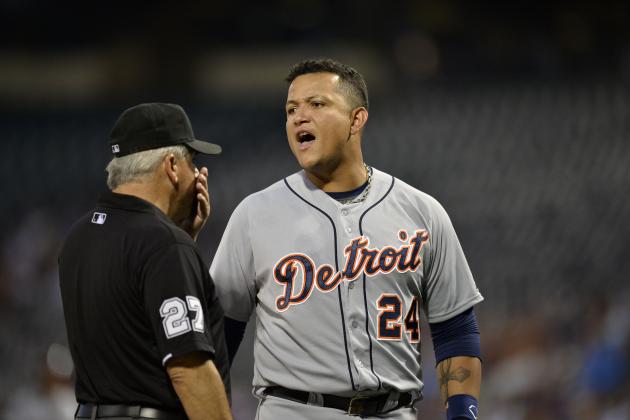 Brian Kersey/Getty Images

While the Triple Crown is becoming less of a possibility, the playoffs are looking more like a sure thing for Miguel Cabrera. His abdominal/hip issue—which the team continues to deny is a sports hernia—is still affecting him, but it does appear that Kevin Rand and his staff have found a solid maintenance plan. Cabrera is swinging with more freedom, though his running is still a bit guarded.
It's the swinging that people care about, really. Losing a step shouldn't matter much for Cabrera, though it will be interesting to see if in this peak of his career, he begins to adjust his swing. Given the home run situation, it could be understood if he tried to put a little loft in his swing and gave up a bit to gain some power.
Scouts I've spoken with that are watching him say he's not changing anything in that respect. "Same swing I saw in May," said one AL scout. "He's not only great, he's consistent and unselfish." That swing has done well for him and the Tigers. We'll have to see if the medical staff can keep him comfortable and productive for the next month and a half.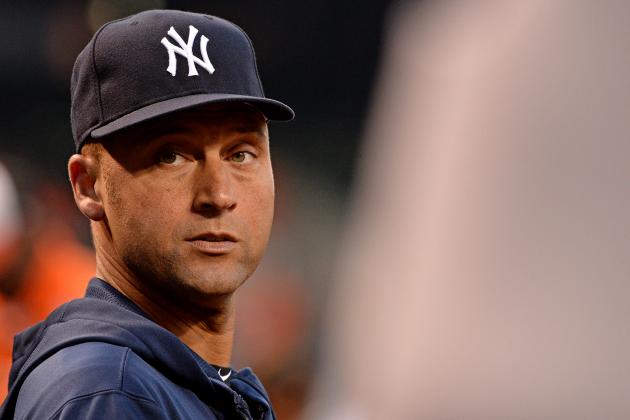 Patrick Smith/Getty Images

UPDATE: Derek Jeter was placed on the DL Wednesday afternoon and his season is done.
Derek Jeter might be done. The ankle simply isn't healing up, creating both a cascade into his legs and remaining a problem on its own. Ignore the age for a moment, because it shouldn't factor into something like this. Bones heal and especially after the fixation was done, this should have cleared up normally and predictably.
It didn't.
Jeter is having problems again and at this point, it's not just his season that's in jeopardy. It's almost unthinkable that the Yankees could make the playoffs and Jeter could be left off the playoff roster, but it's a possibility. The move to bring in Brendan Ryan, who would not be playoff eligible, tells us that Jeter's situation isn't going to let him get back to shortstop, if at all.
The Yankees will have an offseason now where they lose Mariano Rivera and could lose Derek Jeter and Andy Pettitte, on top of Robinson Cano's free agency. The medical staff is going to have some hard questions to answer while several players have to look in the mirror. I can't imagine Jeter going out like this, but sometimes, the choice isn't left open.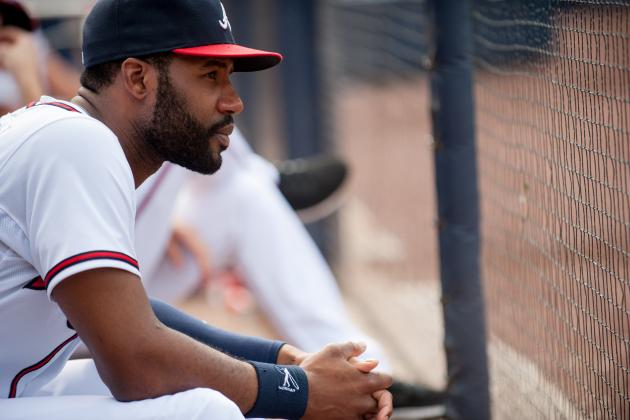 Kevin Liles-USA TODAY Sports

Ah, solid food. Jason Heyward has to be happy to have that back in his life. Heyward had the bracing removed from inside his mouth that had in essence wired his jaw in place for three weeks. He's close to a return, one that I told you would come quickly.
ESPN reports that Heyward will take batting practice later this week and could be activated shortly after that. Heyward has done really well during the time off. The team's chef helped formulate food that kept his strength and weight up, while the medical staff kept his strength up with low-impact exercises. Heyward was able to do drills like tracking the ball in the cage, so his ramp up time should be minimal.
While the jaw isn't completely healed, it is stable. Heyward could return to play safely with some kind of helmet guarding the injured part of his jaw. He'll likely get a couple games at the instructional league before being brought back to the Braves, but this could go very quickly. We'll know the results well before the playoffs.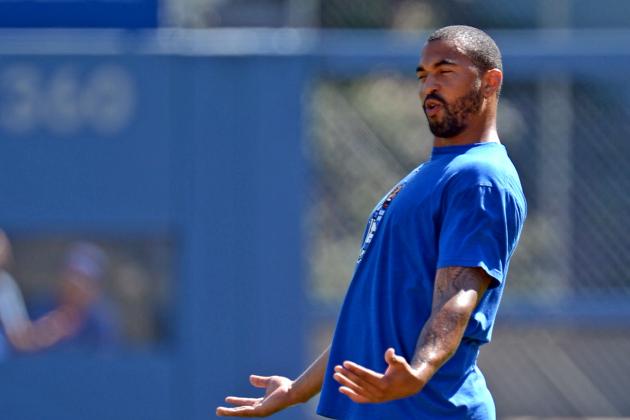 Jayne Kamin-Oncea-USA TODAY Spor

Matt Kemp is not yet running the bases. That's a big surprise given the relatively minor appearance of the ankle sprain that has him sidelined. While Kemp is playing in simulated games, those simulations are limited to hitting.
This one's a bit odd from the outside. Something more is happening here. Either the ankle was significantly more damaged than it appeared and as it was reported or the Dodgers are holding him back. If it's the latter, hitting but not running would indicate another leg issue, rather than the shoulder issue that many think has lingered even after surgery.
The Dodgers say that they think Kemp will be back sometime next week, according to the LA Times, giving him a ten or so game audition to see if he makes the playoff roster. He'll have to start running very quickly to make that goal. Watch to see if there's any sign of limping or compensation when he returns. The Dodgers seem biased towards including Kemp on the roster, which makes me wonder if they think back to another hobbled outfielder they once had.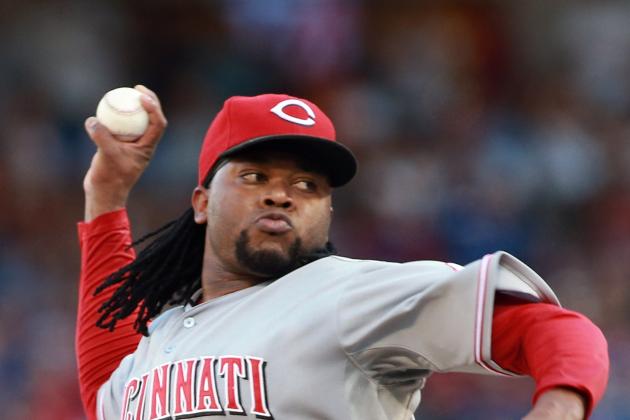 Rick Yeatts/Getty Images

We're told over and over that baseball players like roles. They like knowing where they bat. They like staying within a routine. It's one of the excuses managers often give for the lack of creativity, especially when it comes to bullpen usage. That makes the return of Johnny Cueto very interesting.
The Reds starter will not be a starter if he returns. The Reds simply don't have enough time left in the season to get his stamina back to a starter's level, so instead, they're going to put him into the September bullpen to see whether he can fit in for the playoffs.
Cueto is throwing off a mound, but isn't at a stage where he could be activated. He's simply not ready to be used. While his mound sessions have been described as positive, he's not game ready. Even then, it might not be enough. Cueto isn't just trying to get healthy, he's trying to change his mechanics, as Mark Sheldon notes here.
On top of that, Cueto is a starter that has an extensive warm up routine. Getting warm quickly isn't something he's used to, so any relief appearances would have to be "by rule" as front offices call it. He'd have to go in at a defined point, preplanned and not changed by game situation. It's not unheard of, especially with modern closers, but it does make it a bit more difficult. The likely move would be to limit a starter to five innings, likely Tony Cingrani, and say that Cueto is coming in for the sixth.
Cueto's presence will be another challenge for Dusty Baker, the manager who least likes changing anything, as he tries to position the Reds for the playoffs. Cueto's not going to get a long audition to prove he can fit.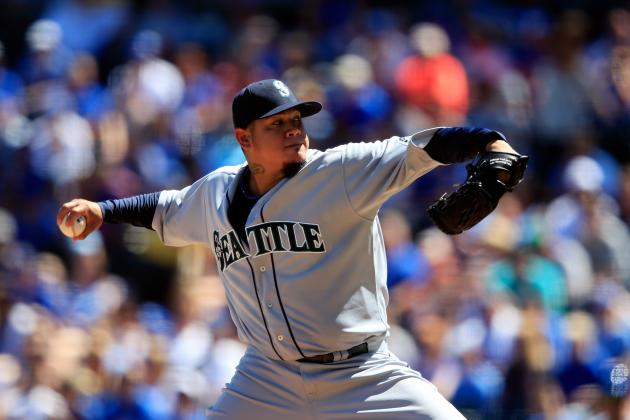 Jamie Squire/Getty Images

An oblique strain is seldom good news, but in a way, it is for the Mariners. Felix Hernandez has a mild oblique strain, according to MLB.com, rather than the back cramping and soreness that they'd originally thought.
It is a bit confusing, given previous back issues with Hernandez. It's unclear whether this is a new strain or whether the previous issue was miscast. Either way, it's not terribly serious and certainly not long-term, the way even a minor back injury can be.
Hernandez will miss at least one start, important only because he's closing in on his sixth straight 200-inning season. The Mariners have shut down their top pitching prospect Taijuan Walker and Danny Hultzen has had nothing but issues this season, so there's still some question about who will be filling in the 2014 rotation behind Hernandez.
Look for Hernandez to skip one start and slot back in wherever the Mariners feel like he fits. The rotation is very fluid at this point as the team plays out the string. Don't be surprised if he only gets 5.2 innings in the rest of the season.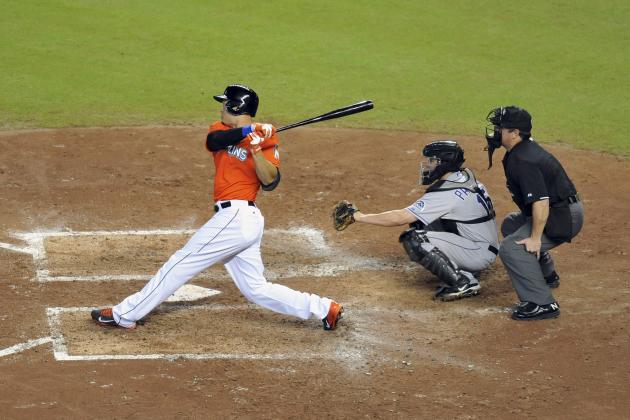 Steve Mitchell-USA TODAY Sports

Giancarlo Stanton dodged a bit of a bullet. He fouled a ball off his foot, but came up with nothing more than a bruise. It's intriguing that while resisting so many different kinds of protective technology, ballplayers have almost universally come to use a shin/foot guard. You'll even see a lot of Evoshield guards out there, the advanced padding that could help in a lot of other areas.
Trying to figure out why one pad is good but another isn't is personal preference, but the wide resistance to hand padding is something I've never been able to grasp. Part of it is that the foot guard "looks normal." It's not as noticeable as something like a glove or helmet.
Then again, that's a poor excuse. The newest gloves and helmets don't look discernibly different. The hat liner tested on pitchers can't be seen from the outside. Which makes it a player's preference. That's all well and good until there's a situation like this. I'm picking on Stanton a bit here, but what if his foot had been broken and he missed a month? The team is on the hook for that.
If I was a team owner or GM, I would offer to purchase the best in class protection—hand, foot, helmet, whatever—and in return, I would say that if the player refused to wear it, they would be paid only a percentage of their salary while they were out if it could have been prevented. It would work like a disability policy, paying 50 or 60 percent, giving the players incentive but taking nothing away from them.
Stanton is back in action and while the bruised foot shouldn't be a long term issue, it's one more data point that teams will have to weight when he comes up in trade talks this offseason. Stanton has done everything in the big leagues but stay healthy and that's going to affect his value.