Predicting the Biggest NBA Free-Agent Busts During 2013-14 Season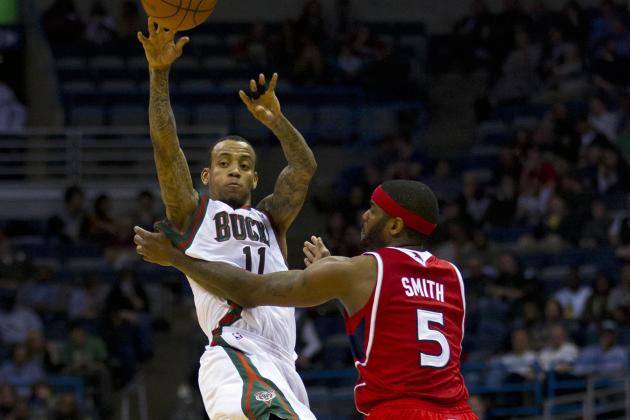 Jeff Hanisch-USA TODAY Sports

It's impossible to always guess right on the NBA free-agent market.
Some teams will leave the 2013 offseason strengthened by the arrival of potentially key championship pieces, but others have found nothing more than bloated salaries and unrealistic expectations.
On their own, they're disappointing enough. But a combination of overpaying and underperforming can set a franchise back for years.
Not all the teams here stumbled into these double whammies. But each one will want an offseason do-over as the biggest NBA free-agent busts hit the hardwood in the coming months.
*Unless otherwise noted, statistics from Basketball-Reference.
Begin Slideshow

»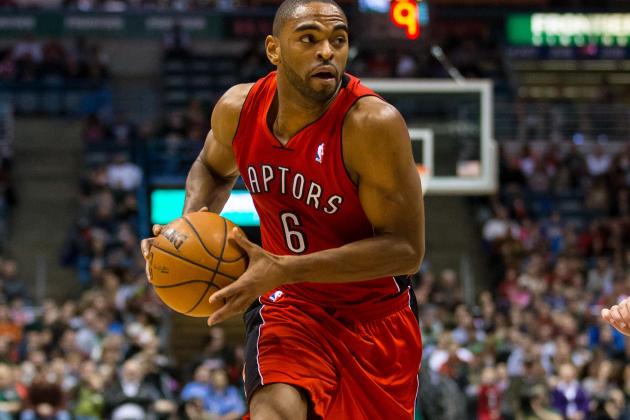 Jeff Hanisch-USA TODAY Sports

Expectations for Alan Anderson's debut season with the Brooklyn Nets are justifiably minuscule.
With a modest career scoring average (8.6) and paltry field-goal percentage (39.5) on his NBA resume, he's unlikely to unseat Brooklyn's higher profile perimeter players. He has the size (6'6", 220 pounds) to man either the shooting guard or small forward spot, but he's blocked at either position by starters Joe Johnson and Paul Pierce and reserves Jason Terry and Andrei Kirilenko.
Anderson's the kind of low-budget insurance policy NBA teams use to fill their roster. He can handle spot duty when forced into action, but he's best suited as a practice body and garbage-time janitor.
He's a classic minimum-contract player, and that's what he was given by the Nets.
The problem is that Brooklyn was already so far over the luxury-tax threshold that Anderson's six-figure salary will cost the franchise more than $4 million.
Look, it's not my money and therefore shouldn't be my concern. But from an analytical measure of value, investing $4 million in a 30-year-old journeyman with limited upside and even less opportunity reeks of poor judgement.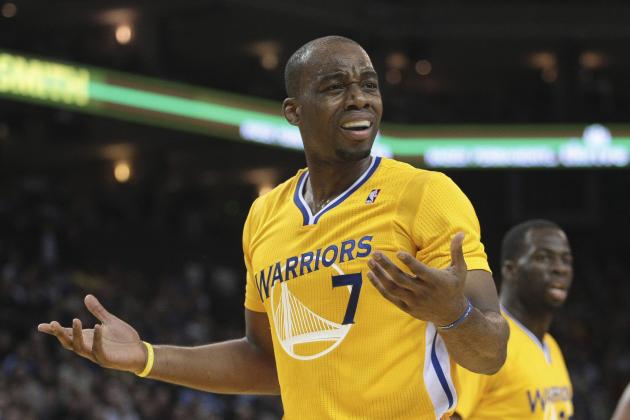 USA TODAY Sports

Carl Landry has spent most of his NBA career searching for a permanent home.
Since debuting in 2007, he's spent time with four different franchises, including these same Sacramento Kings for parts of the 2009-10 and 2010-11 seasons.
Landry's very skilled at what does, namely scoring in the post (69.1 field-goal percentage at the rim last season) and understanding defensive positioning, but his lack of size (6'9") and athleticism limits what he can do for a team.
As he showed with the Golden State Warriors in 2012-13, he can be a valuable asset on a contender's bench.
But the Kings aren't contending any time soon, and their frontcourt was crowded before his arrival.
If DeMarcus Cousins gets the max contract he's reportedly seeking, according to Jason Jones of the Sacramento Bee, Sacramento will have four post players making at least $5.6 million in 2013-14. The Kings also have Patrick Patterson lurking on their interior, and forwards Luc Mbah a Moute and Travis Outlaw could both see time at the 4 over the course of the season.
Landry has value, but not to this team and not with this contract (four years, $26 million).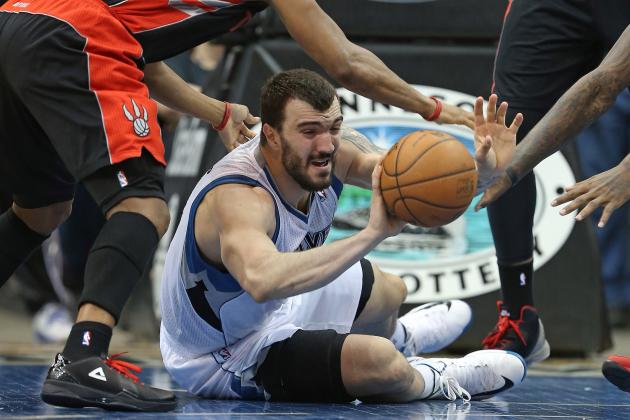 USA TODAY Sports

Remember when Nikola Pekovic was just Kevin Love's underappreciated frontcourt mate?
Well he's officially appreciated now. Overly appreciated, in fact.
At first glance, the five-year, $60 million contract he signed with the Minnesota Timberwolves might not have seemed horrendous. After all, his third NBA season was clearly his best yet (16.3 points and 8.8 rebounds per game) and teams are always hoping to lock up rising stars.
But there's a major problem here—Pekovic might be a lot closer to his ceiling than many realize.
The 31st pick of the 2008 draft, he didn't make his NBA debut until 2010 after reaching a buyout agreement with his team in Greece. He'll be 28 years old before the All-Star break and 32 before this contract is up.
He's strong enough to move bodies under the basket, but he's too limited to do anything beyond that. Nearly 75 percent of his 385 field-goal makes last season were either dunks (33), tip shots (34) or layups (221). He was just a 33.9 percent shooter outside of three feet in 2012-13 and converted only 38.7 percent of his 119 hook shots.
He's a solid but unspectacular rebounder and nothing close to a rim protector (0.8 blocks in 31.6 minutes per game). Throw in a growing list of injury concerns (56 games missed to date) and the lack of any apparent suitors outside of Minnesota, and this seems awfully expensive even for an NBA center.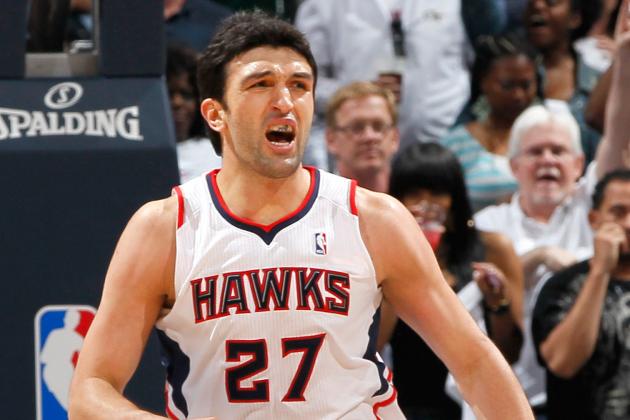 Kevin C. Cox/Getty Images

Milwaukee Bucks fans might love Zaza Pachulia.
He scraps and hustles his way under an opponent's skin with a contagious energy level.
But Milwaukee fans won't love this signing. Not with the logjam in the Bucks' frontcourt, and certainly not with this price tag ($15.6 million over three seasons).
New coach Larry Drew needs to find major minutes in 2013-14 for Larry Sanders, Ersan Ilyasova and John Henson.
Ilyasova is the most polished of the three (13.2 points and 7.1 rebounds per game last season), Sanders seems like he's on the verge of stardom (9.5 points, 9.8 boards and 2.8 blocks) and Henson appears poised for a major leap in his sophomore season (16.5 points, 12.9 boards and 1.8 blocks per 36 minutes as a rookie).
That means Pachulia will be battling fourth-year center Ekpe Udoh and rookie Miroslav Raduljica for the scrap heaps behind that trio. He's 29 years old with little to no ceiling left, and nothing in his 10-year career (below-average 14.0 PER) will afford him a free pass to floor time.
Pachulia's the face of a larger issue for the Bucks. Milwaukee tried to hop off the treadmill of mediocrity by ridding the roster of Monta Ellis, Brandon Jennings and J.J. Redick this summer, but the slew of veterans brought in after them (O.J. Mayo, Carlos Delfino, Luke Ridnour and Gary Neal) all but ensures more of the same.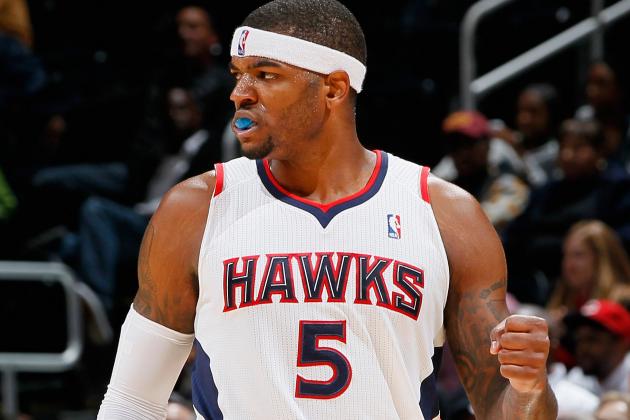 Kevin C. Cox/Getty Images

The NBA has been getting smaller and faster in recent years.
The Detroit Pistons accomplished neither when they inked Josh Smith to a four-year deal worth up to $56 million this summer.
Smith, a career 28.3 percent three-point shooter, is likely headed to the perimeter with budding bigs Andre Drummond and Greg Monroe already on the roster. None of these players can stretch the defense with any sort of consistency, meaning new coach Maurice Cheeks faces a logistical nightmare trying to create a semblance of offensive spacing.
Smith spent the bulk of 2012-13 at the power forward spot, where he compiled an impressive 18.5 player efficiency rating, via 82Games.com. But when he slid out to the wing, his PER crept frighteningly close to the league average 15.0 with his 16.1 mark.
Detroit avoided complete disaster by refusing Smith's reported pleas for a max contract, via Jeff Schultz of the Atlanta Journal-Constitution, but he can't escape the bust label with this jumbled roster mess.
Smith shot 77.1 percent at the rim last season and just 32.1 percent from everywhere else. With Monroe and Drummond clogging the middle, it's an impossible task figuring out where Smith will find those point-blank chances next season.
Pistons fans should prepare for a heavy dose of inefficient long twos next season.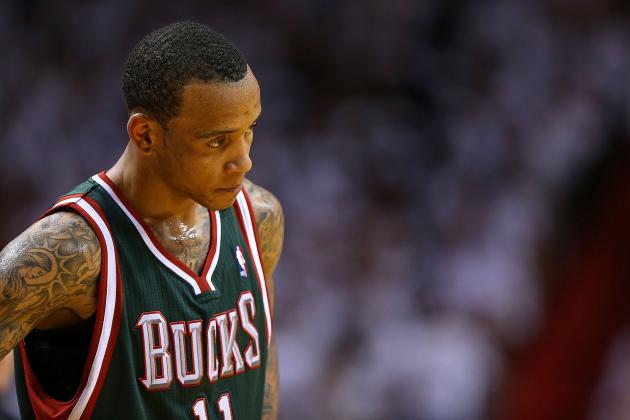 Mike Ehrmann/Getty Images

I'm intrigued at the idea of Monta Ellis with the Dallas Mavericks, but more for its train-wreck potential than any hope of basketball bliss.
George Costanza thinks Ellis is a chucker. Throughout his eight-year career, it's been see ball, shoot ball, rinse and repeat for the former preps-to-pros leaper.
Ellis supporters will use his 6.0 assists average last season to dispel that notion, but that figure is misleading. Sure he'll pass on occasion, but he also fired off the ninth-most shots in the league in 2012-13 (17.5 per game) despite having the worst adjusted field-goal percentage (44.8) of the NBA's 40 most active shooters, via ESPN.com.
The quantity of those looks is scary, but the quality is downright terrifying. Nearly 47 percent of his field-goal attempts last season came from beyond 16 feet, despite the fact that he had a woeful 32.4 percent success rate from that distance.
Having Dirk Nowitzki around should lessen the defensive attention on Ellis, but it won't solve his problems with shot selection. Playing alongside Jose Calderon, he could be one half of the NBA's most defenseless backcourt in 2013-14.
The only thing keeping Ellis from ranking any higher on this list is the fact that Dallas invested a relatively reasonable $25 million for his services over the next three seasons (player option for 2015-16).
Still, that $25 million could have been better spent on someone else.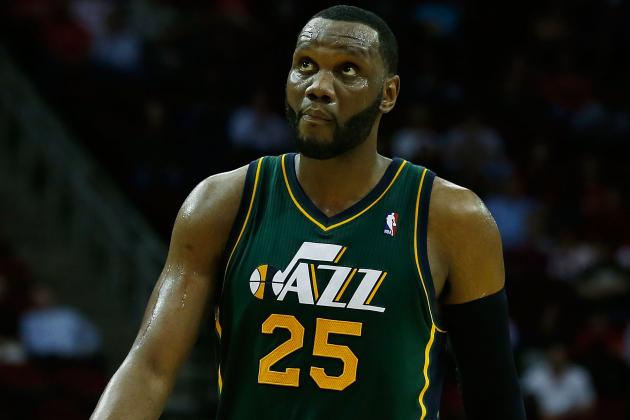 Scott Halleran/Getty Images

Well-intentioned but poorly executed. That's how I view the Charlotte Bobcats' three-year, $40.5 million contract (player option for 2015-16) with Al Jefferson.
Obviously Charlotte needed talent. The Bobcats have lost more than 73 percent of their games over the last three seasons combined. Only three players managed an above average PER last season, and all three play along the perimeter: Kemba Walker (18.8), Ramon Sessions (17.7) and Gerald Henderson (16.4).
Jefferson's a low-post presence, but not the one this team needed. He's a plodding big man anchoring a roster otherwise built to run.
Michael Kidd-Gilchrist, Charlotte's biggest draft-day investment since grabbing Emeka Okafor at the No. 2 slot in 2004, would thrive as undersized power forward in an uptempo system. He held a plus-3.8 PER advantage over opposing 4s last season but carried a minus-2.3 mark at the small forward spot, via 82Games.com.
General manager Rich Cho even said Kidd-Gilchrist's strength was his transition game, via Ryan Fegen of Sporting News, when discussing the thought process behind the selection. Walker, Sessions and Henderson similarly thrive in the open floor.
So why pair them with a big man who can't get out in the fast break?
Surely not for his defense, which Jefferson himself admitted was a weakness to Grantland's Zach Lowe. Having a liability in pick-and-roll coverage is a major issue in today's NBA and certainly a problem given the number of screens the 6'1", 172-pound Walker will face.
This one's had me scratching my head since the moment it broke. And it's going to have Bobcats fans hiding theirs next season.