7 Former Top NBA Draft Picks Who Will Finally Live Up to the Hype in 2013-14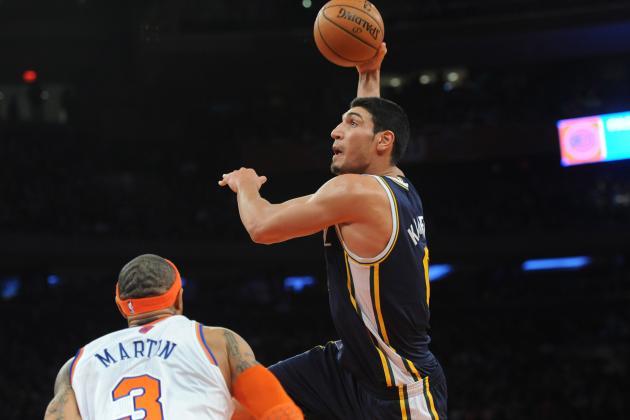 Joe Camporeale-USA TODAY Sports

Not every rookie enters the league NBA-ready. We're always quick to jump on guys and label them as busts if they aren't producing right away.
Some of today's young players need a few years to adjust to the size, speed and spacing of the pro game. Others just need the opportunity.
We've seen a number of recent lottery selections have quiet starts to their careers. This year, seven of those picks will make a lot more noise.
Begin Slideshow

»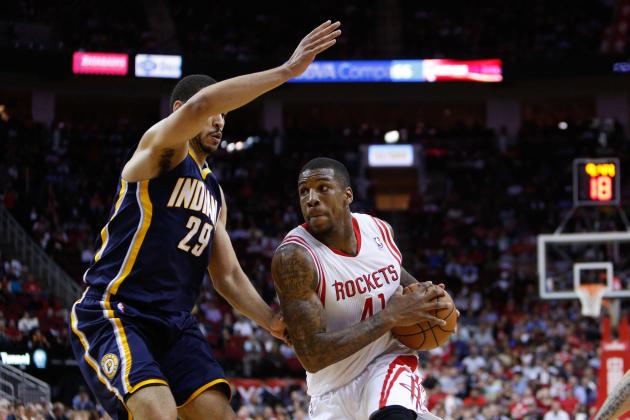 Thomas Campbell-USA TODAY Sports

Points per game: 9.8
Rebounds per game: 6.4
Blocks per game: .6
Field-Goal percentage: .456
It's pretty hard to believe Thomas Robinson will be playing for his third team on opening night of his sophomore NBA season.
With the Sacramento Kings looking to save every penny and the Rockets after Dwight Howard, Robinson has been shipped off twice without getting the chance to settle in anywhere. But this should turn out to be a blessing in disguise, because Portland is a perfect place for him to develop.
With only Joel Freeland to battle for backup minutes, Robinson should be able to earn and solidify a spot in this rotation.
He averaged 12.8 boards a game during summer league, and though his offense sputtered at times, his energy level was high and motor remained active.
Robinson should give Portland a live body off the bench, and someone who can make plays inside as a rebounder and finisher.
He might need another year to find his spots on the floor as a scorer, but expect T-Rob to inject some bounce and energy into a frontcourt that lacks athleticism.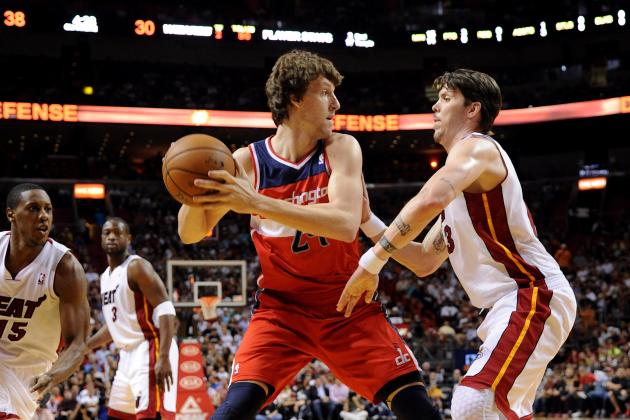 USA TODAY Sports

Points per game: 9.5
Rebounds per game: 5.8
Assists per game: 1.2
Steals per game: 1.3
Blocks per game: 1.0
Field-goal percentage: .472
It's go-time for Jan Vesely, who's entering a make-or-break season in year No. 3 with the Wizards.
Vesely was actually quite impressive in summer league, but his recent performance for Czech Republic in the FIBA Americas tournament suggests he's ready to make an impact at the NBA level.
He went for 23 points and 14 boards against Poland, 27 and 10 against Georgia and ripped down 14 boards on Marc Gasol and Spain.
Vesely seems to be developing a better nose for the ball, as well as a higher threshold for contact inside.
At 6'11'' with fluid athleticism, the ability to run the floor and finish on the move, he can be a difficult offensive mismatch. This year, expect Vesely to execute better in the half court as a scorer and maintain a presence on the boards.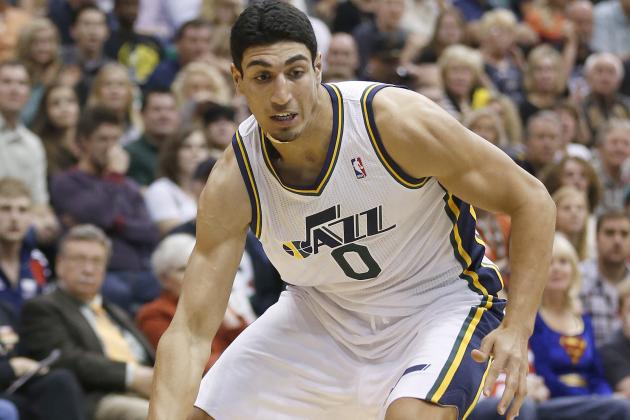 George Frey/Getty Images

Points per game: 13.4
Rebounds per game: 8.8
Blocks per game: 1.2
Field-goal percentage: .522
I'm excited about Enes Kanter, the former third overall pick in 2011 who simply hasn't gotten the chance to earn a spot in the rotation.
With Al Jefferson and Paul Millsap out of town, Kanter should slide right into a starting role, alongside fellow breakout candidate Derrick Favors.
And though it's only been in limited stretches, Kanter has produced in the minutes he's been given.
The Jazz let him hit the 30-minute mark just three times last year, despite him going for 18 points and eight boards against Toronto, 23 and 22 against Charlotte and 18 and 10 against Milwaukee. Kanter has the ability to carve out space and seal off his man, which allows him to score and rebound down low despite lacking that above-the-rim explosiveness.
Utah's frontcourt went from deep to shallow, as only Jeremy Evans, Rudy Gobert and Andris Biedrins are available backups. Trey Burke and the rest of this young team will be relying heavily on Kanter to anchor the middle.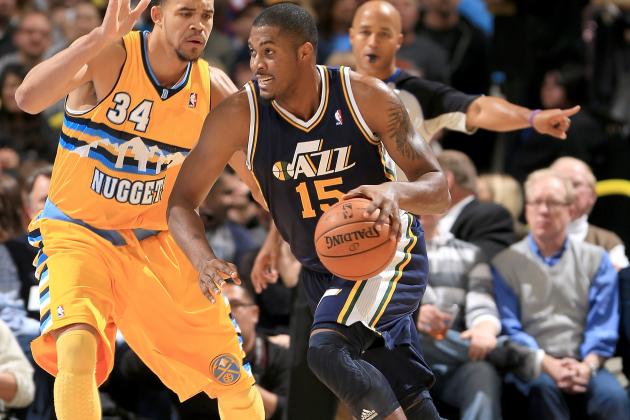 Doug Pensinger/Getty Images

Points per game: 14.8
Rebound per game: 10.6
Blocks per game: 2.2
Field-goal percentage: .477
Derrick Favors will finally get his shot in a full-time role as the clear-cut starter for this inexperienced team.
It seems like it's been forever since Favors was picked No. 3 by the New Jersey Nets. Favors flashed his ferocious athleticism on the interior last season, pulling down 7.1 boards and blocking 1.7 shots in only 23 minutes a night.
With Jeremy Evans as his backup, it wouldn't be surprising to see Favors getting close to 35 minutes a night. If that happens, we could be talking about one of the leaders in double-doubles by the end of the season.
Regardless of how polished he looks offensively, Favors should still put up big-time numbers in 2013-14.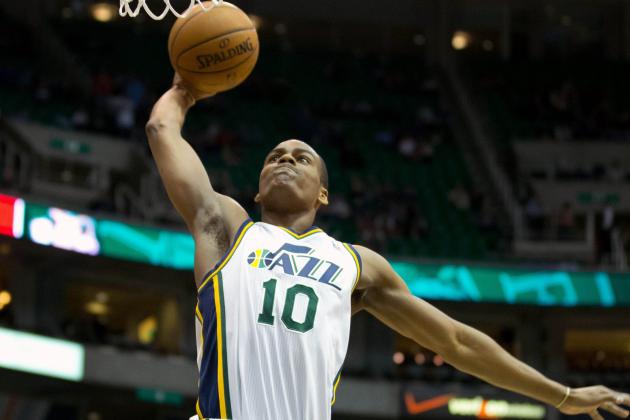 Russ Isabella-USA TODAY Sports

Points per game: 13.7
Assists per game: 3.6
Rebounds per game: 3.8
Field-goal percentage: .434
Three-point percentage: .351
Alec Burks showed signs in limited action last season, and this year we'll learn if they point to anything. I think they do, as he appeared to be on another level than most of the summer league ballers this past July. Burks averaged 14 points through three games, getting to the line and separating on the perimeter.
He shot 35 percent from three last season, and has excellent mechanics in terms of elevating and releasing. With the ability to handle the ball, Burks should have the opportunity to create his own shot this upcoming season, something it appears he's been working on as a half-court scorer.
This Jazz team has nothing to lose in 2013-14, so Burks should have plenty of freedom in the offense. He averaged seven points in less than 18 minutes last year. With backup Brandon Rush coming off an ACL tear, Burke could see his minutes and scoring production double in year No. 3.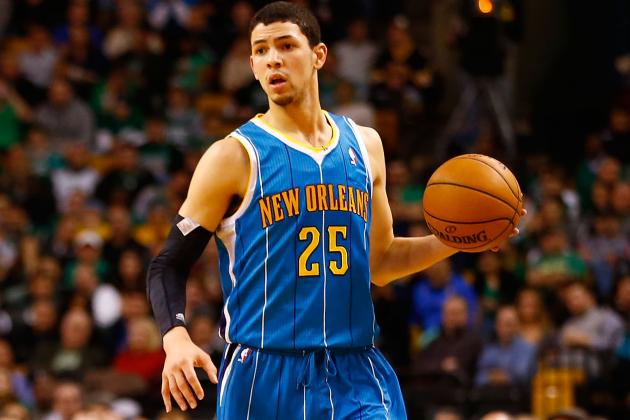 Jared Wickerham/Getty Images

Points per game: 10.1
Assists per game: 2.4
Rebounds per game: 2.3
Steals per game: 1.1
Field-goal percentage: .427
Three-point percentage: .311
At times it was hard to watch Austin Rivers last season, who shot just 37 percent from the floor as a rookie.
But there's no doubting Rivers' talent—just his ability to properly use it.
He looked dynamic in summer league this past July, when he averaged 18 points on 48 percent shooting.
Though it sounds a little bold, Rivers might have one of the quickest first steps I've ever seen. Beating his man off the dribble is the easy part. It's what he does once he penetrates the first line of defense that will determine how effective he'll be.
This past summer, Rivers was doing a better job of pulling up in space and taking balanced shots. He looked stronger and more confident, which should continue to help him out in the execution department.
Now that everyone can put the point guard experiment behind them, Rivers can focus on his core strength—scoring. And that's what I expect him to do as a lightning rod off the bench for the Pelicans.
Jonathan Daniel/Getty Images

Points per game: 13.1
Rebounds per game: 9.0
Blocks per game: 1.1
Field-goal percentage: .476
Tristan Thompson looked good last season but still finished with plenty to improve on moving forward.
He recently played on Canada's FIBA Americas team that failed to qualify for the 2014 World Cup. Thompson had his ups and downs but ultimately finished the tournament averaging a double-double with 11 points and 10 boards a game.
Thompson should have some extra motivation this season after Cleveland selected fellow Canadian Anthony Bennett, who, along with Anderson Varejao and Andrew Bynum, will be fighting for minutes in the frontcourt.
Thompson should be looking to become a more threatening two-way player this season and add to his 11.7 points and .9 blocks a game.
I suspect we'll see both numbers increase in year No. 3 as Cleveland looks to make a push for the playoffs.