The 1972 Miami Dolphins better look out. A whopping 16 teams remain undefeated.
OK, so it's only Week 2. Maybe it's a little too early for Mercury Morris to panic.
Still, plenty of teams got nice wins in Week 1 and will be looking to build on that momentum with wins this weekend.
Here are the picks for Week 2, followed by three teams that will build upon their Week 1 success with critical wins Sunday.
Week 2 Predictions

| | | | |
| --- | --- | --- | --- |
| Time | Home Team | Away Team | Winner |
| Thursday, Sept. 12 | | | |
| 8:25 p.m. ET | New England Patriots | New York Jets | Patriots |
| Sunday, Sept. 15 | | | |
| 1:00 p.m. ET | Atlanta Falcons | St. Louis Rams | Falcons |
| 1:00 p.m. ET | Philadelphia Eagles | San Diego Chargers | Eagles |
| 1:00 p.m. ET | Kansas City Chiefs | Dallas Cowboys | Chiefs |
| 1:00 p.m. ET | Indianapolis Colts | Miami Dolphins | Dolphins |
| 1:00 p.m. ET | Houston Texans | Tennessee Titans | Texans |
| 1:00 p.m. ET | Green Bay Packers | Washington Redskins | Packers |
| 1:00 p.m. ET | Baltimore Ravens | Cleveland Browns | Browns |
| 1:00 p.m. ET | Buffalo Bills | Carolina Panthers | Panthers |
| 1:00 p.m. ET | Chicago Bears | Minnesota Vikings | Bears |
| 4:05 p.m. ET | Tampa Bay Buccaneers | New Orleans Saints | Saints |
| 4:05 p.m. ET | Detroit Lions | Arizona Cardinals | Lions |
| 4:25 p.m. ET | Oakland Raiders | Jacksonville Jaguars | Raiders |
| 4:25 p.m. ET | New York Giants | Denver Broncos | Broncos |
| 8:30 p.m. ET | Seattle Seahawks | San Francisco 49ers | Seahawks |
| Monday, Sept. 16 | | | |
| 8:40 p.m. ET | Cincinnati Bengals | Pittsburgh Steelers | Bengals |
Schedule via NFL.com
Seattle Seahawks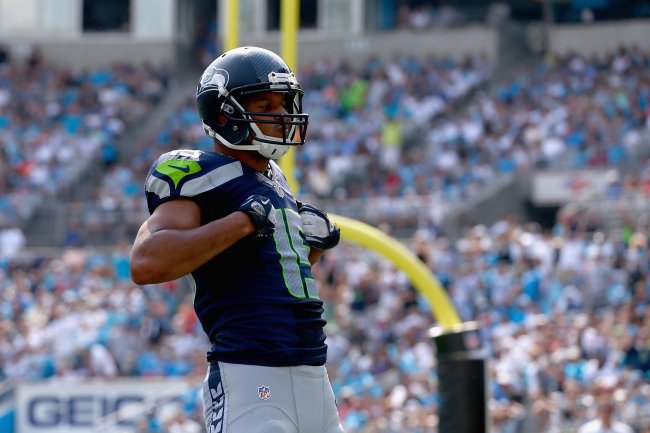 Streeter Lecka/Getty Images
The 12-7 win for the Seattle Seahawks over the Carolina Panthers was one of the more deceiving scores of the weekend. You would have guessed it was a back-and-forth affair, with neither team getting much of an advantage.
However, Seattle out-gained Carolina by 117 yards and turned the ball over once, and the Panthers fumbled twice. It was a good performance from the Seahawks, and they should have won by double digits.
They'll need to be a lot better if they're going to win in Week 2 against the San Francisco 49ers.
In games like these, the margin for victory can be very small. Playing at home might swing this game in the Seahawks' favor. Seattle has one of the best secondaries in the league as well. Colin Kaepernick won't be able to throw for 400 yards for the second week in a row.
Chicago Bears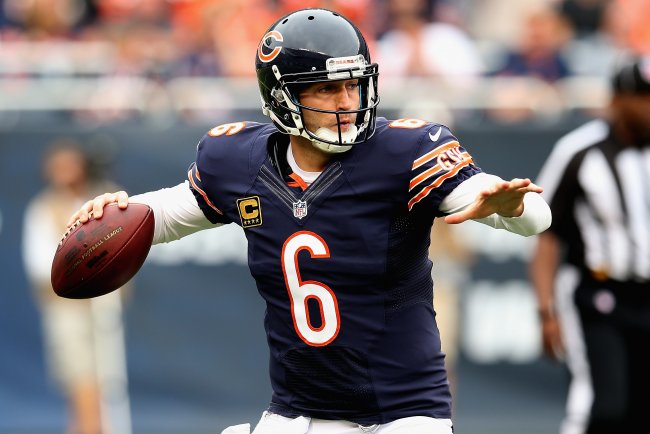 Jonathan Daniel/Getty Images
The Chicago Bears surprised a bit in Week 1. They are obviously very good and are coming off a season in which they should have made the playoffs.
The biggest positive for the Bears from Week 1 was the offensive line. Against what is arguably the best front seven in the league, Chicago didn't surrender a single sack. Jay Cutler had plenty of time to throw, and when the pocket was collapsing, he was able to dump it off or throw it out of bounds.
On defense, Charles Tillman was a ball hawk, intercepting two passes. In the second half, he blanketed AJ Green.
The key for Week 2 against the Vikings will be to not let Adrian Peterson dominate the game. The Bears should be able to limit his effectiveness and make Christian Ponder win the game. If that turns out to be the case, Minnesota is in trouble.
Denver Broncos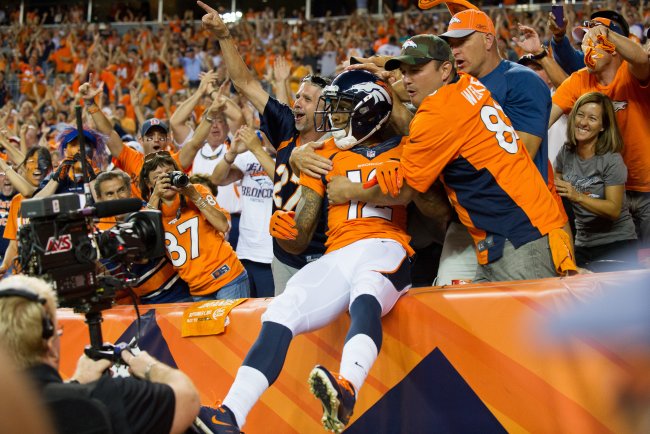 Dustin Bradford/Getty Images
Tony Romo didn't torch the New York Giants secondary, but he was very successful—to the tune of 263 yards and two touchdowns. You could see the loss of Stevie Brown has had a big impact on the Giants, and that means Peyton Manning should have a field day against them.
Denver should also have an easy time stopping what has become a sinkhole in the Giants rushing attack. David Wilson fumbled twice, and Da'Rel Scott's mistake led to the pick-six that sealed the game. As a result, New York is auditioning three veterans for a spot on the team, per NFL on ESPN.
NFL INSIDERS ALERT: Giants are working out RBs Brandon Jacobs and WIllis McGahee and Joe McKnight tomorrow.

— NFL on ESPN (@ESPNNFL) September 9, 2013
No team looked better in Week 1 than the Broncos. They dominated the Baltimore Ravens, and Manning tied the single-game record for most touchdowns (seven). With the holes you see on the Giants, Denver shouldn't have any trouble getting a win in Week 2.