Six months of intense triathlon action is heading to a dramatic conclusion.
With just one race remaining, 13 points separate Gwen Jorgensen, Anne Haug and Non Stanford on their quest to win the 2013 ITU Elite Women's World Championship.
An overall winner will be produced after a combined total of 50.1 kilometres across London on Sep. 14. It's a picturesque finale to a competition that continues to captivate, but who is in the best position to grab the crown?
Let's take a look at the final course, the current rankings and the trio vying for ultimate victory.
Course Profile

| | | |
| --- | --- | --- |
| Method: | Distance: | Key Features |
| Swim | 1.5 km | A pontoon start that ushers the competitors along the Serpentine lake. |
| Bike | 40 km | Seven laps travel from South Carriage Drive toward Hyde Park Corner, then progress onto Constitution Hill and past Buckingham Palace. |
| Run | 10 km | Four laps along West Carriage Drive and back toward the Serpentine. Finish line is situated on the western edge of Serpentine Road. |
Triathlon.org
Here is the current top 10 after seven races across four continents. A complete rankings list of all 78 competitors can be found on Triathlon.org.
Current Rankings

| | | | |
| --- | --- | --- | --- |
| Position: | Name: | Country: | Points: |
| 1. | Gwen Jorgensen | USA | 3033 |
| 2. | Anne Haug | Germany | 3025 |
| 3. | Non Stanford | Great Britain | 3020 |
| 4. | Jodie Stimpson | Great Britain | 2855 |
| 5. | Andrea Hewitt | New Zealand | 2309 |
| 6. | Maaike Caelers | Netherlands | 2158 |
| 7. | Ashleigh Gentle | Australia | 2077 |
| 8. | Emma Moffatt | Australia | 1778 |
| 9. | Juri Ide | Japan | 1717 |
| 10. | Felicity Abram | Australia | 1601 |
Triathlon.org
As the current rankings show, there's a huge gap between the top three competitors and the chasing pack. Although this gears the final race up for major drama, it also ensures less athletes are likely to take first place overall.
The key thing to note here: if Jorgensen, Haug or Stanford win the race, they will also take the main prize. Jorgensen remains at the top, and on recent form, it's hugely difficult to bet against the woman who has won three races this season.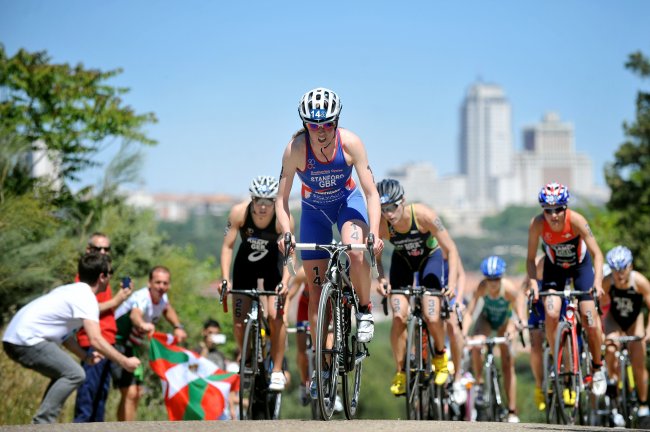 Handout/Getty Images
Jorgensen not only continues to impress, she has also shown great capacity to improve. Her win at the end of August in Stockholm was truly spectacular and underlined an athlete who is dealing with the pressure of growing expectation after a scintillating start to the season.
Most notably, it was the American's greatly improved swim that sent her flying to a huge win over her nearest competitors in Stockholm.
As reported by Merryn Sherwood on Triathlon.org, Jorgenson gained confidence from such a strong opening to the Swedish race: "I think I was just so shocked that I was in the front of the group, besides those two that went up the road, I was thrilled with my swim coming out of the water there."
Jorgensen is obviously enjoying the plaudits of leading the championship, something both Haug and Stanford must fear. Although Haug remains slightly closer to Jorgensen in the rankings, the current No. 1 will be most wary of the British contingent sitting in third and fourth.
Who win win the 2013 ITU Elite Women's World Championship?
Both Stanford and Jodie Simpson will be hugely invigorated to race in front of their home crowd. Much like Haug's victory in her local Hamburg race, the British duo will gain an extra spring to their step when competing in front of adoring fans.
Although Simpson will struggle to advance up the rankings, a strategic run could help Stanford capture World Championship glory on the Serpentine. If the 2012 London Olympic Games taught us anything, it's never wise to discount British athletes who are fighting for glory on home soil.
Can Stanford add to a successful year of British sport by claiming the title in London? Will Jorgensen keep her cool to emerge victorious? One piece of brilliance will decide everything.