SEC Football 2013 Week 3 Simulation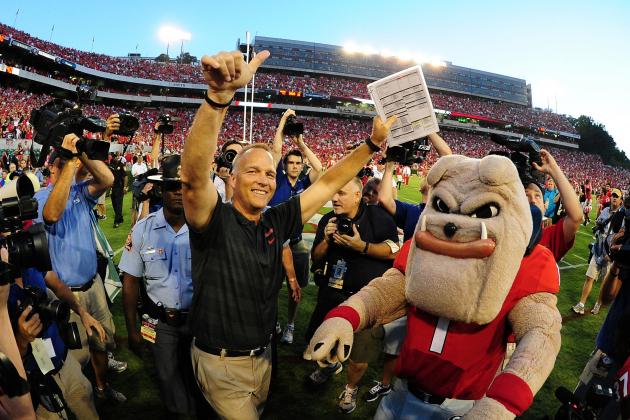 Scott Cunningham/Getty Images

The Bulldogs of Georgia commanded headlines for the second-straight week this past weekend, and this time the news was good for UGA fans. Murray and Gurley dominated offensively to push past No. 6 South Carolina and into the AP Top 10.
And let's just say I got the better end of that deal.
The computer's biggest miss was calling the Gamecocks to win 42-28 in Athens. I didn't bite, going with the home team and the points. Looks like I, once again, own my computer overlords.
After a perfect 12-0 week, I'm 22-3 overall (!) for an 88 percent clip. Yes, I am Footballstradamus and you will stand in awe of my power.
On to this week's games...
---
| | | |
| --- | --- | --- |
| | This Week | Overall |
| EA Straight-Up | 11-1 | 19-6 |
| Me Straight-Up | 12-0 | 22-3 |
| EA vs. Spread | 7-5 | 13-12 |
| Me vs. Spread | 6-6 | 15-10 |
Begin Slideshow

»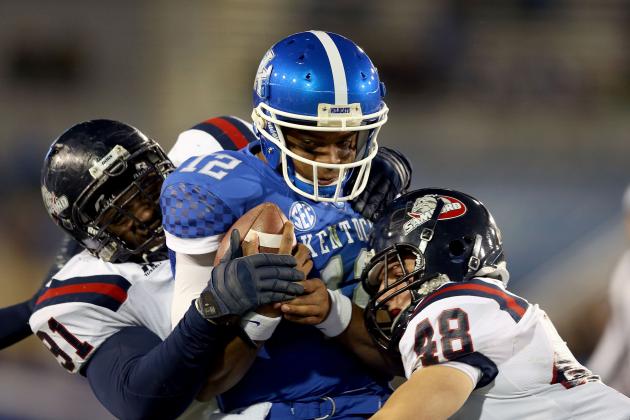 Andy Lyons/Getty Images

The Wildcats enjoyed a strangely easy win against Miami (OH) a week ago, but the buck stops here. Rival Louisville is coming to town and, well, the Cardinals are no joke.
This one starts out the way everyone expects it to, with a couple of Gardner touchdowns and an opening-drive run from Brown putting UL ahead 24-0 at halftime. Mark Stoops knows his football and doesn't allow another Louisville point, but a last-minute drive falls short of field goal range and UK misses the upset bid.
Smith was...unrefined at best. He hits 22-of-43 passes for 230 yards, two touchdowns and two interceptions. Louisville's rush defense held UK to 108 yards on the ground, the largest chunk of those coming from Smith.
On defense, Williamson was the bright spot, notching 12 tackles, two of them for losses, and a sack.
I get the whole home-field advantage thing, and yes I believe it is real, but I don't see this one being close.
---
EA PICKS: Louisville to win, Kentucky (+13.5)
MY PICKS: Louisville to win, Louisville (-13.5)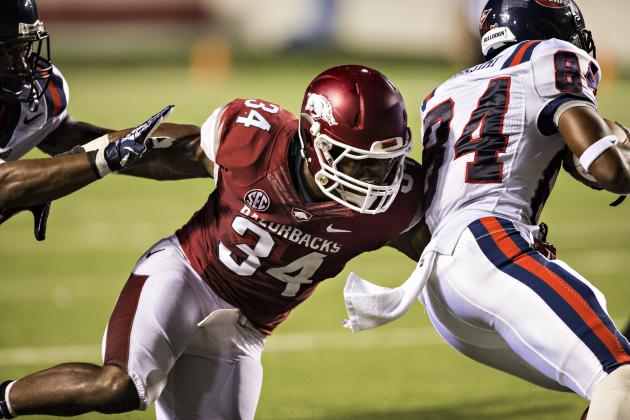 Wesley Hitt/Getty Images

Arkansas almost derped away a major loss this past weekend, needing two-straight touchdowns in the fourth quarter to survive. Another such opportunity will be presented this weekend.
After an uneventful first quarter, both teams start hitting passes and the 'Backs go into halftime with a 17-14 advantage. Allen hits two touchdown passes in the third quarter, one for 46 yards to Alex Collins, to push the advantage to 10, while the defense's four forced turnovers help secure the win.
Allen totals four touchdowns on 20-of-38 passing for 246 yards with 86 yards on the ground, with the majority of his targets being to Julian Horton, who surpasses the 100-yard mark in receiving yards.
Southern Miss is a bad, bad football team. How this is so with the level of talent the Golden Eagles have is beyond me. I'm with the computer, though, on one thing—two underachieving programs a blowout does not make.
---
EA PICKS: Arkansas to win, Southern Miss (+22)
MY PICKS: Arkansas to win, Southern Miss (+22)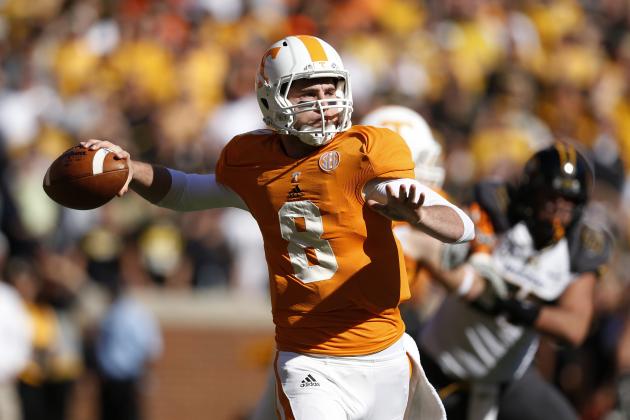 Joe Robbins/Getty Images

How about the computer calling for a 3-0 start with a road win over the second-ranked team in the nation for Tennessee?
Two short touchdown runs for Neal in the first quarter pushes the Vols ahead, and another from Lane puts the score at 21-3 at halftime. On the first play of the second half, Neal streaks for an 80-yard touchdown and the result is never in question after that point.
Tennessee outgains UO by 120 yards, holding the Ducks to 125 yards rushing. Worley goes 14-of-25 passing, hitting one touchdown pass and giving up an interception on his way to 224 yards. Neal was the real offensive hero, scoring three times on the ground for 148 yards and once through the air for 87 yards receiving.
Jones is a smart guy, and Tennessee has talent, so this game will be closer than people expect. The SEC probably won't see the upset, however.
---
EA PICKS: Tennessee to win, Tennessee (+27.5)
MY PICKS: Oregon to win, Tennessee (+27.5)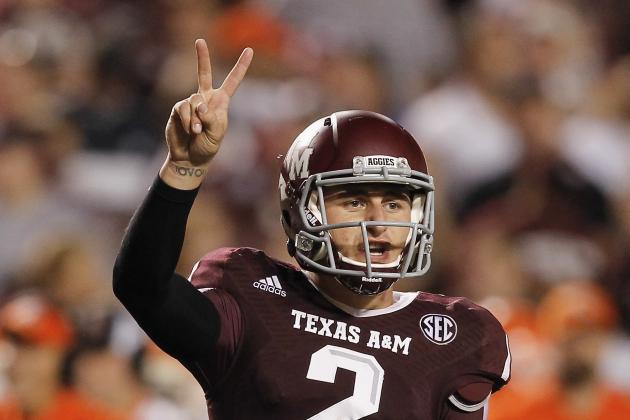 Bob Levey/Getty Images

Can the Aggies make it two in a row over the two-time defending national champion?
Nearly every score in this game is a passing touchdown, as the computer apparently mistakes Alabama for some other school that actually does that sort of thing. Heading into halftime, A&M holds a tender 14-13 advantage.
Manziel turns on the afterburners in the second half, scoring thrice through the air and once on the ground. The Aggies burn the vaunted Alabama defense for 502 yards of offense and forces Saban into a masochistic free-for-all after forcing four Tide turnovers, including three fumbles.
Manziel is just stupid (double entendre intended), scoring with his arm five times for 397 yards, despite three interceptions, and 32-of-52 passing. Sims steps in after a McCarron injury and scores two touchdowns on 5-of-10 passing, recording a 242.0 passer rating. Let's just call that a bit inflated, shall we?
A&M's Evans catches twice as many passes as anyone else on his team for 155 yards, 67 of those after the catch. Yeldon is as impressive as advertised for 'Bama, averaging 6.8 yards per carry on his way to 116 yards rushing, while Amari Cooper grabs four catches for 111 yards.
Pagan and Mosley both hit double-digit tackles for Alabama and sack Manziel once.
This one is impossibly difficult to call. I came away from the 'Bama/Virginia Tech game unimpressed with the Tide's defensive line, though the Aggies have struggles of their own. Ultimately, if Alabama can't pressure Manziel, he'll have his way with its secondary.
---
EA PICKS: Texas A&M to win, Texas A&M (-7.5)
MY PICKS: Texas A&M to win, Texas A&M (-7.5)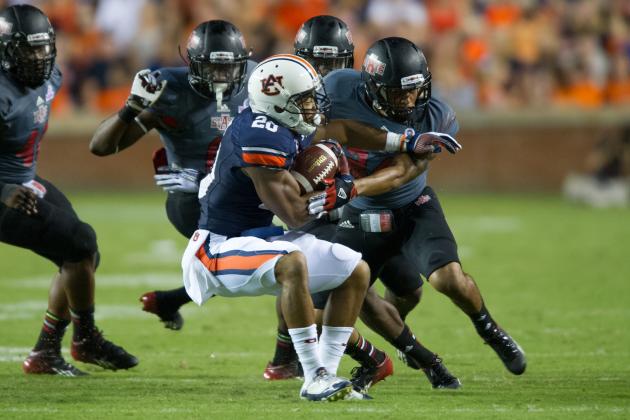 Michael Chang/Getty Images

As per the usual in recent times, both of these teams enter the game as a bit of an enigma. The Bulldogs dominated the first quarter against Oklahoma State, were embarrassed the remainder of the game and then destroyed FCS Alcorn State. Auburn has nearlyy matched its win total from a year ago by winning impressive games against Washington State and Arkansas State.
Neither is expected to do much this season, both could surprise.
In this one, a Prescott-to-Perkins pass (the computer called the Russell injury, by the way) is the only first-half touchdown and MSU leads 7-3 at the half. Wallace comes out guns blazing in the second half, though, hitting four touchdown passes including ones from 78 and 49 yards out.
Mississippi State's stout defense so far cracks and allows 491 Tigers yards, including 320 from Wallace. Neither MSU QB could get anything going, as both hit less than 50 percent of their passes for a grand total of one passing score.
Mason records 126 yards on the ground from 25 rush attempts and catches three passes for 102 yards and a touchdown.
The Bulldogs' offense just isn't ready for the prime time yet. I don't think this one is a 20-point difference, but I'll call the game and the spread for the rebounding Tigers.
---
EA PICKS: Auburn to win, Auburn (-6)
MY PICKS: Auburn to win, Auburn (-6)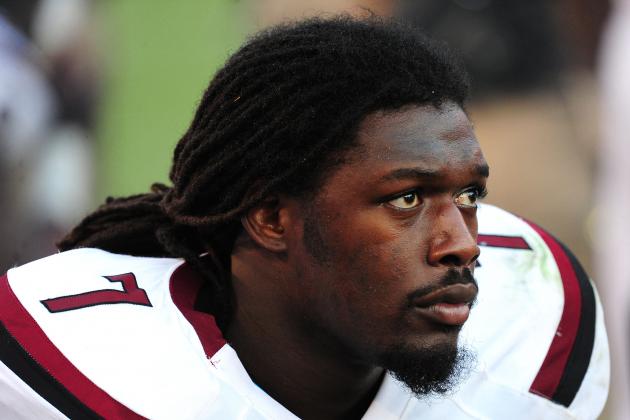 Scott Cunningham/Getty Images

With all three supposed SEC East title contenders with an overall loss, this game proves to be essential. The Commodores call themselves ready to challenge for the division, while the Gamecocks are reeling from a road loss to Georgia.
Connor Shaw is responsible for all three first-half USC touchdowns, while the Gamecock defense allows nothing and enters halftime with a 21-0 advantage.
The 'Dores never really challenge after falling behind, while Shaw adds another couple of TD throws, including one for 60 yards.
Vanderbilt only manages 289 yards of offense, compared to 470 from South Carolina. Shaw makes a huge statement in the game, throwing for four touchdowns and 306 yards on 20-of-33 passing while rushing for another 45 and a touchdown. Roland was Shaw's primary receiver, catching 10 passes for 135 yards and a couple of scores.
Clowney finally shows some life, hitting double digits in tackles for the first time this season, five of those for a loss.
Carta-Samuels is going to bed without supper if the computer is right. Connecting on just nine of his 26 attempts for a grand total of 184 yards, two TDs and an interception just isn't enough.
In reality, Carta-Samuels is a better quarterback than that, but the pressure from USC's offensive line may make the prediction a bit more accurate than I expect.
---
EA PICKS: South Carolina to win, South Carolina (-13.5)
MY PICKS: South Carolina to win, South Carolina (-13.5)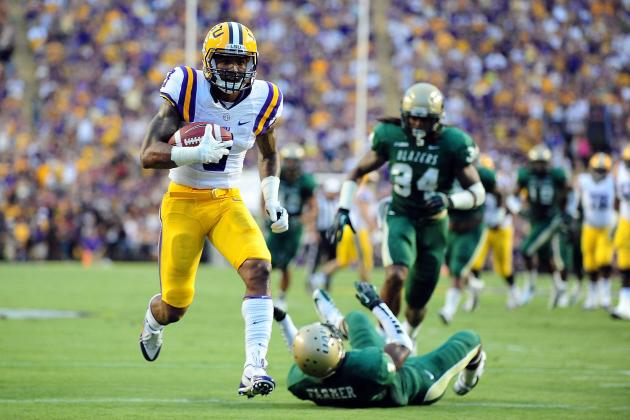 Stacy Revere/Getty Images

The Tiger defense has underperformed, and it seems the computer has picked up on it.
LSU jumps out to a commanding 14-0 lead in the first quarter from the Tigers' stars Hill and Mettenberger, but allows a touchdown drive late in the half to lead 17-7.
With just a 17-10 lead heading into the final quarter, LSU fans grow a bit...restless [read: drunk].
The defense buckles down, the offense puts up 10, and the Tigers avoid the loss.
Mettenberger is mediocre, hitting 17-of-33 passes for 244 yards and an interception, but Hill's 90 yards on 18 attempts was enough.
I understand the logic here. LSU's talent level is so, so far ahead of Ken State's I can't see this one being close.
---
EA PICKS: LSU to win, Kent State (+37)
MY PICKS: LSU to win, LSU (-37)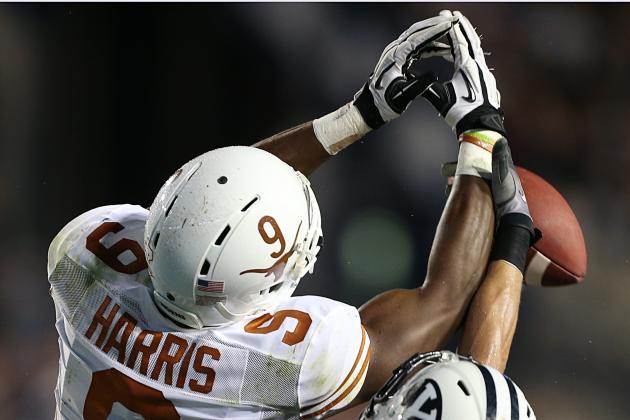 George Frey/Getty Images

After the Longhorns' embarrassment at BYU, the computer's not buying a complete collapse.
Each team powers down the field in the second quarter, with Texas' Brown leading two drives to put UT ahead at halftime 14-7.
The third quarter spelled doom for the Rebels, with a 35-yard pass from McCoy and a pick-six from Diggs scoring 17-straight for the Longhorns.
Ole Miss only manages 186 yards, not helped by Wallace's 40.2 passer rating. Yeah, that's a season record for the SEC. Not a whole lot of teams will win when their starting quarterback is 9-of-32 passing for 70 yards and an interception.
Walton rushed for 106 yards and Lewis registered nine tackles.
This is about the way I expect the game to go. Close at first, Texas pulls away.
---
EA PICKS: Texas to win, Texas (-4.5)
MY PICKS: Texas to win, Texas (-4.5)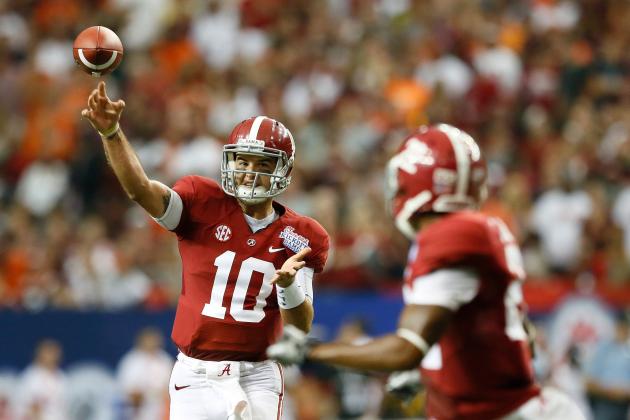 Kevin C. Cox/Getty Images

It's time for some conference action. Several games should be competitive, including Vanderbilt/South Carolina, Mississippi State/Auburn and capped by Alabama/Texas A&M.
There are some high-profile non-conference games as well, which is great for the conference.
Winning them will be even better.
Follow me on Twitter @SEC_Nerd. Seriously, do it. Now.