Detroit Red Wings: Players with the Most Pressure for the 2013-14 Season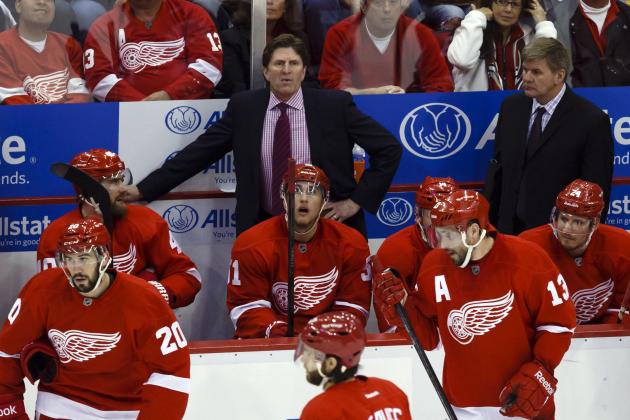 Rick Osentoski-USA TODAY Sports

The 2013-14 NHL season is inching ever so closer. The Detroit Red Wings will open training camp on September 12.
Despite struggling for much of last season, the team was able to have success in the playoffs. It beat the Anaheim Ducks in the first round before pushing the Chicago Blackhawks to seven games in the second round. The Wings will look to build on that success this season with a healthy mix of veterans and young players.
What players have the most to prove coming into the season?
Begin Slideshow

»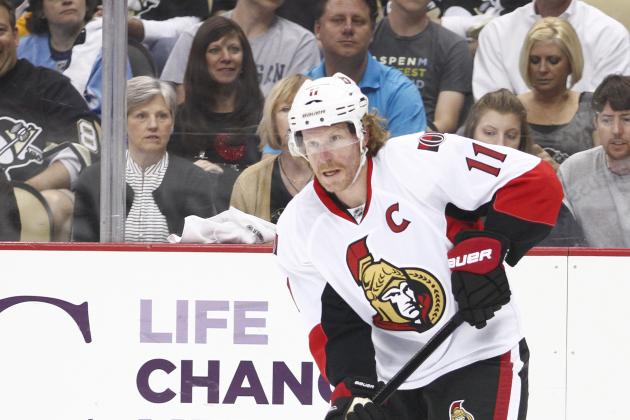 Justin K. Aller/Getty Images

Make no mistake, Daniel Alfredsson has had a Hall of Fame career, and whatever he does (or doesn't do) this season will not tarnish his legacy. However, when he made the shocking move to Detroit this summer, he said he did so in order to chase the Stanley Cup. This puts pressure on him to do everything he can do achieve his dream.
His career numbers are impressive. He has 586 goals and 1,518 points in 1,652 games. After spending his entire career with Ottawa, he signed as a free agent with the Red Wings.
He will turn 41 during the season. Last season, he was still productive with 26 points in 47 games. He will need to show that age is not a factor and that he can make the adjustment to a new team while chasing his dream of a championship.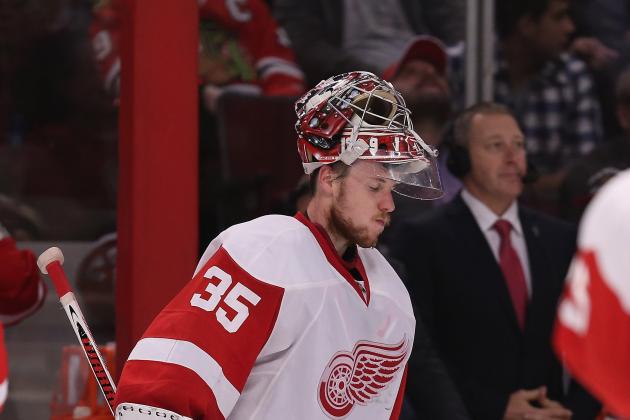 Jonathan Daniel/Getty Images

Being the goalie in Detroit automatically means you are under pressure. Last season, Jimmy Howard signed a new contract with the team, which will now up the pressure even more.
The new contract (six years, $31.8 million) now has him among the 10 highest-paid goalies in the league. With that boost in money also comes added pressure. As is often the case, the next goalie waiting in the wings is always alluring to fans. Petr Mrazek has played great in the minors so far, as he led the Grand Rapids Griffins to the Calder Cup after being called up during the season. He was also impressive in his two-game stint with the Wings. Any struggles from Howard will lead to more calls for Mrazek.
Now, of course those calls are nowhere near happening right now. However, with the bigger contract, the microscope over Howard becomes more intense.
He has been among the league leaders in wins in each of the last four seasons and in most seasons has also highly ranked in save percentage and goals-against average.
Regardless of what reality may be, the expectations are always high in Detroit. Howard seems too often to be ranked just below the elite goalies in the league. With the bigger contract, he now needs to step into that category.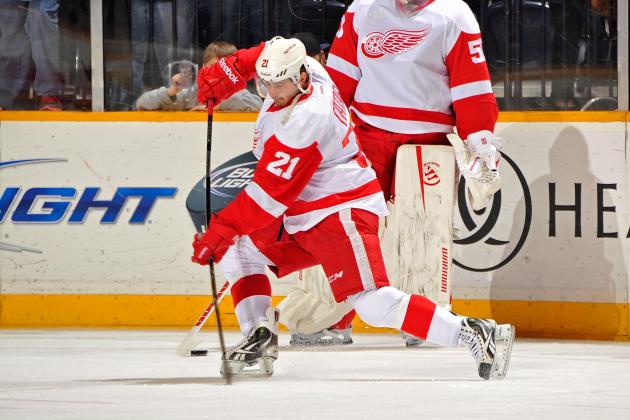 Frederick Breedon/Getty Images

It seems like Red Wings fans have heard about Tomas Tatar forever. He joined the franchise's top minor league team at 19 years old. He has proven to be a good scorer with the Grand Rapids Griffins. In his 265 games with them, he has had 87 goals and 196 points.
This past season, he was named playoff MVP, as his 21 points (16 goals) over 24 games led the Griffins to the Calder Cup. He has played 25 games with the Red Wings, but this year he will get a real opportunity to play on the team full-time.
There has been concern that he is undersized for the NHL. In the minors, he showed that this was not an issue, and as he transitions to the NHL level, he will need to continue to prove people wrong.
The roster is crammed right now and with many young players in Grand Rapids hoping for a shot, Tatar will need to show that he belongs very quickly.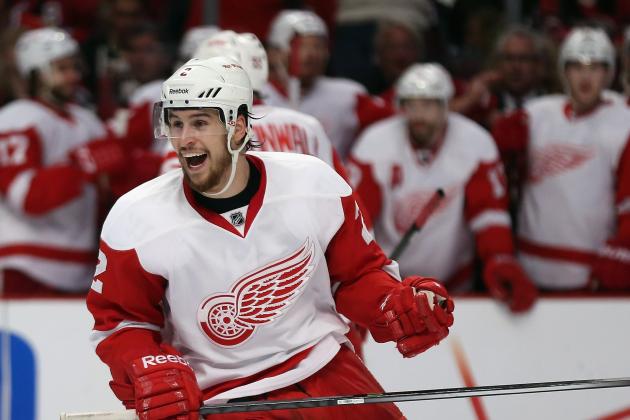 Jonathan Daniel/Getty Images

Brendan Smith had a respectable rookie season with the team. He came in with much hype, as he had been a highly touted prospect for several seasons.
While he showed flashes of how good he can be, he also made some rookie mistakes. While it is unfair to expect any one player to replace Nick Lidstrom, Smith has been looked at as someone who could help ease the pain.
This year, the pressure will be on to take the next step. He will need to show that he has learned from his rookie mistakes and play the smart, aggressive game that he was known for in the minors.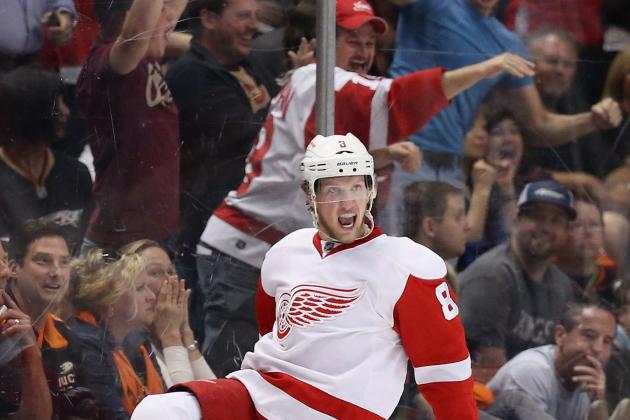 Jeff Gross/Getty Images

The pressure in on Justin Abdelkader to show that last season's success was no fluke. He had never scored more than eight goals over a full season. In 2012-13, he busted out with 10 goals in only 48 games.
Nine of those goals came over the last 20 games of the season. Much of his success has been credited to his move to Pavel Datsyuk's line, and while that no doubt helped, it was not the only reason. Abdelkader was a decent scorer in college and the minors. When he was brought to the Wings, he was not in a scoring role.
This season, he will need to show that his hot streak from the end of last season was a sign of things to come and not a lucky run of games.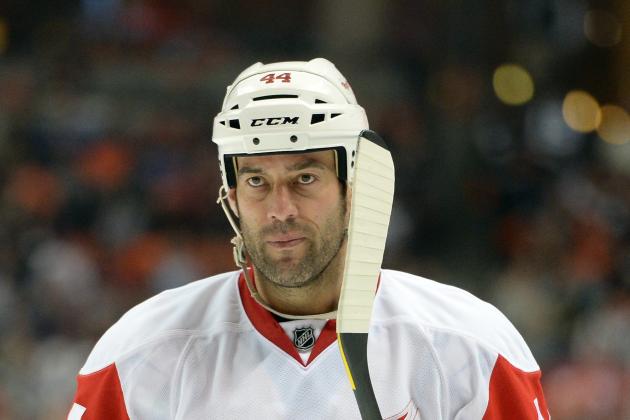 Harry How/Getty Images

The same pressures and questions are facing these two players. Todd Bertuzzi and Mikael Samuelsson are coming off wasted seasons. They battled injury and poor play as they combined to play only 11 games.
These two aging players were already in decline before last season. With the emergence of several young players as well as the level of talented young players waiting in Grand Rapids, both of these players are not just fighting for playing time but perhaps roster spots as well.
They will need to show that they still have value to the team and can be productive members of the team.