Don't Underestimate Duo of Collins and Williams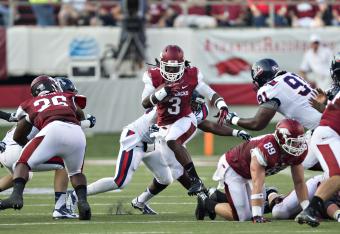 Alex Collins
Wesley Hitt/Getty Images
During the summer months leading up to the start of the college football season, fans desperately try and indulge themselves in anything that will get them to the end of August.
One such activity is reading college football preview magazines.
Athlon's annual SEC preseason breakdown covers the ins and outs of the conference heading into each season, one being how each team's units rank amongst the 14 programs in the SEC. The Arkansas Razorbacks entered the 2013 season with little experience at the running back position, and in Athlon's unit rankings, it was 14 out of 14 teams.
After the Hogs first two games, that forecast appears to be far from accurate.
It seems they vastly underestimated the impact Bret Bielema would have on the Arkansas rushing attack. Though the season is still in its early stages, Arkansas sits atop the SEC in rushing yards per game and is 11th in the country, averaging 312.5 with 625 total yards (6.0 yards per carry).
Of those 625 yards, 580 of them have come from the legs of sophomore Jonathan Williams and true freshman Alex Collins. The two literally carried the Hogs to victory over the Samford Bulldogs last Saturday, loading up the box score for a combined 298 yards with two touchdowns and an electrifying 7.3 YPC average.
Yes, the yards have come against two opponents the Razorbacks were expected to beat and that are not near the talent level of teams it will face. But nonetheless, what Collins and Williams have done in just two games is pretty darn impressive.
Collins quite possibly has been the most impressive freshman at his position in the entire country. After beginning his career against the Louisiana Ragin' Cajuns with 131 yards on 21 carries, he followed it up against Samford by rushing for 172 yards on 24 carries (7.2 YPC) and a touchdown.
In the wake of another stellar performance, Collins was named SEC Freshman of the Week and 247Sports.com honored him with National Freshman of the Week.
The Razorbacks and their fans can thank Collins for avoiding an embarrassing loss to Samford. With the Hogs trailing 21-17 in the third quarter, he toted the ball six times on the Arkansas drive, including a 21-yard gain to set up the go-ahead score from Williams.
After the Razorbacks defense held Samford to a three-and-out, Collins gashed the Bulldogs' defense for a 55-yard run to set up his deal-sealing score, which can be seen here:
Two games into his career, Collins has already etched his name in the Arkansas record book as the only freshman back to ever run for over 100 yards in his first two outings. With over 300 yards on the season, Collins is well ahead of most freshmen, and his future is very bright.
And let's not forget Williams.
All the hype around Collins has overshadowed his running mate's equally impressive performances. In this his first season as the starter, the sophomore Williams has run for 277 yards and two touchdowns, surpassing already his totals for all of 2012.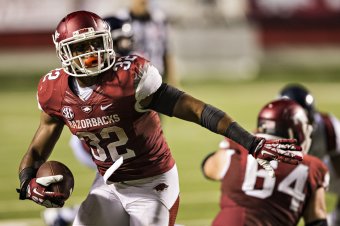 Wesley Hitt/Getty Images
Versus Samford, Williams put up 126 yards on 17 carries and scored a go-ahead touchdown run late in the third quarter. His yards-per-carry average in the first two contests is a devastating 7.9—well, at least it's devastating for the opposing side.
Collins and Williams have an innate ability to slip out of tackles and make defenders miss. Both also demonstrate patience when reading their blockers and waiting for the OL to open up holes.
Again, this has all been against two inferior schools. No disrespect to Samford or Louisiana, both of which put forth hard-fought efforts on the road, but the Razorbacks have much bigger competition awaiting once the SEC slate begins.
The duo of Collins and Williams was underestimated entering 2013. The fact that they were part of a RB unit tabbed the worst in the SEC is laughable at this point.
Collins and Williams aren't out to prove anything, they're just doing what Bielema and his Hogs need to win and be successful. There's still a long season ahead, but if this duo continues to run the ball like it has, Arkansas could pull off a few surprises before it's all said and done.
So, go ahead and continue to underestimate Collins and Williams. They'll just continue to run hog wild.
This article is
What is the duplicate article?
Why is this article offensive?
Where is this article plagiarized from?
Why is this article poorly edited?

Arkansas Razorbacks Football: Like this team?