Florida State Seminoles vs. Nevada Wolfpack Complete Game Preview
Justin K. Aller/Getty Images

It's been a week and a half since the Seminoles last played football, and that's a week and a half too long for a nation that's been clamoring for more Jameis Winston since he threw his fourth touchdown pass against Pittsburgh.
This time around, Florida State (1-0) gets to play in the comfort of Doak Campbell Stadium, taking on the Nevada Wolfpack (1-1) in an ACC-Mountain West matchup.
Time: 3:30 p.m. ET
Place: Doak Campbell Stadiu, Tallahassee, FL
TV: ESPN
Radio: Florida State IMGSportsNetwork
Spread: Florida State by 33 according to Bovada.lv
All quotes and paraphrases were obtained either firsthand or via phone unless otherwise noted.
Begin Slideshow

»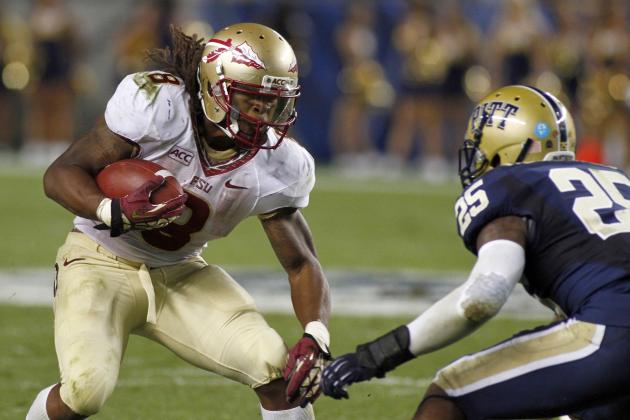 Justin K. Aller/Getty Images

Establish the Run Game
This wasn't an issue against Pittsburgh due to Winston's coming-out party, but both James Wilder Jr. and Devonta Freeman failed to step up and get a continuous rush presence.
With Wilder banged up, spurring the movement of junior safety Karlos Williams to running back, the spotlight will be on the running back's response to a less-than-stellar showing on opening day.
Assert Defensive Dominance
Nevada brings with them a playmaker in quarterback Cody Fajard, who accumulated 2,786 yards and 20 touchdowns in his 2012 season. The Wolfpack pack a punch when it comes to offense, finishing seventh in the nation in rushing yards per game and 18th in the nation in points for per game last season.
For a Seminoles squad still adjusting to a new defensive scheme under Jeremy Pruitt, coming in with the right mentality is essential.
Jameis, Jameis, Jameis
Pretty self-explanatory. If Jimbo Fisher and Co. set up the redshirt freshman for success, he'll give them that and more. He's had plenty of time to prepare for his home unveiling, and he'll be ready to put on a show.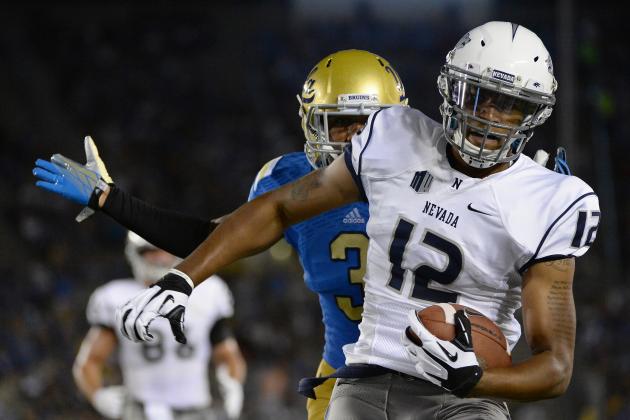 Harry How/Getty Images

Don't Be Intimidated
Nevada, despite going 7-6 last year, is not a bad football team. They were a bowl team last year, playing in the Gildan New Mexico Bowl and coming within two Arizona touchdowns in the last 49 seconds of winning.
They held their own against UCLA last week, going into halftime only trailing by four, but then the Bruins exploded for 41 points in the second half. If they can keep their heads level, then they might have a chance at scaring the Seminoles.
Stick to What You Know
As noted before, the Wolfpack had the seventh-best rushing attack in the FBS last year. Quarterback Cody Fajardo currently leads the team with four rushing touchdowns and is second on the squad with 142 yards. That's in addition to his 403 passing yards and two touchdowns, so if he can get into a rhythm against a still-wet-behind-the-ears Florida State defense, things could get interesting.
Contain the Messiah
He might be the second coming in football form, but he's still a redshirt freshman. Throw some wacky defensive schemes his way, blitz him a lot and there's a chance that they could ruin Jameis' arrival home.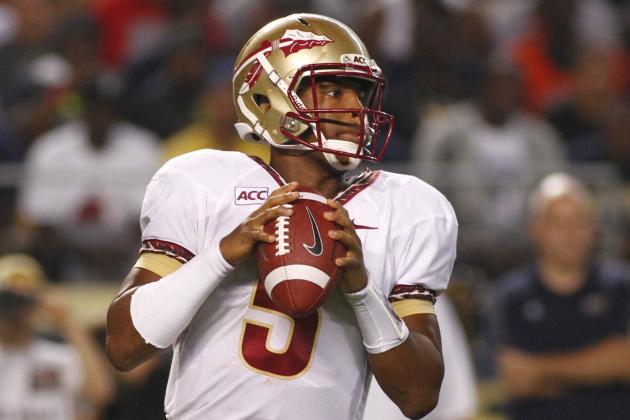 Justin K. Aller/Getty Images

Jameis Winston
Are you surprised at all? After months of offseason hype were met by an unbelievable debut, all eyes will be on Famous Jameis as he attempts to come close to his season-opening stat line of 25-of-27 for 356 yards and four touchdowns.
Spurred on by his home crowd and a defense that gave up 58 points to UCLA, Winston's best could still be ahead of him.
Lamarcus Joyner
The senior defensive back got himself two sacks against Pitt, and he is excited at the prospect of playing against a high-octane offense like Nevada's. He's been the cornerstone of new defensive coordinator Jeremy Pruitt's defense, and he should only get better in the system as the year goes on.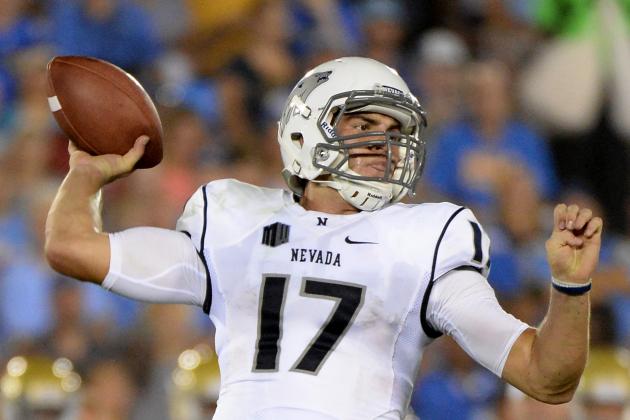 Harry How/Getty Images

Cody Fajardo
We're going back-to-back quarterback spotlights here as we focus on Mr. Fajardo. He'll do his best to make the country ask "Jameis who?", which isn't completely out of the realm of possibility.
Much like his Wolfpack predecessor Colin Kaepernick, the sophomore can make plays with his legs and his arms, and that has players like Lamarcus Joyner on the ready.
"What we have to do is not let him get the big throws downfield," Joyner said this week. "He's going to get runs, he's going to run for first downs, the guy is a good mobile quarterback."
Kendall Brock
The junior running back is doing all he can to fill the hole left by running back Stefphon Jefferson, who rushed for 1,883 yards in 2012. So far, he's done a pretty good job, gaining 148 yards and two touchdowns on 39 carries.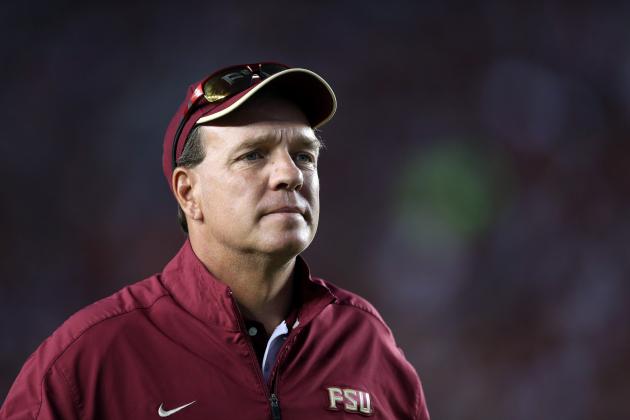 Streeter Lecka/Getty Images

Jimbo Fisher on:
Decreased fan attendance
"You see it everywhere, more so than you've probably ever seen it. But if they get rid of these dadgum TV's and home packages and HD's and all these home grills and stuff out of there—I think it has a lot to do with it. I still don't think there is anything like the game day experience and supporting them. You're a fan of these kids, but support them and understand that when they work so hard for 12 opportunities a year and seven in our stadium and for our seniors it's the last seven times you'll be out there to celebrate them and appreciate them for what they've done for Florida State.
Bringing heat to the quarterback
"I think it's just different we've been able to find ways to bring pressure. Some weeks it may be with linebackers or defensive ends, sometimes it may be with secondary people."
---
Florida State hasn't exactly had the best luck against the Mountain West, notes Patrick Nohe of the Miami Herald, who says that FSU is currently 2-4 all-time against the conference.
---
Lamarcus Joyner had a few things to say about Jameis Winston and how he's dealt with the new spotlight
"He's been getting that kind of attention all his life," said Joyner. "High school, maybe even Little League [laughs]. I just like the way he conducts himself, same attitudes, same mentality, same guy in the locker room. You respect that. Some guys try to be politically correct, they go to change, they think they have to do too much. Jameis is Jameis, he understand that's what comes with it, that's how you handle it."

"You (gotta) keep on fulfilling (the prophecy). That was just the first game, and it's a long season. He's got to keep on fulfilling the prophecy, so hopefully he keeps going on with it because that was a great first game from a young guy, a redshirt freshman and a guy that people expected so much from him. The way that he handled it, at the end of the day Jameis is just doing his job."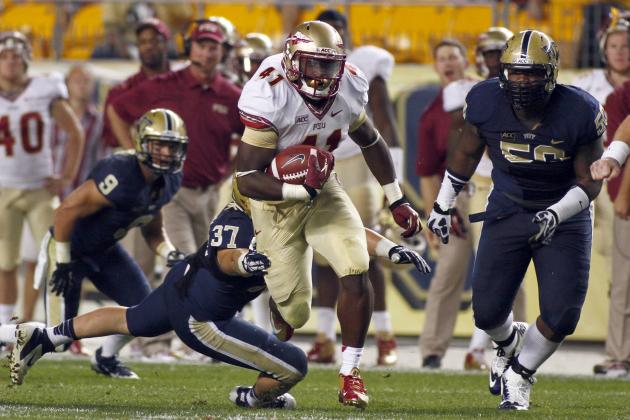 Justin K. Aller/Getty Images

Florida State 52, Nevada 14
In the end, the talent difference is going to be too much for the Wolfpack when they take on the 'Noles in Doak Campbell. Jameis Winston isn't going to have two times as many touchdowns as incompletions again, but he's still going to have himself a productive day against a Nevada defense that's given up 65 points through two games.
A slow start similar to the one Florida State saw itself get into against Pitt is possible, but much as the Seminoles separated themselves from the Panthers by overpowering and outplaying them, the same fate awaits Nevada.
Expect a lot of 'Nole points, and don't feel bad when you switch over to Texas A&M-Alabama later in the day.