The Pittsburgh Steelers will reportedly bring back Jonathan Dwyer this season, but the move won't fix what's ailing this team on offense.
Ed Bouchette of the Pittsburgh Post-Gazette broke the news on Monday:
#Steelers will re-sign RB Jonathan Dwyer

— Ed Bouchette (@EdBouchette) September 9, 2013
Dwyer will fill the void left by LaRod Stephens-Howling, who suffered a torn ACL on Sunday against the Tennessee Titans, as noted by Mike Garafolo of Fox Sports:
More bad news for the Steelers: RB LaRod Stephens-Howling suffered a torn ACL today.

— Mike Garafolo (@MikeGarafolo) September 9, 2013
Heading into his fourth year in the NFL, Dwyer is a decent running back who can move a pile, but he isn't quick or a dangerous weapon as a receiver out of the backfield.
He had his best year as a pro in 2012 when he rushed for 623 yards and two touchdowns on 159 carries (4.0 yards per carry).
Just the kind of numbers you might expect from a former sixth-round draft pick—he's good, but not great.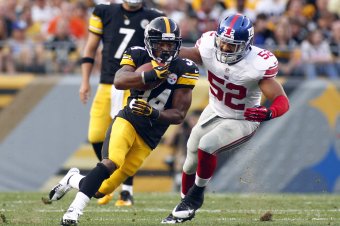 Justin K. Aller/Getty Images
Losing Stephens-Howling will hurt the Steelers this year. He was quick and shifty, which are traits needed to make hay in the running game while playing behind a porous offensive line. He was also a good receiver who used his quickness with skill to make defenders miss in the open field.
But the real issue facing the Steelers on offense this year—as it has been for the past few years—is the team's offensive line.
All-Pro center Maurkice Pouncey was lost for the season with a torn MCL and ACL, as noted by NFL: AroundTheLeague, and Ben Roethlisberger was brutalized after he went out of the game against the Tennessee Titans in Week 1:
From Mike Tomlin: Pouncey injured his ACL + MCL, will need surgery. LB Larry Foote ruptured his biceps. Costly loss for Steelers.

— NFL: AroundTheLeague (@NFL_ATL) September 8, 2013
Pittsburgh's offensive line was suspect before Pouncey's injury, and now that he's out of the picture, it's a nightmare scenario unfolding before our eyes.
The Titans sacked Big Ben five times, and he was pressured throughout the contest.
As a result, Roethlisberger put up a meager stat line, passing for 191 yards (5.8 yards per attempt) with one touchdown and an interception.
But even more disturbing was the lack of production from the running game when Pouncey went out. For the game, Pittsburgh rushed for 32 yards on 15 carries—an average of just 2.1 yards per attempt.
Panic Meter: Steelers offensive line
Roethlisberger had no time to throw the ball, and when offensive coordinator Todd Haley did call some running plays to try to keep Tennessee's pass-rushers honest, the offensive line couldn't generate any running lanes.
These are issues Dwyer can't fix.
The Steelers must figure out a way to fix the offensive line, or the team's playoff hopes will be dead and buried before the halfway mark of the 2013 season.
Follow me on Twitter @JesseReed78.