Ryan Newman, Jeff Gordon Make Chase Field After Controversial Season Finale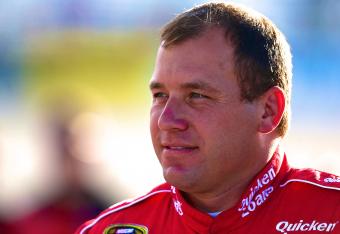 After reviewing the controversial finish to the Federated Auto Parts 400 in Richmond, Va., NASCAR officials have decided to replace Martin Truex Jr. of Michael Waltrip Racing with Ryan Newman in the Chase for the Sprint Cup, while Jeff Gordon has also been placed in the season-ending competition as well.
NBC Sports first reported news of the decision regarding Truex:
BREAKING: @NASCAR will replace @MartinTruexJr56 with @RyanNewman39 in the Chase for the Sprint Cup after controversy at Richmond. (via @AP)

— NBC Sports (@NBCSports) September 9, 2013
Bob Pockrass of the Sporting News first reported the Gordon news:
NASCAR will put Jeff Gordon in the Chase for the Sprint Cup. #nascar

— Bob Pockrass (@bobpockrass) September 13, 2013
UPDATE: Monday, Oct. 14
From Tom Jensen of FoxSports.com:
It's official: @MWRteam announces it will be 2 ft teams plus 3rd car w/limited sked. Scott Miller will be crew chief for 55.

— tom jensen (@tomjensen100) October 14, 2013
According to @MWRteam "more than 85% of its current workforce" was retained. Hearing specific number was 47 jobs cut.

— tom jensen (@tomjensen100) October 14, 2013
As part of @MWRteam cutback, @MartinTruexJr56 has been told he's free to look elsewhere. I believe he'll do just fine for himself.

— tom jensen (@tomjensen100) October 14, 2013
ESPN's Staff via The Associated Press first reported Michael Waltrip Racing will scale back on full-time drivers next year:
Michael Waltrip Racing will run only two full-time cars next season because of the loss of sponsor NAPA, The Associated Press reports.

Team owners Michael Waltrip and Rob Kauffman on Monday began telling employees of the decision. Those affected were told they are free to begin looking for new jobs immediately.

[...]

NAPA decided to leave MWR at the end of the year -- fallout from the team's attempt to manipulate the finish at Richmond to get Truex into the Chase for the Sprint Cup championship.
UPDATE: Sunday, Sept. 22
It remains to be seen if 5-Hour Energy will stick with Michael Waltrip Racing, according to ESPN's Staff via the Associated Press:
Michael Waltrip Racing is still seeking a sponsorship boost from 5-Hour Energy.

The president of the energy shot company refused Sunday to give a firm commitment that 5-Hour Energy would remain with MWR and sponsor Clint Bowyer's car in 2014.

"We'll see how the year plays out," company president Scott Henderson said Sunday at New Hampshire.

Michael Waltrip said Friday he expected 5-Hour Energy to remain with MWR.
UPDATE: Thursday, Sept. 19
NAPA announced on Facebook that it will end its sponsorship agreement with Michael Waltrip Racing:
After thorough consideration, NAPA has made the difficult decision to end its sponsorship arrangement with Michael Waltrip Racing effective December 31, 2013. NAPA believes in fair play and does not condone actions such as those that led to the penalties assessed by NASCAR. We remain supportive of the millions of NASCAR fans and will evaluate our future position in motorsports.
Michael Waltrip released a statement following the announcement on Michael Waltrip Racing's Facebook account:
NAPA has been with me from winning two Daytona 500s, to missing races with a new start-up team, and back to victory lane again. The relationship grew far past that of just a sponsor, but more of a partner and a friend. We will not be racing a NAPA car in 2014, but I have friendships that will last a lifetime.

To the fans and those who made their voice heard through social media, as the owner, I am responsible for all actions of MWR. I sincerely apologize for the role our team played and for the lines NASCAR has ruled were crossed by our actions at Richmond. NASCAR met with the competitors in Chicago and we all know how we are expected to race forward.
UPDATE: Friday, Sept. 13
From USA Today's Jeff Gluck:
Jeff Gordon on ESPN: "I've never been a part of anything like this before."

— Jeff Gluck (@jeff_gluck) September 13, 2013
Jeff Gordon on ESPN: "What a roller coaster ride of emotions this week and an unprecedented circumstances."

— Jeff Gluck (@jeff_gluck) September 13, 2013
The Associated Press' Jenna Fryer has another quote from Gordon:
"We've got some issues that need to be addressed. I'm looking forward to that meeting with NASCAR tomorrow," says Gordon.

— Jenna Fryer (@JennaFryer) September 13, 2013
UPDATE: Friday, Sept. 13
From Sirius XM Radio's Pete Pistone:
#NASCAR announces Front Row Motorsports and Penske Racing on probation until end of year and mandatory owner-crew chief meeting Saturday

— Pete Pistone (@PPistone) September 13, 2013
Curt Cavin of The Indianapolis Star:
"Unprecedented and extraordinary thing." Brian France.

— Curt Cavin (@curtcavin) September 13, 2013
ESPN's Marty Smith tweets:
France: I have the authority to (add Gordon) and we will do that. Says it protects integrity of sport, which is "No. 1 goal."

— Marty Smith (@MartySmithESPN) September 13, 2013
UPDATE: Wednesday, Sept. 11
NAPA has taken to Facebook to address the controversy around Michael Waltrip Racing and what it means for their sponsorship agreement (via Jim Noble of ESPN).
Dear Facebook Fans and the NAPA community,

The actions taken by Michael Waltrip's Racing team this past weekend leading to the penalties assessed by NASCAR, are very concerning. We are disappointed that a partner associated with our organization would make such a significant error in judgment. In addition, we have launched our own review to determine the future of our partnership with Michael Waltrip's Racing team. The NAPA AUTO PARTS organization is proud of its long-standing NASCAR relationship. We share a passion with our customers for high quality racing and seek to determine the best course of action for our customers, NASCAR fans, and the NAPA organization.
UPDATE: Tuesday, Sept. 10
From Bob Pockrass of The Sporting News:
Clint Bowyer has started his ESPN tour, said apology to newman didn't mean an admission he did it on purpose. #nascar

— Bob Pockrass (@bobpockrass) September 10, 2013
From Nate Ryan of USA Today:
Clint Bowyer asked if he admitted to intentional spin? "No, let's not dig too much into this. I gave my interview after the race." #nascar

— Nate Ryan (@nateryan) September 10, 2013
---Original Text---
Carl Edwards came away as the winner of Saturday's race, but the bigger story was what happened behind him. Clint Bowyer spun out, causing a crash that eventually knocked Newman and others out of contention.
Brian Vickers also pitted late to help Truex manage a strong enough finish to earn the final wild-card spot in the Chase.
However, after a review of the incident, NASCAR's vice president of competition, Robin Pemberton, released this statement on NASCAR.com:
Based upon our review of Saturday night's race at Richmond, it is our determination that the MWR organization attempted to manipulate the outcome of the race. As the sport's sanctioning body, it is our responsibility to ensure there is a fair and level playing field for all of our competitors and this action today reflects our commitment to that.
ESPN's Marty Smith provided further additional information on the penalties:
MWR PENALTY IS: Newman in Chase. Truex out. 50 points docked per car. 300K fine. Ty Norris suspended indefinitely.

— Marty Smith (@MartySmithESPN) September 10, 2013
Before this decision was released, many fans and competitors were upset about what took place. Jeff Gordon, who finished one spot out of the Chase, even felt bad for Newman:
Was feeling pretty bad about missing the #Chase but after seeing all the details coming out now I feel even worse for @RyanNewman39.

— Jeff Gordon (@JeffGordonWeb) September 8, 2013
Fortunately, things have now been rectified after the controversial practices by Michael Waltrip Racing.
According to Jeff Gluck of USA Today, the penalties were not just a result of MWR's action; they are also an effort to make sure this type of incident is not repeated:
Mike Helton: "We penalize for it to ask for it to not happen again. It's a message from the sanctioning body to say, 'You can't do this.'"

— Jeff Gluck (@jeff_gluck) September 10, 2013
Hopefully, after the fines, suspensions and removing of Truex from the Chase, this will not be an issue in the future.

Newman now joins Kasey Kahne as a wild card, giving him enough points to contend for a championship.
Matt Kenseth enters the Chase as the overall leader thanks to five wins on the year, trailed closely by Jimmie Johnson and Kyle Busch.
This article is
What is the duplicate article?
Why is this article offensive?
Where is this article plagiarized from?
Why is this article poorly edited?