Exactly nine months after undergoing reconstructive surgery to repair a torn ACL and LCL, Robert Griffin III returned to the gridiron on Monday night.
After establishing himself as one of the most dynamic and electrifying players in the NFL as a rookie, RGIII's injury was a devastating one for Redskins and football fans alike.
Nevertheless, he impressed throughout his recovery and was able to set himself up as Washington's Week 1 starter, clearing the way for one of the most anticipated starts in recent memory.
So anticipated, in fact, it had Griffin feeling like Hitch himself, via Sports Illustrated's NFL Twitter account:
RGIII's pregame comments to ESPN: "I feel like Will Smith in Hitch right now." A better omen than, say, Enemy of the State.

— SI NFL (@si_nfl) September 9, 2013
It started out well, with this goosebump-inducing introduction in front of the home crowd: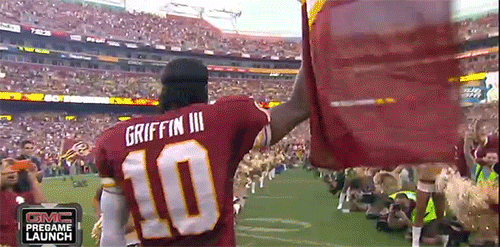 Unfortunately for RGIII, his return took a turn for the worst from there.
His first touch was a hand-off to Alfred Morris, who immediately fumbled the ball away to Philadelphia. On his second series, Griffin was picked off by Brandon Boykin.
Sports Illustrated's Chris Burke chalked it up to rust:
And there's your reminder that RGIII didn't play in the preseason.

— Chris Burke (@ChrisBurke_SI) September 9, 2013
As ESPN Stats & Info pointed out, it was a far cry from what RGIII showed last year against the Eagles:
Last season, @RGIII was 4-for-4 with 3 TD passes vs Eagles on throws more than 20 yards downfield. This year: 1st such throw leads to INT

— ESPN Stats & Info (@ESPNStatsInfo) September 9, 2013
His third series was more like the first, as a pitch to Morris in the end zone was mishandled, and the running back was forced to fall on it for a safety.
It was a nightmarish start for Washington's offense that made it real easy for Sports Pickle to make this joke:
Hopefully Washington's offense isn't the future of the NFL. The league will fold.

— SportsPickle (@sportspickle) September 10, 2013
Griffin was able to complete a few passes here or there, but he finished the first half just five-of-11 for 53 yards. He was also sacked once, and recorded a mere two yards on two rushing attempts, as the Redskins trailed 26-7 in front an audibly upset crowd.
The explosive, electric and unique RGIII looked rusty, timid and completely unconfident.
Martin Frank of the Delaware News Journal, Bleacher Report's Matt Miller and CBS Sports' Pete Prisco were just a few of the many who noticed the concerning details about the QB's first-half play:
Haven't seen any read-option for RGIII. Not a good sign for Washington if he's being limited.

— Martin Frank (@Mfranknfl) September 10, 2013
RGIII is not setting his feet or stepping into throws tonight. And he has room. That's mental.

— Matt Miller (@nfldraftscout) September 10, 2013
RGIII looks like a different guy.

— Pete Prisco (@PriscoCBS) September 10, 2013
This stat from CBS Sports' Will Brinson pretty summed the first half of Griffin's return, which really couldn't have gone much worse:
Eagles have the same number of first half plays (53) as Robert Griffin has passing yards.

— Will Brinson (@WillBrinson) September 10, 2013
And it didn't get better to start the second half.
On the fourth play out of the locker room, Griffin, once again showcasing the theme of "not stepping into his throws," failed to put enough zip on a sideline route to Pierre Garcon and had it intercepted by Cary Williams.
The Washington Post's Dan Steinberg put it bluntly:
Easily his worst game as a pro. Can't even think of what's the second worst.

— Dan Steinberg (@dcsportsbog) September 10, 2013
While it all seems bleak, we can't realistically suspect everyone to be like Adrian Peterson, who won MVP and nearly broke the single-season rushing record in his first season back from knee surgery.
It will clearly take some time for Griffin to regain confidence in his knee, and as ESPN injury analyst Stephania Bell calmly points out, there is still plenty of time for the exciting QB to shake off his rust:
This first game does not suggest all gloom and doom for RG3. Expect he will look much better in short order.

— Stephania Bell (@Stephania_ESPN) September 10, 2013
ESPN's John Keim is also remaining optimistic:
I'll reiterate: Griffin threw the ball better this summer when we could see. Think this is much more rust than any sort of injury issue

— John Keim (@john_keim) September 10, 2013
In the late-third and fourth quarter, Griffin began to show flashes of shedding that rust, as he led three touchdown drives, threw two scores to Leonard Hankerson and brought the Redskins within six before eventually falling short of the comeback effort.
When it was all said and done, he finished 30-of-49 for 329 yards, two touchdowns, two interceptions and 24 rushing yards on five carries.
Burke and ESPN's Eric Karabell noticed the quick improvement:
Not a coincidence that RGIII's getting sharper the more passes he throws.

— Chris Burke (@ChrisBurke_SI) September 10, 2013
By the way, LOL to those saying an hour ago Griffin and Morris will be busts. Can they play a full game (or 4) first?

— Eric Karabell (@karabellespn) September 10, 2013
Chris Brown of Smart Football, however, wasn't nearly as convinced:
Eagles were in basic Cover 3, RG3 basically threw an interception and Chung pulled a Raheem Moore to give up the TD

— Smart Football (@smartfootball) September 10, 2013
Nevertheless, while the massively anticipated return may not have gone as planned, it's too early to be concerned about the uneven effort.
RGIII is simply too young, too talented and too determined not to improve.