UCLA Football: 5 Biggest Early-Season Storylines for the Bruins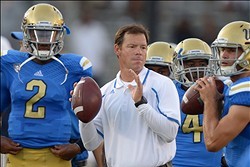 Kirby Lee-USA TODAY Sports
Jim Mora tossing the rock around with Asiantii Woulard looking on.
Although only a week in, the 2013 UCLA Bruins have dealt with a wide range of emotions.
Jim Mora's bunch started the season with an impressive victory over Nevada. The offense looked particularly explosive, as evidenced by scoring 58 points. A staunch defensive effort was led by multiple true freshmen.
Unfortunately, UCLA suffered a tragedy this past weekend. A member of the team was killed after being struck by a car in San Clemente, Calif. There's now telling how the Bruins will react with a big game against Nebraska on the horizon.
Here are the five biggest early-season storylines for the Bruins.
*The Nick Pasquale Foundation has been established. Donations can be made here in order to financially help athletes in his honor.
Begin Slideshow

»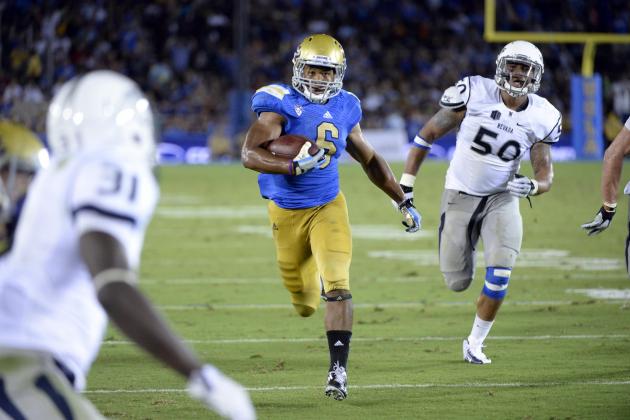 Richard Mackson-USA TODAY Sports
James racked up 155 yards in the opener against Nevada.
Jordon James was a revelation against Nevada in the opener.
The tailback scampered for 155 yards on 21 carries. Last season, James rushed for a total of 215 yards. Perhaps the biggest question mark heading into the season was whether or not the Bruins could find a suitable replacement for Johnathan Franklin.
Against the Wolf Pack, James looked quick and elusive. He also looked decisive in hitting the hole hard and churning upfield for positive yardage.
There's no question that quarterback Brett Hundley can throw the football. Targets such as Jordan Payton, Devin Fuller, Shaq Evans and Devin Lucien all figure to produce. With a consistent rush attack, it'll help take pressure off of Hundley. It'll also keep UCLA's offense balanced.
If the first week is any indication, James will be the man in the backfield for the Bruins going forward in 2013.
Richard Mackson-USA TODAY Sports
Deon Hollins rushed the passer quite well in the opener.
According to Scout.com, UCLA's 2013 recruiting class was ranked as the third-best in the entire nation. The class was chock full of players who were primed to make an early impact this season.
Against Nevada in the opener, 15 true freshmen saw time on the field. Alex Redmond and Sean Covington started at offensive guard and punter, respectively.
Defensive players Tahaan Goodman, Myles Jack, Deon Hollins, Kylie Fitts, Eddie Vanderdoes, Isaac Savaiinaea and Kenny Clark all saw a quality amount of snaps. Cameron Judge and Jayon Brown participated on special teams as well.
Jack was second on the team in tackles with eight. Vanderdoes had six tackles, including two for loss.
Defensive backs coach Demetrice Martin told Chris Foster of the Los Angeles Times that "[Goodman] is the cream that's rising to the top. I'm excited to see how far and how fast we can push him to get to where he needs to be."
It's conceivable that Goodman could potentially start at safety this week, with Anthony Jefferson moving back to corner.
The integration of the class helps the team from an athleticism and speed standpoint. It also improves the overall depth on the team considerably.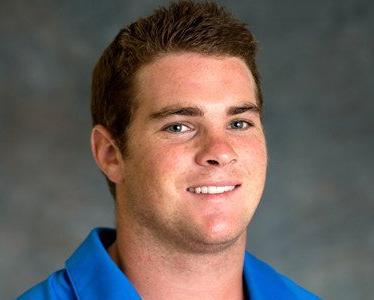 Walk-on WR Nick Pasquale passed away early Sunday morning.
The sport of football signifies more than just a contest itself.
A true brotherhood is promoted. Copious amounts of togetherness, cohesion and commitment are present within a team. In essence, a team is a gigantic family.
The bond of close-knit togetherness usually is revealed in the harsh face of adversity. UCLA wide receiver Nick Pasquale passed away early Sunday morning. His death has greatly affected the team up to this point.
Mora told reporters that Pasquale "epitomized everything that you're looking for in a football players, from his spirit to his selfless work ethic, his commitment to the team, his toughness."
Multiple members of the team, including Xavier Su'a-Filo, Thomas Duarte and Simon Goines, voiced their condolences over Twitter.
No one knows how the team will react come Saturday when the Bruins face Nebraska in Lincoln. It is a vital contest for both teams. Going on the road in a hostile environment against a ranked opponent is tough enough. Adding on the tragedy of a fallen teammate will make the game that much more difficult.
Mora was unquestionably emotional on Monday. He called out a reporter for speaking on a cell phone during a press conference. Mora was talking about Pasquale when he was rudely interrupted.
UCLA will wear a patch on its jerseys with Pasquale's No. 36 prominently shown. As a touching gesture, Nebraska will also don a patch commemorating Pasquale.
The entire press conference featuring Mora speak about Pasquale can be found here.
Bleacher Report conveys the sincerest of condolences to the Pasquale family.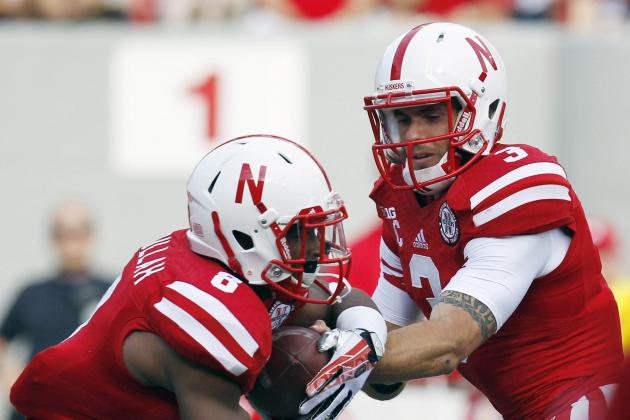 Bruce Thorson-USA TODAY Sports
Martinez is a threat to run with the football.
The game against Nebraska will provide the Bruins with the biggest test to date.
Playing in Lincoln will be absolutely no picnic. A vast sea of red will greet the Bruins once the team takes the field. A raucous crowd of 91,000 figures to be loud for the entire affair.
Taylor Martinez is one of the best dual-threat quarterbacks in the nation. Any sort of improvisation by the speedy signal-caller will be nearly impossible to prepare for.
Winning a game against a ranked, nonconference opponent will continue to signify UCLA's rise as a program. A victory could act as a springboard toward bigger things.
Should UCLA win this game, the Bruins could find themselves undefeated heading into a road clash with the Stanford Cardinal in the sixth week of the season.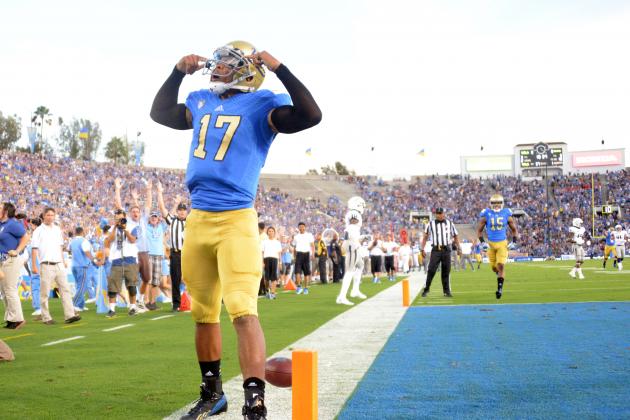 Kirby Lee-USA TODAY Sports
Quarterback Brett Hundley throwing a pass against Nevada.
Based on what's going on with Lane Kiffin and his team, is UCLA the best team in the city of Los Angeles?
The Trojans haven't looked very impressive to begin the 2013 season. A loss to Washington State at home this past weekend prompted massive displeasure from the fanbase.
During the game, a chant of "Fire Kiffin" echoed throughout the Coliseum. A surely disgruntled graffiti artist posing as a Southern Cal fan also made an addition to a fire lane in front of the home stadium.
When was the last time the Trojans failed to score more than 10 points at home? And when has a Southern Cal team essentially played to "not lose" against a lesser opponent?
The pressure on Kiffin is undoubtedly mounting. It'd be a near miracle for the embattled coach to retain his job after the season ends.
At this point, UCLA is a superior football program to Southern Cal.