Top 5 MVP Candidates After Week 1 of the 2013 NFL Season
Chris Humphreys-USA TODAY Sports
Peyton Manning exposed the Baltimore Ravens defense during the season opener on Thursday night.
We're officially through the first week of the 2013 NFL season and it was a wild display to say the least. A handful of players truly stood out among the rest and made their case for the start of a potential MVP campaign.
The season opened in Denver, where the Broncos dismantled the Super Bowl champion Baltimore Ravens in a rematch of last year's AFC divisional playoff game.
Sunday did not disappoint with 10 of the 13 contests decided by seven points or less. There were two quarterbacks who threw for over 400 yards, yet only one came away with the win in separate contests.
The week concluded on Monday night with a doubleheader, featuring Chip Kelly's retooled Philadelphia Eagles offense and an incredible comeback by the Houston Texans in the nightcap.
While one game does not predict the final success of a season, we will follow the performances of five players each week updating the leading contenders for the NFL's most valuable player.
Statistics courtesy of ESPN.com, unless otherwise noted.
Begin Slideshow

»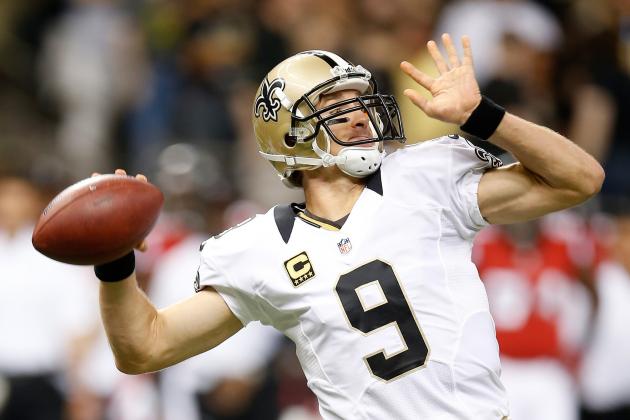 Chris Graythen/Getty Images
Drew Brees was extremely efficient in Sunday's win against the Atlanta Falcons.
Although needing help from his defense on the Atlanta Falcons final drive of the game, Drew Brees was brilliant in his first game with head coach Sean Payton since 2011. The Saints prevailed 23-16 against last year's No. 1 seed in the NFC playoffs.
Brees threw for 357 yards on 26 of 35 attempts, recording an impressive 74.3 completion percentage. He posted two touchdowns and one interception, helping lead the Saints to an important division win.
The Saints have plenty of horse power in all phases of their offense, and it is fueled by the 13-year veteran. After a bad year last season that started 0-4, the team is back on track with a 1-0 start.
Brees will continue to be the team's MVP in New Orleans, but a strong effort and playoff push in 2013 could elevate his name among the best signal-callers in the NFL.
Season statistics: 26-of-35 (74.3 percent) for 357 yards (2 TDs, 1 INT)
Team record: 1-0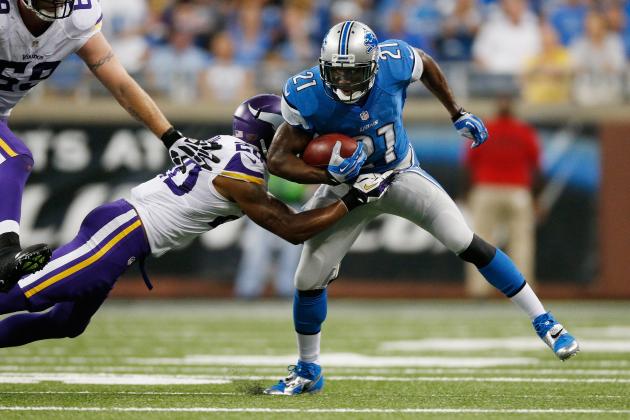 Gregory Shamus/Getty Images
Reggie Bush was nearly unstoppable against the Minnesota Vikings in Week 1.
Reggie Bush was electrifying in his Detroit Lions debut, making defenders look silly at times with the ability to change direction in space that rivals some of the top playmakers in the game.
He posted 90 yards rushing and 101 yards receiving, which included a 77-yard scamper off a short pass for a touchdown. Bush was also tackled twice just shy of the goal line, proving to be one of the Lions' most explosive red-zone threats.
After five seasons in New Orleans and two in Miami, Bush finds himself in a perfect situation in Detroit. He becomes the Lions' starting running back and will receive multiple targets in short passes, with defenses protecting against deep passes to Calvin Johnson.
If Bush continues to put up all-purpose yards around the 200 mark, the Lions will find their way back into the playoffs, with their new offensive weapon the primary reason for success.
Season statistics: 90 rushing yards (0 TD), 101 receiving yards (1 TD)
Team record: 1-0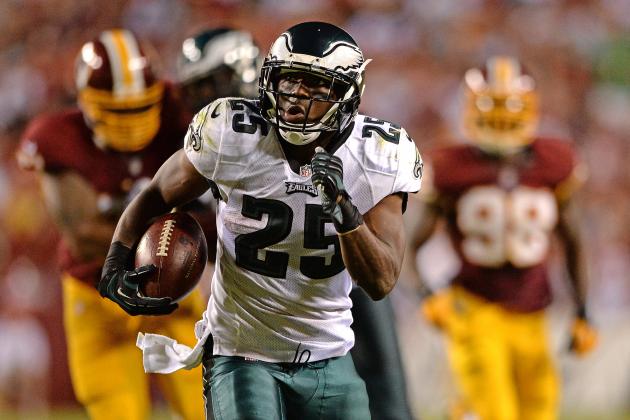 Patrick Smith/Getty Images
LeSean McCoy outran the Washington Redskins defense on several occasions Monday night.
After a record 2011 season, where LeSean McCoy set franchise marks for 17 rushing touchdowns and 20 combined scores, last year was a different story. The season was plagued with injuries (he missed four games due to concussions) and play-calling became heavily saturated in passes (618 versus 413).
Enter new head coach Chip Kelly and a fast-paced offense intended to keep defenses on their toes.
In an all-out offensive blitz Monday night, McCoy recorded 115 yards rushing in the first half, which led all players in the NFL.

But the player nicknamed "Shady" didn't stop there. He finished with 184 yards rushing on 31 carries and one touchdown. In what appeared to be juke moves out of a video game at times, McCoy stutter stepped past a tired Washington Redskins defense.
The presence of Michael Vick at quarterback forced defenders to respect their assignments on option reads, leaving McCoy with open space on several carries. This combination should continue to pay dividends throughout the year, with Chip Kelly utilizing one of the most athletic running backs in the league.
Season statistics: 184 rushing yards (1 TD), 5 receiving yards (0 TD)
Team record: 1-0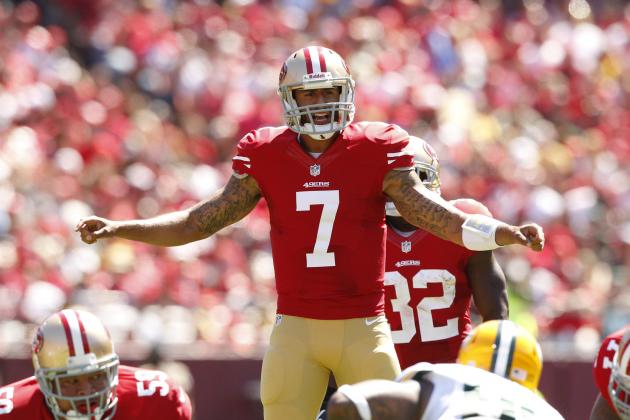 Cary Edmondson-USA TODAY Sports
Colin Kaepernick helped lead the San Francisco 49ers to a 34-28 victory over the Green Bay Packers in Week 1.
Colin Kaepernick has emerged as a superstar in San Francisco, ever since being drafted in 2011 and replacing former quarterback Alex Smith. After a Super Bowl run came up short last season, the Nevada prodigy is hoping to build on his success.
The performance on Sunday in a playoff rematch against the Green Bay Packers was a good start.
Fighting off a solid game by 2011 MVP Aaron Rodgers, Kaepernick led the 49ers into scoring position in each of the final three drives, all starting at or inside their own 20-yard line.
When the scoreboard finally hit zeroes, the third-year quarterback had thrown for 412 yards on just 27 of 39 attempts (69.2 percent), with three touchdowns and no interceptions. A big part of that offense was new teammate Anquan Boldin, who led the league in Week 1 with 208 yards receiving.
With confidence and poise, Kaepernick is stepping up as one of the best quarterbacks in the league. Few players seem to enjoy themselves as much as he does behind center, and the team is fully behind this MVP candidate.
Season statistics: 27-of-39 (69.2 percent) for 412 yards (3 TDs, 0 INT)
Team record: 1-0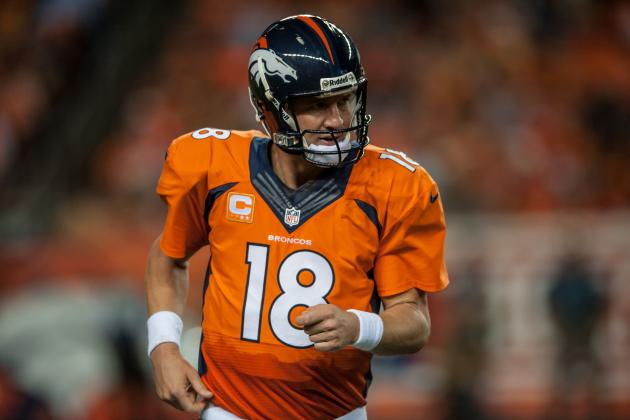 Dustin Bradford/Getty Images
Peyton Manning tied an NFL record with seven passing touchdowns in Week 1.
The anticlimactic front-runner for MVP at this point in the season, Peyton Manning put up the kind of numbers generally seen over a multi-game stretch for quarterbacks. After being embarrassed last year in the playoff loss to the Baltimore Ravens, No. 18 appeared focused to set things straight this time around.
With a total of seven passing touchdowns, Manning tied the NFL record for most touchdowns in a game.
The last player who had accomplished this feat was Minnesota Vikings quarterback Joe Kapp—way back in 1969.
The four-time MVP Manning also led all signal-callers with 462 yards in Week 1. His zero interceptions along with the touchdown total helped produce a passer rating of 141.1. With those type of numbers, he might already be clearing space in his trophy case.
Considering the addition of Wes Welker and the overall quality of the receiving corps for the Broncos, it's hard to picture this offense losing steam. Even tight end Julius Thomas figured into the mix with 110 yards and two touchdowns.
Peyton Manning missed out on the MVP award last season to Adrian Peterson, providing some additional aspirations to go along with his Super Bowl chase. Not only does that make it difficult for other players on this list, it definitely doesn't bode well for opposing defenses.
Season statistics: 27-of-42 (64.3 percent) for 462 yards (7 TDs, 0 INT)
Team record: 1-0
You can follow Matthew Stensrud on Twitter and Google+.