Power Ranking Biggest Instant-Impact 2014 College Football Recruits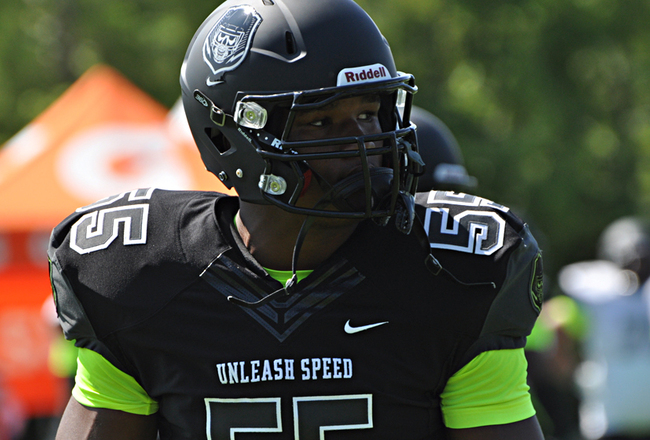 247Sports

Every recruit wants to make an instant impact, but not all of them are physically and/or mentally ready to immediately contribute to a college football team.
However, several 2014 recruits appear to be primed to be heard from instantly next season. Whether the depth chart falls in their favor, their skills fit the scheme of their committed schools or they are simply too talented to redshirt, these recruits are ready.
A receiver headed to an SEC school that needs playmakers should make an immediate contribution. A running back has been ready for college football since his junior season, plus a defensive end is primed to rush the passer as a true freshman.
Player evaluations are based on review of tape at Scout.com, Rivals, 247Sports and ESPNU.
15. Drake Harris, WR
Drake Harris is a 4-star receiver who is headed to Michigan. He is the best receiver prospect the Wolverines have landed under head coach Brady Hoke, and with the Michigan needing more playmakers on the perimeter, look for Harris to make an impact in 2014.
The 6'4", 180-pounder totaled 2,015 receiving yards as a junior on 91 catches, which notched him 25 touchdowns. Harris has adequate speed, smooth athleticism and excellent ball skills.
He should be a great weapon in the red zone for Big Blue.
14. Quin Blanding, S
A 5-star safety, Quin Blanding is expected to be a program-changer for Virginia. He is the best player head coach Mike London has landed, has great character and will be a team captain early in his career.
Blanding, who is 6'2" and 200 pounds, has outstanding range and instincts. He can set up and align coverages from the deep-middle part of the field, read a quarterback's eyes and explode out of transition to go make a play.
He is not afraid to aggressively press alleys to combat running plays, evidenced by his ability to deliver pops to running backs. Blanding could earn a starting job before the start of the 2014 season.
13. Raekwon McMillan, LB
Although Raekwon McMillan may not be ready to play on third downs as a freshman, he should still make an immediate impact as a run-defender.
McMillan, a 5-star 'backer from Georgia, is 6'2" and 242 pounds. He can powerfully strike a blocker, use strength to shed and explode to a running back to make a tackle. McMillan has great ball-location skills, does not get fooled often by misdirection and is a good athlete.
He is expected to sign with Ohio State, according to many experts at 247Sports.
12. Joseph Yearby, RB
The only reason Joseph Yearby is ranked this low is because of the presence of Miami running back Duke Johnson.
Yearby, a 4-star running back, will not take Johnson's starting job, but he should become a great compliment to the incumbent star.
Yearby is 5'9" and 190 pounds, and he has fantastic quickness and explosiveness. He sees the field, makes quick decision and has impressive instincts. An offense with Johnson and Yearby should produce more explosive plays in Coral Gables.
11. Tony Brown, CB
Cornerbacks usually do not make huge impacts do to the nature of their position, which doesn't affect the game every down.
However, 5-star cornerback Tony Brown has the versatility to make his presence felt immediately in college. The 6'0", 188-pound Texan has the skills to play on the perimeter, kick inside to cover slot receivers as a nickel corner or play safety.
It would be surprising if Brown redshirted in 2014, no matter where he signs. Watch out for LSU.
10. Speedy Noil, WR
Speedy Noil needs to learn the nuances of the receiver position since he has spent most of his high school career playing quarterback. However, the 5-star prospect has unlimited potential.
Noil, a New Orleans native, is nearly 5'11", weighs 176 pounds and is the most exciting player in the country with ball in his hands. He possesses incredible speed, agility, elusiveness and instincts in the open field.
Noil may not be a No. 1 receiver in 2014, but his skill set will warrant an offensive coordinator to build a package plays to get him the football. He will also make an instant impact as a returner on special teams.
LSU, Texas A&M and Florida are key schools to watch, per 247Sports.
9. Andrew Brown, DT
It's tough to make an instant impact as a defensive tackle. The trenches are a brutal place to play, especially for a true freshman.
However, Andrew Brown, a 5-star prospect, appears to have the skill set to hold his own immediately for Virginia. Brown has good explosiveness at the snap to go along with impressive strength at the point of attack. He can penetrate gaps, or anchor down to make a mess versus running plays.
Brown also has good athleticism and the burst to pursue the ball to finish plays. He will be a cornerstone player for the Cavs, perhaps as early as his freshman season.
8. Ermon Lane, WR
Watching Florida take on Miami this past weekend, it was obvious that the Gators need more offensive playmakers on the perimeter.
That is why head coach Will Muschamp would love to have 5-star receiver Ermon Lane this season. Yet, the lead Gator will have to wait until 2014 for Lane to provide a good spark to Florida's passing game.
Lane, who is 6'3" and 193 pounds, has good quickness in his release, solid speed and fantastic ball skills. He can separate from coverage, pluck passes in crowds and has the makings of a No. 1 receiver in Gainesville.
7. KD Cannon, WR
Baylor's offense lights up scoreboards every Saturday, so for the Bears to be getting a stud receiver such as KD Cannon, they will have another toy to play with on offense.
Cannon, who is 6'0" and 162 pounds, fits Baylor's spread offense well. He has great speed and quickness, and loves playing on the perimeter. Cannon can avoid traffic at the bottom of his routes, read coverages on the fly to settle in voids and has excellent hands.
He will set some some records in Waco.
6. Cameron Robinson, LT
Cameron Robinson is one of the best players in the country. The reason is he is ranked at this slot is because offensive linemen, let alone left tackles, usually do not walk on an SEC campus and make immediate impacts.
Also, Alabama has great offensive linemen on its roster and committed, plus incumbent left tackle Cyrus Kouandjio could return in 2014. However, if he leaves, look for the Robinson to get a shot to take his place.
At 6'5" and 330 pounds, the 5-star prospect has the potential to be a franchise left tackle. He bends naturally at the knees, explodes back when deep-setting to protect the passer and looks like a dancing bear.
5. Elijah Hood, RB
At nearly 6'0" and 222 pounds, 4-star running back Elijah Hood will be ready to carry the ball for North Carolina immediately next season.
Hood is a bell-cow who has great strength, quickness and solid vision. He can carry defenders for extra yards after contact, push piles and displays good build-up speed in the open field.
UNC head coach Larry Fedora operates a spread attack, but will incorporate some power-running plays with Hood on the roster next year.
4. Jalen Hurd, RB/ATH
Although he has played his last high school football game due to a shoulder injury, 5-star athlete Jalen Hurd should be ready to go for Tennessee next year.
Hurd, who is 6'3" and 220 pounds, looks like a power-runner, but actually runs with more speed and elusiveness. He has the ability to cut quickly, shows solid vision and has an impressive extra gear in the open field.
Hurd's size, speed, athleticism and hands will become immediate assets in Tennessee's offense.
3. Jabrill Peppers, CB/ATH
Jabrill Peppers is a 5-star athlete who is committed to Michigan. He is a versatile player who could make an impact at an array of positions, but cornerback may be where he begins his career in Ann Arbor.
Peppers, who is 6'1" and 205 pounds, has fabulous athleticism and instincts. He has good quickness in his backpedal, loose hips to explode out of transition and the short-area quickness to close on the ball in a hurry.
He is not afraid to support the run, fills alleys when he is on top of the defense and has the strength of a linebacker.
Peppers could also make an immediate impact as a returner on special teams, safety or receiver for Michigan.
2. Da'Shawn Hand, DE
A rugged and athletic defensive end, Da'Shawn Hand is physically ready to make the jump to college football. He is 6'4", 254 pounds and has great strength and quickness.
Hand plays with solid leverage, is powerful at the point of attack and flashes the ability to use his hands as weapons versus blockers. He can play defensive end and kick inside to tackle in sub-packages in a 4-3.
Hand, a 5-star prospect, also has the athleticism to play outside linebacker in a 3-4, plus he could develop into a good 5-technique defensive end.
Michigan, Alabama and Florida are his core schools, according to 247Sports.
1. Leonard Fournette, RB
Leonard Fournette, a 5-star running back, is capable of carrying the load for a SEC offense this season. He is 6'1", weighs nearly 230 pounds and looks like a junior in college.
Fournette has the strength to push piles, get yards after contact and wear defenses down with each carry. He also happens to have good speed to make long runs, solid quickness and above-average elusiveness with the ball.
Fournette displays good instincts, vision and a solid feel for setting up and following his blocks. To make matters worse for defenses, he also has great hands to make an impact as a receiver out of the backfield.
He will sign with LSU or Alabama, says 247Sports.
2014 Bleacher Report College Football Recruiting Heat Map
Many of the nation's biggest instant impact recruits can be found on the 2014 Bleacher Report College Football Recruiting Heat Map.
This is a mobile-ready tool that can serve as a valuable resource for recruiting fans. Use this interactive map to locate the best talent in the country!
Edwin Weathersby is the College Football Recruiting Analyst for Bleacher Report. He has worked in scouting/player personnel departments for three professional football teams, including the New York Giants and Cleveland Browns.
Keep Reading