Michigan Football: 5 Problems the Wolverines Must Fix Before Big Ten Play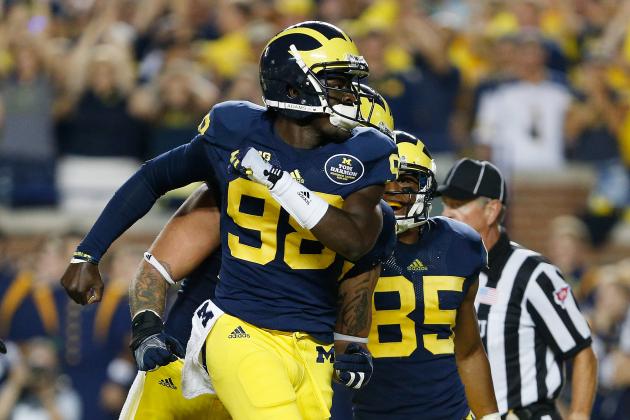 Gregory Shamus/Getty Images
Big Ten teams will have 98 problems this fall when they face Devin Gardner.
If there is one team screaming that it's ready for Big Ten opposition, it's the University of Michigan Wolverines.
After a pair of impressive non-conference victories—41-30 over Notre Dame and 59-9 over Central Michigan—Team 134's trail leading to its upcoming conference schedule has been set ablaze.
Quarterback Devin Gardner, a redshirt junior, catapulted himself into the national spotlight after throwing for 294 yards and four touchdowns Saturday against the then-No. 14 Irish (now No. 21).
With his No. 11 Wolverines hosting Akron this weekend, more of the same is expected from the former Inskter High standout, who made a routine of finding an open Jeremy Gallon at nearly every turn against Notre Dame.
The defense has been respectable thus far, save a few a mistakes of course. In Week 2, the front four had a difficult time establishing pressure on Notre Dame quarterback Tommy Rees, who attempted 51 passes but was sacked just once during the loss at The Big House.
Forcing quarterbacks into mistakes and applying endless pressure is always a plus—Michigan needs to work on its pass-rushing skills before colliding with the rest of the B1G.
Retooling the backfield will probably be a constant theme this season. Although senior Fitz Toussaint has demonstrated an improved northward running ability, his big-play prowess remains in question.
Despite a 22-yard run and 31-yard reception against Notre Dame, Toussaint has much more to offer his team than sporadic yardage—he is a former 1,000-yard rusher and, when fully charged, he packs a lethal combination of power and adequate speed.
However, freshman Derrick Green had a great debut against the Chippewas—maybe it's time to get him more carries, especially with the Zips coming to town.
Problems? More like issues to iron out before things get rolling. This slideshow will examine a handful of solutions for Michigan's deficiencies.
Begin Slideshow

»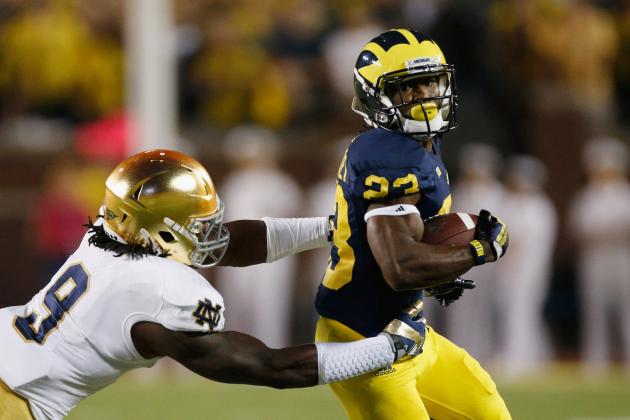 Gregory Shamus/Getty Images
At 5'7" and 169 pounds, Dennis Norfleet is pint-sized power.
Dennis Norfleet would be the most dangerous punt returner in the Big Ten if he kept his eyes glued to the ball; however, the sophomore speedster has more than once been caught looking ahead instead of focusing on catching punts.
Injury. Turnover. Or both.
That's what will happen if Norfleet doesn't pay attention.
The former Detroit Martin Luther King High star is due for a couple end-zone-to-end-zone returns this fall. His speed is difficult to match; once Norfleet breaks through the first wave of return defense, he's gone...off to the races, just a blur—OK. You get it. The guy is quick.
One of many special-teams weapons at Team 134's disposal, Norfleet can deflate the opposition with one run.
The solution to this problem is easy, and it starts with film sessions. Watching a few clips of guys getting annihilated on punt returns should do the trick. He's also playing slot receiver; the "wait to run" lesson applies here, too.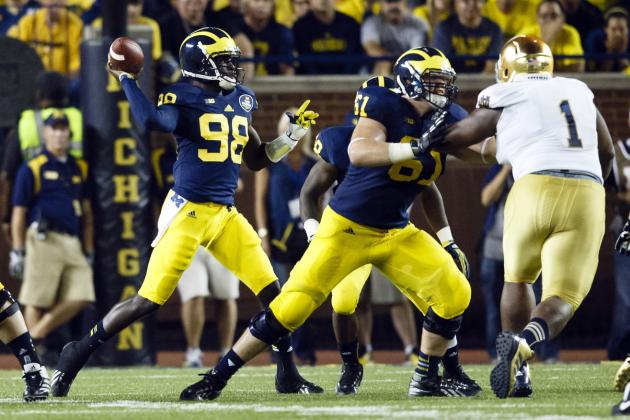 Rick Osentoski-USA TODAY Sports
Michigan's O-Line held its own versus Notre Dame.
Center Jack Miller, right guard Kyle Kalis and left guard Graham Glasgow should feel pretty good about themselves right about now. Together, the inexperienced underclassmen helped check the mighty Irish front—led by Stephon Tuitt and Louis Nix—during Michigan's resounding victory.
Despite playing well, work remains to be done. Building on what was done correctly and learning from what wasn't are the issues that need to be addressed.
Back Against The Wall
Smeared against his own goal line, Gardner chose to test his luck with a pass rather than throw the ball away or take a safety. Take away Tuitt's pick-six with 12:06 to play in the fourth quarter, and Michigan would have likely rolled to a much larger victory Saturday.
Part of the blame goes on Gardner and part goes on the O-line, which absolutely crumbled as Tuitt charged through like an angry Abrams tank.
That play has to be watched over and over again in order to emphasize the importance of that situation. A large lead was compromised. Secondly, it was a play that shouldn't have happened and was the biggest mistake Michigan made the entire game.
Knocking On The Door
Let's reverse the scenario. Now it's Michigan forcing its way into the end zone instead of trying to stay out of it.
The Wolverines ran for 166 yards against the Irish. The week earlier, Temple ran for 134. Running the ball works for offensive coordinator Al Borges, who will need a rock-solid line to have any type of success on the ground this fall.
It was a small step, but it was one in the right direction: The O-Line looked great during Gardner's two-yard touchdown run in the second quarter. Coach Brady Hoke appeared baffled by the decision, but Gardner took what his line gave him, and that was a gaping hole through which to run.
In the fourth quarter, the line gave Gardner plenty of time to find Drew Dileo for a four-yard touchdown. When it comes to kicking down the door at the goal line, the offensive line proved able and willing to do its job.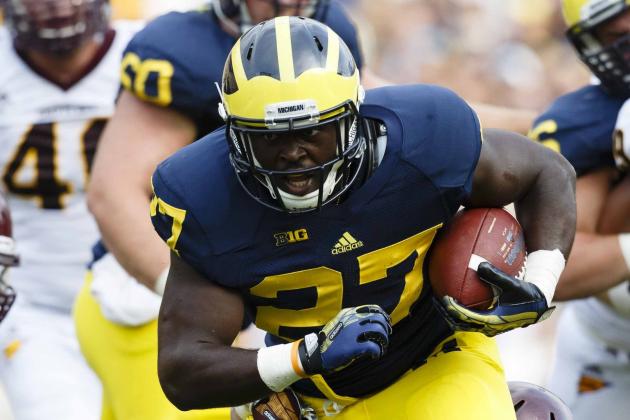 Rick Osentoski-USA TODAY Sports
Derrick Green rushed for 58 yards against CMU but had -1 against Notre Dame on one carry.
Borges likes a featured back and two-back system. In reality, he probably prefers whichever method works out best.
Toussaint hasn't been overly impressive. Drake Johnson is out for the year with a torn ACL. That leaves freshman Derrick Green to claim the backup role. He received considerable praise after his 58-yard debut versus Central Michigan.
According to MGoBlog, Borges said the following about Green during a Sept. 3 press conference:
Oh he's a pounding type back. He's a good, strong kid that I'm sure they feel him when they tackle him. It was a great opportunity to get him the ball to run some, because it was the first game of the season, you never know what's going to happen. We got him some carries, and he got a feel for college football. Freddy [Jackson]'s on him now to fix some of the things he did wrong, but I thought for the first time he did a good job.
When asked about Green's place on the depth chart, Borges said this:
He carried the ball, didn't fumble it, number one. That's huge. You don't want to assume that. Didn't fumble it. Didn't make a lot of bad running decisions. Ran the ball pretty much where we wanted him to. So he grew a little bit. I don't know if that means anything, but he grew a little bit with those carries.
Michigan ran the ball 39 times Saturday. Toussaint had 22 carries, Gardner had 13 and Green had one. The Wolverines have to find a way to work Green into the fold. If not Green, trying Thomas Rawls, De'Veon Smith or Justice Hayes might work.
At this point, having a quarterback as the No. 2 rusher doesn't look good. And if Green is making smart decisions, why not give him more opportunities?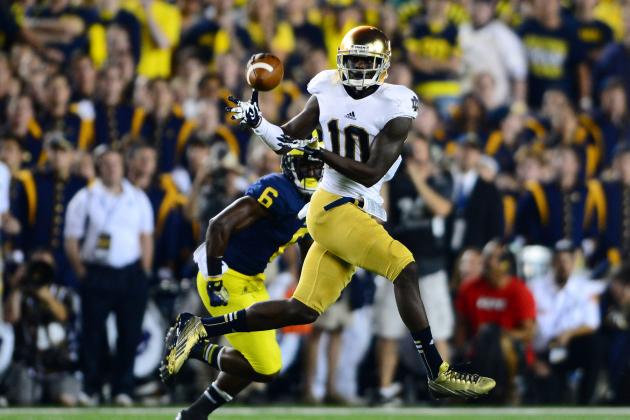 Andrew Weber-USA TODAY Sports
DaVaris Daniels had six catches Saturday.
Saturday, Tommy Rees threw for 314 yards, two touchdowns and connected with eight receivers. Of those eight, three tallied 60 or more yards and had at least six catches.
The Irish senior did well when distributing the ball. He picked at the subtle weaknesses of the Wolverines' secondary. Michigan's defensive backs did enough to limit the big play, which is definitely worth recognizing.
The following stat, courtesy of ESPN, puts the secondary's job into perspective, however.
NEXT LEVEL: After completing 56% of his passes thrown 15 yards or longer last week against Temple,

Tommy Rees

struggled on such throws Saturday against Michigan. Rees barely completed 30% of such throws against Michigan, including going 0-for-5 in second half.
Rees connected for a 20-yard touchdown and a 21-yard completion with tight end Troy Niklas. At 6'7" and 270 pounds, Niklas proved to be a difficult task for safeties and corners. Michigan defensive coordinator Greg Mattison has to stress tackling. Niklas was on the verge of taking over the late stages of the game. Size at tight end is common in the Big Ten. Placing an emphasis on defending the big-bodied pass-catchers is a must.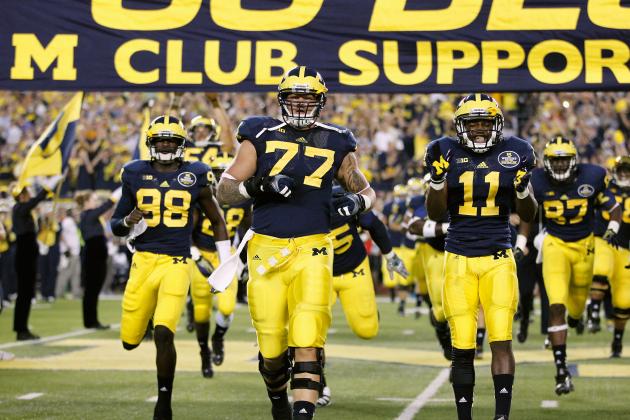 Gregory Shamus/Getty Images
Taylor Lewan is one of the best LTs in the game.
Taylor Lewan has an interesting take on penalties.
"I don't think anything should ever be a penalty when I'm being penalized," the All-American left tackle said to MLive.com's Josh Slagter after Week 1's victory.
Caught for two infractions against the Chippewas, Lewan vowed to improve against Notre Dame, which he did. The most noticeable mistake on the offensive line was by Jack Miller, who was called for a 10-yard holding penalty in the second quarter. Other than a false start, the line was relatively clean.
But nickelback/special teamer Dymonte Thomas had a 15-yard personal foul that could have led to points, had Blake Countess not intercepted Rees' pass four plays later.
Playing without error is nearly impossible, but Michigan will be a much more effective team once the minor miscues are put in the rear view.
Follow Bleacher Report's Michigan Wolverines football writer Adam Biggers on Twitter @AdamBiggers81