Andy Carroll Injury: Updates on West Ham Star's Foot, Likely Return Date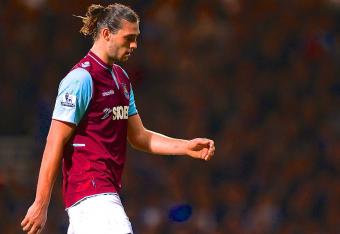 Updates from Friday, Nov. 29
Andy Carroll is finally closing in on a Premier League return after Sam Allardyce delivered a positive update on the West Ham striker on Friday.
Carroll has been recovering from a foot injury, but Allardyce believes the end of the tunnel is near, per the club's official website:
We hope Andy will be back with us next week to start some training.

It's tentative in our approach to it. We have to be careful - we can't get over-anxious and push Andy too hard, we can't do anything other than what the specialists are saying, no matter how desperate our situation may become.

When Andy's fit, we've got to get him fit to stay fit, not fit to a point where he may pick up another injury.

We'll monitor it on a day-to-day basis and push forward his training on a level based on how he feels. Having not played a game since last May, it will take him some time to get him into a match fitness situation.
From Andy Carroll, via West Ham's official website:
I'm doing well over in Belgium and I'm enjoying working out there with Lieven (Maesschalck) and it's going great. I am working hard every day and if I keep doing that then it shouldn't be too much longer.

I've kicked on a bit from when I first went over there [three weeks ago]. I was in a boot and on crutches but it's obviously feeling a lot better and I'm starting to do heavier work, rather than just balancing. I'm starting to use weights and squatting a bit more, which is putting more pressure on my foot, which is a positive.

Lieven has done a lot of things and had good things said about him, so it's brilliant for me to be working with someone like that. Hopefully, he can do with me the same as he has done with everyone else.
From Sam Allardyce, via Sky Sports:
I will be speaking to the specialist on Monday to see whether he can give us at least a date when he thinks he will be able to come back to us.

He is still improving week by week and is probably due back with us I would hope. It is very important we get him back as quickly as we can as I don't want to be continuing to play with no front man.
UPDATE: Friday, Sept. 20
From Laura Whitwell of the Daily Mail:
Although no one at West Ham is prepared to put a time-frame on Carroll's recovery, Allardyce suggested on Thursday that he could have his main frontman back before the turn of the year.


When asked if Carroll could be missing for the remainder of 2013, Allardyce replied: "I don't think we can say that at this moment in time.


"It's a week by week assessment now guided by the specialists who are in charge of his recovery."
UPDATE: Friday, Sept. 13
From West Ham's official website:
West Ham United can confirm that Andy Carroll has suffered an injury to his plantar fascia. There is no timescale as to a possible return yet, although the injury is not as serious as in the last instance.

Hammers boss Sam Allardyce said: "It is not an Achilles injury, as has been suggested but instead it involves the band of tissue which runs under the foot.

"According to the specialist the chance of a recurrence of that type of injury is about four per cent but unfortunately for Andy he was one of the unlucky ones.

"He doesn't need an operation but we need to give the foot time to re-heal, continue the rehab and get him back in training again."
UPDATE: Wednesday, Sept. 11
From Darren Lewis of the Daily Mirror:
Andy Carroll will fly to Holland today to see a specialist after his latest injury setback.

The £15.5 million West Ham striker is expected to be out until the New Year after popping his troublesome heel in training earlier this week.

It will still be days, if not weeks before the Hammers will be able to determine exactly how long Carroll will be out.
Fans waiting to see Andy Carroll's 2013-14 EPL debut are likely going to be kept waiting in anticipation.
According to the club's official website, this summer's record signing has suffered another foot injury:
West Ham United can confirm that Andy Carroll suffered an injury to his right foot during his return to full training today.

Although it is in the same part of his foot as his previous injury, it is a new injury and therefore there will be no prognosis until he has seen a specialist.
While the severity of this injury is still unknown, the Daily Mail's Sami Mokbel reports that Carroll "looks certain to face a long period on the sidelines."
That is still speculation, however, and nothing official has been announced. Until then, fans will simply have to hold their breath that the 24-year-old's injury isn't serious.
After Carroll, on loan from Liverpool, scored seven goals and tallied four assists in 24 appearances last season, manager Sam Allardyce decided to pull the trigger, signing the big forward on a transfer fee of £15.4 million, the biggest in club history, per TransferMarkt.co.uk.
Unfortunately for the Hammers, the full-time move has yet to pay any kind of dividends.
After missing 14 of 38 matches last term, he had been unable to get fit this season, missing West Ham's first three EPL contests with a different foot injury.
This newest malady just further strengthens the "injury-prone" label for the player who once joined Liverpool on a £35 million move.
There's no doubt that he has potential. He is strong, powerful and has good positioning, and at 6'3", he is a truly dangerous threat in the air.
If he can never prove healthy enough to stay on the pitch, however, those traits will be wasted.
Without Carroll so far this season, the Hammers have notched four points in three matches and sit in a tie for seventh on the table.
This article is
What is the duplicate article?
Why is this article offensive?
Where is this article plagiarized from?
Why is this article poorly edited?