Long-Term Goals for Gareth Bale's Career at Real Madrid
Use your ← → (arrow) keys to browse more stories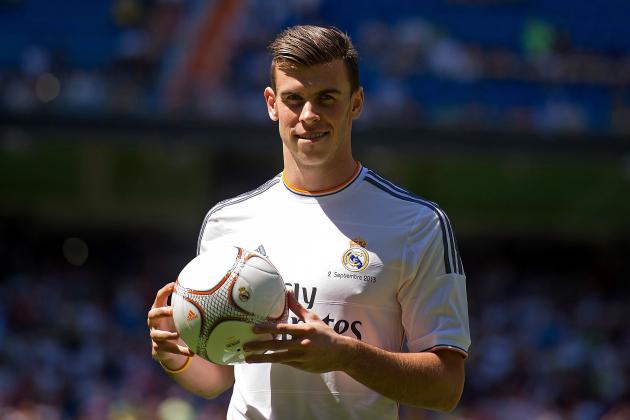 Denis Doyle/Getty Images

Short-term, Gareth Bale will be hoping to make his La Liga bow when Real Madrid travel to Villarreal this weekend, but what should his goals be for the future?
With so much to be achieved at the Bernabeu following his world-record move from Tottenham and, relatively speaking, so little time to do it, the Welshman will have his work cut out to complete all of the targets he may have set himself.
B/R take a look at some of the things he'll be looking to get done in Spain.
Learn Spanish
The 24-year-old offered up a few choice words in Spanish at his unveiling last week, just a few though.
Considering he's not lacking in money, he may want to consider shelling some out for private language lessons once he's settled in Madrid—it would surely be appreciated by his "companeros," who are predominantly Spanish speakers.
With a bit of luck, in a few more years he'll have more confidence speaking the lingo in front of the cameras than David Beckham managed in the Spanish capital.
And a handy tip while he is learning and still speaking in English to the media: Don't go the way of Steve Mclaren and Joey Barton previously.
La Decima
This is the one that can make Bale a hero. Win the Champions League—playing a major part—and present the fans with La Decima, and he will forever be ingrained in the club's history.
Paco Buyo, a former Real Madrid goalkeeper, is one of a number of people already thinking that "with Bale and Ronaldo, Madrid will have a fantastic team which can win the Champions League," as reported by Ben Hayward of Goal.com.
Obviously the dream scenario would be to score a hat-trick in the final against Barcelona, with one of them bettering Zinedine Zidane's effort against Bayer Leverkusen, but winning the club's 10th European Cup would do for now.

La Liga and Copa del Rey
Real Madrid are 32-time winners of La Liga and 21-time runners up. On top of that, they've won the Copa del Rey 18 times and have been beaten finalists on 20 occasions.
Surely, if Bale hangs around for more than one season, he'll have to win one of these? If not both?
If Los Blancos fail to win anything, then panic stations set in—even if they're runners-up in all three competitions—so Bale will have to do his best to help tick these two off his, and the club's list of things to get done this season.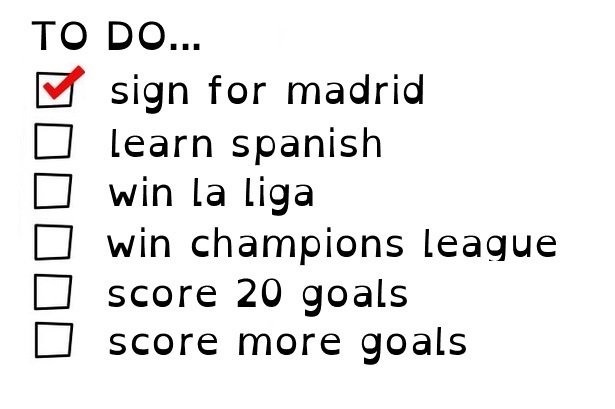 Marketing and shirt sales
Much has been made of the marketing value of Bale, but the goal of raking in the pounds for Florentino Perez through marketing and shirt sales remains slightly out of his hands.
However with good performances, that should all fall into place.
He's not off to a good start, though. A report from Richard Arrowsmith of the Daily Mail says that early signs suggest that Mesut Ozil Arsenal shirts are outselling Gareth Bale Real Madrid shirts by a ratio of 5-to-1—a few goals should change that.

Cope with the pressure
According to Manchester United's Rio Ferdinand, a one-time record English signing and close friend of Cristiano Ronaldo, Bale is about to experience a pressure he has never felt before, as reported by Nick Harris of the Daily Mail:
He's a top footballer but he's facing pressure now like he's never had before. There will be a pressure on him to play, even when he's injured. And he'll have to score. And sometimes a goal won't be enough to keep that crowd happy. Winning 2-0 might not be enough. The pressure is going to be something else.
Things are going to be much more intense than his days at Tottenham were. Adjusting to his surroundings in the pressure cooker of the Spanish capital should be near the top of his to-do-list.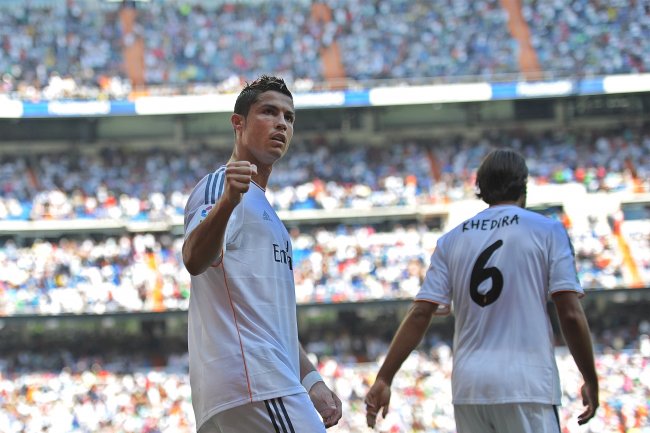 Denis Doyle/Getty Images
Score at least 20 goals a season
Ferdinand continued by saying Bale "will be expected to score" in La Liga. The former Southampton youngster will know that and probably already has goal targets in mind.
Considering his late arrival due to the drawn-out negotiations between Perez and Daniel Levy, plus the fact he's carrying a slight knock, 20 goals should be his immediate target.
Playing alongside Cristiano Ronaldo, who has scored over 200 goals in his four years at Madrid, means he'll have to find them mainly from open play—the Portuguese has the monopoly on free kicks and penalties.
Moving forward that won't be enough to satisfy the Bernabeu supporters, though, given the feats achieved by Ronaldo and Lionel Messi recently, so he'll eventually have to turn himself into the man who scores around 30 goals a season.