Offseason Free-Agent Bets Guaranteed to Pan out During 2013-14 Season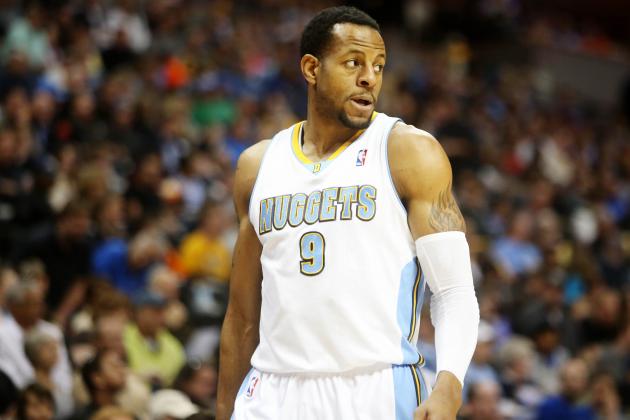 Chris Humphreys-USA TODAY Sports

The NBA offseason is all about balancing risk with reward, but sometimes teams have to make bets that aren't exactly sure things.
In poker, sometimes you have to go all-in on a three of a kind and hope it works out. In golf, sometimes you must just go for the green. In football, sometimes it's beneficial to trust your receiver and throw into a double-team.
Well, in the NBA, sometimes it's necessary to make a gamble during the free-agent period.
These are gambles, but they're also the ones that are most likely to work out in a positive way. To qualify for this article, the move must actually be a "bet." Something must be on the line, whether it's money, an opportunity to sign a different player or something else entirely.
Bets have to be won by one party, and in each of these seven cases, that party is the team making the acquisition in question.
Begin Slideshow

»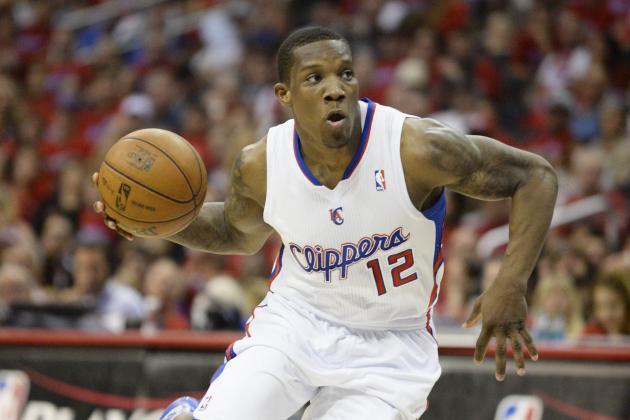 Richard Mackson-USA TODAY Sports

Team: Phoenix Suns
Position: PG/SG
Age: 23
2012-13 Per-Game Stats: 8.5 points, 3.0 rebounds, 3.1 assists, 1.4 steals, 0.7 blocks, 17.5 PER
Eric Bledsoe wasn't technically a free agent during the 2013 offseason—he's saving that for 2014, when he hits the market as a restricted free agent—but he was still a prominent enough figure that he needs to be included.
Trading for him was a big gamble for the Phoenix Suns. The move directly involved J.J. Redick, who just happened to be an actual free agent. So bear with me, because he's worth a featured spot in this article.
The Suns are firmly in the rebuilding process, which means that Bledsoe is a big part of their future plans. If he pans out, of course.
The plan will be playing him at shooting guard and letting Phoenix maximize the on-court talent by throwing out a backcourt that prominently features both Bledsoe and Goran Dragic. So, can he work at the 2?
According to 82games.com, he can.
Bledsoe posted a 17.3 PER while playing point guard, and that number rose astronomically to 23.6 when he lined up at the 2. Unfortunately, the PER he allowed to opposing guards followed a similar pattern. That trend isn't a good sign, but it's quite fixable since Bledsoe is still only 23 years old and has shown plenty of high-quality defensive tools.
A season of work could make him a premier defender of shooting guards, and his innate off-ball skills on offense only need to be honed, not taught.
Phoenix isn't going to regret this gamble. Not even a tiny bit.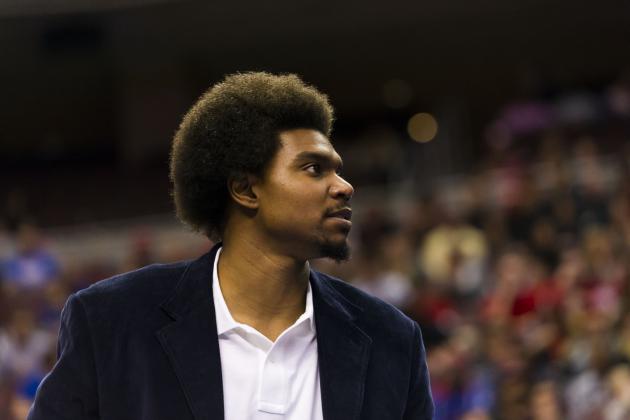 Howard Smith-USA TODAY Sports

Team: Cleveland Cavaliers
Position: C
Age: 25
2012-13 Per-Game Stats: N/A
Andrew Bynum was an incredibly big gamble for the Cleveland Cavaliers, except that he actually wasn't.
At first glance, a two-year deal worth $25 million seems like way too much money to spend on a 7-footer who just missed an entire season.
But then you look more carefully and realize that the deal is in no way guaranteed. Only $6 million of his 2013-14 salary is guaranteed, and the second year is fully non-guaranteed. So if Bynum doesn't pan out, his contract doesn't really hurt the Cavs.
That said, I actually have confidence that Bynum will be a good investment for this up-and-coming team in the Eastern Conference.
His activities and quotes throughout the offseason make it seem like he's taking the rehabilitation process much more seriously than he did with the Philadelphia 76ers. While he hasn't been cleared for full basketball activities yet, there's still a long way to go before he's expected to contribute.
The rest of the frontcourt rotation eases the pressure on Bynum as well. Thanks to Tristan Thompson, Anderson Varejao, Anthony Bennett and Tyler Zeller, there's no need for him to rush back, and he won't be counted on for major minutes until he's proven his health.
It's a great situation for the Cavs, and it's the definition of a "win/win" scenario. Literally the worst thing that could happen is Bynum costing the team $6 million and failing to make an impact as the rest of the playoff-caliber talent carries the squad.
The biggest reason that this is still labeled as a "bet" is simply that signing Bynum prevented the Cavs from getting a veteran who would be more of a sure thing. His contract still counted against the salary cap enough that it prohibited other moves, and that's what could still come back to bite Cleveland.
Just keep him away from Cleveland's bowling alleys.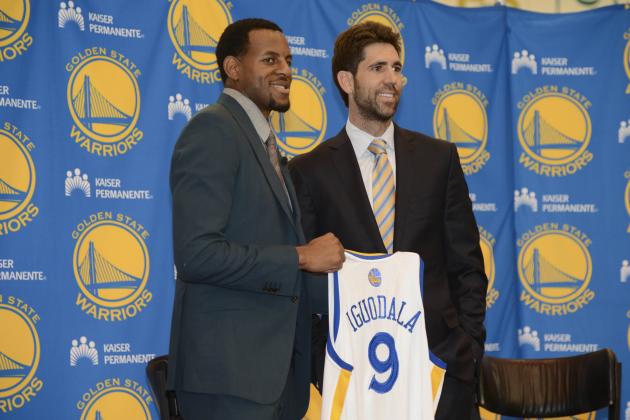 Kyle Terada-USA TODAY Sports

Team: Golden State Warriors
Position: SG/SF
Age: 29
2012-13 Per-Game Stats: 13.0 points, 5.3 rebounds, 5.4 assists, 1.7 steals, 0.7 blocks, 15.2 PER
Andre Iguodala signed with the Golden State Warriors for a rather hefty sum, and in doing so, he completely unloaded all of the future financial flexibility this club once possessed. The Dubs had to trade away the expiring contracts of Andris Biedrins, Richard Jefferson and Brandon Rush to clear up enough cap space to sign him, and that takes them out of the 2014 free-agent picture.
Will he be worth it?
Absolutely.
Golden State was the surprise contender during the 2013 playoffs, even testing the San Antonio Spurs before ceding to the eventual Western Conference champions. That was no fluke, and the team got even stronger through the addition of the swingman.
Iggy gives the Dubs another ball-handling presence, one who can draw enough defensive attention that he'll open things up even more for the Splash Brothers. If Stephen Curry and Klay Thompson don't finish Nos. 1 and 2 in three-pointers made again, I'd be pretty surprised.
But he also allows for a lot of lineup flexibility.
Golden State can now play Iguodala at the 2 and have Harrison Barnes at small forward. Mark Jackson could also go with the more conventional lineup, playing Thompson and Iguodala together on the wings. Or the Warriors could play small ball with David Lee serving as the sixth man and all of the aforementioned perimeter players on the court together.
Plus, there's his defense.
This was one of the best signings of the offseason, and it will prove to be well worth the future flexibility and current dollars Golden State lost.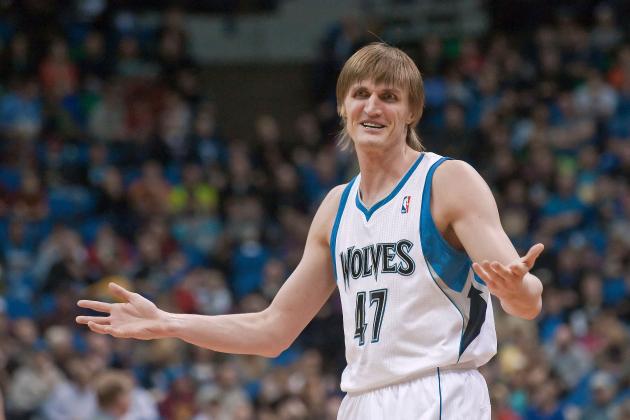 Greg Smith-USA TODAY Sports

Team: Brooklyn Nets
Position: SF/PF
Age: 32
2012-13 Per-Game Stats: 12.4 points, 5.7 rebounds, 2.8 assists, 1.5 steals, 1.0 blocks, 17.6 PER
Is it possible to find a better bargain sixth man than Andrei Kirilenko, whom the Brooklyn Nets somehow convinced to sign for the mini-mid-level exception after he opted out of an eight-figure salary?
My vote is no.
AK-47's versatility makes him the perfect guy to come off the bench for the elderly Nets. Kirilenko can capably play small forward and power forward, but he's been known to play minutes at shooting guard and center in the past.
The risk here is simply that Kirilenko is too good for a role off the bench. That's the only thing making it a "bet." Since he gained the starting role for the Utah Jazz during his rookie season, he's been the full-time starter for all but two seasons.
But this won't be a problem while he's calling the Barclays Center home.
Kirilenko's career has been defined by doing the little things. He's a premier stat-stuffer, but only because he plays with constant energy and is willing to do both what gets recognized and what often goes overlooked.
He'll just have to consider the sixth-man role a little thing now.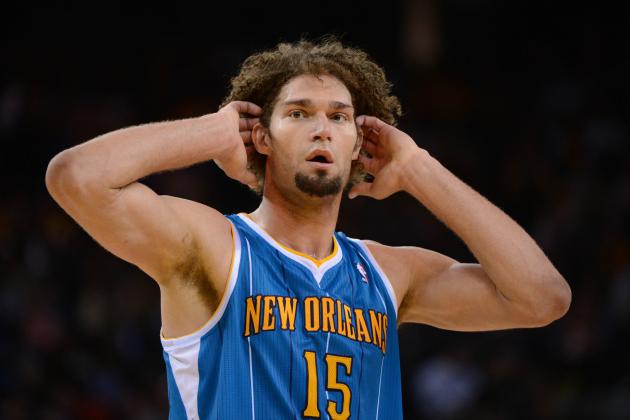 Kyle Terada-USA TODAY Sports

Team: Portland Trail Blazers
Position: C
Age: 25
2012-13 Per-Game Stats: 11.3 points, 5.6 rebounds, 0.8 assists, 0.4 steals, 1.6 blocks, 18.9 PER
The Portland Trail Blazers took a big risk when they inserted themselves into the sign-and-trade that sent Tyreke Evans to the New Orleans Pelicans. Not because they gave up a lot for Robin Lopez, but because that move locked them into a certain course of action.
If you only look at the Blazers' part of the three-team trade, it looks like Rip City gave up cash, two second-round picks (2016 and a future selection yet to be named) and Jeff Withey for Terrel Harris and Lopez. That's not a lot to part with.
However, acquiring Lopez meant that Portland was pinning its hopes on the long-haired Stanford product as the center of the present, one who could play enough defense that LaMarcus Aldridge's desire for winning would be sated.
It's a smart decision, as Lopez is one of the most underrated defensive players in basketball.
According to Synergy Sports (subscription required), the former Cardinal allowed 0.81 points per possession, leaving him as the No. 72 qualified defender in the Association. He was particularly strong guarding roll men in pick-and-roll situations, which will take pressure off Damian Lillard's perimeter defense.
In fact, Lopez allowed only 0.58 points per possession to roll men, a mark beaten by only six players. That's not just elite; it's über-elite.
Lopez won't provide much in the way of offense or rebounding, but he's worth starting just for that defensive presence and the ability to let Aldridge thrive even more on offense with his lessened responsibility on the less glamorous end of the court.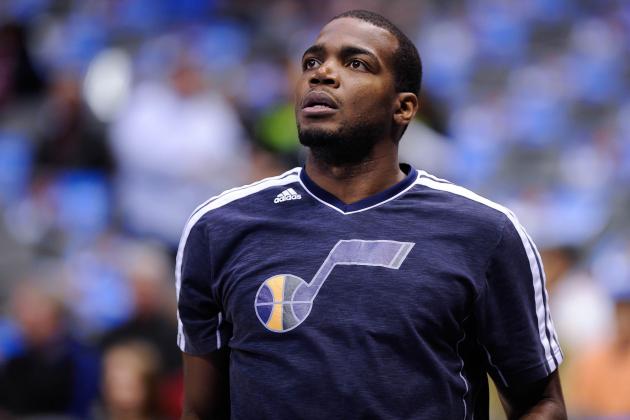 USA TODAY Sports

Team: Atlanta Hawks
Position: PF
Age: 28
2012-13 Per-Game Stats: 14.6 points, 7.1 rebounds, 2.6 assists, 1.3 steals, 1.0 blocks, 19.8 PER
The Atlanta Hawks made a big short-term investment by inking Paul Millsap to a two-year, $19 million contract. They also locked themselves into playing an undersized lineup.
Both Millsap (6'8") and Al Horford (6'10") are short for their positions, and the combination makes for a frontcourt that's lagging behind in the height department by a rather significant margin.
Fortunately for the Hawks, height is one of the more overrated measurements in basketball.
Which is more important? How high above the ground the top of your head is, or the highest point that you can reach without jumping?
Your answer should be the latter, as that factors in the length of arms and where the height comes from. Having a long neck does nothing to help against taller players, but extra inches in the torso or legs can make a big difference. That's why standing reach is a much more applicable measurement.
According to DraftExpress, Horford had a standing reach of 8'11" when he was drafted in 2007. Millsap's was 8'9.5". The average standing reaches for centers and power forwards, based on the historical databases, are 9'1.3" and 8'10.5", respectively.
So while the duo is still a little undersized by this measurement, it's not by as much as you think.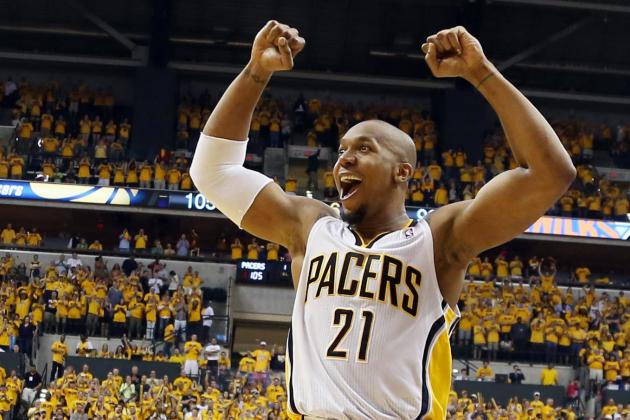 Brian Spurlock-USA TODAY Sports

Team: Indiana Pacers
Position: PF
Age: 33
2012-13 Per-Game Stats: 17.1 points, 7.7 rebounds, 2.9 assists, 1.0 steals, 0.9 blocks, 20.1 PER
Re-signing David West was a must for the Indiana Pacers, even if it's risky because it makes it tougher to bring back Paul George, Danny Granger and Lance Stephenson during the 2014 offseason.
Few players were able to make as large a two-way impact as West did throughout the 2012-13 campaign.
As shown by Basketball-Reference, the Indiana Pacers scored 99.6 points per 100 possessions and allowed 100.4 without West on the court. With him, they scored 107.9 and allowed 99.6.
Think about that for a second.
The team that took the Miami Heat to the brink of elimination in the Eastern Conference Finals was actually outscored when West sat. And that's accounting for the fact that the squad also boasted some scrubs named George Hill, Paul George and Roy Hibbert, who did actually play while West was on the bench.
Although George and Hibbert were both better players, it was West who was most crucial to the team's success. The Pacers had to bring him back in order to remain among the elite teams in the Eastern Conference, even with the return of Danny Granger and the addition of bench depth.