6 USMNT Players Who Must Step Up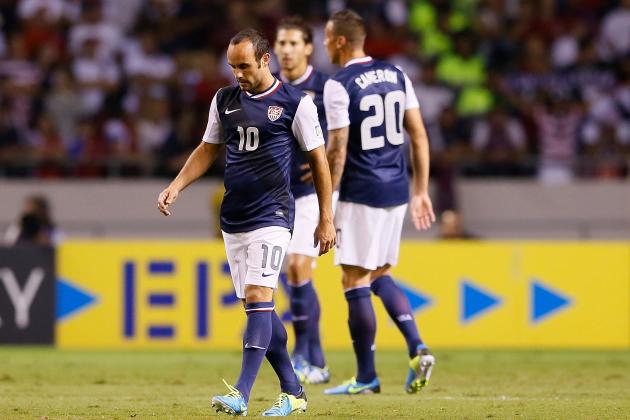 Kevin C. Cox/Getty Images

The United States men's national team's World Cup qualifying hopes took a slight hit after their disastrous performance on Friday night against Costa Rica (L, 3-1).
On Tuesday, the U.S. will face traditional CONCACAF powerhouse Mexico, who is dealing with much worse problems with their qualification effort. They lost at home to Honduras, 2-1, and subsequently fired their head coach.
Against Mexico, the USMNT will need much-improved performances from many of their players to right the ship and put the U.S. back on track to Brazil and the 2014 World Cup.
Here are six of those players.
Begin Slideshow

»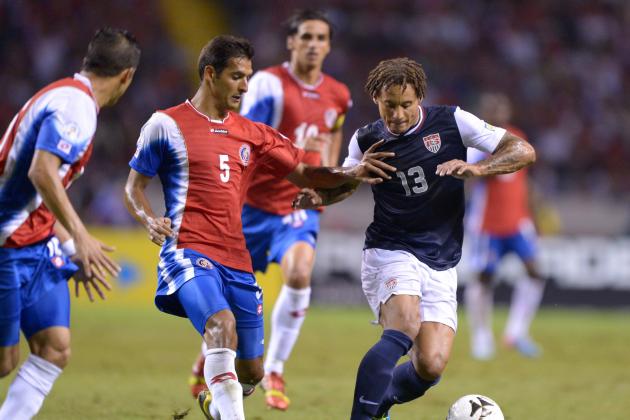 Kirby Lee-USA TODAY Sports

No player in the USMNT pool is more controversial among fans right now than Jermaine Jones. While some continue to believe that his pedigree—including years in the Bundesliga and Champions League—merits his inclusion in the lineup, a growing contingent of U.S. fans see him as dead weight.
One thing that can't be debated, however, was Jones' team-leading 22 giveaways on Friday night. Especially in the first half, Jones was a turnover machine, killing any chance the U.S. had of keeping the ball and starting a counterattack.
It is extremely unlikely that Jones is benched considering head coach Jurgen Klinsmann has repeatedly started the midfielder after subpar performances in the past. Either way, Jones need to step his game up on Tuesday.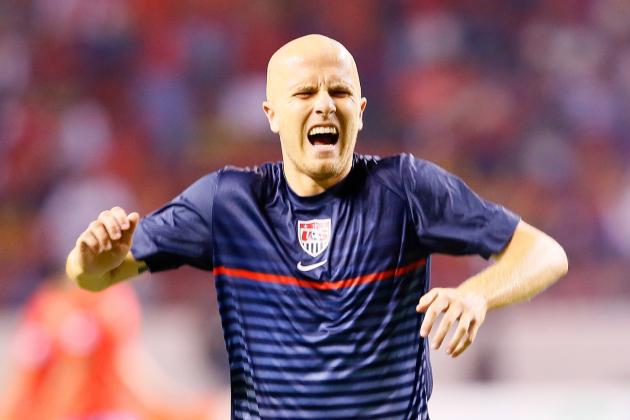 Kevin C. Cox/Getty Images

With Michael Bradley injured and Geoff Cameron suspended, it's anyone's guess who Klinsmann starts alongside Jones in the midfield. Mix Diskerud could add some much-needed possession to the U.S. attack, but this would be one helluva game to give him his first real test with the USMNT.
Kyle Beckerman seems to be the safe choice, but starting with a Jones/Beckerman combination would seem like a white flag to Mexico with both players known far more for their defensive work than their offensive prowess.
Finally, Klinsmann called up Jose Torres this week. While Torres usually plays wide for the U.S., he has vast experience as a box-to-box center midfielder on the club level.
Whoever gets the nod is going to need to replace a pretty big pair of Michael Bradley-sized shoes.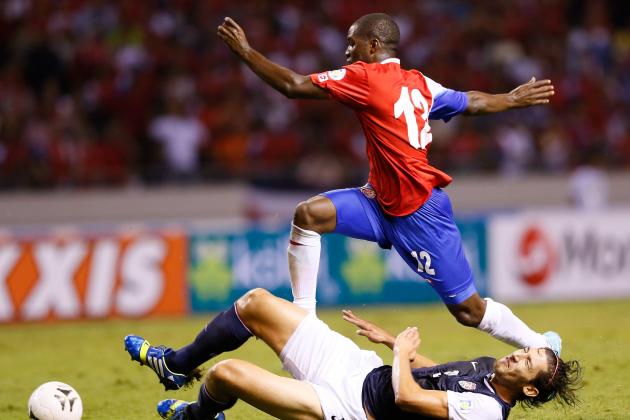 Kevin C. Cox/Getty Images

Omar Gonzalez did not play a poor match against Costa Rica. In fact, it was one of the few games for the USMNT over the last six months in which he did not make a key defensive error.
The reason that Gonzalez needs to perform better is simple: Matt Besler and Geoff Cameron aren't available because they are suspended due to yellow card accumulation, and John Anthony Brooks was sent back to his club, Hertha Berlin.
That means that Gonzalez will be partnered with either Michael Orozco or Clarence Goodson against Mexico.
He's going to need to have a huge game for the U.S.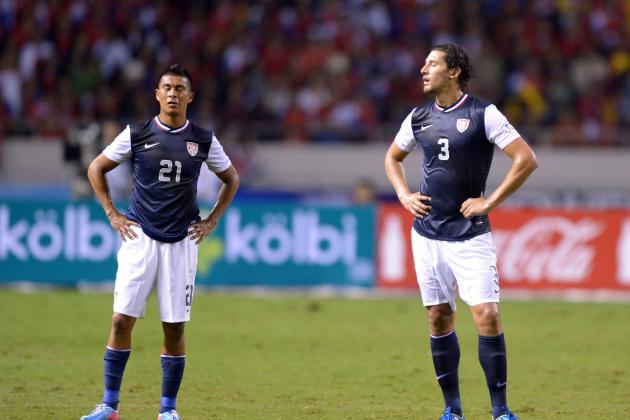 Kirby Lee-USA TODAY Sports

It is very likely that, despite his iffy performance against Costa Rica on Friday night, Michael Orozco will start against Mexico. Unless Klinsmann makes the risky decision of starting Michael Parkhurst, who hasn't played a competitive match in six weeks, Orozco will be the U.S. right-back for Tuesday.
If Klinsmann does go with Parkhurst, there's still a good chance Orozco starts at center-back alongside Omar Gonzalez. Clarence Goodson simply doesn't have the speed to contend with Mexico's pacey attackers.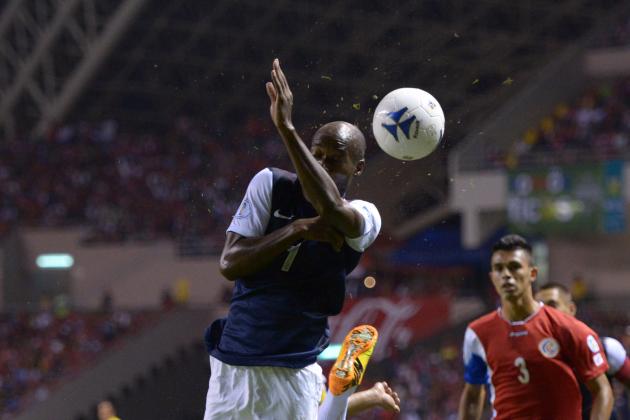 Kirby Lee-USA TODAY Sports

With DaMarcus Beasley putting in a less-than-confidence-inspiring performance on Friday night, Fabian Johnson may get the call in the back. But whoever lines up there will need to put in a solid effort to contain Mexico, which has its back against the wall and will come out swinging.
The U.S. has a bevy of talented wingers, so it makes little sense to start Johnson in the midfield with Beasley in the back, but Klinsmann has insisted on doing that anyway, time after time.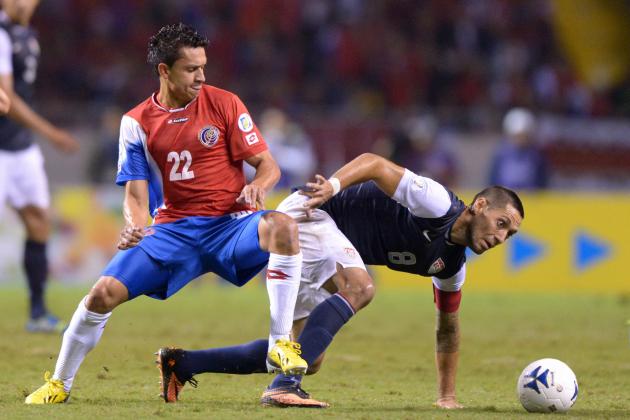 Kirby Lee-USA TODAY Sports

If the Dempsey/Donovan pairing starts, both will need to put in a better effort. Other than his penalty, Dempsey only had one solid effort at the net—a shot from outside the box that he kissed off the post.
Donovan was just starting to get hot in the second half and find space behind the Costa Rican defense when Klinsmann moved him out wide, effectively limiting his impact. Wherever Dempsey and Donovan play, the two greatest goal scorers in American history need to do better.
Eddie Johnson is a legitimate choice up top as well, and his performance in the Gold Cup solidified his place among the team's top attackers. Johnson's pace is also a good deterrent to Mexico's overcommitting its defenders forward, and Johnson's ability in the air could give Mexico fits.
Aron Johannsson could also get the surprise nod. He has five goals in seven games this season for AZ Alkmaar and looked good for the U.S. against Bosnia in a friendly last month.
Follow me on Twitter @JohnDHalloran
Follow me on Facebook www.facebook.com/AmericanTouchline