The Life and Times of Nicklas Bendtner at Arsenal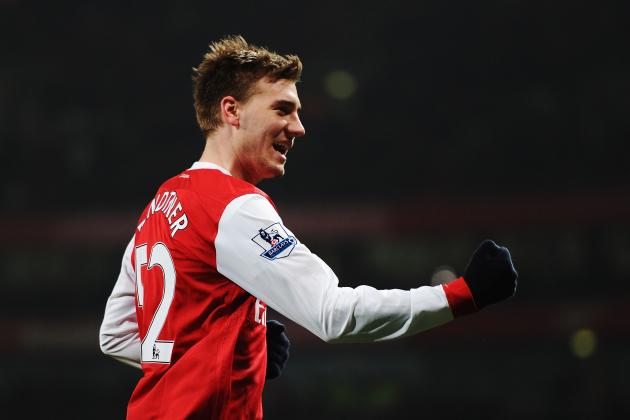 Laurence Griffiths/Getty Images

For better or worse, Arsenal are stuck with Nicklas Bendtner.
The Gunners' failure to sign a striker on transfer deadline day meant that Arsene Wenger was forced to hold on to the Danish target man.
When Bendtner's potential move fell apart, he released a statement via Twitter assuring Arsenal fans that he will "give everything" for the Gunners.
Bendtner has subsequently been handed the No. 23 shirt and is gearing up to spend the next few months as Olivier Giroud's backup.
In this article we take a look at some of the high and low points of Bendtner's Arsenal career. His nadirs are well-publicised, but some of his brighter moments are easily forgotten.
The next few slides demonstrate that he's capable of being awesome as well as awful.
Begin Slideshow

»
This is an archetypal Nicklas Bendtner goal.
Just seconds after coming on as a substitute, Bendtner rose highest to meet a Cesc Fabregas corner and power a header beyond Tottenham's porky goalkeeper, Paul Robinson.
Back in 2007, this goal seemed to be the start of something. Bendtner was only 19 and had the world at his feet.
However, as this goal proved, he was most dangerous with his feet.
In March 2010, Arsenal hammered Porto 5-0 in the second leg of a Champions League knockout tie.
In the absence of Robin van Persie, Nicklas Bendtner was handed a chance to start as Arsenal's central striker and responded by scoring a hat-trick that was sealed by a stoppage-time penalty.
Three goals inside 90 minutes in Europe's elite competition is no mean feat.
It might surprise you to be reminded that Nicklas Bendtner has scored in the Nou Camp.
He turned in Theo Walcott's cross to give Arsenal a thrilling lead back in April 2010.
However, within two minutes Lionel Messi scored the first of what would ultimately be a four-goal haul. Unsurprisingly, Bendtner's moment of glory was forgotten.
When this Emirates Cup tie took place in 2007, Nicklas Bendtner was just 19. However, there was a worrying early sign of the hubristic flaws in Bendtner's character.
The Dane stepped up to take a penalty kick with arrogance and sloppiness. Unsurprisingly, he saw his effort saved.
This might be Nicklas Bendtner's most accomplished finish in an Arsenal shirt.
He has a reputation as a burly target man, but this goal demonstrates the finishing finesse he is occasionally capable of.
Bendtner drops his shoulder, ducks inside and bends a beautiful shot in to the top corner. If he had produced moments like this more regularly, his career might have taken a rather different path.
The player in red and white swerves inside before smashing in a wonderful long-range effort. If you didn't know better, you'd guess this goal was scored by Thierry Henry.
It's not: it's Nicklas Bendtner.
The reason Arsenal fans get so frustrated with the Danish front-man is that moments like this lead them to believe he is capable of great things—if he could only find the application to match his enormous self-belief.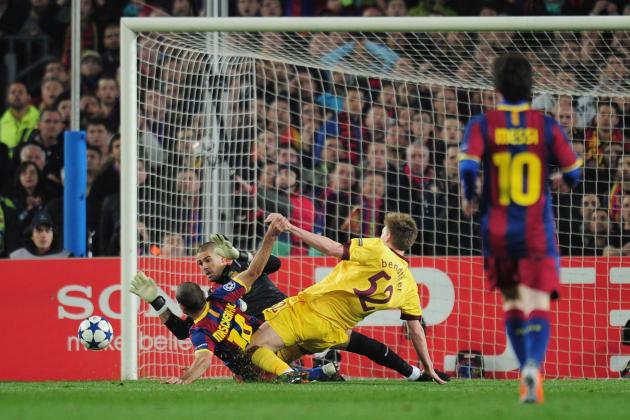 Shaun Botterill/Getty Images

This is probably Nicklas Bendtner's most infamous moment.
It's impossible to find video evidence of this moment: Arsenal fans have obviously done all they can to erase it.
With Arsenal trailing 3-1 on the night, Bendtner was handed a late opportunity to punish Barcelona and send Arsenal through on away goals. However, after receiving the ball from a Jack Wilshere cross, Bendtner's control let him down and the chance slipped away.
The Nou Camp has been an important place in Bendtner's Arsenal career; he has both scored and experienced his lowest point there.
Can Bendtner be a success at Arsenal in 2012/13? Let us know below.